EV Watch
---

About EVFinder

EVents Calendar

FAQ

EV Selector

Links

The EV Finder Archive

Site Map

Blog
---
There are companies building or designing electric vehicles that, for one reason or another, are not selling vehicles at the moment. Often they are companies in perpetual development like eCycle, and sometimes they are companies like AC Propulsion that build EVs as a way to test out EV components they plan to market, and sometimes the company is actually trying to sell their product but doing a terrible marketing job. This page is dedicated to those EV manufacturers that just might be selling vehicles in the near future.
---


Peugeot was the first company to mass market and electric scooter, the Scoot'elec. but stopped production in 2006 after selling 3500 units. They are now poised to return to the electric scooter market with an electric version of their Vivacity range of scootgers , the E-Vivacity. The E-Vivacity will have a 4KW brushless motor driven by a Lithium Ion Cobalt battery that stored 2.6KWH of electricity and weights just 25Kg. The scooter has a top speed of 45kph (30mph) and a range of between 80 and 100 Kilometers (50 - 60 Miles). Regenerative braking is also available.
The supplied charger can recharge the battery in 4 hours from a standard 220V outlet and can reaches 80% of charge in two hours. The batteries themselves are rated at 1000 charge discharge cycles. Peugeot says this is enough for 40,000Km of riding but the math seems off to me. At 80 kilometers per charge 40,000 kilometer would be 500 charge discharge cycles so I would expect the batteries to do a lot better than Peugeot is quoting if they can really support 1000 cycles.
Stopping is accomplished by disk brakes on both front and back. The scooter is belt driven rather than using the hub motors that are common now on Chinese made scooters.
The E-Vivacity is expected to appear in dealerships some time in 2011. So far there is no indication of price.
---


Tata Motors has shown an electric version of its Indica 5 door sedan and announced that it planned to put them on sale toward the end of 2009. That deadline has been and gone and apart from a small fleet of test cars the Indica Vista EV hasn't yet arrived in dealerships but now expected to go on sale in September 2011.
The Indica Vista EV is powered by a 26.5KWhr Li Ion battery pack that will give the car a projected range of around 160 Kilometers (100 miles) on a charge and a top speed of 115kph (71mph). The car will accelerate from 0-60kph in just under 10 seconds. The car is probably going to be built in the UK and will sell initially there and in Norway. So far they have announced no plans to sell this car in India
Also reported to go on sale in September 2011 is the Tata ACE electric mini truck. The ACE pickup is based on the ACE diesel mini truck currently being sold in India, and will have a load capacity of 500Kg (1100 lbs). The vehicle will be powered by 10 8V lead acid batteries providing a range of around 40Km (25 miles) and to a top speed limited to 40kph (25mph). The truck is capable of being charged from 0 - 80% in around two hours and a full charge on a standard 220v outlet takes about 8 hours.
Tata Motors showed an electric version of the Nano, the world's cheapest car, at the 2010 Geneva Auto Show. They announced that they plan to start selling the car in "select markets", which will be the UK and Norway initially, towards the end of 2010. The car will most likely be built in the UK and so far no plans have been announced to launch the car in India
Details are still sketchy on the Nano EV's specs but the car is expected to use Li-Ion batteries to give it a range of around 100 miles (160 Kilometers) and will accelerate from 0-60kph in just under 10 seconds. The car, which is slightly longer than the India version of the Nano, will seat 4 people.
---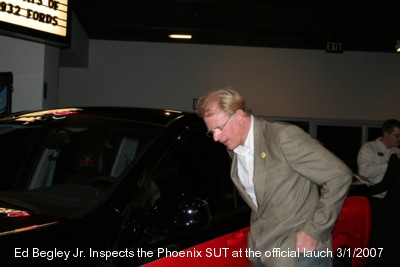 Phoenix MotorCars started out by building electric vehicles based on vintage US models from the 1940s. Their first prototype was a 1937 ford coupe but after getting it running to test out their system the drive train has been removed and placed in another

vehicle, a Korean built Sports Utility Truck (SUT) using Altairnano Li batteries.

The company was hit hard by the recession and it appeared that they had gone out of business. The company has now come under control of Dubai based Al Yousef LLC and they are back on track to begin delivery of their

The SUT will have a range of about 130 miles per charge and a top speed of 95 mph. 0-60 can be accomplished in just under 10 seconds. Payload for this truck is 1000 lbs.

The vehicle comes equipped with a 6.6 KW onboard charger that can charge the car from a 220V outlet in 6 to 8 hours. Also available as a 250KW fast charging system that can bring the batteries up to a full charge in as little as 10 minutes. The fast charger is expensive though at around $100,000 but will be a good investment for large fleets.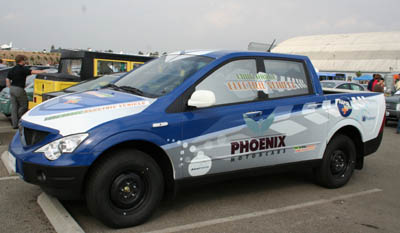 The Altairnano batteries are claimed to have a high cycle life, 12 year shelf life, and have eliminated the fire issues that have plagued other Lithium batteries.
Phoenix will follow up this initial offering with a second vehicle, this time an SUV, although no date has been set for this yet. The SUV will offer similar performance and to the SUT.
Phoenix say that they will begin deliveries to fleet customers by the end of 2010 but there is no indication so far as to when they will start delivering to individuals. They are also planning on participating in some EV trials that are currently going on including the one in Hawaii.
Their order page is now up and they are accepting non-fleet orders for delivery in 2010.
See the autoblog Green test drive courtesy of Youtube
Check out my test drive
For more information and pricing contact Byron at (909) 987-0815
---

Lynx Cars is a Danish company that builds a line of electric scooters. They have designed a two seat electric sports car called the Lynx Speedster that has performance that is even more impressive than the Tesla Roadster.
The car has two 450hp Lynx motors driven by a 400 V lithium battery pack that can propel the car from 0-100kph (62mph) in under 4 seconds and gives the car a top speed of 200kph (125mph). The car can be equipped with a choice of batteries offering a range of 150 km (90 miles) to 350 km (155 miles) on a charge. The car will come with an onboard charger and is also capable of being fast charged.
The Speedster has two modes of driving, power mode for maximum acceleration and ECO mode to maximize range.
Prices will start at around €85,000 for the 16KW battery pack and goes up to €115,000 for a car equipped with a 32KW battery pack. Lynx is currently taking orders for its first run of 300 Electric GTs. They require a $5,000 down payment. Their web site still says deliveries to start in early 2010 but there has been no indication that deliveries are imminent.
---

Myers Motors have been selling their NmG single passenger three wheel car for quite some time now but they recognized that the single passenger format has a limited appeal. For the last five years they have been working on the development of their next vehicle, a two seat three wheel electric car which will be called the Duo. The car, which seats two people side by side like the Aptera, will have a range of 60 miles and will be capable of travelling at 75mph. The car will be powered by Lithium batteries with a pack life projected to be around 100,000 miles. The target price for the car is currently set at $29,995 and Myers have started taking pre-orders for the car. They state that for ever 200 cars pre-ordered they will be able to reduce the price of the car by $1,000 until they reach their target of 1000 pre-orders. If they can get that many pre-orders then the car will sell of $24,995 less any Federal and State tax incentives. Larger battery packs giving 80 or 100 mile range will be available as an option at a cost of $2500 for each additional 20 miles of range. Myers plan a first year build of 1000 units starting in the first quarter of 2011.
---

B.B.S is developing a low speed electric car called the Battery.Buggyster in China. The company, which was founded by two men, one a Swede and the other Chinese, aims to build a low cost functional electric vehicle for around town use. The two seat car has an ABS plastic body built around a tubular steel frame and soft top.
A 48V 110 AHr lead acid battery pack driving a 3.5Kw DC motor via a 250 amp controller drives the car through the rear wheels. The car comes with an on-board charger which would allow the car to be charged from a standard outlet. Range is quoted as 60 miles per charge although I would expect somewhat less usable range in real world driving.
The car is designed to comply with European Quadracycle laws and will be tuned down to a top speed of 25mph in the US to comply with NEV regulations. Safety will be enhanced by the addition of a tubular steel roll bar and four point seat belts.
The company has a working prototype and is now looking for investors to place the car into production.
---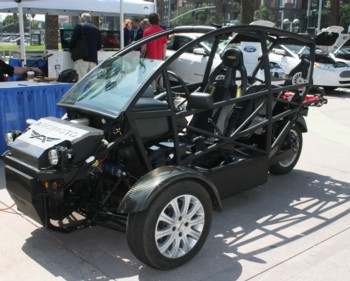 Arcimoto, based in Eugene, OR, originally developed a three wheel electric vehicle called the Pulse. They have now completed their Sixth prototype and the car has been renamed the SRK.
It offers a tops speed of 65mph and they quote range of 40 miles on a 144 Volt lead acid battery pack and 80 miles on an optional LiFePO4 pack. Based on previous experience I would expect the usable range to be more like 25 to 30 miles for the lead acid pack and 70 miles on the Lithium pack. The PbA pack will take about 6-8 hours to charge from a standard 110V outlet with the Lithium pack taking somewhat longer.
The Pulse looks a lot like the Triac with two wheels at the front and a single wheel at the rear, seating two passengers in tandem. Stopping is accomplished by manual disk brakes on all three wheels. The car also features regenerative braking.
Arcimoto are currently taking pre-orders for the Pulse and say that they recently unveiled what they say is a production ready prototype. Target price for the base model is $17,500. There is currently no indication of when they expect to begin production
---

Breaking News 6/28/2009: The fist batch of Sun Motor Group NEVs is expected to arrive in the US in August
Sun Motor Group are planning on building a 2 seat fully enclosed NEV that has an interesting design that looks like it will be very aerodynamic. The car is currently being built in China and has a top speed of 45mph but will be governed to 25mph to comply with NEV laws in the US. The company eventually plan to build the vehicle here.
The car will have welded steal construction with power supplied through a 10hp electric motor. They will initially come out with a DX model with Range is quoted as 160 miles. Battery capacity is said to be 20KWhr so I would expect a range of 50 to 100 miles in real world driving, depending on battery chemistry. They also plan to offer an EX model that they claim will have a range of around 400 miles. The car will come standard with Lithium batteries and Lead acid batteries will be offered at a reduced cost. The car also comes equipped with a 300W solar panel which should give the car an additional 5 to 6 miles of range on sunny days.
Pricing hasn't been set for these cars yet but they are projecting around $32,000 for the Lithium battery version and about $24,000 for the Lead Acid powered version.
They are currently looking for dealers.
See video of the the Sunmotors Coupe and courtesy of youtube.
---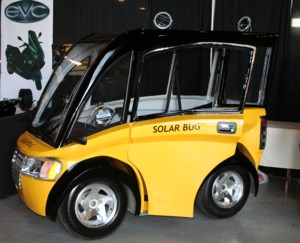 Free Drive, based in Bozeman, MT, have developed a NEV called the Solar Bug. The Solar bug is an interesting concept built around an electric ATV. The car seats two in tandem on motorcycle seats and is steered using handlebars. One additional feature is the roof which contains a 200W solar panel which Free Drive say can add an additional 5 miles of range to the NEV in sunny locations like Southern California or the Arizona desert.
The NEV is designed to go 35 mph to take advantage of the new medium speed legislation that is in effect in both Montana and Washington State and is being considered by several other stated including California. For states without medium speed vehicle legislation the car will be limited to 25mph. Range is given as 60 miles per charge although I would expect usable range in real world driving to be somewhat less than that.
The Solar Bug is driven by a 72 V maintenance free lead acid battery pack which drive the Pancake Motor via a 350 amp controller. Final drive to the rear wheels is by belt. The vehicle has a fiberglass body and weighs in at around 900 lbs. It comes with all the necessary safety equipment to meet both LSV and MSV requirements and in addition it has a built in roll cage.
When I talked to Free Drive a the 2007 Santa Monica Alternative Fuel and Vehicle Expo in October they indicated that the car could be on sale in a few months but they are currently working on putting a dealer network in place.
---

The Lightning Car Company are developing an electric sports car called the Lightning .that will use four hub motors, one driving each wheel. The car will also be equipped with Altairnano batteries. Three models are planned, the GT, GTS and GTSE. The GTSE has a planned range of 250 miles and is expected to cost around £150,000. The GTS version should do 0-60 in under 4 seconds. The company is currently putting the finishing touches on the ICE version of this car but intends start work on the electric version soon.
---

VentureOne is a three wheel two seat vehicle that is being developed in California and is based on the tilting technology developed by Dutch company Carver Engineering BV that allows the car to lean up to 45 degrees into curves. Their prototype is a narrow vehicle that seats two people in tandem. They plan on offering two different hybrid models and an all electric version. The electric version uses two 20KW in wheel motors driven by a 17KW Li battery pack. It is expected to have a top speed of over 75mph and a range of about 120 miles. the car will have an overall length of 11 feet 8 inches and a width of 48 inches and weights in at approximately 1,200 pounds.
The car will include extensive safety features including a roll cage, side impact rails, ABS brakes, driver air bag, and three point seatbelts.
So far there is no indication of when this vehicle might go on sale.
---

Shockwave Motors are currently doing performance testing on a three wheel EV that they call the Defiant EV3 Roadster. This roadster will have a single front wheel and will be based on a modified VW chassis. The car will seat Three passengers, the driver in front and two passengers in the rear. It is driven by an 8 to 10 hp WarP motor and Zilla Controller. Power will be pulled from a 144 volt Lead Acid pack giving a projected range of about 50 miles and a top speed of 75 mph.
Drive Electric plans to start offering the Defiant EV3 as a kit but will custom build if demand warrants.
---

Silence is a Canadian company formed as a joint venture between electric go-cart manufacture EBW and T-Rex who manufacture a high performance three wheel road vehicle. The result is a high performance three wheel electric car based on the T-Rex chassis which will be designated the Silence PT2. This three wheel freeway capable car will be 13 feet long, 6 feet wide, 4 feet high and will weigh in at just 900 lbs including batteries. It will be powered by a 100KW motor and will have a claimed range of 125 - 250 miles and a top speed of around 125 mph. There is no indication of the type of batteries they will be using but given the range I would expect an advanced chemistry like NiMH or Lithium. The company may begin accepting orders the Spring of 2007 with a price of $50,000 Canadian.
---

French battery maker Boloré is working with Italian car design studio Pininfarina to produce the Blue Car. The Blue Car is a five door sedan that will seat four. It is powered by a 50KW electric motor powered from a 30KWhr Lithium Metal Polymer battery pack with a nominal voltage of 410V produced by Bolloré subsidiary Batscap. The life of the battery pack is projected to be 200,000km (125,000 miles).
The car is capable of a top speed of 130kpm (80mph) with 0-60kph (40mph) in 6.3 seconds. Range is projected to be 250km (150 miles) and the car can be charged in about six hours from a standard 240V receptacle. Fast charging will also be available in the future.
Reservations are currently being taken for the Blue Car, along with a deposit of €330 and they have started delivering cars to the Autolib project in paris, but it is unclear when they will begin delivery to the general public. To make a reservation go to their Reservations page.
---



Venturi recently announced their latest EV, the Eclectic. This is a three seat City class car that has solar panels on its roof and comes equipped with a small wind turbine so the car can be charged from renewable energy most of the time. The Eclectic is powered by a 72 volt NiMH battery pack that drives the car to a top speed of 50 kph (30 mph) and offers a range of up to 50 Km (30 miles). On a normal day the solar panels provide a range of around 7 km and the use of the wind turbine can add another 17 km of range. The car can also be charged directly from the grid with a full charge taking about 5 hours. The Eclectic is classified as a heavy quadracycle in Europe and can be driven by anyone 16 years or older.
Venturi say they have started work on the initial 20 test models and expect to produce about 200 for sale in 2007. These vehicles will only be offered in white. Higher levels of production are expected to commence in 2009. Base price is expected to be around 15,000 €
---

EcoV, based in Michigan, is currently developing a fully enclosed four passenger NEV. The car looks rather boxy but is designed to be reconfigurable to provide for a variety of uses and is also intended to require very little maintenance. This NEV is expected to give a range of between 20 and 40 miles depending on terrain and driving style and can be charged from a standard 110V connection. It is powered by six twelve volt maintenance free batteries driving a DC motor. The car's Dimensions are Length 133", Width 58", and Height 67.5" with a target price starting at $9995.
---

The Hotzenblitz project from Treffpunkt Zukunft have developed a 2+2 seat electric vehicle which is capable of speeds of up to 120 kph (75mph) and has a range of 50 km (30 miles) with lead acid batteries. The car, which weights just 780 Kg (1700 lbs) is driven by a 12 KW Asynchronous motor.
The body is built of ABS plastic on a tubular steel frame with double wishbone suspension and disk brakes all around. The target price of the car is €10,000 to €18,900 depending on battery options.
Treffpunkt Zukunft built a fleet of 130 cars that are currently undergoing fleet tests but so far have been unable to move into full production.
They are currently testing a car using LiFEPO4 batteries and have demonstrated a range of 300 km (about 180 miles) using that technology.
---
Progressive Energy Technologies

Progressive Energy Technologies have developed a two seat sports car called the Jester. It has a 39.6KWh Li Ion battery pack and an advanced DC motor that supports regenerative braking. They have a prototype vehicle that is capable of doing 70mph and has a range of between 150 and 200 miles depending on the type of driving.
He currently doesn't have the capacity to produce these vehicles and is searching for a business partner who can supply the production capacity. The designer, Steve Green, thinks that with a volume in the range of 10-50 per year he could produce them for around £15,000 each. Their plan is to produce both a 2 seat and a 4 seat version.
---

The Arian 792 is an electric vehicle designed and built in Malaysia. It is billed as the smallest four passenger EV in the world and at a little under nine feet in length it is about four inches longer than the two seat Smart. The Ariana 792 will be powered by a 180V AC system utilizing NiMH batteries to give it a top speed of about 85 mph and a range of between 60 and 120 miles. The vehicle comes with an intelligent charging system that the manufacture claims can recharge the vehicle in about 5 minutes. This would require a tremendous amount of amps so it would not be likely that it could be used at home.
The prototype vehicle was shown at EVS 20 and the company is planning to begin manufacture in 2004. They are rumored to be purchasing a facility in Calabasas, CA and intend to sell in the US market. Since Crash testing requirements are a major barrier to small companies entering the US market expect to see a NEV version on the streets rather than the full EV version.
---

Electrovaya are a Canadian manufacturer of Li based batteries. They are in the prototype phase with the Maya-100 Electric Car. The prototype was entered into the 2003 Tour del Sol but had to be pulled out part way through due to a fire caused by a problem in the electrical circuits. The prototype has been repaired and is now back on the road.
The prototype is equipped with Li Ion Super Polymer batteries that they claim give it a range of 120-160 miles (200-250Km) per charge. Charging time is about 8 hours but they also expect to have a fast charge capability available.
There is no indication on when, or where this vehicle will become available to the general public.
---

Korean company ATT R&D are currently developing a series of vehicles targeted at the US market. Kool Karz recently started selling their first offering, a NEV called the Invita over here and a second NEV should be arriving here soon. They also have a prototype city class EV called the Parade which has an all aluminum body to reduce weight. Top speed is 68 mph. The care will come in two models, the EV60 has conventional PbA batteries giving it a range of 60 Miles, while the EV150 will be fitted with advanced (probably Li-Ion) batteries for a range of 150 miles. The crash test requirements for vehicles sold in the USA might make it difficult for ATT R&D to enter the US market but with a target price of $20,000 for the lead acid version makes us hope that they can really start selling here.
---
SAM

Sam from Swiss company CREE is a 3 wheel vehicle looks a little like the Corbin Sparrow with two wheels at the front and a single wheel at the rear, but it seats 2 people sitting in tandem.
They originally produced 80 vehicles that they used to conduct a very successful test in real world use. However they did not have the funds to go into production and ended up having to lay off all of their employees. They have since restructured the company and are now looking for investors so they can start production again.
14 Hawker Genesis PbA batteries gives the Cree a projected range of 40 Miles and a top speed of a little over 50 mph. The vehicle is currently being tested by a small group in Switzerland and it is expected to go on sale there in 2003 at a price of about $7600 SF. The batteries will be leased separately at $60 per month. There are no indications so far about when Cree plans to make the vehicle available in the US.
---

The Takara Toy company recently showed its Q-Car range of EVs at the Tokyo motor show. Their first model is the 2010 which comes in two designs, one that resembles a dune buggy and the other that looks like a modernized version of a Detroit Electric. They both look like something a toy company would manufacture and are targeted at the over 25 group that buys their model cars. The drive train on these vehicles is quite simple. 6 PbA batteries power wheel mounted electric motors with an additional battery to provide auxiliary power. Takara is currently in negotiations with major auto dealers to sell them through their showrooms. The vehicles will be priced at about one million yen
---
Covco

Covco is a korean manufacturer who makes a series of electric and gas powered vehicles including electric scooters, electric three wheelers.
The ZEMF is a three wheel electric vehicle that seats two in tandem. It has a top speed of about 70 kph (45 mph) and a range of about 60km (35 miles). This electric three wheel car may be available in Korea already so check with the manufacturer.
---
If you want to help improve your planet then give me feedback about these vehicles. Email evfinder with details if you find out that a vehicle is actually being sold. I am also interested in hearing about new manufacturers and dealers. If you already drive an EV I would like to hear about your experiences.
---

About EVFinder

EVents Calendar

FAQ

EV Selector

Links

The EV Finder Archive
---
For the latest news on Electric Vehicles check out the following EV related magazines