Where to find 3 wheelers
---

About

EVents Calendar

FAQ

EV Selector

Links

The EV Finder Archive

Site Map

Blog
---
Impact Automotive Technologies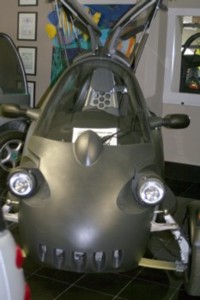 Swiss company CREE designed a three wheel electric vehicle called SAM. It was manufactured in small quantities for trials in Switzerland and Germany but the company couldn't raise enough capital to go into full scale manufacturing and had to close the door.
Impact Automotive Technologies have resurrected the SAM and have now started manufacturing the vehicle under the name SAM Re-Volt in Poland. They already have a dealer in the Netherlands and are looking to expand their dealer network throughout Europe.
The car is a three wheel vehicle that seats a driver and one passenger sitting in Tandem. One interesting aspect of the design is that it features gull-wing doors.
It has a 7 KWhr Li Ion battery pack that drives an 11.6 KW motor giving it a top speed of 90 kph (56 mph) and about 62 miles of range (assume about 50 miles in real world driving). 0-50 kph takes about 7 seconds. It can be charged from a standard 240V outlet in 4-5 hours. The car features disk brakes and the car also includes regenerative braking.
Prices start at about €15,500 and the car comes with a 2 year warranty.

In the Netherlands You can purchase a SAM Re-Volt at Elec-cars Nederlands
---




Twike (or swiss-lem) went bankrupt in Switzerland. All the rights plus equipment etc. were bought recently by the German company FINE-Mobile GmbH. They are now producing the TWIKE in Germany. They have two models, an electric human hybrid (with pedals) and a pure electric model. The Twike is a three wheeler that seats two people. It has a 332 Volt system that uses Sanyo NiCd batteries and 3 1/2 kW three-phase asynchronous motor giving it a top speed is 90 km/h and a range of 60 km
For more information on Twike check out their website. Note that the site is in German and the English version does not yet seem to be working. You can also find out more information from the Swiss Twike Cwners Club

Twike has been approved for use in the UK - Prices and specs can be found at the Twike UK Web Site

Also available through Green Motorsport

Twike US has also started taking orders but won't ship until DOT approval is obtained.
There is also an article about the Twike on the EV World web site.
See video of the Twike tour of Europe courtesy of youtube
---


The City-El is a small three wheel single passenger EV manufactured by the CityCom AG (Aktiengesellschaft) in Aub (near Würzburg, Bavaria). The City-El has been around for a long time and over 5000 vehicles have been sold. It was recently upgraded with a: new high-tech battery charger (36 V 30 A charging current), new motor (perm-motor, similar to the lynch-motor) and better drive performance with chain-drive instead of belt-drive. CityCom are now also offering a 48V version. There is also a battery testing program with 50 % funding by the German government, and they plan to include the Evercel Ni-Zinc battery in the near future.

In Lyon France check them out at the EV Showroom
See Nikki Bloomfield's Video review of the Citi-EL
---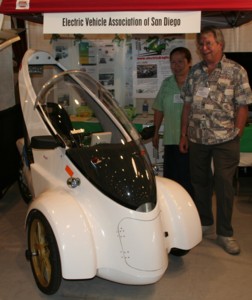 The BugE is a three wheel single seat electric vehicle from the same people who designed the Gizmo. The car is designed with the single wheel in the back. It weights just 350 lbs, is expected to reach a top speed of between 40 and 50 mph and should be able to travel 30 miles at a steady speed of 30 mph. In the usual stop and go traffic found in most cities mileage can be expected to be somewhat less than this.
The vehicle fairing tilts forward to allow the driver to climb in and out but provides adequate weather protection for most weather conditions.
Their web site shows three separate packages, the first being the basic body and chassis for $3200, the second is the auxiliary equipment such as wiring harness, lights etc at $325, and the third being the electric drive components at $1070. To build the BugE you will need all three packages, or you can choose to replace some of them with off the shelf components. In addition you will need to buy a 48V battery pack.
The BugE can be ordered using the Order Form on their web site
Or you can buy them ready assembled from Harvey Coachworks and EV
See Video of the BugE courtesy of Youtube.
---

Electro Ride LLC makes a car called the Cyclecar which is a three wheel electric car that seats two passengers side by side. The cars are 97" long, 56" wide, 55" high, with a 74" wheelbase. The cars license as a motorcycle and have recently achieved DOT certification. They offer a freeway capable model and non-freeway capable models.
The freeway capable model weighs in at less than 600lbs including 200Lbs of Lithium batteries. The 74 volt system is expected to give a 2000 cycle life and will drive the car at a top speed of 70mph and offers a range of 40-80 miles. A longer range pack is offered giving a range of 80-100 mile. The Cyclecar uses an AC system that includes regenerative braking. Prices are between $16,000 and $19,000.
The non-freeway version uses a brushed permanent magnet CD motor and a 72volt pack to give a top speed of 45mph. The price for the non-freeway version is around $10,000
Electro Ride is based in Belmont, CA and is currently focusing on building cars for customers in the San Francisco Bay area. They don't have a dealer network but you can order a Cyclecar by contacting Brian Howell at (650) 222-0378
---

Atlas Boat Work of Cape Coral, FL makes a three seat electric car called the Tryckle.
The Tryckle has two seats side by side. The fiberglass body shell is built around a motorcycle frame using off the shelf suspension components.
A Sepex DC motor is driven by a 72V lead acid battery pack giving it a top speed 50mph. The car is designed to use only 165 watt hours per mile at 40mph and weighs just 1000lbs.
The car is custom built using a donor motorcycle that you supply, or they can supply the donor vehicle. The Tryckle can also be supplied as a kit Prices start at around $5000.
Since this car is not fully enclosed a motorcycle license and a helmet are required in most states.
To purchase a Tryckle contact them directly by phoning (239) 574-2628
---
If any owner out there would like to email evfinder and tell me their experience I would love to pass on the information to prospective buyers
---
Now for the fine print - remember always read the fine print
The information contained in this web site is based on information I have received about the availability of vehicles both new and used. I attempt to keep the information here as current as possible but I would appreciate being notified of any inaccuracies you may find. The appearance of a vehicle on this site does not imply any endorsement of that vehicle, or any implication that the vehicle will be suitable for your needs. As always you should investigate the vehicle and the seller before shelling out your hard earned money.
---