Where to find 3 wheelers
---

About

EVents Calendar

FAQ

EV Selector

Links

The EV Finder Archive

Site Map

Blog
---

Arcimoto, based in Eugene, OR, originally developed a three wheel electric vehicle called the FUV (Fun Electric Vehicle). .
It offers a tops speed of 75mph and they quote range of 100 miles in the city using n optional Li Ion battery They also say that at 55mph the range drops to 66 Miles and will be about 32 miles at 75mph.
The supplied charger can be used with either a 110V or 220V outlet and will automatically switch between the two. The battery has a capacity of 20KWh. Charge time from empty using a regular 110V outlet should take around 17 Hrs. Arcimoto say that at 220V charge time drops to 4 hours.
The FUV looks a lot like the Triac with two wheels at the front and a single wheel at the rear, seating two passengers in tandem. Stopping is accomplished by manual disk brakes on all three wheels. The car also features regenerative braking.
Arcimoto are currently taking pre-orders for the FUV and say that they recently unveiled what they say is a production ready prototype. The price starts at $19,900. Acimoto is taking reservations but as of September, 2020 the FUV is only being delivered on the West Coast (CA, OR, WA)
---




Twike (or swiss-lem) went bankrupt in Switzerland. All the rights plus equipment etc. were bought recently by the German company FINE-Mobile GmbH. They are now producing the TWIKE in Germany. They have two models, an electric human hybrid (with pedals) and a pure electric model. The Twike is a three wheeler that seats two people. It has a 332 Volt system that uses Sanyo NiCd batteries and 3 1/2 kW three-phase asynchronous motor giving it a top speed is 90 km/h and a range of 60 km
For more information on Twike check out their website. Note that the site is in German and the English version does not yet seem to be working. You can also find out more information from the Swiss Twike Cwners Club

Twike has been approved for use in the UK - Prices and specs can be found at the Twike UK Web Site

Also available through Green Motorsport

Twike US has also started taking orders but won't ship until DOT approval is obtained.
There is also an article about the Twike on the EV World web site.
See video of the Twike tour of Europe courtesy of youtube
---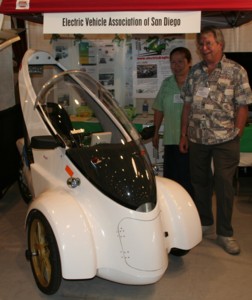 The BugE is a three wheel single seat electric vehicle from the same people who designed the Gizmo. The car is designed with the single wheel in the back. It weights just 350 lbs, is expected to reach a top speed of between 40 and 50 mph and should be able to travel 30 miles at a steady speed of 30 mph. In the usual stop and go traffic found in most cities mileage can be expected to be somewhat less than this.
The vehicle fairing tilts forward to allow the driver to climb in and out but provides adequate weather protection for most weather conditions.
Their web site shows three separate packages, the first being the basic body and chassis for $3200, the second is the auxiliary equipment such as wiring harness, lights etc at $325, and the third being the electric drive components at $1070. To build the BugE you will need all three packages, or you can choose to replace some of them with off the shelf components. In addition you will need to buy a 48V battery pack.
See Video of the BugE courtesy of Youtube.
---

Electro Ride LLC makes a car called the Cyclecar which is a three wheel electric car that seats two passengers side by side. The cars are 97" long, 56" wide, 55" high, with a 74" wheelbase. The cars license as a motorcycle and have recently achieved DOT certification. They offer a freeway capable model and non-freeway capable models.
The freeway capable model weighs in at less than 600lbs including 200Lbs of Lithium batteries. The 74 volt system is expected to give a 2000 cycle life and will drive the car at a top speed of 70mph and offers a range of 40-80 miles. A longer range pack is offered giving a range of 80-100 mile. The Cyclecar uses an AC system that includes regenerative braking. Prices are between $16,000 and $19,000.
The non-freeway version uses a brushed permanent magnet CD motor and a 72volt pack to give a top speed of 45mph. The price for the non-freeway version is around $10,000
Electro Ride is based in Belmont, CA and is currently focusing on building cars for customers in the San Francisco Bay area. They don't have a dealer network but you can order a Cyclecar by contacting Brian Howell at (650) 222-0378
---
Now for the fine print - remember always read the fine print
The information contained in this web site is based on information I have received about the availability of vehicles both new and used. I attempt to keep the information here as current as possible but I would appreciate being notified of any inaccuracies you may find. The appearance of a vehicle on this site does not imply any endorsement of that vehicle, or any implication that the vehicle will be suitable for your needs. As always you should investigate the vehicle and the seller before shelling out your hard earned money.
---