CITY EVs

About

EVents Calendar

FAQ

EV Selector

Links

The EV Finder Archive

Site Map

Blog
---
Introduction
City EVs, also known as City Cars and in Europe as Quadracycles, are electric vehicles that are designed for driving in urban environments. They typically have a range of around 40 miles although newer battery technology in pushing this up toward 100 miles, and they usually top out at a speed of 40 - 55 mph. They can drive on any street no matter what the speed limit, but are usually not allowed to drive on freeways.
---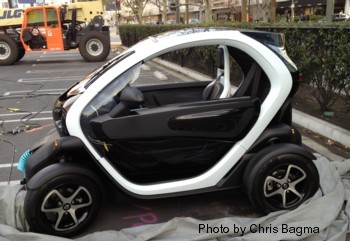 The Twizy is a narrow car in the city car category that is aimed at the scooter market rather than the car market. It seats two people in tandem and is designed for those people who want to be able to zip around town but want more safety than that supplied by a scooter. The 17hp electric motor will drive the car at a speed of 75kph (47mph) for up to 95 Kilometers (60 miles) on a single charge of its 100lb lithium battery pack.
The car, which is quite a bit smaller than a smart fortwo, comes equipped with a four point harness in the front seat and three point seatbelt for the rear passenger.

UK Residents can now place an order for the Twizy for delivery in April 2012, at price Starting at £6690 plus £45 per month for battery lease that allows just 4,500 miles of driving per year, or stop by your local Renault Dealer. On top of that you might want to spring for Scissor doors at a cost of £545.
Starting in January 2013 Renault will also be offering a low power version of the car with a 5.3hp motor that gives the car a top speed of 28mph. The low speed version of the Twizy will be legal for 16 year old drivers. This version of the car may also show up in the US as a NEV.
---





1/7/2009 Breaking News - Reva will introduce a Li Ion powered version with a range of 75 miles and a top speed of 50mph deliveries to start in May 2009.
Reva, manufactured in India, is a two door hatchback that will seat two adults and two children. There is ample luggage space under the hood and the rear seats fold down to increase capacity. Eight 6V lead acid batteries give the Reva a quoted range of 80Km (50 Miles), and a top speed of 65 kph (40mph). Charging is accomplished through a standard 220V 13amp circuit. The car also features regenerative braking. They manufacture both an DC and an AC version of this car.
The vehicle is currently on sale in several areas of India. Go to the Reva web site and click on Dealer Network link to find a dealership.

The Reva is being sold in the UK as the G-Wiz. It can be lease from GoingGreen
I

t is also offered through Green Motor Sport based in Woking, Surry

The distributor in Ireland is GreenAer or In Dublin, Ireland check out Green Machines

In Belgium you can find them through Green Mobile
In Norway contact Enviro Eiblsalg

You can locate a dealer in India through the Reva Dealer Locator Page

In Chile you can get them through El Coche Ecoelectrico
See the report on G-Wiz ownership by David from London.
See Video of the G-Wiz in London courtesy of youtube
Currently only a RHD version is being made but the LHD version of the Reva should be available soon for sale in Europe.
---


Mia Electric is a Franco-Germany company based in Western France which produces the Mia electric car in three models, the three-seat Mia, the four-seat Mia-L, and the Mia Van. The cars are designed mostly for fleet applications and are being used by car sharing programs in Nice and Toulon. The most unusual feature of these cars is that there is only one centrally mounted seat at the front so the driver sits in the center of the vehicle not on the left as in most cars (right for those countries that drive on the left).
Standard on all three models is an 8Kwhr LiFePO battery pack with an option for a 12Kwhr battery pack. The car is only 2.87 Meters long (9.4ft), 1.64m (5.4ft) Wide, and 1.55m (5ft) tall. With the 8Kwhr pack the car weighs in at around 765Kg, with the 12Kwhr option adding an additional 50Kg. A full charge on the standard 8Kwhr battery takes just 3 hours and is said to give the car a range of 130km (80 miles) although I would expect the range in real world driving to be somewhat lower. Top speed is 100kph (62mph).
The car is currently available in France and Germany with sales in the UK and Switzerland planned to start in early 2012.
To find a local dealer check out their dealer contact page
---





Piagio offers a line of electric Vehicles called the Piagio Porter which come in 84 Volt and 96 Volt versions and five body styles. The Blind Van is a standard van without windows in the side panels at the rear and without rear seats. The MPV, which is the most useful as a passenger vehicle as it offers both rear seats and windows in the rear. They also offer pickup truck, tipper truck and flat bed options. All vehicles use maintenance free gel cell lead acid batteries and offer ranges varying from around 45 to 60 miles and a top speed of around 40 mph. Charging can be done from a standard 240V household supply in about 8 hours or in about 2 hours with the optional fast charger.

In the UK check out the Woodford Motor Company

Also check them out at ViTA Electric Ltd.
The Piagio Porter line of vehicles can be special ordered from any Piagio dealer. Check with your local distributor for a dealer near you.
---


Micro-Vett is the leading maker of electric vehicles in Italy and was the company responsible for designing the electric Piagio Porter. They are now producing two electric vehicles, Ydea city car and the Doblo freeway capable EV.
The Ydea is a two seat hatchback that comes in two models, a quadracycle with a tops speed of 45 Kph (30 mph) and a heavy quadracycle with a top speed of 60 Kph (40mph). It uses a 4 KW separate exited DC Motor and comes with either Zebra batteries or sealed lead acid batteries. Range on the Zebra batteries is quoted at 200 Km (125 miles) and about 50 Km (30 miles) for the lead acid option. The car will be available in the UK in April and they are expected to have a Li option available by then.

For details on purchasing a Ydea contact Micro-vett using their contact page or phone 39 0542 362050

In the UK they can be purchased through Electric Cars for Hire, ViTA Electric Ltd, EV Stores, or TYC Track
---


Based in France, Aixam Mega is one of the largest manufacturers of quadracycles in Europe. They recently acquired the assets of the NICE Car Company, for whom they built the Mega City, and are now selling a range of electric cars in Europe.
The Mega City has a 48V battery pack consisting of eight 6V batteries giving it a quoted range of 40 - 50 miles on a charge. The batteries can be charged from empty in about eight hours using a standard 240V 16 amp supply. There is also an integrated battery management system which will allow them to offer a 2 year or 59,000 amp hour battery waranty. The 4 KW DC motor can drive the car at a top speed of a little over 40 mph.
The body is made of Acrylic ABS on an Aluminum frame. It comes with McPherson Strut front suspension with trailing arm and coil springs in the rear. It will also be equipped with a heater and defroster, three point seatbelts, CD Radio, central remote locking and power windows.
The Mega City, exempt from London's congestion charges, is targeted at people who need to commute in and around central London. One interesting feature is a link up with Streetcar, the Uk's largest car club, to give Mega City owners special concessions on pay-as-you-go access to a VW Golf when they want to take a trip that it beyond the range of their EV.
The price of the Mega City starts at around $10,100 which should make it competitive with the G-Wiz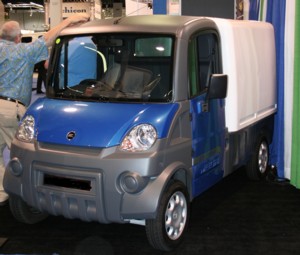 They are also selling a range of trucks called the MultiTruck, that include a Van, Pick-up, Tipper Truck, and even a Chassis Cab version that allows the buyer to fit a custom body onto the cab.
The MultiTruck is based on a 48V lead acid battery system that offers a top speed of 45kph (28mph) and a quoted range of 60 miles on a charge, although I would expect much less range in real world driving. These trucks have a gross vehicle weight of 1120kg and a carrying capacity of 335kg.
Prices start at around $11,550.
See the Nice Mega City review by MegaWhatTV Part 1 and Part 2 courtesy of youtube

In the UK the Mega Multitruck can be found at Monarch Motors, in Peterborough, UK

To purchase a Mega City or to schedule a test drive in the UK, check out the Axim-Mega UK dealer page

In Germany you can find them at Kessler Electric Auto Center in Bischhoffen, Germany
---

Breaking News - ElBil Norge have issued $1.86M of stock to raise cash so they can increase production of the Kewet Buddy to 500 per year
The Kewet El-Jet was originally built in Denmark and was quite successful for a number of years but eventually failed. The company has been resurrected in Norway and the El-Jet is once more being produced in limited quantities of about 50 per year.
The El-Jet has a top speed of about 75 kph (50 mph). It is offered with a variety of batteries including Lead Acid and NiCad. Range depends on battery type but is from 50 to 100 km (30 - 60 Miles) per charge.
They have also recently introduced the Kewet Buddy, a three seat car that is capable of a top speed of 50 - 60 miles an hour depending on the type of batteries. Kewet will offer Li Ion batteries as an option on this car as well as the traditional Lead Acid batteries. Range with lead acid batteries is about 30 miles while the Li Ion batteries should offer a range of over 100 miles.
Kewet have indicated that the Buddy will be made in quantities of around 80 per year and will be priced at $13,000 to $14,000 per year. They have no plans to bring this car to the US.
Check out the Kewet Buddy test drive1 and Kewet Buddy test drive 2 courtesy of youtube.
For more information email Kewet or contact them by mail, phone or Fax using the information below.
Kollega Bil AS
Sandakervn. 110c
0483 OSLO
Tel:. 22 22 39 22
Fax 22 22 39 21
---




Norwegian carmaker Th!nk Nordic has begun delivering the Th!nk City to customers in Norway, with Sales in the UK and other European countries likely to start before the end of the year. They are also planning to start sales in the US some time in 2010. The Th!nk City is pretty much the same car that was designed by Ford when they owned the company.
The car is a three door hatchback that will seat two people The City has a top speed of 100 kph (about 62 mph). It will come with different battery options starting with zebra NiCl batteries which will give it a range of around 170 Km (105 Miles) and two different Li battery options giving ranges of 180 Km (111 Miles) and 203 Km (126 Miles). These range figure are quoted as the expectation in summer temperatures with the heater off so mileage will probably be lower in real world driving.
The three phase electric motor is rated at 30 KW and can propel the car to 50 Km/hr in 6.5 seconds.
The car was designed to pass US crash test standards and comes with air bags and ABS brakes and also has regenerative braking. Dual airbags are standard and the system comes with a key to disable the passenger side air bag. Power steering is also standard.

In Austria they will be sold through Electro Drive Denzel GmbH dealerships
Check out the Electricaid test drive courtesy of youtube
For information on how to purchase a Th!nk contact them via their Contacts page
---


The Maranello 4-Cycle is a small city-class vehicle with a top speed of 45 Kph (about 30 mph). It is just slightly smaller than the Smart Fortwo so it would be justly classified as a Microcar.
It is powered by a 96V Lead Acid battery pack that drives a 4Kw DC motor and gives it a range of 70 Km (about 45 Miles). The car has front wheel drive, Mac Pherson strut suspension and four wheel disk brakes.
The vehicle can be obtained in two packages the Star and the Superstar which determines which options are standard on the vehicle. For example the Star comes with static seat belts while the Superstar has the more comfortable inertia reel seatbelts.
Also available is a gasoline powered range extender which turns the Maranello into a grid chargable hybrid.
For information about purchasing a Maranello see their Contact page
In the UK it is being distributed by Sakura
In London they can be rented on a month to month basis at Electriccarhire
See Bruce Meland's write-up of the Maranello on the Electrifying Times web page
---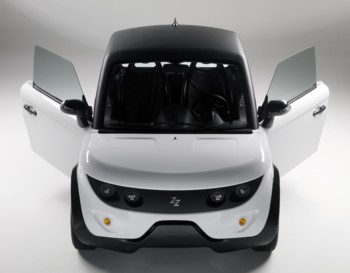 The Tazzari Group have begun selling a 2 seat micro-car called the Tazzari Zero. Developed and built in Italy the car, which is nine and a half feet long, five feet wide, and four feet seven inches tall, is a two door, two seat.
The car is powered from a Lithium battery pack driving the rear wheels via a three phase asynchronous motor that gives the car a top speed of 62mph (100kph) and a range of about 87 miles (140 kilometers) in economy mode though you should expect less in normal driving.
Stopping is accomplished by disk brakes on all four wheels. Regenerative braking is standard.
The car has three charging options, 220V with a 1.8KW supply which will fully charge the car in about 10 hours, a 220V Multifast charger that will recharge in about 5 hours, and a 380V three phase option that will recharge the car from 0 - 80% in about 50 minutes.
The car also comes with most modern conveniences such as power door locks and an CD/MP3 player
The base price for the car in the UK is £21,500

In the UK they are sold at EVStores in London

In France they can be bought from OZO Vehicules Electriques in Venelles
To find a dealer near you go to their Dealer Locator
See video of the Tazzari Zero in Berlin courtesy of youtube. Please note commentary appears to be in Italian
---

Tender Electric Vehicles is a French company that manufactures a city class car called the Scarlette that looks like the original Jeep. The car can be purchased in two versions homologated as either a light quadracycle or a heavy quadracycle.
The car is 2.7 meters long and 1.45 meters wide. It is powered by 12 6V batteries for a 48V 240 amp hour pack which can be charged from any standard 220V outlet. The car is offered in a 2 wheel drive version that is powered by a single 4KW electric motor, or in a 4 wheel drive version that uses either two 4KW motors or two 6.3KW motors.
The top speed for the light quadracycle version is 45kph (about 30mph) while the heavy quadracycle version has a top speed of 80 kph (about 50 mph) and range is quoted at 100 km (about 60 miles) although range will vary depending on the type of motor so expect less than that in real world driving.
The Scarlette is built using aluminum body panels on a stainless steal frame which should make for a very sturdy vehicle. Retail price for the Scarlette varies between about €10,000 €15,000 depending on options.
To locate a dealer or obtain more information use their Contact page
---


South Coast scooter who also go by the name of Travel Electric, is offering an upgraded version of the Italian Built Start Lab, which they call the Electrica. The top speed has been increased to 45 mph. The battery pack has been upgraded to Lithium/Cobalt to give a quoted range of 65 miles. Their web site doesn't give any more details about the upgrade but if you call 01425 402579 they say they will answer any questions.
This car is also now available in Japan under the name Girasole. It comes with a lithium battery pack that gives the car a range of about 75 miles and a top speed of 41 mph.
See the report on the Girasole on NHK World courtesy of Youtube.
They can be purchased through TYC Track
Also through Future Vehicles
and Travel Electric
---


Elcat has been building electric vehicles in Finland since 1985 but like many other small European manufacturers they had financial difficulties and stopped making EVs. It appears that the company has now been taken over by some of its former employees and is back in production.
Elcat make four models, the Citywagon 202, the CityVan 202, the Citywagon 200 and the Cityvan 200.
All four models are powered by a DC motor and MOSFET controller. The 202 series use 13 six volt Lead Acid batteries for a nominal voltage of 78V while the 200 series use 12 six volt Lead Acid batteries for a nominal voltage of 72V. Power is transferred to the wheels though a 5 speed manual gearbox. Top speed ranges from 90kph (55 mph) to around 80kph (50mph) and range varies between 70 kilometers (55 miles) and 50 Km (30 miles) depending on the vehicle and type of driving.
The CityWagon 202 and Citywagon 200 both seat up to four passengers and are suitable for family use around town. The Cityvan 202 and Cityvan 200 are both intended for use as delivery vehicles but would also make a good second car for those who need to haul stuff rather than people.
See video of an Elcat doing a burnout courtesy of youtube
Contact information:
Elcat Oy
Kaj Bäckström
Minkkikatu 1-3,
FIN-04430 JÄRVENPÄÄ, Finland
Tel. +358 9 217 1720,
fax: +358 9 292 2043
e-mail: kaj.backstrom(at)elcat.fi
In the UK they can be ordered through Dragon Electric Vehicles

---

Stevens Vehicles is a new UK electric car manufacturer that is starting to sell a range of electric cars. Its first offerings are the Zecar and the Zevan. These two vehicles are both just under 10 ft long and stands 6 ft tall making them very visible on the road. The Zecar will seat five adults while the Zevan seats two and provides 84 cubic feet of cargo capacity.
The vehicles are constructed on a steel chassis and use roll cage construction to enhance safety.
Both vehicles are driven by an AC motor and use Maintenance free lead acid gel batteries. Top speed is 56mph and range is quoted at 56 miles but expect somewhat less than this in real world driving conditions. They can be charged from a standard 13 amp outlet.
Prices for the Zevan start at £11,995 while prices for the Zecar start at £15,000. Stevens Vehicles offers an unlimited mileage two year warranty.
To purchase one of their vehicles Contact Stevens Vehicles 44(0) 1639 864730
---

The eRoaster is a 3/4/scale replica of a 1932 Ford Hi Boy Roadster that is powered by 8 Trojan T-875 8 volt batteries. The inch DC motor allows a top speed of 50 mph with the standard 10.36:1 gear ratio. Stated range is between 30 and 50 miles per charge depending on road conditions although I would expect a lower range than that in real world driving.
The eRoadster is being sold through golf cart dealerships. Check their dealer page to find your nearest dealer
or contact the company directly at
NORAM Concepts Inc
e-Roadsters Division
P.O. Box 3872
Redondo Beach, California 90277-1720 USA
phone (310) 612-3043
fax (310) 371-7502
email: info@eroadsters.com
---
If any owner out there would like to email evfinder and tell me their experience I would love to pass on the information to prospective buyers. I would also like to hear about any City Class EVs that are not listed here, or send any questions you might have about EVs.
---
Now for the fine print - remember always read the fine print
The information contained in this web site is based on information I have received about the availability of vehicles both new and used. I attempt to keep the information here as current as possible but I would appreciate being notified of any inaccuracies you may find. The appearance of a vehicle on this site does not imply any endorsement of that vehicle, or any implication that the vehicle will be suitable for your needs. As always you should investigate the vehicle and the seller before shelling out your hard earned money.