Full Sized Electric Vehicles
---

About

EVents Calendar

FAQ

EV Selector

Links

The EV Finder Archive

Site Map

Blog
---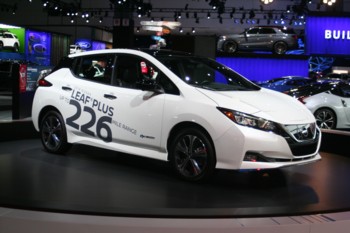 On August 2, 2009 Nissan took the covers off the pre-production version of the electric car, called the Leaf. The car is a 5 door hatchback with seating for five and while looking a little like the Versa at the rear is longer and more aerodynamic.
The Nissan Leaf's 80KW motor is powered by a 24KwHr Lithium battery pack that offers a range of about 80 miles (160 Kilometers) and a top speed of around 90mph (145kph).
The car comes standard with a charge cable that can plug into a regular 110V connection but charging at 110V will take about 20 hours. An optional Aerovironment 220V charger can also be purchased that will allow the car to be fully charged in about 8 hours from a 220V plug. Another purchasable option is a DC charging port for a fast charger connection which will allow the car to charge to 80% in about 30 minutes.
The car includes electronics that allow the car to communicate with a cell phone so the driver can check the state of charge or turn on the AC to precondition the car remotely. Preconditioning the car while charging can help with range since the required energy is taken from the grid instead of from the batteries. The onboard navigation system will also allow the driver to locate and navigate to nearby public charging stations.
Nissan began delivering cars on December 11, 2010. Their initial market for the car will be in California, Oregon, Washington, Arizona, Tennessee and North Carolina then going nationwide on March 1, 2012. In the UK deliveries Started in March of 2011.
Recommended retail price in the US will be $32,780 before any Federal and State incentives, and there will be an additional charge of about $2,200 for the charger installation. They will also be offering a lease option but the batteries will not be leased separately. Nissan is now taking reservations for the car which is a four step process. Fist you make a reservation and put down a $99 refundable deposit. then an electrician will come to your home to evaluate charger installation, the charger will then be installed at your home and finally the car will be delivered to the dealership of your choice. For those who can manage with 110V charging, or want to install a 220V charger from another vendor, the 220V charger option can be waived.
Read my Nissan Leaf test drive
In the US use the Nissan Leaf Dealer Locator to find your nearest dealer

In the UK you can locate a Dealer by going to the Nissan Leaf Dealer Locator page
See video of the Nissan Leaf courtesy of youtube
---

Bolt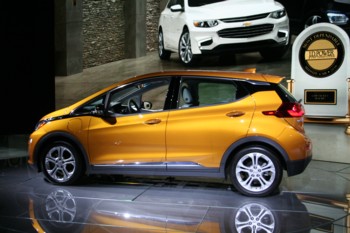 In December 2016 Chevrolet began delivering the Bolt, an all electric compact crossover. The Bolt is a 5 door crossover that offers 94.4 cubic feet of passenger space which offers plenty of room to seat 5 in relative comfort. The car is designed as a base platform for future EV developments so the battery does not intrude into the cabin space leaving a decent 56.6 cubic feet of cargo space under the hatch.
The Lithium Ion battery has a capacity of 60 KWh which is enough to power the Bolt for an impressive EPA estimated 238 miles. The car comes with a 120V charger but this will take about 50 hours to fully charge the car. Using a level 2 charger (240V) the car can charge at up to 7.2KW which drops the charge time down to about 10 hours, so a complete charge can be obtained overnight.
The Bolt also supports the Combined Charging System (CCS) DC fast charger which is a $750 option on the car. Using DC fast charging the bolt can get about 90 miles of range in 30 minutes. While this does not come close to the charge speeds of the Tesla Superchargers, a one hour break while charging would make a trip such as Los Angeles to Las Vegas possible.
The car is driven by a 200hp electric motor that is capable of propelling the car from 0-60mph in under 7 seconds. Top speed is electronically governed at 91 mph.
The 2017 Chevy Bolt is currently available in California and Oregon as of January, 2017. It is expected that the Bolt will begin shipping to the rest of the country and to Canada starting in April as a 2018 model year. The base price is $37,495 before Federal and State incentives
You can configure a car or find a dealer near you by going to the Build-your-own site.
---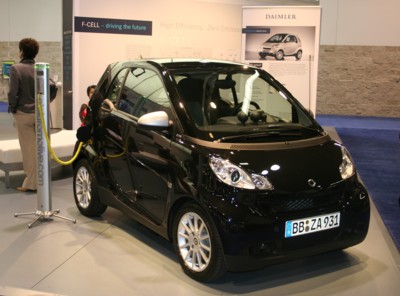 Daimler has been testing an electric version of the Smart-for-Two, called the Smart ED. in Germany for quite some time. The vehicle was originally developed by British company Zytech and used Zebra Batteries. The second generation came equipped with a lithium ion battery supplied by US EV maker Tesla Motors.
The latest generation Snart Electric Drive comes with a 17.6 KWh lithium Ion battery pack made by Daimler and takes about 6 hours to fully charge from a 220V supply and will go from 20% to 80% in 3.5 hours. The car is also capable of charging using 110V but charging takes much longer.
The Smart ED is powered by a 47hp motor which will give it a top speed of 78mph (electronically governed). Daimler say the car is capable of a range of 90 miles on a charge but the EPA estimate of 68 miles on a charge in combined highway and city driving is more likely for most drivers. Actual range will, of course, vary depending on terrain and driving style.
The Smart Electric Drive comes in two models, the Coupe starts at a base price of $25,000 before Federal and State Incentives while the Cabriolet starts at a base price of about $28,000 before Federal and State Incentives. Smart are also offering a $199 per month lease rate and also have an optional battery lease program where the car is leased for $119 per month and the batteries are leased separately for $80 per month.
The cars is currently available in California and 5 other States but will be rolled out nation wide to all 72 Smart dealerships in the US by the end of October, 2013. They are also available in Germany, UK and France (where they are built).
Read about my test drive the Smart EV prototype at EVS 20
---


5/2/2014 - Delivery of the i3 in the US has begun, EPA gives it an 81 mile range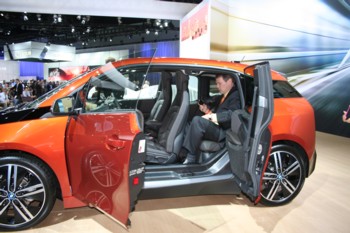 BMW are now selling the i3 in Europe. The i3 is a compact 4 seat sedan that features coach doors that open out to allow easy access to the rear seats. This is the third generation EV from BMW following extensive field testing with the Mini-e and the Active-E.
The car is constructed using a carbon fiber frame and plastic body panels which makes the car both light at 2700 lbs. and dent resistant for those crowded city parking lots.
The car is driven by a 168bhp electric motor that is powered by a 22KWhr lithium Ion battery pack of which 18.8KWhrs are actually used. This gives the car a range of 190Km (118 Miles) on the European test cycle but is expected to give about 100 miles on the US cycle. Top speed will be around 150kph (93mph)
The battery will charge in about three hours on a 220V level 2 charger, but it takes about 6-8 hours from a standard 16 amp socket. The US version of the car will come with a 110V courtesy charger but this will take about 16 hours for a full charge so BMW recommends level 2 charging. They will also be offering a DC fast charger option that can charge the car to 80% in about 30 minutes. This will be done using the new J1772 DC charging standard although Chademo will be offered in cars for the Japanese market.
BMW will also offer a range extender option. This option adds a small 2 cylinder engine in the rear of the car fueled by a 2.4 gallon gasoline tank located under the hood. The range extender will double the car's range.
The BMW i3 can be purchased through BMW dealerships across Europe with base price starting at around €35,000. Prices will vary from country to country depending on local taxes
The car should be available all across the US starting in May 2014 with a base price of $41,350. MSRP for cars fitted with the range extender option will start at $45,200
Check out my test drive of the i3
---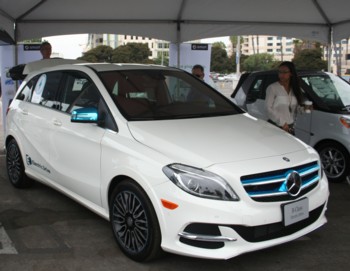 The first generation Smart Electric drive sold here in the US used technology from Tesla, and Daimler-Benz has leveraged their relationship with Tesla in producing the B250e. The car is basically a B-Class five passenger hatchback with the usual engine and transmission replaced by a Tesla drive train.
The B-Class platform has also been revamped to offer greater interior space than the previous generation The car is driven by an electric motor that kicks out 177hp and 251 lb-ft of torque which lets the B-Class go from 0-60mph in under 10 seconds with top speed electronically limited to 100mph.
Power comes from a 36KWhr battery but only about 28KWhrs is actually usable. The EPA estimates the range at 87 miles but surprisingly the car received a fuel compatibility rating of just 84mpge. The additional battery capacity can be unlocked with the optional range package which allows the driver to select 100% charge which Mercedes say will drive the car up to 104 miles. The EPA numbers do not take this into account as it is an optional package.

The B-Class Mercedes has a base price of $41,150 and the range package adds another $600 for an extra 17 miles per charge. It is currently available in CA, CT, MD, OR, NJ, NY, RI and Vermont with nationwide availability expected in early 2015.
---
Tesla Motors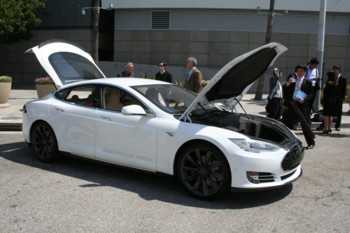 Tesla is currently producing the Model S which is a luxury four door sedan that seats up to 7 passengers. They also offer an all electric crossover called he Model X. The cars are powered by a Lithium Ion battery pack that is based on the small format Lithium Ion cells that was used successfully in the Tesla Roadster. Both cars are available in rear wheel drive and all wheel drive version.
They currently offer three model options based on battery capacity. The 75KW version offers an EPA estimated range of 259 miles with a top speed of 140mph. The base price for this model is $75,500.
There is also a version that comes with an 90Kwhr pack that drives a 362hp electric motor to give the car a top speed of 150mph and an EPA estimated range of 294 miles. The base price for this model is $75,500.
Their top of the line offering is the Model S Performance. This model also comes with an 100KWHr pack and is but it is coupled to a 416hp motor that will take the car from 0-60mph in just 2.5 seconds and has a maximum speed of 130mph. Range is 335 miles on a charge. An all wheel drive version is also available. The Model S Performance AWD starts at a base price of $134,500.
Tesla offered models with 40KWHr and 60 KWhr battery packs but these have been phased out and now the entry level for both the Model S and Model X is the 75 KWHr version.
Tesla also offer a high speed charging option and are creating a network of fast chargers that will offer charging up to 80% in about 30 minutes. These chargers are free for Model S and Model X owners but Model 3 owners will have to pay to use them.
Tesla is taking reservations for both the Model S and Model X with delivery times between 1 month and 2
Tesla are also taking orders for the Model 3 which began deliveries in July 2017. Currently there are four options being built.
The long range option has a range of 310 miles on a charge, a top speed of 140 mph, and a 0-60 time of 5.1 seconds. There is also an all wheel drive variant that offers slightly performance. Price for the Model 3 Long Range start at $49,000.
The Mid Range version comes in slightly cheaper with a starting price around $46,000. It offers a range of 210 miles on a charge, top speed of 125mph and 0-60 in 5.6 seconds
The top of the line Model 3 is the Performance. Like the Long range this version offers a range per charge of 310 miles but also produces 450-hp and adds an additional driving mode, Track. This reduces the 0-60 time to just 3.5 seconds and ups the top speed to 155 mph. A well equipped performance model is going to cost around $72,200.
Tesla is expected to start production of the base level Model 3, starting at $35,000, around the start of the second quarter of 2019.
To find out more about the Model S. Model X, and Model 3, or to make a reservation, please go to the Tesla Motors web site
---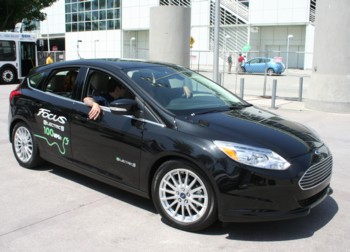 Ford began delivery of the Focus EV in late 2011 they begin selling an all electric vehicle version of their Ford Focus sedan in California and New York with sales in other states beginning in the Spring of 2012 and Europe in 2013. The car is based on the latest Focus platform, It will be powered by a 23KWHr lithium ion battery from LG Chem which will be temperature controlled using a liquid cooling/heating system to keep the batteries at optimum temperature. Ford have not yet released any figures for range but the pack should allow the car to be driven about 100 miles on a charge.
The car can be charged from a standard 110V outlet but charge time is around 20 hours. The optional 220V charger has the capability to charge the car in 3 to 4 hours. The Focus EV comes with a feature called "Value Charging" which helps the owner charge when utility rates are at their lowest. Top speed is 84mph although range will suffer greatly if the car is driven at high speed.
Read about my Test Drive of the Focus EV prototype
See Drew Barrymore take Jay Leno's Green Car Challenge in an Electric Ford Focus courtesy of Hulu
---
Chrysler-Fiat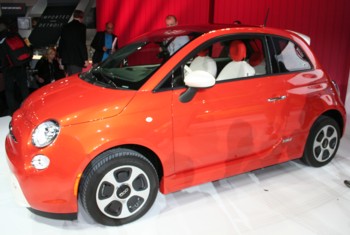 At the 2009 Detroit Auto Show Chrysler announced that it would be selling the Fiat 500e, an electric version of the Fiat 500. The car was first shown at the 2012 LA Auto show. It is powered by a 111hp electric motor that can produce 147 lb-ft of torque. This is coupled with a 24KWh lithium-ion battery pack which gives the Fiat 500e an EPA rated range of 82 miles. The car has also been modified over the gas version to improve aerodynamics bringing the coeficient of drag down to 0.311.
Performance figures given for car were quite impressive with a top speed of 85mph, and a 0-60 speede of just over 9 seconds. It has seating for 4 and comes with an optional sun roof.
The car was engineered at Chrysler's headquarters in Michigan but is being built in the same Toluca, Mexico plant where the Internal combustion engine version is built.
Prices for this electric car starts at $31,800. They also offer a $199 lease rate with $99 down which is the same rate you would expect to pay for the gas version. Fiat is also including up to 12 days of car rental for the first three years of ownership.
The Fiat 500e is available at Fiat's California dealerships but Fiat has reported that they are virtually sold out for 2013
Fiat has made it clear that this is a compliance car and so it is unlikely to show up outside the states that follow CARB rules..
---
Peugeot Citroen



Over the last twenty years Peugeot has been the largest producer of electric cars in the world producing both the Peugeot 106 Electrique and the Peugeot Berlingo Electrique for the European market. Now they are going to start selling the Peugeot iOn which is really a re-branded Mitsubishi iMiEV and will also be sold under the Citroen name as the C-Zero.
The iOn will be driven by a 330V lithium ion battery pack that will give the 4 door 4 seat microcar a range of about 80 miles (130 Kilometers). Top speed from the 64hp electric motor will be around 80 mph (130 kph).
The car can be charged using the on-board charger from a standard 220V outlet in about 8 hours. The car will also come with a fast charge port that will allow the car to be charged to about 80% in just 30 minutes.
In the UK both the Ion and the C-Zero lease for £415 plus vat per month.

To find an Ion dealer in the UK go to the Peugeot Ion Specialist Page

To find a C-Zero dealer go to the Citroen Find a dealer page and remember to check the electric vehicle box
---






The Renault Fluence ZE is an electric version of Renault's four door sedan and will seat 5. It will be powered by a 94hp electric motor and a 22KWh lithium battery pack that can be swapped at one of Project Better Place's battery swap stations. The car will reach a top speed of 100kph (81mph) and offers a range of 185 kilometers (114 miles) between charges based on the New European Driving Cycle but I would expect range to be a little less in real world driving. In addition to the battery swap option the car can also be charged from a standard 240V receptacle or by using a DC fast charger.
The Fluence ZE is now on sale throughout Europe and also in Isreal through Renault dealerships
The ZOE is a two door hatchback that is driven by an 87hp electric motor driven by a lithium battery pack that propels the ZOE from 0-60 in 9.1 seconds and to a top speed of 135kph (84mph). Range based on the New European Driving Cycle is 210 Kilometers (130 miles) but I would expect less in real world driving. The vehicle also comes with fast charging capability allowing the car to get 35 miles of range with just a 10 minute charge.
The Zoe is now on sale throughout Europe through Renault dealerships
The Renault Kangoo ZE is an all electric version of Renault's popular light Van. The Van comes equipped with a 60hp electric motor driven by a 22Kwhr Lithium battery pack located under the floor. The batteries should provide a range of around 160 kilometers (100 miles) and can be fully charged from a standard 240V outlet in 6-8 hours. Top speed will be 130kph (81mph). The Van offers a payload of 650Kg (1433lbs) so it should be ideal for local deliveries.
The Kangoo ZE is currently on sale in France and the UK through Renault dealerships with prices starting at €26,000 on top of which will be VAT and a charge to lease the batteries.
---

Subaru recently began sales of the Stella EV in Japan. This is a small subcompact electric car, is based on the existing 4 seat Stella Minicar, a boxy looking 3 door. The car uses a 47 KW electric motor driven by a lithium-ion battery pack that gives the car a top speed of around 62 mph and a range of about 55 miles. The 346V Lithium pack is projected to last for 10 years or 130,000 miles. The battery pack can be charged up to 80% in about 15 minutes using a high power dedicated charger or the car can be charged overnight using a standard 110V household outlet.
Subaru is selling only 170 of these cars during the 2010 model year and most of these will go to fleet operators but the car is also available to the Public
See video of the Stella EV courtesy of youtube
---


They are now taking fully refundable deposits for the Tango kit cars, the Tango production vehicle, the T600, and the more basic versions of the Tango that are projected to be built in the future. These deposits will be placed in an escrow account that will make them fully refundable at any time. They are Currently working on the first run of 10 cars of which seven will have Lithium batteries. They can now build to UK Specifications and will be delivering the first T600 to the UK later this year.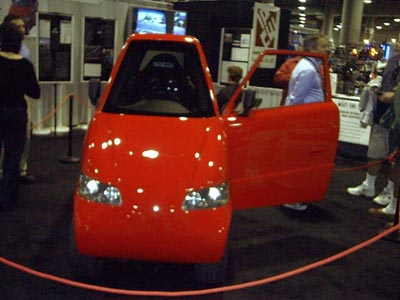 The Commuter Car Company has built a prototype Tango which seats two and gives impressive performance. They claim a top speed of over 100 mph, a 0-60 time of 4 seconds and a range of up to 50 miles. The car is fitted with a battery management system which will allow you to do close to the rated mileage without risking damage to the batteries although deep discharges will reduce cycle life.
Their first produciton vehicle was completed by the UK company Prodrive, and was delivered to Actor George Clooney in August last year. The cost of producing vehicles using Prodrive however proved to be too high so the body molds have been bought from them by Commuter Cars and they have just started production of their second vehicle here in the US. They recently announced that they had 6 firm orders for the T600 and had several more orders that were currently pending.
The cost of the T600 varies from $85,000 to $108,000. To avoid the cost of crash testing they are selling these cars in the form of a Kit. They are also looking to partner with one of the automobile manufacturers so that they can produce the car, and a lower cost version at a cost competitive price.
Read the Seattle Times article on the Tango
---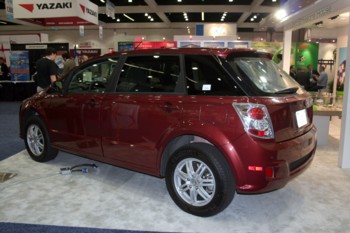 Chinese carmaker BYD, who already sell a plug-in hybrid sedan in China, has begun to sell the E6 5 door sedan in China. Powered by BYD's lithium battery pack which drives two electric motors one to power the front wheels and the other to power the rear wheels. The combined 268 hp gives the E6 a top speed of 140kph (87mph) and will drive the car from 0 to 100kph(0-62mph) in a rather sluggish 14 seconds. The battery pack provides a range of around 330 kilometers (205 miles) on a charge. The BYD web site quotes charging as 330V DC and 100 amps but since that sort of charging wouldn't be practical for home use I would expect a more modest 110V/220V charger to be installed in the production model.
The car is just under 15 feet long, 6 feet wide, 5.3 feet tall, and their web site quotes a curb weight of 5060lbs which seems really heavy to me but might well account for the sluggish performance.
BYD started using the cars in a taxi service in Shanghai in 2010, and they are also have a test program with the city of Los Angeles in the US. They recently announced that sales in the US would be restricted to fleets initially. They opened their US headquarters in Los Angeles in October, 2011 but so far there is no indication of when BYD will begin selling cars in the US.
See Video of the E6 courtesy of youtube.
---
Venturi Fetish




The Venturi Fetish is a high performance sports car built in Monaco. It uses the ACP 150 drive train manufactured by AC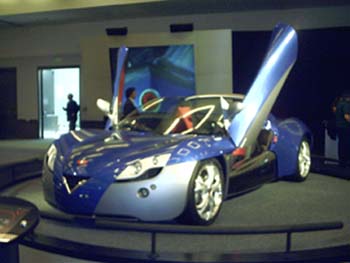 Propulsion and the ACP Li Ion battery pack. It boasts a top speed of a little over 100 miles per hour and 0-60 of 4.3 seconds. The Li Ion battery pack give it a range of between 120 -200 miles. It can be charged in about 3 hours at 80 amps but a full charge on a 110v circuit at 16amps requires 16.5 hours.
The Fetish is currently being sold in Europe, Japan and California, USA. It is hand made to order and is not cheap at €450,000 (approximately $630,000 at current exchange rates). They are only going to build 25 of these sports cars so they will be very rare and unique vehicle.
Venturi already have three people interested in purchasing one of these vehicles so even at this price there is still a demand.

Here is some excellent video of the Fetish courtesy of youtube (in Italian)
Contact Venturi Phone: 377 99 99 52 00
---


Micro-Vett is the leading maker of electric vehicles in Italy and was the company responsible for designing the electric Piagio Porter. They are now producing two electric vehicles, Ydea city car and the Doblo freeway capable EV.
The Doblo is an all electric conversion of the Fiat Doblo MPV with a top speed of 125 kph (75 mph) and a range of 150 Km (90 miles). It comes with a lithium Ion battery pack and will seat from 2 to 5 passengers depending on the model. It comes in all configurations that are available with the Doblo Diesel.

In France contact Newteon

In Norway contact EnviroEiblisalg
For details on purchasing a Doblo contact Micro-vett using their contact page or phone 39 0542 362050
---

Ecolari is and Italian based company that is now selling an electric version of the five door Fiat Panda sedan which they call the EnerMove. Their information on this car appears to be a single PDF with specs on the car and as Babel Fish doesn't seem to want to translate the entire page I have done the best I can to translate information.
It appears that the car has a 190V pack of Zebra batteries that give the car a top speed of 110 kph and a claimed range in city driving of 120 Km and a 135 km at a constant 50 kph. The car will accellerate from 0 to 50 kph in 7 seconds. The car comes with a 220V charger and also features regenerative braking.
For more information about purchasing the EnerMove contact Ecolari
---

The AVT 100E is a 4 passenger minivan that is built by AVT in the UK. They will custom built one for you at a cost starting around £20,000
Top Speed in 100mph
Range 20 - 150 miles depending on Battery Options
Blue Lias House,
Station Road,
Hatch Beauchamp,
Somerset TA3 6SQ
England
phone 01823 480196
Fax 01823 481116
email info@avt.uk.com
They can also provide conversions of such cars as the Smart ForTwo and the Peugeot 106.
---
If any owner out there would like to email evfinder and tell me their experience I would love to pass on the information to prospective buyers. I would also like to hear about any full sized EVs that are not listed here, or send any questions you might have about EVs.
---
Now for the fine print - remember always read the fine print.
The information contained in this web site is based on information I have received about the availability of vehicles both new and used. I attempt to keep the information here as current as possible but I would appreciate being notified of any inaccuracies you may find. The appearance of a vehicle on this site does not imply any endorsement of that vehicle, or any implication that the vehicle will be suitable for your needs. As always you should investigate the vehicle and the seller before shelling out your hard earned money.