CLASSIFIEDS
---

About

EVents Calendar

FAQ

EV Selector

Links

The EV Finder Archive

Site Map

Blog
---
If you have Electric Cars for Sale - Electric Car Components for Sale - Want Ads for Electric Cars and Components - Ads can be placed on this page free of charge by Emailing your AD to Classifieds. I suggest that you include a description of the vehicle including its color, state of mechanical repair, and any additional features. Also include the location of the vehicle, the price. Attach a picture (JPEG or GIF) if you have one. I will post up to 3 photos with the ad. Don't forget to include contact information. Be aware that including an email address on a web page can generate Spam and attract scammers.
Warning to buyers - This site has recently been hit by scammers offering cars for sale that are not legit - it is always safest to see a car or have it inspected before sending money.
---
---
---
1984 Maserati Conversion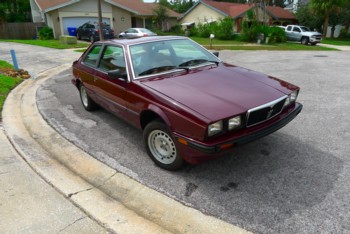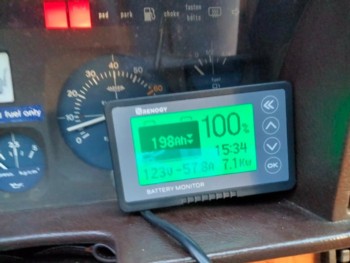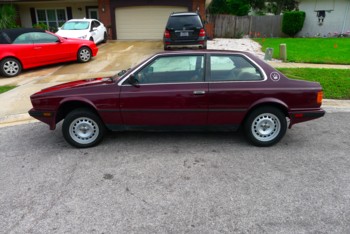 1984 Maserati BiTurbo coupe
Maroon
5 Speed
Leather interior
Impulse 9 motor
Curtis Controller
Smart4two batteries
Chevy Volt Batteries
~200 amp hours
126 volts
Elcon PFC charger
BMS included, not wired in yet
18500 miles

The car runs and drives fine, the 12-volt system work as it should, but could use a little TLC.

The car is in Largo Florida 33777

$18,000 obo
Contact Bob
1/22/2022
---
1993 Jeep Grand Cherokee Conversion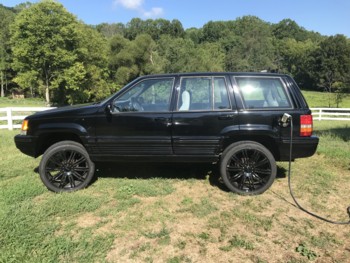 1993 Jeep Grand Cherokee ALL ELECTRIC For Sale

Located in Tysons, VA

Asking $14,900.00

Parts and costs

BODY $2,000
Shell good shape $1,000
Paint (black) new $1,000
Windows good shape
Bumpers good shape
Chassis good shape
MOTOR $6,500
DC 11" Net Gain Warp 11 $3,000
Motor Controller Soliton 1 $3,500
TRANSMISION $2,000
Automatic 3 speed Chrysler TorqueFlite $2,000
ELECTRICAL $13,150
Battery 12 Volt new Optima Blue $ 150
Batteries 200 Volt 58 Li Ion 3.3 V 180ah CALB $10,500
BMS Orion $1,000
Charger Elcon $1,300
DC-DC Converter 200V > 12V Mean Well $ 200
Battery box (needs cooling fans)
DRIVER SYSTEMS $1,200
Steering electric $1,000
Brakes electric $ 200
SUSPENSION $4,600
Wheels new KMC 22" $2,400
Tires new Pirelli Scorpion 22" $2,000
Shocks/springs new heavy duty $ 200
PASSENGER COMFORT $ 650
AC electric $ 250
Heat electric $ 100
Stereo and shark fin antenna new Pioneer $ 300
INTERIOR $ 700
Seats (cloth gray) good shape
Dash good shape
Gauges (15" AOC touchscreen & PC) new $ 700 (needs software re-boot)
SAFETY $ 400
Horn good shape
Seat belts good shape
Sideview mirrors good shape
Wipers good shape
GPS antenna installed $200
Rearview camera installed $200
E brake one side loose (have part)
LABOR $10,000
Fabrication $10,000

TOTAL Conversion cost was $41,200

Contact Anthony 202-321-2366
1/19/2022
---
2007 VW New Beetle Conversion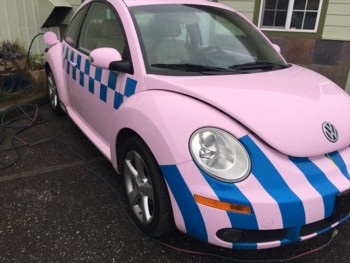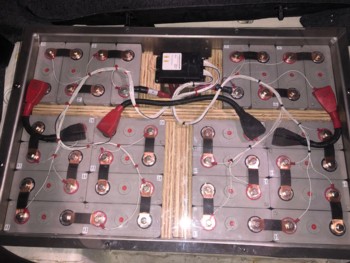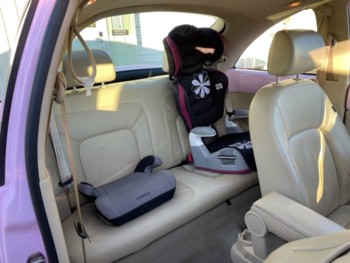 VW New Beetle Hatchback; Purchased Brand New at the Seattle VW Dealership in 2007. Professionally Converted by CANEV in 2008, Professionally Painted Pink/Blue euro police theme.
Vehicle came to me last year with expired batteries, missing DC/DC converter, and a failed Orion BMS. Fully replaced the DC/DC Converters, Charger, BMS, and Batteries.
I have every piece of paper for this car from the original sale documents, CAN EV receipts, Thunderstruck Receipts, CANEV wiring schematics, and more.

This is a fun daily driver! Heated seats! Power everything! Very professional conversion! The driver seat has some wear because this car has been and is a fun daily driver! I am driving this car as my daily commuter until I sell. I will have the car professionally detailed once I am paid but before releasing the car to you.

Manual 5-Spd Transmission, FWD, 2-Door, 4-Seatbelts, Tilt Steering Wheel, ABS, Traction Control,
Powered Sliding Sun Roof, Power Steering, Power Windows & Door Locks, AM/FM/CD, AirBags, Heated Leather Seats, CANEV Electric Heat.
Kellly Bluebook on this car as stock is $5K
Electric System: HPEV AC50 and Curtis 1238-7601 96 volt controller, Dual Thunderstruck DC/DC Converters, Thunderstruck Charger with J1772 Inlet, Thunderstruck BMS, NEW CALB 15kWh Battery Pack (Pictured is the rear 1/2 of the battery pack, countersunk under full available trunk)
Vehicle looks completely stock inside & out save the custom paint job.

Asking $13K
Contact Eddie 360-734-6530 in Bellingham, WA
Revised 1/17/2022
---
TC Charger
TC Charger for Sale

$150 obo

Charger was used for a 176v Lifepo4 pack. Has Anderson connector and 3 prong plug.

See Pics
Contact Billy 732-915-2282
11/15/2021
---
1981 Volkswagens MK2 Caddy Conversion
1981 Volkswagens MK2 Caddy For Sale - $8000 OBO

Range 50 to 60 miles

Motor Advance DC 9 connected to stock 5 speed transmission

Controller EVnetics Soliton Jr

Battery pack THREE - 42S Chevy VOLT Modules @ 168V (168V x 35AH X 3 Battery in Series = 17.64 KWH)
Three Chevy Volt Modules tucked under the bed. Picture you can see two modules, but there is a third.

Charger Manzanita PFC-40 12V to 450V Battery Charger (40A)

BMS Smart BMS with Bluetooth and Phone App. All cells balanced to within .01 volts

DC/DC Converter Thunderstruck DC to DC converter

Vacuum Pump ULTRA Quiet Rotary Vacuum Pump

Wheels Bart Racing Wheels 15x7 - 19/50/15 tires - New Interior

Black leather Rabbit Seats

Location Diamond Bar, CA

Contact and background info: Please be respectful Email Me for more pictures and information
CA pink slip in hand, current registration, runs strong and smooth. Turn Key.
11/4/2021
---
1997 Chevy Metro Solectria Force.

Only thing missing is batteries, might need a suspension refresh but otherwise an easy first project. Trying to sell all as one piece, but without any interest a few weeks after this is posted I might consider parting it out. Has full air conditioning, chargers, and to the best of my knowledge an airbag. 17,990 miles, and have title. Car spent most of its life in NY state and in a NJ transit station. None of the parts have been tested, but previous owner had used it daily and had no reason to believe any of the parts did not work, but still sold as-is.

https://imgur.com/gallery/hZnOtd5

Please contact me through facebook link, if that doesn't work I will check here periodically.

https://www.facebook.com/marketplace/item/327772112430381/
9/17/2021
---
1974 VW Beetle Conversion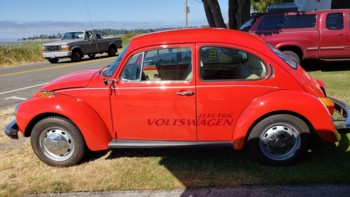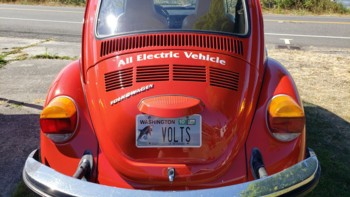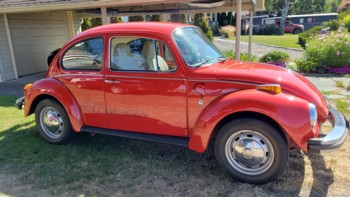 1974 Super Beetle (Converted to Electric)

Asking $16,500 for this nearly 100% restored VW. Lithium powered with a Rich Rudman charger on-board wired for both 110 and 220 volts. Also includes Mazanita Micro's state of the art battery management system. The batteries are 10 years old and one third of them have failed. The current cells are 100 Ah and provided a range of 30-40 miles with a top speed 64 mph.

Please visit https://wb7fhc.com/electric-vw-4-sale.html for all the details and to see more photos and videos of this car.

Located near Bellingham, Washington just south of the border with Canada.

Contact Budd, 360-483-4550, to make an offer
9/3/2021
---
Tesla Lithium batteries


Tesla Lithium battery, liquid cooled, 95v nominal 80-105v range 25 cells in series 19.5kWh


12" x 3" x 74" (large module from 2019 model 3 long range 75kW 3k miles on car)


$2300 Too long for project will deliver if within 100 Miles of 48170 or we can ship.

Contact Loren at 734-925-3861
Revised 9/9/2021
---
EV Parts
I have one like new hpevs AC 50 and one like new Curtis model 1238-7601 96 volt controller for sale

½ off price of new.

Contact P.J.

Pictures and answers to any questions upon request

(harness included)
8/21/2021
---
Honda XR dirt bike conversion
Honda XR dirt bike converted to electric.
Motenergy motor, Kelly Controller, needs battery and some TLC. $500 obo
Sebastopol California

Contact Alexis at 707 481-0963
7/27/2021
---
1997 Solectria Force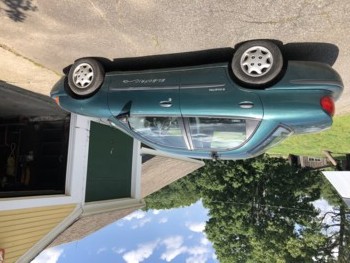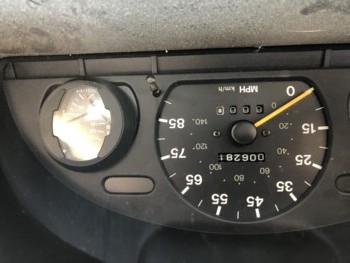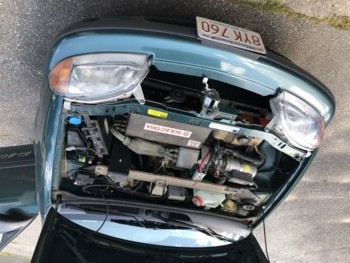 Selling a green 1997 Geo Metro Solectria with 6,300 miles. Charges on both 120/240. One owner. Always garaged. Mint condition. Never highway driven. 45 mile range. Diesel heat, radio. All original. Located in Massachusetts. NEEDS new batteries to replace 13 gel marine batteries. Car is currently titled. Price $5,000
Contact Lawrence
7/1/2021
---
1998 Ford Ranger EV


Factory electric 1998 Ford Ranger, converted to use Valence lithium iron phosphate batteries and a Valence BMS. Gets over 100 miles of range around town. Drives great, comes with a spare drive unit and a spare battery module. The bed is pretty beat up from the previous owner. This has been a fun project for me, but we have a second child on the way and no time to keep progressing it.

Asking $12,000
Email Dave
6/14/2021
---
Motor Controllers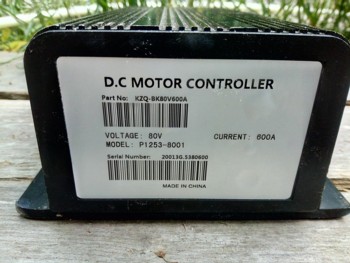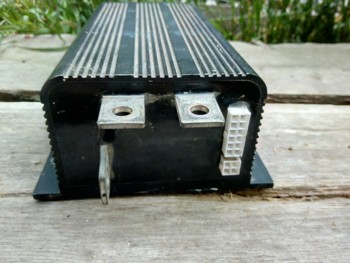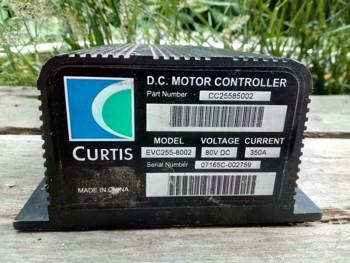 Two motor controllers for sale. One is used purchased from thunderstruck, the other is new from ebay (china) and I have never used it so I can't speak to it's functionality except that I had a shop plug it in to see that it powers up.

I'm selling them because I want to use a traction rather than pump controller. They are not appropriate to my application because this kind of controller "stutters" when accelerating at a high gear (a feature to help unclog hydraulic pumps) and can even shut off the contactor when flooring it.

$200 for both $120 for one of them. Free shipping.

Texts please! (443) 531 6848
5/19/2021
---
VW Scirocco Conversion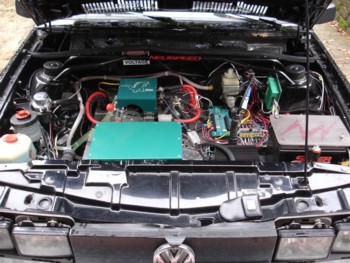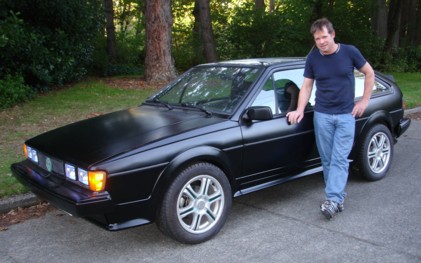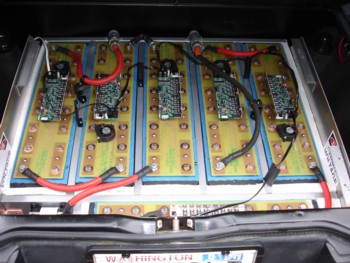 Scirocco VW Electric Conversion, invested 4 years to build. This is a classic sports car professionally designed and built by 2 members of SEVA, Boeing Electronics Techs. Driven and tested, 0-60 MPH 5.6 seconds, fast and efficient. On board components include, Manzanita 30 Amp Charger, Hairball Interface, Warp Nine DC motor. New Cool Over Shock System installed.

66501 miles on original car chassis. Onboard lighting converted to high tech LED. Lithium battery pack, 180 volts 3.3 Calb Iron Phosphate. On board 2020 Microsoft Surface Pro laptop, (display screen).
See this short video presentation.

https://youtu.be/-zyG8u6Cmy8
Asking $24,000 or best offer

Contact Gary 206 353 4844
Revised 4/19/2021
---
2013 Toyota RAV-4 EV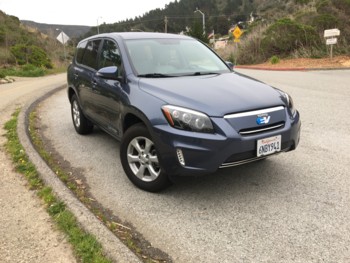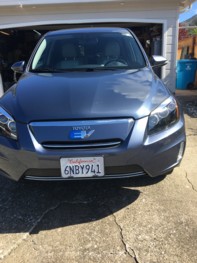 Very clean Toyota 2013 RAV-4 EV with 41k miles and new tires. Tesla powertrain with 0-60 time of under 7 seconds / receiver hitch for bike rack
$14,000 O.B.O.
Located in SF Bay Area, CA
Range: 103 mi battery-only
MPGe: 78 city / 74 highway
Battery: Tesla 41.8 kWh 386 V lithium-ion
Battery charge time: 44h at 110V (@3 MPH), 6h at 220V

Only 20% cost per mile vs. 20 MPG SUV at today's gas prices!
Check out the CarFax report

Contract Dean at 650-515-0465
3/21/2021
---
1999 Ford Ranger EV
1999 Ford Ranger EV Plug in. Charge with 220 or 110. 28,000 miles. Originally Factory built by Ford. Power steering, power brakes, air conditioning, ceramic heater.

Now has Lipo Titan Batteries. 82 mile range. I have driven this truck over 7000 miles about 50 miles each trip. New spare tire on matching rim mounted in bed with stock mounting hardware. Body and interior good shape. New shocks. Orion in place of factory radio that monitors batteries while driving and charging, CD, DVD, Bluetooth and desk top.
Truck Located 32 miles north of Atlanta Georgia. May be able to deliver if near Atlanta. This truck is ready to drive. Comes with chargers, lap top , Star tester with Ranger EV card. Will send all details and as needed pictures to serious buyer.
$18,500 firm.
Contact Thad
2/10/2021
---
Nissan Leaf Parts
2012 Leaf less than 10k miles battery pack - $2,200

2012 Leaf 67k miles complete parts car, runs and drives - $2,500 battery not included
Battery pack and parts car located in Mesquite TX 75150
Email Dex or text 469.765.7621
2/5/2021
---
BMW 120i conversion
Up for sale is my 100% electric BMW 120i conversion. An absolute great city car with 160km range
Car in located in Perth, Western Australia. Vehicle is right hand drive

Converted about 2 years ago it's only done 6000km as electric.

- Motor: 9" NetGain Warp9 (DC)
- Battery: 45x 180Ah LiFePO4 cells (164 volts at full charge)
- Zeva BMS system with computer (So you can see how much battery you have left)
- 1000AMP Zeva Controller
- 4:44 ratio diff ( standard was a 3:38 ratio)
- TC onboard charger (Can charge at 20amps max)
- 240 volt power inlet for charging anywhere there is a socket
- Aftermarket stereo (Bluetooth, USB etc..)
- LED headlights
- Electric power steering
- Power brakes
- Tinted windows

This car doesn't have gears. It's a 1 speed automatic.
Top speed - well over 130km per hour.
AC - no it doesn't have any. You could add it I suppose.
The car represents $35k in labor and parts.
Takes about 8 hours to charge if charging at 15 amps
Fully licensed and verified by a electrical and mechanical engineer
160km of range on a full charge on the freeway
Takata airbag has been replaced.

Reason for selling: New job, in which I ride to so can't justify the car just sitting there.

More photos here: https://photos.app.goo.gl/jQBP34G4RfTuaeRS6
$21,000 AUD - $16,000USD

Contact Me
1/6/2021
---
EV Components

12 of the 16 battery modules from a 2014 Tesla Model S85 with only 3,700 miles. I paid $1260 each, I'm selling for $1100 each.

Zeva BMS v3 full package with 8 of the 12-cell BMS modules (works great with the Tesla battery pack), Monitor screen, Current sensor. cost me $1779, sell for $1400

Manzanita Micro PFC-50 Charger
Quickly dial in exactly how many amps you want to output to your battery up to a full constant 50 amps, and adjustable from 12v-450v DC! Works fantastic, just like new. I paid $1660, sell for $1500

J1772 Adapter with remote Pilot Box from TusconEV, top quality construction
with 50amp 6awg cables, future-proof! Brand new, never used. I paid $162, sell for $150
Text or call 7 165-4858 40 and leave voicemail, and I'll call you right back.
12/16/2020
---
BMS modules
A group of 45 (plus one brand new spare) clean power non-centralized BMS modules. They work fine, just upgrading to Orion. I also have the control board but I think the red LED has burned out on it, otherwise fine, controls the solid state charger cut out relay as it should. This setup was in daily use until January of this year. Control board is included with the modules if needed. I have no idea what these parts are worth so call and will arrange something.

Allan, 541-5793thousand Eugene, Oregon
10/5/2020
---
1998 Chevrolet S10 Conversion
For Sale: 1998 Chevrolet S10 EV Pickup Conversion – asking $8,750 / best offer.

The body, frame and suspension are clean and in great shape. The box was removed and the frame was sandblasted and then painted with black Imron paint. The box is hinged in the rear with gas cylinders for access to the rear battery boxes. The interior is clean with minimal signs of wear. The tires have good tread left. The Xantrex Linkpro battery monitor gauge and Revolution Tachs are mounted in the "A" Pillar for easy viewing. The Soliton Junior controller and Xantrex Linkpro can both be connected to a laptop / PC for configuration settings and downloading performance data for viewing / graphing.

Following are some of the major specs of this conversion:

Motor: Netgain WarP 9 – 9.25" – Series Wound DC

With blower motor "cooler" located under the hood

Drivetrain: 5-Speed Manual Transmission

Controller: Soliton Junior – 600 Amp – Custom Liquid Cooling: Small Radiator / Fan / Pump

Batteries: 18 - Trojan T875, 8 Volt Flooded Lead-Acid, 4 front, 14 rear – Purchased 9/2018

Installed in 4 insulated battery boxes with covers for cold climates.

System Voltage: 144 Volts DC

Charger: PFC-3000 Dual Input: 110 / 230 VAC - Output: 144VDC

Heater: Cab: 2 Ceramic Elements in place of heater core - 144V – Standard Blower

DC/DC Converter: ElCon 132-168VDC Sealed Unit

Instrumentation: State of Charge: Xantrex Linkpro with PC data link kit

Motor RPM: Revolution Tach with Shift point light

"Start" Checks: In Dash - LED indicator lights for Brakes / Throttle / Charger

Run Status: In Dash - Ready to run? (LED indicator light)

Safety: "Start" Checks: Brakes Pressed / Throttle Off / Charger Unplugged (via relays)

Inertia Switch: Disables Run circuit if involved in accident

Remote Disconnect: Manual Button with cable to large circuit breaker under hood

RPM Limiter: 5K Max Motor speed – using tach to prevent motor overrev

Performance: Top Speed: 75+ MPH

Range: 45+ Miles

AMP Draw: 500+ Amps

Accessories: Suspension: Air Assist Rear Shocks

Power Brakes: Yes – using VBS Electric Vacuum system

Steering: Manual

A/C: Removed

Thanks for your interest and let me know of any questions. I can also send many more pictures if interested.
Contact Tom
Revised 8/4/2020
---
1994 US ElectriCar Geo Prizm
Up for sale is a 1994 Geo Prizm that was made in the Fremont Tesla factory back in the day. The car is a 100% factory electric car made by General Motors, Hughes Aviation and US ElectriCar. It is known as the pre-cursor to the famous EV1 and Chevy S10 EVs. GM used what they learned in these conversions to build the Impact prototype and eventually the EV1.

I replaced the old batteries with 50 BRAND NEW 12v 26ah Lead Acid batteries in March 2020. Since then, I've put less than 500 miles on this car. It is a very nice and smooth ride. Since the batteries live in a tray under the car, the center of mass is extremely low to the road, which you can feel with the excellent handling of the car. It is a real fun car to drive.

Included with this sale is all paperwork, documentation, software needed to interface with the controller and an old laptop running MS DOS that is needed to debug the controller (if anything goes wrong).

Here is some info on the vehicle:

Vehicle 1994 Geo Prizm (US Electricar)
Motor Hughes Dolphin 3-Phase AC (50 Kilo-Watt water cooled motor)
Drivetrain Manual transmission, locked in single gear
Controller Hughes Dolphin 50 kW AC Vector control with built in DC-DC
Batteries 50 Mighty Max 26ah, 12.00 Volt, Lead-Acid, AGM (mounted under the car in a steel tray)
System Voltage 300 Volts
Charger The on-board Dolphin supports 120/240 volt charging for charging at 1kw/2kw rates. The car plugs into a standard household outlet and can charge fully in 12 hours. A J1772 port can be installed for ~2 hour fill time.
Heater Hot water based heater, 2KW
DC/DC Converter Dolphin 1.5kw on-board DC-DC
Top Speed 90 MPH (144 KPH) (I've only pushed it to 75mph)
Acceleration Fast as a normal car, plenty of pep at all speed ranges. Sometimes slow to start from a stop.
Range 25 Miles (40 Kilometers)
25-30 miles is pretty much what one can expect with good batteries. One could do 40-45 miles, but that is pushing it.

Watt Hours/Mile 300 Wh/Mile
At 60mph the car pulls 60a from the batteries at 300v.
EV Miles
Current: 16,500 Miles

Seating Capacity 5 adults, full trunk space.
Tires 185-65 R14. Basically Prizm tires, low RR
Conversion Time Factory conversion
Conversion Cost $30,000 new

The car came with the following options:
Factory AC
50kw regen braking
Power steering
Power brakes
Factory heater

Having the AC and the power steering really makes the car simple to drive. The regen saves a lot on brake wear.

GM sold these vehicles to utility companies in the 90s, and there are a few of them on the roads today. There is a support network for working on these cars, and the people will do anything to help you modify or repair this car.

I bought this car from a gentleman in San Jose, and it needed repairs:
- New High Voltage Batteries
- New potentiometers for the acceleration pedalThe car is working as good as new!It is sad to let go of such a historic gem, but I have other projects that need my attention. Please reach out with any questions or concerns. If you would like to test drive - also let me know.

Call/text Billy - 732 NINE ONE FIVE 22-82 Located in South Bay Area See more: https://sfbay.craigslist.org/sby/clt/d/saratoga-1994-geo-prizm-us-electricar/7157943082.html
Revised 7/13/2020
---
Lithium batteries
I bought these for an electric car project that we ended up not doing. They are still in the box they got shipped in 2.5 years ago. Here is the website with more information about the batteries.https://www.energusps.com/shop/product/li2x10pga-li-ion-building-block-3-6v-66ah-5c-218

We bought these for $150 each. We want to try to recoup $50 each, and we have 90 batteries in total. I would prefer to sell them all at once ($50*90 = $4500). We are located in Philadelphia, PA. Feel free to reach out if you have any questions.

Here is the link to the craigslist post:
https://philadelphia.craigslist.org/ele/d/narberth-lithium-battery-ion-batteries/7153533039.html
7/5/2020
---
Zero Electric Motorcycle
Selling this fantastic electric motorcycle. Perfect bike to learn on. Has the speed of a 600cc sport bike without any emissions.

Charges on a standard one 110v 15 amp wall outlet in 4 to 8 hours for a full charge.

Range is approximately 95 miles with the top speed of 102 miles an hour. Real world range is about 85 to 95 miles per charge.

Features Bluetooth App to customize regen , torque, and top speed settings. Handy regenerative braking, belt drive, single speed clutchless motor transmission. Comfortable riding position includes flashing LED lights for visibility flashing rear LED tail light on back of bike and fender illuminator kit for slicker look of license plate. Also includes GIVI storage box top case and factory rack. Zero factory windscreen. 1 year warranty remaining on battery pack. Includes two charging cords (home and office)

Located in San Diego California. $9,700.00 with only 7500 miles.
Email Gavin or Call/text at 85868835twotwo
Revised 6/16/2020
---
1998 Solectria Force
For sale: 1998 Solectria Force EV.
18,500 miles, clean as can be. Runs great but needs fresh batteries. A direct replacement of 12V Gels runs about $3000. An upgrade to Lithium would make this car a 100 mi car.

Originally owned by the Boston Airport Authority, it still retains their sticker.
Used for about 2 years in Wisconsin to study charging habits with the power utility.

Missing one of the side mirrors, they were removed for less wind resistance.
Included, if wanted, is a J1772 plug replacement, not installed.
Ran great when stored, indoors, about 4 years ago.

$3500, OBO. Located in Denver, CO.

Contact Tim at (608) 358-5724
5/17/2020
---
2007 Zenn
2007 Zenn 1900 miles
Not used much
Very good shape!
Former City car
Contact Steve
3/14/2020
---
UQM Inverter Controller
FOR SALE UQM Inverter Controller for PowerPhase Electric Vehicles $3999 Or Best Offer

Selling two (2) UQM Inverter Controllers that are new and asking $3900 each but will accept offers.

Contact Nick by text 310-699-6481 or call and please leave message if no answer.

Both controllers are identical, NEW and UNUSED in original sealed box from the manufacturer. Will sell individually or provide deep discount if you purchase both.

SHIPS FREE or local pickup in Venice, CA is available.

We purchased several to drive PowerPhase 150 Motors and these were purchased spares so they have not been used. Works with other UQM motors as well.

Picture shown is of an identical controller purchased an installed.

Part No. 27565
Model No. DD45-500L
Includes controller test box and hall cable (also new)
Original invoice shows $8,934 paid

Our price may seem a little high but we've installed used EV equipment before and you never know what the last person did. These are new, unmodified electronic components, no coolant or power has gone through them which offers less hassle and more piece of mind.

Let us know if you have any questions
3/14/2020
---
Netgain Motors
Hello, I have 2 Netgain Warp Nine electric motors for sale. They are used and in good condition. Produced in 2010. Motors have been tested, 3/4 brush on average still exist

$1,000.00 each or both for $1,800.00.

I also have 14 battery modules from a 2015 Nissan Leaf. each module 3.75 volts per module which gives you 45.4 volts in all. 65 amp hour modules

$55.00 per module / full pack $770.00

bus bars and bolts available upon request. Great mini pack for storage


I can be reached at 470-210-4144 Please text or leave a v mail and I will get back directly 1989 Volkswagen Jetta Conversion
2/26/2020
---
2006 ZAP Xebra
I have a Zap Xebra 2006 this was one the first Zap Xebra's , the paint job was for the car show at the Moscone Center in San Francisco, a real piece of electric car history, needs batteries , ran perfect when I parked it about 2 years ago , $800.
f
Call 707-228-7779
12/18/2019
---
EV Components For 72V Power system
FOR SALE UNUSED PARTS
72V Power system for motorcycle or similar.

Everything you need to put together, run, and charge a full 72v EV system. NEVER BEEN ON THE ROAD! Parts show slight ware-and-tare from being fitted to a system that never got road time. A $2800 value for $1800!

Included:
MOTOR
Motenergy ME1003 PMDC Motor 12-72VDC 11.5kW Cont. 20kW Pk, WITH SPROCKET

CONTROLLER
Alltrax SR-72500 12-72V / 500A

CHARGER
12A Lithium charger configured for 72v systems. originally $450

SOLENOID
Model SW200

FUSE
400A fuse for the main drive system

THROTTLE
Magura twist-grip throttle

WIRES
Random 1/0 Ga. wires with lugs for hook-up. Included for free.

DC-DC CONVERTER
72v to 12v converter, very stout unit capable of handling a lot of amps. Originally $200

Selling as a kit for $1800 including shipping.
A $2800 value for $1800!

Direct questions/inquiries to Hank
10/13/2019
---
2008 GEM 2 Seat
This is a well cared for 2008 GEM Car, GLOBAL ELECTRIC MOTORS - built by Chrysler by former GM engineers continually in production since 1992 (1998 as GEM), now owned and built by Polaris - they are a GREAT car - often bought by colleges & universities because of their versatility, efficiency, quietness and NO pollution.

This is a model E2 (NOT a golf cart, but certainly could be used as a very classy one!)
BRAND NEW BATTERY UNDER WARRANTY, STREET LEGAL!!

My father bought it new in 2008 for almost $10,000. He drove it around town in Colorado (meaning - no rust). It lived there until 2016 when we brought it out here. We drove it back and forth to church in Jax Beach. It'll beat most cars off the starting line. It's legal to drive on any road with a posted speed limit up to 35 miles per hour. It legally requires an automobile license although many don't bother.

It has NEW BATTERIES as of June 2019, a value of several thousand dollars. These should last a good number of years if cared for. It will go about 25 to 26 miles per hour. It can be souped up with modifications to make it go faster. It will do 40 or more miles on a charge. It plugs into any 110 AC outlet. It doesn't take long to fully charge the batteries. It needs to be kept plugged in whenever not in use and should be used regularly for best battery life. ZERO emissions and PENNIES to keep it running.

It has the commercially made fabric doors for cooler days. These are worth $600 or so in and of themselves.

Dad had a homemade pickup bed built on to the back. Someone could do that again or lots of varied rear ends are available for it for purchase.

There is an active and helpful GEM community online along with many owners along the Florida coastline. Parts and repairs are not hard to come by and there is a repair shop in Jax Beach as well as many other areas.

I'll be glad to answer any other questions that you may have. I have moved out of the area into the mountains. It's a perfect vehicle for the south.
Contact Mark
9/17/2019
---
Ford Ranger Conversion
Ford Ranger Pickup Converted to all Electric. Body is in good condition, no rust but original paint is tired/faded. Red cloth seats and carpeted floor - in good condition. Truck was a home conversion, done by a very capable older fellow (not me) who did a very professional job both engineering wise and fit and finish. Circuits are labeled on the vehicle and he made a detailed schematic. Plugs into charger that's included and needs 220v or 110v power. Powered with 20, 6v AGM Deka golf car batteries. The bed tilts back in a very ingenious way (hood latches and spring assist) to access 16 of the batteries located under the bed. The other four 6v batteries are in the engine compartment, along with a separate 12v battery which has it's own on-board 120 dc to 12v dc charger. This battery powers all 12v systems on the vehicle and is thereby charged from the 120v battery system.Full charge Range of travel = 30+ miles with all good batteries and very conservative driving. Vehicle is currently operational but batteries will need to be replaced soon. Will go 60 mph but is not meant for highway travel! Better used for short distances around town. Heat, but no A/C.Manual Transmission/shifter is all original, 4 speeds plus OD. The Zip drive is the list of all the components for electric conversion.
$4,500
Please call or email Brian if interested: 772-559-2151
8/18/2019
---
Zilla Controller
Zilla Z1K-HV

72 Volts - 300 Volts

Max Motor Amps 1000

With Hairball 2 and wiring

New.
Purchased for project that never materialized.
Upgraded by Zilla manufacturer to High Voltage.
$2,000

Contact Michael 509-280-0050

Located in Nashville, TN1986 Chevy S-10 Conversion
8/2/2019
---
EV Parts
7/26/2019
---

FREE EV Miata with the purchase of the EV parts
FREE EV Miata with the purchase of the EV parts. Full assembly, functional, currently insured and licensed. 20% of the batteries need to be replaced.

Major parts list. Parts List: Warp 11 motor, Evnetics Soliton 1 motor controller, EMUS BMS system, Elite Power gen 2 100ah batteries x 64, 5kW Elcon CAN changer. High performance brake, racing clutch and coil over shocks.

Zero rust, low km, low profile sport tires and rims.

$6500 us, Located in Ontario, Canada

Contact Rob
5/23/2019
---
1994 US Electricar S10
Us electricar 1994 s10 This is a factory conversion done by us electricar I purchased the truck for an experiment that I wanted to do. I never got around to making a go of it would like to sell it so somebody else can use it best reasonable offer I have all the paperwork and lots and lots of files on the conversions that were done. 269-445-7337
5/14/2019
---
EV Parts
I have Five Netgain 9 inch warp electric motors. All five came from two start ups. One of which was government funded. They were installed driven minimal distances on both ventures and placed in storage. They do have wear and tear from being moved around but I am hoping these motors can help someone else fulfill a desired purpose.

I will be happy to send any pics or answer any questions about them.

I have One brand new Zilla 1000 never used

I have one hpevs 50 electric motor installed with less than a 100 miles (now in storage)

I have 2 brand new hpevs controllers. 1 still in box. The other installed with the hpevs 50, again barely used. Adaptor plate along with transmission from a 1985 Alfa Romeo if needed

I have two custom built 4eld automatic transmissions. They were sent to new York to a race shop to be designed for ev bulds. I never attempted to use them but welcome the challenge to anyone.

I have I think 150 new enenergy 60 amp hour lithium batteries. We shipped them from china and used the other half to push a 71 international with an 11 inch Netgain so they are in good shape if interested

I have many other items. Everything from lugs, an older Curtis controller, to fuses to the many odds and ends needed to build an ev.

I am moving to start a new venture and would love for someone to pick up everything but I will work with anyone really interested. Everything located N.E. of Atlanta in Elberton, GA (delivery available also)

My name is Paul Jones. You can text or call me at 678-836-9063.
4/10/2019
---
1960 Henney Kilowatt
1960 Henney Kilowatt --The first EV conversion!!
309-343-8501
3/6/2019
---
80ea CALB 40AH Blue LiFe Cells
80ea CALB Blue 40Ah Lithium Iron Cells - $2800 (sebastopol)

I have 80ea 40AH CALB's still in their original wooden shipping crates.
I am the original buyer from CALB/CA and no longer need these beasties.
They are a few years old but I had parallel-charged them, for an aborted project, before storage so they are well-balanced and sitting at about 60% SOC(confirmed in Fall) in cool, dry storage.
Just checked capacity at 40 degrees F and they check at 36Ah, or 90% original capacity.
I expect if tested at 70 degrees, that'll go up. I will do this shortly.
I have the all Copper Straps in-hand, but you'll need to get your own bolts.

Was a buck-ten per Ah
80ea x 40Ah x $1.10/Ah = $3520

But I'm dropping the price by $750 to $2800 , a 21% price reduction!
Now $0.87 per kWh

SF Bay Area
You pick-up in North Bay, Valley Ford,CA area.
or you arrange transport at your cost; I can coordinate with your trucker
payment via cash or wire transfer

email me if you need photos and I will snap some
if you need dimensions, Google is your Mamasan
Over 'n Out
707.490.5513
2/28/2019
---
Electric Sand car
Electric Sand car $18500

Built 1996

Converted to electric 2015

WT 2300lbs

Range 50 miles

Motor

HPEV AC-51 88HP 108ft/lbs

Controller

Curtis 1251E-8521 144V 500amp w/regen

Battery pack 48 CALB 100ah LiFe Po cells 162V 15KW

Elcon charger 2.5KW 120/240V w/ J1772 charge plug

Orion BMS

EVIC display

DC/DC for 12V

091 VW bus transaxle

4 wheel disc brakes

3 sets tires and wheels sand, desert and trailer

AZ title and current tag

Ready to go runs great

see ad on Craiglist for contact https://phoenix.craigslist.org/cph/rvs/d/tucson-electric-sand-car/6826317521.html
2/24/2019
---
1999 Ford Ranger EV
FOR SALE - 1999 Ford Ranger Electric

Built by Ford in Edison, N.J., it is one of the original electric cars. Fewer than 200 of these trucks remain on the road. Most were crushed in 2004, sparking protests and the "don't crush" campaign, which became Plug-in-America. I am its first owner after Ford stopped the crushing. This bit of history has appeared in many Plug-in America events, Drive Electric Week parades, local environment and energy events and participated in PV and EVSE installations as a workhorse in the growth of our current EV generation.

My truck has clear California title and current registration. Odometer reads 31,395 miles. The truck is all original with NiMH battery pack (depleted), A/C, heating, power windows, power brakes, power steering, carpeted floor mats, AM/FM radio with rear speakers, almost new tires on original aluminum sport wheels, original tonneau snap cover. The condition is quite good, with some minor wear and tear since it was also a gently used working vehicle and a daily commuter.

Additional accessories included: Avcon to J-1772 charger adaptor, white California HOV stickers, hard shell bed cover with solar module and charge controller, (2) original EVI ICS-200 Avcon chargers with NEMA 1450 plug. LED center brake light installed, original unit is saved.

Truck was running nicely until 2017. The original NiMH battery is depleted and ready for a Lithium conversion. I have neither the tools nor the time. This is by far my favorite vehicle but I must sell. I am looking for a buyer to carry on the remarkable story of this truck.

Asking $8,500.00, or make an offer.

As-Is with no warranty

Pick up in downtown Los Angeles

Additional Ranger Electric information:
https://pluginamerica.org/
http://www.fordrangerev.com/REVolt/REVolt.html
https://en.m.wikipedia.org/wiki/Ford_Ranger_EV

Contact Steve 323-553-1879
Revised 2/7/2019
---
2015 Chevy Spark EV
For sale is a lightly used 2015 Chevy spark in light blue with about 36k miles. Several electronic components and battery still have a transferable warranty (Chevy printout available)

The car has tinted rear windows and an after market backup camera. A portable 110v charger cable included. The car also has a fast charger input which charges the car in about 30 minutes. You may need a home charger. Has OnStar and Satellite radio (subscription service). The car has an electric motor with 325 ft-lbs of torque and is very
quick on the road as a result of this.

Range in cold weather 70+ and warm weather or garaged 90+ depending on driving style and location.

Car is perfect for a commuter or just around city
For pictures and contact info please see my Craigslist ad

Four oh eighth three two oh seven oh five oh https://sfbay.craigslist.org/pen/cto/6799662122.html
1/30/2019
---
Power steering pump
Power steering pump used on sS10 conversion.
Bought from Canadian EV in 2008 for $450. Removed from conversion in 2015.
It is from a Toyota MR2 I believe.
$150 or best offer.

Contact Larry
Mobile: 734-717-0916
1/27/2019
---
1992 EV Ford Escort Wagon Conversion
For Sale: Make an Offer - 1992 EV

Need to sell, look at the details, it's worth much more than I'm asking.

1992 Ford Escort Wagon, 21,000 miles. This is a must see for anyone wanting a project that is 98% complete.

Originally called an EVcort, converted new by Soleq Corporation. Excellent work, all aluminum brackets, beautifully welded and anodized. (Mercedes quality engineering in a Ford Escort :)
The controller failed one day, I was able to fix it and drive it again, but eventually it started to act up again. (Old BJT technology.)
I purchased a Zilla 1KLV with HEPA and speed sensor. Since the motor was shunt-wound, I sent it to Jim Husted at Hi Torque to rewind it for a series application.

Motor is a GE 25 HP, 12" diameter, a real performer. While the motor was out, I put in a brand new transmission, then proceeded to remove all of the out-dated electronics. I retained the on-board controller since it was so versatile, capable of using 15A, 20A or 30A circuit. I installed a new 55 Amp DC-DC converter. The Zilla, Hairball interface, and related accessories are mounted on the original finned heatsink, but I also installed a mini radiator, fan and coolant pump.

Almost completely converted from original setup, needs finish wiring. I'm moving and can't take it with me.
Signal wires like "switch on", "start", "reverse" etc. need to be connected. Hall effect pedal and speed sensor are installed.
Gauges (Volt & Amp) have been mounted in the dashboard. Has two 1.5kW heaters for defrost installed, all new battery cables.
Currently has 18 Trojan batteries and one starting battery, will need replacing. Lots of extra parts included.
New tires, Centerline mag wheels, been kept indoors, has not been wrecked or other damage.

Vacuum pump for power brakes, electric windows and door locks, and roof rack. Interior is in excellent condition.
I hate to part with it, it has been an excellent commuter and fun to drive.

Asking $6000, take a look, tell me what you think.

With only 21,000 miles, new tires, new transmission, new controller and DC-DC converter, you can have a reliable ride for a long time.

p.s. I can't take a picture of the car, it's in the garage and I can't backup to get a picture. If you are seriously interested, I can push it out a bit to get an angled pic, but not too far it's a steep driveway and I won't get it back in.

Contact me at blr715 at gmail.com
Revised 1/20/2019
---
1994 US Electricar S10
1994 FACTORY Chevy S-10 .. AC set up with original Batteries and Tilt Bed. $9,500.00
AS IS. Comes with all the books and paperwork. Primo Condition, Garaged until recently. Located in Florida. Ready for Shipping from zip code 34428
Contact Steve Clunn
1/1/2019
---
1986 Ford Range Conversion
1986 Ford Range Electric Truck - $5000 or best offer (Mcminnville) Oregon

Real nice electric truck.
Lithium batteries for range in excess of 80 miles
45 200 ampere hour HiPowers
Hydraulic scissors lift for battery access
Has original 4 speed and clutch
Advanced DC 8" motor and Curtiss 1221 controller and Albright contactor
2kw Elcon lithium battery charger and full set of BMS boards that just need conected

With SAE style plug to recharge at any standard EV charge station
Batteries have only about 8 full cycles so lots of life left in them and it drives perfect and ready to go

Also have an Advanced DC 9" motor almost brand new with an almost brand new EVnetics Junior water cooled controller as well as another Advanced DC 8" motor with Syncromotive controller and two DC to DC converters as well as an entire 2011 Nissan Leaf drive train including all chargers etc

Also a 6kw Arduino controlled CC/CV charger for lithium batteries programable from 12v to 320 volts

Also a 25kw Arduino based charger CC/CV for lithiums or lead acid depending on settings 0v to 330 volts 0 amps to 60 amps

Also a brand new set of Thunderskys @48 vdc with full BMS prewired and packaged and perfect for ATV or similar EV size

Best offer takes them
I need them gone as I need the room
No reasonable offer refused
Contact Larry
11/19/2018
---
1997 Chevrolet S-10 Electric
FOR SALE - 1997 Chevrolet S-10 Electric

Built by Chevy "I think!!" one of the original electric trucks remain on the road. Most were crushed.

I just acquired it. I don't know much about it. It been setting in a garage for long time so the body in excellent condition. Missing the controller.

Additional accessories included: charger, 2 X 30A extension cords, adaptor.

Asking $5,000.00, or make an offer.

As-Is with no warranty

https://avt.inl.gov/sites/default/files/pdf/fsev/chvs10.pdf

The Truck in Tucson AZ

Contact Abe 520 481 7680
11/5/2018
---
2010 Tesla Roadster


Quite possibly the coolest Tesla Roadster in existence. This 2010 Roadster sport has less than 14,000 miles on it (only 1,700 miles per year) and is in excellent condition having led a pampered life. A one of a kind high-quality auto wrap covers the entire car and makes it an attention magnet. Underneath the easily removed wrap is pristine Thunder Gray paint. The following options were included in the original $140,345 sticker price:

Premium paint and paint armor, solar guard windshield, infotainment group – the larger audio head unit with a 7" touchscreen, GPS navigation, backup camera, HD radio, SIRIUS satellite radio, 7-speaker sound system with subwoofer and HomeLink door opener.

Includes 240V and 110V charging cables

Clean CarFax Report available upon request

Relocating out of the country is forcing the sale of this pampered treasure.

The first car in space is fast becoming a collector's item and this piece of automotive history can be yours for $71,000 or best offer. Please email Me or text 619 808 2009
10/1/2018
---
2016 Chevy Spark EV
2016 Chevy Spark LT2 EV with DC Quick Charge option

I am looking for someone to either take over the lease or buyout the lease on my 2016 Chevy Spark EV. The last time I got a payoff amount, it was about $13500. It is a very fun little car with loads of instant torque. I call it my street legal electric go kart! If I don't get any takers by the end of 2018, I will probably just keep it till the lease ends in October 2019. It only has about 13500 miles on it, as I only use it to commute 1 day a week.

Not really looking for trades, but if David changes his mind about the 1999 Ford Ranger I would consider that. It would be quite useful to have a pickup on hand.
Contact Jeff
9/14/2018
---
2002 Dodge Dakota SLT Conversion
2002 Dodge Dakota SLT, with 144v 160ah Thundersky battery bank and TS90 battery balancing system. Zilla 1k controller and 10" Warp DC motor. Manzanita Micro charger and Polar Power 22kw DC rectified generator for charging on the move.

Over 35k invested, make an offer

Located in Mendocino, CA
Contact William
9/1/2018
---
Electric Vehicle Parts
I have (4) 3 phase German motors formerly used in manufacturing of electric motorcycles. Great shape.
I also have a bunch of other stuff that goes with them. Sevcon motor controller units, DC to DC converters, charge controllers, relays, key unit, throttle, dashboards etc.
If anyone is interested in electric vehicle parts, contact Andropov, prices are negotiable.
8/22/2018
---
Electric Trike Prototype
All electric prototype trike, highway capable. Seats two side by side.
Curb weight:1400 pounds
Motor: 8 inch Advanced D.C. 203-06-4001A
40 Lithium cells in a 132V traction pack.
Controller: Zilla 2K
On board Elco charger, charges pack at 11A plugged into 120VAC
Instruments: Tachometer, Ammeter, Pack voltage, house battery voltage and GPS
Excellent hole shot with 70 mph top speed.
45 mile range @ 45 mph in good conditions, but 35 miles where I live with lots of hills.
Needs new batteries.

Located in Camden Maine

Asking $2500

Email: Walter
Revised 5/7/2018
---
2017 Energica Ego
I have for sale 2017 energica ego, This is the Energica Ego, with the optional carbon fiber bodywork, the OZ Aluminum Forged wheels, the Ohlins front fork, Ohlins rear shock, the tech seat, the Ergal bar ends and bolt kit, the fast charger option and a120V/240V charger that you can plug in at home.

The range is about 100 miles, but depending on your settings for regenerative braking can be longer or shorter. Charge time is dependent on power source and whether you are charging with AC or DC. Using a standard household 120V outlet it takes about 7 hours. Use a 240V dryer outlet and it drops to 3 and a half hours.

There is also a Bluetooth app for your phone that connects to the bike, You can use the menu buttons on the bike to change over to a map showing all the closes chargers, and which ones are available.
Asking $12500
Email Louis
7/13/2018
---
Mazda Miata Conversion
This Miata has over $16,000 worth of parts for the conversion. I believe the Miata is running the Warp 11 motor in a(?) customized solid-mount torque-leveling motor cradle, management systems, built-in stand-alone charging station, rectifiers, vacuum pumps to retain power brakes, electronics (understatement of the year), new seats (not a single rip or tear), new carpet, original OEM Mazda floor mats, new soft-top (not a single rip or tear), potentiometers, relays, heavy-gauge wiring, more rectifiers, lithium-ion batteries, upgraded speakers and head unit, front and rear disc brakes, clean brake fluid, suspension modifications (new springs and struts). The car has already been driven 10,000 miles since the conversion.

No Rust. Clean fluids. Good tires. The car has the original 5-speed manual gearbox with direct non-clutch selection.

The car's already been registered in CA as an EV so you'll never have to deal with biannual smog coercion fees. I have the clean title on hand. The original key. The original owner's manual. The car was put on non-Op so there are zero back fees or title nightmares. I'll include a custom-fitted UV-resistant car cover, original spare tire, and bill of sale. Half the LiIon batteries have aged out and I was holding out to find a deal on the Tesla battery pack but a local full-time shop consistently buys them out from under me and I've become frustrated with this local shortfall.

Looking to salvage a portion of my investment. $6000 OBO

contact Jake 714-794-9252
7/11/2018
---
1987 Pontiac Fiero Conversion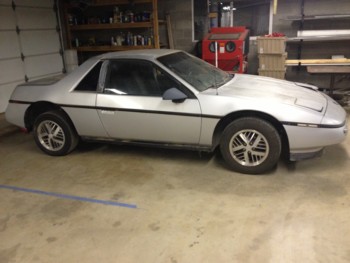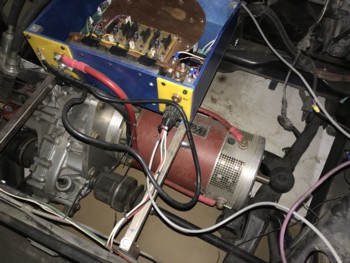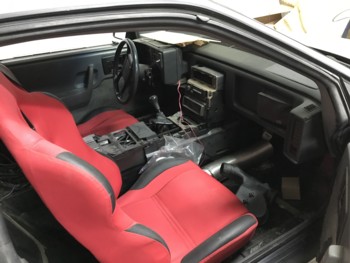 1987 Fiero project

$5000 obo

I threw away all the internal combustion engine related parts that were not required for the electric conversion

includes interior panels, external panels.
Also includes a tail fin from a Fiero GT
No op fees will need to be paid. (6 years)

Electric items:

Netgain Warp 9 DC motor
IGBT 400A 600V custom controller based on Paul & Sabrina's Controller
New brakes
12v battery
Vacuum pump for brakes
custom electric motor to clutch adaptor
custom Warp 9 to fiero transmission adaptor

Missing items to complete the project

Batteries
BMS system to monitor batteries
Charger
trip to the DMV to get it exempt of smog and registered as an EV

located in Grass Valley, CA.

contact chris at glass-planets dot com 530-277-2277
7/11/2018
---
2009 Ural Conversion
2009 Electric Ural Gear-Up 2-Wheel Drive Sidecar Motorcycle
AC-9 1238-6501 Motor/Controller Combo Coupled to 4 speed Transmission w/Reverse
~25 Hp ~ 65 ft/lbs Torque @ 63volts @ 5000 Rpm
15kWh 18650 Modules built by Tesla
Top Speed 80 Kph : Range 80 Km

Shown in Action Here;
https://www.youtube.com/watch?v=j433Y83ta0o
Asking $12,500 O.B.O.

Contact John at 619.2468.092
6/11/2018
---

1991 Toyota Celica Conversion


Project Completed 2015
Licenced, Plated and Insured, has been my spring/summer/fall driver since that time
driven approximately 3500 km on electric
had the EV Conversion Declaration Forms registered in Ontario with the MTO

Car has been stored indoors in heated garage since the conversion

Specifications:
Range 80-100 km

WarP 9 - Double ended shaft - advanced timing .875" CE Shaft 1.125" DE Shaft
12 KW EMW onboard programmable charger 120/240V
Soliton 1 -300kW 400HP controller HIGH PERFORMANCE 9-340VDC deliver 1000A
Custom made adapter plate for 1991 Toyota Celica
59 CALB 100Ah LiFePo Cells (18.8 KWh) Bottom Balanced and Checked regularly
DC-DC converter
12V vacuum assist for power brakes
Transmission: Stock FWD

No power steering or heating system due to space constraints but vehicle could be re-configured to add these components
More photos available for serious inquiries

EV West Adapter Plate for A/C and power steering available
J1772- home charging plug available

$15000 CAN
Located in Dorchester, Ontario

Contact info:
Dan/Angela 519-670-6612
6/4/2018
---
1972 VW Beetle conversion
1972 VW Beetle converted into an eTrug Electric Truck Bug. Restoration work was completed in 2017. It is Mazda Passion Red

This is a one of a kind custom built Show car. Considered a 35 mph in town advertisement show car. This car draws attention where ever it goes. Put your business sign on it and drive around town. You will get calls.

This car will be at the 12th annual Berean Car Show Saturday May 12th 10:30 till 3 pm. Lincoln Berean Church 6400 S. 70th. Come to the show see all the cars and mine.

New interior, New Batteries, Tires, new spare, 4 wheel disk Brakes.

96 Volts dc 165 amp 80 hp motor

16 kilowatt Battery pack, 12/8 volt 165 amp batteries, charges in 8 hours over night

On board charger 110 volts AC

Range 25 - 35 miles, top speed 60 mph

Radio, CD player

Bed slides back to show batteries.

Solar cells to charge the 12v dc Batteries for the car electronics lights etc.
Contact Carol
5/12/2018
---
2016 Tesla Model S 75
2016 Tesla S 75 for sale. 13,598 miles.

$62,500. White. Opening sunroof, 235 mile range, cruise control, auto pilot, passive entry. Standard suspension. 2-wheel drive. Gen 3 charger. Rear wheel single motor. Free supercharging.

Located in Santa Cruz county

Call (831) 216-6072
4/10/2018
---
1999 Chevy S10 Conversion
I have a 1999 Chevy S10 pickup. Warp motor and transmission installed. Truck is in great condition stored in garage. Just needs controller and batteries. Has third door and seat. Dark green bronze metallic. Original paint.

Asking $3,000
Contact Mike
3/25/2018
---
2015 Smart Fortwo Electric Drive
Like NEW 2015 Smart Fortwo 100% EV plug in w/level 1 chargers. I have 18 to choose from with under 20 miles odometer reading.

Why so little miles?

They were owned and maintained by Mercedes-Benz's ride sharing company called Car2go, which were never put into service. The Car2go's fleet of overstocked EVs where warehoused and the batteries have been maintained in accordance to the 8 year battery warranty. The original Mercedes-Benz Warranty has 22 months or 50,000 miles remaining. These EV are not eligible for the Fed and State tax incentives because they have been previously registered. The original MSRP was $25,000. Take advantage of an excellent buying opportunity to help put more EVs on the street.

The discounted fleet price is $7,288.00

Will arrange worldwide shipping.

Contact Paul
Mullen Auto Sales
(714) 798-9302 Office
(949) 572-3492 Cell (Call or Text)
3/11/2018
---
New Electric Scooters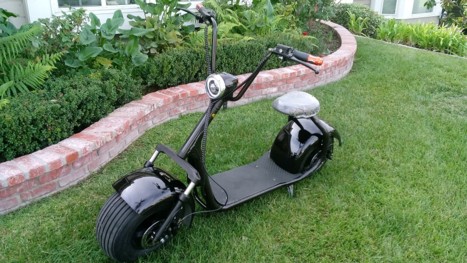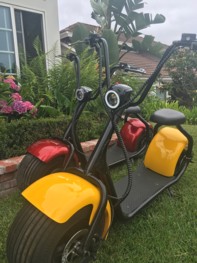 Brand new electric scooter - starting at only $990. Located in Southern California, and Phoenix AZ area.

100% FULLY ELECTRIC SCOOTER

Top speed: 20 MPH
Range: Max 20 miles (depending on conditions)

Features:
Headlights
Front/Rear hydraulic disc brakes
60V 12 Ah Li-ion battery
1000W brushless hub motor
Charger included

***LIMITED QUANTITIES OF 20 Ah BATTERIES AVAILABLE WHILE SUPPLIES LAST (+$275)***

Additional options:
Front shock abosrbers - +$100
Rear seat - +$50
Alarm/Remote control start - +$45
Contact Jae
12/1/2017
---
---
Wanted Chevy S10E

Looking for a factory Chevy EV S-10. Please Help
Daren (513) 617-3275
8/10/2020
---
Wanted Schematics for Gorilla Vehicles NEV
I need schematics for the electric Gorilla Vehicle NEV. The motor runs, but there is an electrical issue I can't diagnose without schematics. Thanks a head of time. Contact Michael 719-354-7319
10/14/2020
---
Wanted factory built 1997-1998 Chevrolet s10 EV

I am a big Chevy fan and would love to own/fix up one of these s10 EVs. Please email me your truck's details and we will work something out!

Email Link: Link
8/10/2020
---
Wanted Ford Ranger EV
I'm looking to buy a factory electric ford ranger in the contiguous USA budget 1500-3500 depending on condition.
Email Me with your truck's details.
6/12/2020
---
WANTED: Manzanita Micro Zilla 2k amp Controller.

Contact Frank 7863515101
10/3/2019
---
Wanted 4X4 Pickup Conversion
Looking for a compact 4x4 pickup converted to electric

Contact Larry 321-258-1991
3/6/2020
---
FIBERGLASS FLAIRED FRONT FENDERS FOR VW BEETLE
I HAVE A 1973 VW SUPER BEETLE. IM LOOKING FOR A SET OF USED FIBERGLASS FLAIRED FRONT FENDERS, IF YOU HAVE THESE
PLEASE CALL ME 401-603-0439. I DO NOT TEXT
2/1/2019
---
---
2 X 2000 Ford Ranger EV

SOLD
10/23/2021
---
1993 Ford Escort Conversion

SOLD
12/16/2021
---
2001 Rav4 EV

SOLD
12/5/2021
---
2007 Zenn

SOLD
10/17/2021
---
2000 Ford Ranger EV

SOLD
9/27/2021
---
2007 Miles ZX40S

SOLD
Revised 9/8/2021
---
EV Parts

SOLD
9/17/2021
---
1985 Nissan 300ZX Conversion

SOLD
8/19/2021
---
2017 Chevy Bolt Battery Pack

SOLD
8/13/2021
---
2008 ZENN 2.2

SOLD
7/30/2021
---
1992 VW Cabriolet Conversion

SOLD
7/28/2021
---
1996 Geo Metro Conversion

SOLD
7/13/2020
---

2000 Mazda Protege Conversion

SOLD
7/12/2021
---
2012 Coda.

SOLD
6/27/2021
---
1989 Volkswagen Cabriolet Conversion

SOLD
3/13/2021
---
Orion BMS

SOLD
7/29/2020
---
1999 Solectria Force EV

SOLD
2/22/2021
---
1976 BMW 2002 Conversion.

SOLD
1/7/2021
---
1992 Volkswagen Cabriolet Conversion

SOLD
10/29/2020
---
Electric Vehicle Listings on Ebay have moved, please click here to go the latest listings
---
If you can't find the Vehicle you are looking for here, you could try these other sites that also advertise previously owned Electric Vehicles.
---
Government Liquidation
Public Surplus has a number of GEMs listed at the moment
---
Electric Vehicles at Hemmings
---
Electric Vehicles at Prewarcars.com

Currently there are no electric cars listed
---
MyEV offers a large number of used OEM EVs
Golf Cart Resources has NEVs and Golf Carts listed for sale
MC Electric Cars has used EVs for sale
Orange County Golf Carts in Port Jervis, NY currently has 6 used GEMs for Sale

Australian Electric Vehicle Association - Adelaide Branch Parts for Sale lists EV Parts and sometimes EV Conversions

Greencarsite has electric vehicles on its classifieds page

Eco Cars has a classifieds page for EVs

Elektroauto KleinanzeigennGerrman site that has lots of Electric Vehicles listed

Finnn has lots of used Th!nk City vehicles for sale
Alternative Fuel Vehicle Resale lists all kinds of alternative fuel vehicles including electric
LincolnNEV Classifieds has NEVs for sale in the Lincoln, CA area
Phole's list of Used Golfcarts contains many NEVs including Planet Electric, Western and Bombardier
Golf Cart Goodies Classifieds has for selling NEV and Golf Carts including parts and accessories
---
Now for the fine print - remember always read the fine print
The information contained in this web site is based on information I have received about the availability of vehicles both new and used. I attempt to keep the information here as current as possible but I would appreciate being notified of any inaccuracies you may find. The appearance of a vehicle on this site does not imply any endorsement of that vehicle, or any implication that the vehicle will be suitable for your needs. As always you should investigate the vehicle and the seller before shelling out your hard earned money..
---