ARCHIVES
---

About EVFinder

EVents Calendar

FAQ

EV Selector

Links

The EV Finder Archive

Site Map
---
This archive contains information about vehicles that are no-longer produced by their manufacturer. these vehicles may still be found used so if you are interested in them please keep an eye on the Classifieds page.
Note: as these vehicles are no longer being manufactured it is quite likely that URLs will no longer function.
---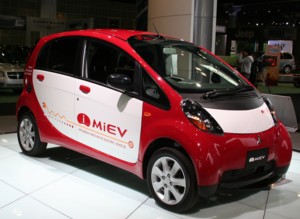 Mitsubishi Motors is now selling a freeway capable EV. They ran tests using a Mitsubishi Colt but their first production electric vehicle, called the i-MiEV, is be based on the Mitsubishi i minicar.
The car is powered by a single rear mounted electric motor and a Li Ion battery pack which gives it a top speed of 130kph (80mph) and a range of 160 kilometers (100 miles).
It can be fully charged from empty at 220v in about 7hrs or in 14hrs using a standard domestic 110V supply. The i-MiEV also comes equipped with a second charge port that allows the car to be charged to 80% from a DC source in about 30 minutes.
The iMiEV went on sale to the Public in Japan starting April 1, 2010 with prices starting at ¥3.98 Million. In the UK the car sells for a base price of £23,990.
Mitsubishi has also indicated that it will sell the cars in both the US sales did not expected to start until late 2011. The US version is specifically designed for the US market and sold under the name Mitsubishi I. It is slightly larger than the i-MiEV but retains most of the range and performance characteristics of the Japan spec vehicle but the EPA rating on this car gives it a 62 mile range on a charge. Price starts frp, a base price of $27,990 before tax incentives.
Read my test drive of the i-MiEV
Read my Test Drive of the Mitsubishi I
Read Richard S. Chang's test drive courtesy of the New York Times
To place an order for the Mitsubishi I go the their Order Page

In the UK you can locate a i-MiEV dealer through their Dealer Locator Page. Please note that to find an i-MiEV dealer you have to enter your post code, check the box marked i-MiEV and then click on the find button. Using the map will show all dealers not jus those that sell and service the i-MiEV.
---
1/6/2017 Chevy has begun phasing out sales of the Spark EV in the US now that the Bolt is available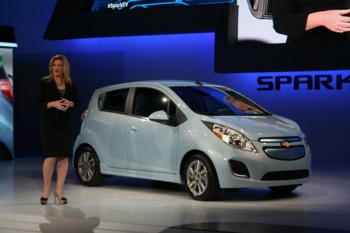 Chevy announced the 2014 Spark EV at the 2012 LA auto show. The Spark EV, which is built in South Korean, will be the first full electric car to be offered by Chevrolet since the EV1. From the outside the Spark EV looks very much like the standard Spark model but under the covers is a fully electric drive train. The car offers 86.3 cubic feet of passenger space, the same as the gas model, and will seat 4 people. Some of the cargo area is taken up by the batteries with the rear seats space is reduced from 31.2 cubic feet to 23.4 cubic feet. With the seats up there will be virtually no room for cargo.
The Spark EV is powered by a 130hp electric motor driven by a 20KWHr Lithium Ion battery pack that offers a real world range of around 60-70 miles. The electric motor is capable of putting out 400ft-lbs of torque and will rocket the Spark EV from 0 - 60 in under 8 seconds.
The car will come with a 110V charger which will take about 14 hours for a full charge. Install a 240V EVSE and charge time drops to around 7 hours. The Spark EV will also be the first car available with the new SAE fast charging option that will charge the car from 0 - 80% in around 20 minutes.
The 2014 Spark EV is currently available at Chevrolet dealerships in California, Oregon, Canada, South Korea and Europe and is eventually expected to be available in all 50 states by the end of 2013. Base price will start at $27,500 before tax incentives and GM is also offering a $199 per month lease option.
---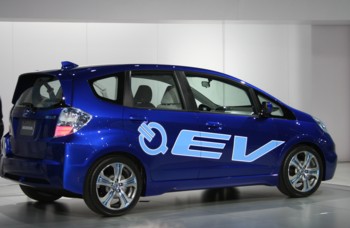 Honda is a huge proponent of fuel cell vehicles but at the 2011 LA Auto show then announced a battery electric concept car, the Fit EV, that is scheduled to go on sale in the US in 2012.
In creating the Fit EV Honda has borrowed from a wide range of technologies including their earlier EV+ electric car. The high density 92KW motor is based on the one that powers the Honda Clarity FCEV while the three mode drive system has borrowed heavily from the CR-Z. The body is pretty much the same as the standard five door Fit and the car should seat 5 in a squeeze.
The 20 KWH battery pack can be charged in about 12 hours using a standard 110V outlet and about 6 hours using a 220V outlet and gives the Fit EV an EPA rated range of 82 Miles and a combined fuel economy of 118 mpge.
The three mode system provides standard mode that gives the car the equivalent performance to the Gas version of the Fit. Sports mode allows the driver to use the full power of the electric motor at the expense of range. Econ mode produces reduced acceleration but increases range by up to 17%.
The Fit EV is available in Califronia, Oregon, and certain areas of Massachuasetts, Connecticut, Maryland, New York, and New Jersey, but only on a 3 year lease which costs $389 per month. People interested in leasing this car can sign up at the Honda FitEV site
---
Ford recently announced that it would be putting electric vehicles for sale starting in 2010. Their first offering is a version of the Ford Transit Connect van that is built as a glider in the Ford factory in Turkey then shipped to Azure Dynamics to be fitted with an electric drive train and lithium batteries.
The 2011 Transit Connect is driven by a 28KWhr Li battery pack that offers a range of about 80 miles with a top speed of 75mph. Charging for this van can be accomplished from either a 110V or 220V source. The van will seat 2 people and has 135 cubic feet of cargo space. Ford are currently working on an option for a second row of seats and this should be available early next year. The power assisted rack and pinion steering provides a turning circle of just 39 feet which makes it ideal for maneuvering in narrow city streets.
Ford is currently focused on Fleet sales for the Transit Connect but the van is also available to the general public at select Ford dealerships. The Transit Connect is ideally suited to business setting like Pizza delivery or for use by an electrician or plumber that typically drive well within the range limits of the car.
Price for the Ford Transit Connect EV begin at $58,000.
Read my Test Drive of the Transit Connect
See video of the Ford Transit Connect courtesy of youtube
---

Blade Electric vehicles make a freeway capable 4 seat electric car called the Electron. This car is based on the Hyundi Getz. It is fitted with a 40 KW 3 phase AC motor driven by a LiFePO4 battery pack that offers a range of 120 Km (74 miles) and a top speed of 125 kph (77 mph). The car offers two speeds, the lower "Town" mode allowing a top speed of 80 kph (50 mph) and the "Highway" mode for higher speeds. The car can be recharged at any 240V outlet but can also be charged at a faster rate if 30amp service is available.
Blade offer a 5 year warranty for labor only, parts are only warranted using the original manufacturers warranty so it will vary from component to component. Prices start at around $32,000 Australian plus the cost of the donor vehicle.
View Video of the Electron courtesy of youtube
To purchase a Blade Runner contact Blade Electric Vehicles Pty Ltd, Hardcourt Victoria telephone 0410 49 2195
---

Aptera is a California based company that is working on the development of a streamlined three wheel vehicle that will be offered in a choice of hybrid or full electric configurations. The EV version will be offered first and is expected to go 0 - 60 in under 10 seconds, with a top speed of around 90mph, and a range of over 100 miles although this is not a hard number since battery chemistry has not yet been determined. The car is built using Carbon Composites giving the vehicle a total weight of only 850 pounds. So far there is no indication of top speed or number of passengers, They have shown their first pre production Electric Car and indicate that they expect this electric vehicle to go on sale some time in 2010. Price for the all electric vehicle is projected at between $25,000 and $40,000 depending on options. You can place a reservation, with a $500 refundable deposit, through their reservation page. In a recent letter to those who had registered they estimate delivery of the all electric version, starting in the San Diego and Carlsbad area of Southern California, starting the third quarter of 2009.
Check out the test drive done by Popular Mechanics
There is good video including freeway driving at Jay Leno's Garage
---
ZAP Xebra

Breaking News
4/15/2011 - ZAP is no longer selling the Xebra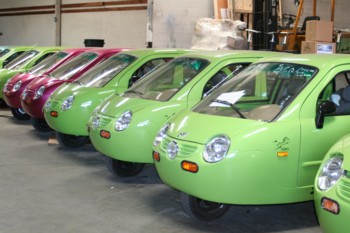 ZAP is now selling a three wheel vehicle through its dealer network. The Xebra is 9.5ft long and 4.66ft wide and can seat four. It is powered by a brushed series DC motor driven by six PbA batteries (72V), using an Altrax controller, that provides a top speed of 40mph. Zap claim a range on this vehicle of 40 miles but reports from existing drivers put it at more like 15-20 miles in real world driving. It comes with a 110V charger as standard with a 220V charger as an option. Auxiliary systems are powered from the main traction pack via a DC-DC converter and their is also a separate 12V battery used as a reservoir system. Braking is provided by disks on all three wheels but there is no power assist. Carrying capacity is 500 pounds and input seems to indicate that exceeding this capacity has a huge impact on both range and hill climbing ability. ZAP is offering a six month warranty on the car and a two year warranty on the Controller. The Xebra registers as a motorcycle in most states.
Also available is the Xebra PK which is a pick-up truck version of the Xebra. The PK has the same electrical specifications as the Sedan but seats two people in a drivers compartment that is slightly narrower than the sedan. The vehicle comes with a truck bed that can be tilted up from the front to reveal the battery pack which now sits below the truck bed. ZAP also offers an optional higher capacity battery pack for the PK that can offer a genuine 35 miles per charge.
In Oregon They can be found at: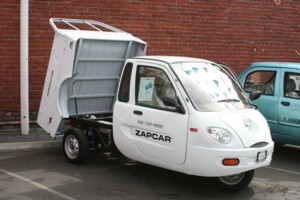 Electric Wheels Inc1555 12th Street SE, Salem, OR Phone (503) 485-0588
Grants Pass Electric Vehicles, 145 Redwood Highway, Grants Pass, OR
97527 Phone (541) 218-8850, Email Grants Pass Electric Vehicles
In Colorado The California Auto Collection also has them in stock
10510 S. Progress Way, Parker, CO 80134, Phone (866) 899-8810
and Small Planet E Cars in Denver, CO 724 Main St Longmont, CO 80501 telephone 303 532 2879, and Electric cars of Aspen in Aspen, CO
In California they can be found at
The Electric Car Company in Long Beach, CA 2698 Junipero Ave. Signal Hill, CA 90755
Phone (866) 969-4545
In Los Angeles check out Environmental Motors
EcoSparc Motors in Morgan Hill, CA
Chico Electric Cars, in Chico, CA
Greenway Motors in San Leandro, CA
ZAP of Crescent City can be found at 2220 Elk Vally Cross Road, Crescent City, CA 95531, Phone (707) 218-7451
Voltage Vehicles in Fulton is a Northern California dealer.
3362 Fulton Road, Fulton, CA 95439, Phone (707) 568-3333
Big Kid's Toys in Napa
O'Connell Electric Vehicles in Alameda
Davis Electric Cars in Davis
Electric Car Living in Rocklin
Green Electric Showroom in San Carlos
In South Carolina they can be found at EV Carolina
In Florida call or visit FantaSeaScooters
In Georgia you can find them at Green Planet
2740 Green Briar Pkwy #A3131, Atlanta, GA 30331
Tel: (404) 684-1132
In Hawaii at Maui Energy
In Idaho Electric Vehicles of Idaho sells ZAP Trucks
In Wisconsin K-Man Auto and Scooter
In Texas The Xebra can be found at Huston Electric Cars in Houston, TX
In Washington State they can be found at The Green Car Co, Seattle
In Pennsylvania check out Ferrante Motor Cars 601 Jackson Ave. Vandergrift, PA. Phone (724) 567-5675
In New Mexico try NM Electric Cars in Albuquerque, NM

Or, for order information contact ZAP Phone: (707) 525-8658
Read my Xebra Test Drive
Also see the Ray and Francie Video at Youtube Part 1, Part 2, Part 3
See David L. Roper's review of his Xebra PK
Check out known issues and solutions at Xebraworld
Note: We now have some performance data coming in from users and it does appear that the Xebra doesn't handle large hills very well so you may want to take this into account when making a purchase division. Also, keep in mind that his car is built in China and while ZAP has done a lot to try and keep quality at acceptable levels there have been several vehicles that have had problems. ZAP is working hard to expand its dealer network and contract with independent service facilities but until this network is expanded I don't recommend the purchase of a Xebra unless you live close enough to a dealer to have them do any required repairs, or you are both willing and able to do the repairs yourself.
---

Breaking News 6/18/2008: Myers is releasing a Li Battery option that can give the NMG a range of up to 70 miles
Myers Motors bought out the remaining parts for the Corbin Sparrow 3 wheel single passenger electric vehicle. Myers have done a lot of work to eliminate many of the design problems that plagued the Corbin Sparrow and have now started limited production using the remaining Sparrow bodies and this vehicle will be designated the NmG.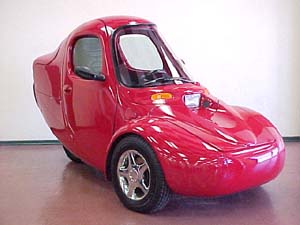 Top speed of 75 mph comes from an electric motor that will deliver peak output of 40hp.
The original NmG was powered by 13 Optima Yellow Top batteries giving a real world range of about 25 miles. They have recently switched over to a Lithium battery pack that packs 15KWHrs of energy. The latest feedback I am getting about the new pack is that it gives a good solid 50 miles of range. Myers Motors quote a battery life of around 100,000 miles on the lithium pack which should make it more economical than using the Optimas.
Myers introduced an improved Zivan Charger that can charge the vehicle from a 110V outlet in about 6 hours.
A new controller is being used for the NmG which should prove more reliable than the one used in the Sparrow
The suspension and brakes have been totally reworked to improve vehicle stability.
The NmG is priced starting at just under $30,000 and comes with a 1 year or 12,000 Mile warranty.
Myers Motors can be contacted at (866.693.7778 (ext 3306)
Myers Motors, LLC

180 South Ave

Tallmadge, OH 44278

Also available at The Solar Store

184 NE Kearney Avenue, Bend, OR

Phone (541) 388-3637
Read Mark Chapmon's test drive
See film taken at the Myers factor courtesy of youtube
---

Green Vehicles is a company based in Los Gatos CA that is importing a range of electric vehicles from China. The Company will offer offers two different NEVs, the two seat MicroWatt and the four set Moose. They also offering two three wheel electric vehicles, the Buckshot which is an electric pick-up and the Triac which is a two seat freeway capable three wheeler.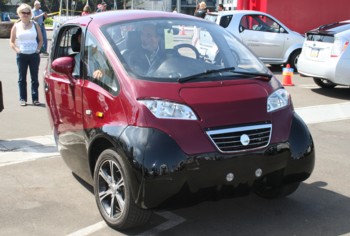 The Triac offers a 20KW water cooled AC motor driven by a 144V lithium battery pack giving the car a top speed of 70mph and a range of up to 120 miles. The car also offers a 220V/110V charger to allow faster charging when there is a 220V connection available.
When I talked to Green Vehicles at the Santa Monica Alternative Fuel Vehicle Expo they told me that their first round of vehicles was sold out and they will complete delivery of these to Customers by the end of the year. They are planning to import a second round of vehicles starting in early 2010 and they are currently taking orders for this batch of vehicles.
See video of the Triac courtesy of Youtube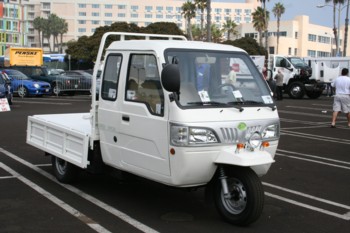 The Buckshot is also powered by a 2KW water cooled AC motor and 144V lithium battery pack. The truck offers a 45mph maximum speed, up to100 miles range, and a very respectable 2200 lbs carrying capacity. The truck also offers a 220V/110V charger to allow faster charging when there is a 220V connection available
See video of the Buckshot courtesy of youtube
The MicroWatt and the Moose are both limited to a top speed of 25mph to qualify it as a NEV they car looks very similar to other Smart clones such as the Flybo that are coming out of China but the Moose is extended with rear seats.. They are powered by a 6.5KW AC motor and a 96V lead acid battery pack which they claim will give it a range of up to 60 miles. I would expect quite a lot less range in real world driving.
Check out Randy Bopp's Blog about his experience owning a Triac
See video of the MicroWatt courtesy of youtube
---

The Futurista is a three wheel electric motorcycle that is 106" long, 55" wide, and 49" tall. It is powered by a 48 volt battery pack but there is no indication on their web site as to the type of batteries. They claim a top speed of 60 mph and a range of 60 miles. It can be charged at a 110V outlet in about 4 hours. The 2 seat Futurista retails at about $14,950. Check out the video on their web site for more information.
---

World Class Exotics produces electric conversions based on the Porsche 911, Porsche Boxter,. They will also add exotic bodies to the Porsche chassis creating electric versions of such vehicle as the Lamborghini Diablo and the 1987 Rolls Royce Silver Spur. These cars can be built to a number of voltages from 156 to 365 volts and a range of battery types including Lead Acid, NiCAD, NiZn and Li Ion can be selected. The 11 inch Kostov motor gives a top speed of around 85 mph. Range varies from 50 mile per charge up to 200 miles per charge depending on the battery option chosen. A fast charger option is also offered.
Prices start at around $29,000 for the basic lead acid model.
For more information visit their contacts page

X-Treme seem to have stopped selling scooters over 750 watts
X-Treme has been selling "Zappy" style scooters and electric bikes for several years but they have now started marketing a line of street legal "Vespa" style scooters.
Top of their line is the 3500 Li. As its name implies, the 3500 Li has a 3500W brushless DC hub motor driven by a 60V Li Ion battery pack that consists of 20 batteries offering 40AH capacity. The scooter's controller will produce 70 amps offering a top speed of 48mph. Range is quoted as 60 miles although I would expect somewhat less range in real world riding. The scooter can carry two passengers with total capacity of 400lb. Stopping is done with hydraulic disk brakes on both front and rear wheels.
The XM-3000 has a 3000W brushless hub motor driven by a 60V pack consisting of five PbA batteries. The controller puts out a max of 55amps giving atop speed of 43mph and a range quoted at 50 miles at 25mph. The scooter seats two with a 300lb capacity. Stopping is done with hydraulic disk brakes on both front and rear wheels.
Both the 3500 Li and 3000 are offered with a six-month warranty
The XM-2000 is powered by a 2000W brushless hub motor driven by a 60V Pba pack giving a top speed of 38amp40mph and a quoted range of 30 miles although you can expect less in real world riding. Stopping is done with rearr drums and front disc brakes. The scooter seats 2 and comes with a thirty-day warrant.
X-Treme had a reputation in the past for poor quality and customer service and the 30 day warranty on the XM-2000 is a good example of this. I have been hearing that recently X-Treme have been working hard to correct both issues and their newer products are supposed to be much better quality. Dealers tell me that they are also getting good response from X-Treme when they are working on warranty issues and repairs or ordering parts.
See video of the X-Treme 5000Li courtesy of Youtube
In California they can be found at Neoscooters in the San Francisco East Bay area Greenwheelin Scooters in Walnut Creek, CA, Chico Electric Cars in Chico, CA, Leenastore in Los Angeles, CA, ScooterEra in Woodland Hills, CA, and Buyelectricscooters in Yorba Linda, CA
In Florida they can be found at Electric Vehicle Mall in Clearwater, FL and dgscooters in West Palm Beach, FL and Extreme Motor Sales in Apopka, FL
They can also be found at Eco Wheelz in Plymouth, MI
In Massachusetts you can buy them from Let's Go Green Scooters in Brockton, MA
In Michigan buy them at Eco Wheelz in Plymouth, MI
In Nevada find them at Advanced Electric Scooters in Las Vegas, NV
In New York look for them at Scooters! Code Green in Caroga Lake, NY
In Ohio find them at The Go Store and at All American Scooters, both in Columbus, OH
Online they can be found at Advanced Electric Scooters or ecoelectricscooters.com or Electric Moped, or electroglidecalifornia.com or Electric Scooter World or Energy Scooters or Evolution Scooters or Getscooters.com or GoGreenElectricBicycle.com or Harwin Motors or Intrinsic Value Electric Scooters or Kids on Roll or Mopeds.net or Mod Mopeds or Monster Motor Scooter, or MyebikeBiz or Scootercatalog.com or The Scooter Family or Trendtimes
Note: Most sellers list the X-Treme Scooters under the Electric Moped category
---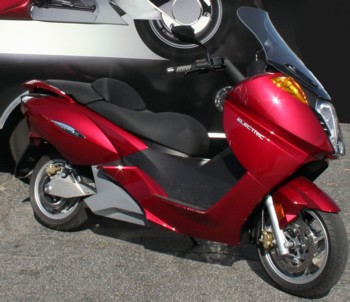 Vectrix has developed an electric scooter that has a top speed of over 60mph and a claimed range of up to 70 miles (I expect much lower mileage in real world riding). It has a 125V NiMH battery pack drives a 3 phase AC motor. One interesting feature of this scooter is regenerative throttle where twisting the throttle backwards applies regenerative braking. Full specs can be found on their specs page.
This scooter was shown at EVS 20 and impressed a lot of people. They wouldn't let me test ride it however so I can only say that it did seem to have very lively acceleration.
Retail price for these bikes is around $9,000 (or €8000 in Europe).
You can contact the following dealers to schedule a test ride.
Electric Toy Store in Sedona, AZ
Vespa Soho 13 Crosby St. New York, NY 10013
Vespa Miami 2010 Biscayne Blvd. Miami, FL 33137
Foreign Affairs Motors in West Palm Beach, FL
Vespa Ft. Lauderdale 2601 N. Federal Hwy. Ft. Lauderdale, FL 33306
Grany's Motorsports in Sarasota, FL
Vespa Palm Beach 1609 S. Dixie Hwy. W. Palm Beach, FL 33401
Barney's Motorcycle and Marine sells Vectrix in St. Petersburg, FL
British Motor Car Distributors, LTD 901 Van Ness Avenue. San Francisco, CA 94109, Phone 415) 776-7700
Rockridge Two Wheels 5291 College Ave. Oakland, CA 94618
Vespa Walnut Creek 1813 Mt. Diablo Blvd. Walnut Creek, CA 94596
NoHo Scotters in North Hollywood, CA
Del Amo MotorSports in Redondo Beach, CA
Colorado Powersports in Boulder, CO
Suzuki Yamaha of Cool Springs in Franklin, TN
Eco Moto in Salt Lake City, UT
Engelhart Center in Madison, WI

Bullet Motorcycles

Nice Car Company

Scooterden

IEnvy Motors in London.

Ecolook in Antibes, France
See Dave Cutter's test drive in EV World
Also check out Lawrence Rhodes test drive
See Video of the Vectrix scooter courtesy of Groovy Green and youtube
---
PEUGOT SCOOTELEC

The Peugot Scootelc is the most popular full sized electric scooter in Europe. Unfortunately it is not available in the USA.
Also in UK from Moto_Cal Phone 0131 552 8666
Amy Johnson Way, blackpool, UK FY4 2RP
phone 01253 298 833
email info@fyldesuperbikes.co.uk
You can also contact your local Peugot Scooter dealers in the UK. They probably won't have a Scootelec in stock but will be able to get one for you.
Top Speed 28 mph
3 NiCad batteries give a range of about 28 miles but expect about 15 - 10 in real world driving

Cost on the road about £2995
Read Matt Trevaskis' experience with his Scootelec
---

Breaking News - NYCEWheels appears to have given up on the Voloci so it is once again only available on the used market.
The Voloci is classified as an electric moped. It has a top speed of 30 mph and has a rated range of 20 miles although I would expect to get about 15 miles in real world conditions. It comes with three battery options, Lead acid, NiMH and a two NiMH pack configuration. The NiMH pack is easily swapped so you can have a spare pack and swap for additional range. Unfortunately the NiMH option adds abut $500 to the cost.
Scott MacGregor from EVDeals.com has done extensive testing on the Voloci and like what he sees. See his write-up on the SLA version.
They are currently being offered at NYCEWheels
NYCEwheels inc.
1603 York ave (between 84th and 85th)
New York, NY 10028
Phone (800)NYCEWHEELS or (212) 737-3078
Ken Trough of V is for Voltage magazine got to ride the prototype Voloci; read his impressions or his complete writeup in V is for Voltage magazine
Derek Keller test rode the Voloci and liked what he saw read about it at EV World
---
Italvel Day


Italvel Day electric scooter is built in Italy. It has a- 48V brush-less motor with special patented features, battery operated by 4 12V-65Ah sealed lead acid batteries gives it a quoted range or 40 miles (expect about 15 - 20 in real world driving) and a Maximum speed of about 30mph.
It can be purchased at GranbyScooters.co.uk in the UK
Also available in the Netherlands from Voltamax
---
SOL GATO SCOOTER

The Sol Gato is a Vespa style electric scooter built in the USA.
Top speed 30 mph
Powered by 2 12V deep cell lead acid batteries for a maximum range of 17 Miles
110 V charger.
It is available from ZEV Technologies and their online order system quotes a vehicle is priced at $2390.
---

EVC is developing the Volta G/T, which they term a step through motorcycle that is basically a modern looking "Vespa Style" scooter similar to the Vectrix. The Scooter will be offered in three versions, the EVC-8 will come with an 8KW motor, the EVC-15 will come with a 15KW motor and the EVC-21 will come with a 21 KW motor. The scooters will be powered by a 72V LiIon battery pack which can be configured for 5.5KWH, 8KWH, or 11KWH and the controller can be programmed to meet several performance characteristics so you can tailor the bike to meet your commuting needs. One interesting thing about these scooters is that they use AC motors.
The EVC-8 will have a maximum speed of 70mph, the EVC-15 will have a maximum speed of 90 mph and the EVC-21 can be pushed up to a top speed of 110mph. Stopping power is provided by a combination of regenerative braking and disk brakes on both front and rear wheels. Range will vary depending on which battery option you choose but EVC claim that the maximum range of these bikes will be over 100 miles at 30mph with the largest battery pack option. Your range will obviously vary depending on the battery option you choose.
EVC are currently looking for dealers and plan on selling their scooter during the 2008 model year. So far there is no indication of price.
---
Alel

Alel is developing a new electric scooter called the Scooler which they claim will have the same performance as an equivalent gas powered scooter. This is another line of motor scooter developed in Europe that might actually be on sale. If you find any dealers or websites where you can purchase one of these vehicles please let EV Finder know.
---



The Malaguti Ciak EP Electric scooter is a "Vespa style" Electric scooter built in Italy. It has a brush-less DC motor and regenerative braking. 4 12V maintenance-free lead batteries gives the Ciak a range of 40Km (25 Miles) with a mileage run on a trial circuit described in the "CICLO DI PROVA MALAGUTI".
Standard Features:
RECHARGE TIME: 4 hours 80% - 7 hours 100%
220 Volt on-board charger. in a compartment in the backside of the front fairing
SUSPENSIONS:Tele-hydraulic front fork, with leading front spindle and 32 mm steel stanchions. Rear system: two hydraulic shock absorbers with helical spring and differentiated pitch.
WHEELS: 12" Alloy
FRONT DISK BRAKE: Ø 200 mm operated by hydraulic transmission
REAR DRUM BRAKE: Ø 110 mm.
TUBELESS TYRES: 110/70-12" front Ð 120/70-12" rear
TRANSMISSION by belt
This vehicle is available throughout Italy and is several other European countries. Malaguti scooters are also sold in the USA but so far I have only found the ICE versions

For dealers in the UK check out the UK Dealer Locator
For dealers in Europe and the rest of the world Check out the Dealer Page at the Italian web site
---

The Caprizzio Electric Scooter is available in the UK. So far I have found very little information about who makes the vehicle or how it performs. It is a Vespa-style electric scooter that has a 48V Lead Acid battery pack which Gives it a quoted range of 35 miles (expect about 20 miles in real world riding) and a top speed of 30 mph.
Caprizzio electric scooter available at Infineon
41 Grafton Way
London
W1T 5DF
UK
Tel: 08700 111 806
Fax: 08700 111 807
Email sales@infineon.uk.com
Also available at eBikeCentral
150 Holland Park Avenue
London
W11 4UQ
Telephone (020)7727 6363
---

Baroni produces two electric scooters, the EFV150 and the EFV200. The EFV150 is a 1500W model with a top speed of 30 mph and a quoted range of 50-62 miles. This claimed range seems way too high for a system with a 48V Silicone battery pack and I wouldn't expect more than about 20 miles for this scooter. The EFV200 is a 2000W model powered by a 60V Silicone battery pack giving a top speed of 40mph and a quoted range of 21-37 miles. This range seems to be reasonable and I would expect that achieving the low end of this range would be quite doable.
Styling for the Baroni scooters is very similar to the E-max. It is available in Blue and Silver or Red and Silver.
Contact
Unit 6
Barton Industrial Estate,
Faldo Road,
Barton Le-Clay, UK MK45 4RP
Phone: 0845 222 7664
Email baronibikes
---

Nov 10, 2011 - Kamin have closed their scooter division
Kamin Electric sells two electric scooters, the Kamin Metro and the Kamin Suberban. Both of these scooters are manufactured in China.
The Kamin Metro is a retro looking scooter is driven by a 1500W brushless motor powered by a 48V pack of maintenance free silicone batteries. The batteries, which are recharged from a standard 110V receptacle can power the scooter to a top speed of 30mph. Range of up to 30 miles although I would expect significantly less range in real world driving. The scooter features front disk and rear drum brakes and can carry two. The Metro is priced starting at $1795.00
The Kamin Suburban is a more modern looking scooter that looks similar to the Zapino. It is driven by a 2000W brushless motor powered by a 48V pack of maintenance free silicone batteries. The batteries, which are recharged from a standard 110V receptacle can power the scooter to a top speed of 30mph. Range of up to 30 miles although I would expect significantly less range in real world driving. The scooter features front disk and rear drum brakes and can carry two. The suburban is priced at $1995.00
Kamin offer a better than average warranty of one year or 6,000 miles on the scooter, and 6 months on the batteries.
---

The Eco-Glide LE is a Chinese built 1500W electric motor scooter with a top speed of 30 mph. It is powered by two packs of 48 Volt 22 amp hour lead acid batteries. Range isn't quoted but expect around 15-20 miles. Stopping is accomplished by a combination of disk brakes on the front wheel and drum brakes on the rear wheel. Build quality isn't known at the moment but there is a warning that the scooter shouldn't be used in very hilly areas.
The Eco-Glide LE is currently being sold through Costco stores and retails for around $1400.
---

Ultra Motor are working on a three wheel, three passenger electric trike. This vehicle uses two 1KW hub motors to give a maximum speed of 50 kph (31 mph) and a a range of 100 kilometers (62 miles). They plan to build three different models from a covered version to an cheaper open top version. There is no indication of when they plan to go on sale with these scooters and it does look like they will be targeting developing nations like India.
---

Breaking News 5/1/2013 - Coda has filed for Chapter 11 Bankruptcy - will exit car business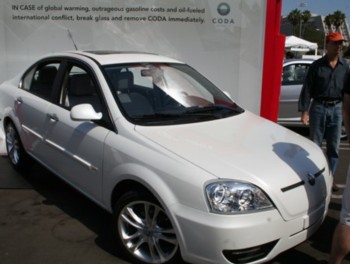 Coda Automotive is a division of Miles Automotive that was formally known as Javlon. They are working on a full sized freeway capable electric vehicles designated the Coda Sedan. The sedan, which is about the same size as a Toyota Corolla, is being build by Chinese Automaker Hafei.
These vehicles are projected to have a top speed of 80 mph and a range of around 100 miles on a charge. The vehicles are currently in production and deliveries to customers started in March, 2012.
Coda plans on selling these, a Corolla sized sedan only in California in 2012. The car's sticker prices will start at $44,900.
Coda dealership on Olympic and Bundy in West LA still has at least one sedan in stock.
You can now order a Coda Sedan at their web site.
Check out my test drive of the Coda Sedan
---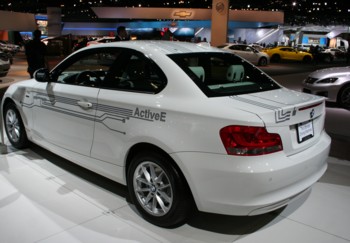 After the successful conclusion of the Mini-E trial, BMW have just stared a new trial, this time with the Active E, a four passenger sedan based on their popular one series Coupé. 700 Active E are going to be sent to the US for this trial with another 300 or so being made available in Europe, and will be offered on lease only. People who formally leased the Mini-E will get priority but there are going to be more cars this time so vehicles are still available.
The Active E is driven by a 32KWhr Lithium Ion battery that offers about 100 miles of range and can be charged in about 5 hours from a 230V 32amp circuit and about 10 hours from a standard 110V outlet. One issue that Mini-E drivers had was a loss in range during cold weather. To address this issue the Active E battery pack is thermally managed by circulating liquid around the pack and using power from the grid while charging to heat or cool the pack and keep it at optimal temperature to preserve range.
The car is powered by a 125KW Electric motor that can provide 170bhp and 240 Nm of torque. This can drive the car from 0-60 in 9 seconds but the top speed is electronically limited to 90mph.
Check out video of the Active E courtesy of youtube
The Active E is available in Califoria, New York, Connecticut, and the Boston Area. It can be leased for 2 years at $499 per month with $2250 due at lease signing. The lease cost includes tax, license, insurance and all maintenance and repair.
---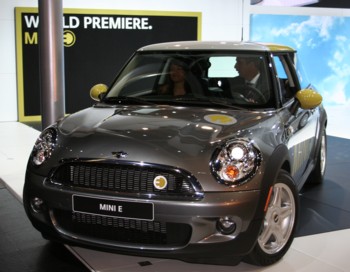 BMW have developed an electric version of their Mini, know as the Mini E which will be leased to fleet and individual customers in very small quantities, about 500 in all, in select locations in the USA including California, New York, and New Jersey. BWM say that they are also considering making these cars available in Europe but no decision has been made yet.
The Mini E is powered by a 35KWHr 350 volt lithium Ion battery pack made up of 5088 individual cells driving a 204 hp electric motor. Top speed is rated at 95mph and it can accelerate from 0 - 60 in approximately 8.5 seconds. Range is quoted as about 150 Miles.
The 500 cars are being built in the Mini plant in Oxford and then they are being transferred to the BMW center in Munich where the electrical components and batteries are being installed. BMW say that all 500 cars should be completed by the end of 2008. BMW are now accepting applications for a one year lease at a cost of $850 per month which includes insurance and all maintenance. To be eligible for the lease you will need to live in Los Angeles or the New York, New Jersey metropolitan area. The Sign-up page is here but they stopped taking reservations 12/24/2008. Sign-up ends December 10 so if you are interested in participating in what is really a field test of the Mini E then you had better sign-up quickly.
The Mini E is very much the same as the current Mini Cooper but the back seat has been removed to make room for the battery pack so the car will only seat 2 people. The car weighs in at 3,240 lbs and the suspension, braking and dynamic stability control system have all been upgraded to deal with the greater weight of this car.
See the Launch of the Mini-E at the LA Auto show courtesy of youtube
---

AC Propulsion have been making electric drive trains for EVs for many years. They have built several electric conversions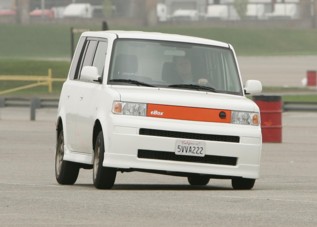 using their drive train technology and also supply their drive train for other electric vehicle developers such as Tesla Motors and Wrightspeed. In the mid 1990s they developed and built a prototype electric sports car called the T-Zero to test out their drive train. The T-Zero was lightning quick with a 0-60 acceleration time of about 4.3 seconds, a top speed of 100mph and a range of about 100 miles. The T-Zero never made it to production.
Two of the three prototypes were sold but the other appears to have been resurrected to test out some new Li battery technology. The new car has kept the 100mph top speed its 0-60 time has improved to 3.6 seconds and the new batteries give it a range of up to 300 miles.
AC propulsion has one chassis left for the T-Zero. I am sure they will accept orders for the T-Zero although they are reluctant to build another one. For more information see their How to get a T-Zero page..
They have now completed a prototype Scion XB conversion using the AC propulsion drive train and a somewhat smaller Li battery pack than the one in the T-Zero. The picture to the left, taken a AC Propulsion on May 22, 2006 shows work in process on this prototype.
The car is being sold under the name ACP eBox. AC Propulsion are now accepting orders for the first run of 20 vehicles. The eBox has a range of between 140 and 180 miles, a top speed of 90 mph and a 0-60 time is a respectable 7 seconds making it quicker on acceleration than the ICE model. Price is $55,000 plus the cost of the donor Scion Xb, with some discounts available for fleet orders of two or more. Vehicles ordered now will be delivered in early 2007. AC Propulsion are already working on a conversion of the European version of the Scion Xb for a customer in France.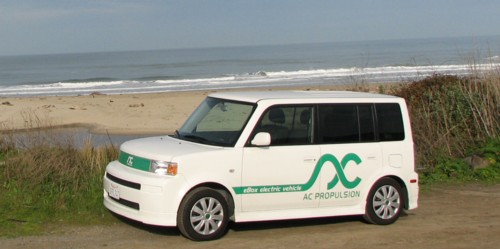 For more information on ordering a eBox go to their order page
Read my test drive of the eBox
See Tom Hanks driving his eBox courtesy of Youtube
See the ebox at an autocross courtesy of Google Video
Read Forbes Bagattelle-Black's eBox test drive at EVWORLD or The AutoWeek Test drive
---
Factory Ford Rangers
The lottery for the remaining Ford EVs has begun so if you haven't applied by now you are probably too late but it might still be worth a shot. Any remaining vehicles will be PbA since the limited number of NiMH are already spoken for. If you are interested in owning one of these EVs then contact Ms. Pilotti via here email which is fpilotti (at) ford.com Please note I have scrambled her email prevent spam so you will need to correct before sending.
Note: the odd shaped batteries in this vehicle are now being supported by Battery MD. They are rebuilding the batteries using the old Tub so they are warning people to make sure that if you buy a used Ford Ranger that batteries are included even if the pack is totally dead.
---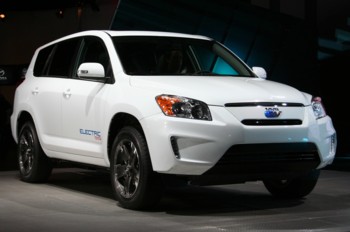 Toyota recently started shipping a second generation version of the RAV4 EV in California. The whole drive train was engineered by Tesla Motors and the SUV is powered by one of their Lithium Ion battery packs made up of a large number of small format cells like the ones used to power a laptop.
Based on the current RAV4 body, the EV is powered by a 41.0 KWH battery that gives it an EPA rated range of 103 Miles which is 17 miles less than the 120 miles range of the 2002 Model. To be able to charge this battery pack in a reasonable time the SUV comes with an on-board charger capable of 10 KW which will charge the car in about 5.5 hours using a special Leviton supplied EVSE. On a standard 220V EVSE the charge time is increased by between 1 and 2 hours.
The car is driven by a 154hp AC induction motor that can be driven in two modes, normal and sports mode. In normal mode the SUV will go from 0-60 in 8.6 seconds and top speed is limited to 85mph. This increases to 100mph in sports mode with a blistering 0-60 time of just 7 seconds.
Toyota has said that it will produce 2600 of these SUVs which will only be offered in California. The 2013 RAV4 EV starts at a base price of $49,800 plus destination chargers.
---
Toyota RAV4
The RAV4EV is no longer on sale but leases are begining to expire so vehicles do occasionally come on the market but are snapped up very quickly. I usually get to hear about these vehicles and keep a list of interested parties that I email whenever I hear one of these is for sale. If you are interested in getting on this list then contact me at RAV4EVforSale.
Toyota has halted sales if their RAV4 EV and have announced that all the 2003 model year vehicles have already been sold. It is possible that they will make a few of the older RAV4 EVs available to the public after they are returned at the end of their leases but this is not likely to happen until the end of 2003. As RAV4 EVs were sold to the general public, and those that were leased have a purchase option, it is possible that one will appear on the used market once in a while so keep watching the classifieds page.
The MSRP is expected to be about $42,000. There will be a $5,000 ZIP incentive from the State of California and a $3,000 Federal tax credit making the price to the consumer $34,000. This price includes the cost of the home charger but not the cost of charger installation.
An article in the LA times quotes Toyota had about 750 of the old RAV4 bodies and once those were sold RAV4 EV production would be ended. I have been give to understand that Toyota actually took orders for 800 vehicles but that there is a high rate of people who drop out due to problems with charger installation or price concerns. Bottom line; if you want one you had better hurry up and get on the waiting list.
You can get on the waiting list at the RAV4 EV web page
4 Door 4 passenger SUV based on the 1998 Model year RAV4 body
Top Speed 78mph
NiMH batteries give a range of 125 Miles (75 miles in real world conditions)
220V small paddle Inductive Charging
Colors Silver or White
Read the EV World article on the RAV4 EV
Or the excellent article written by Aaron Gold for thecarplace.com
Or visit the RAV4 EV page on Toyota's web site
A word of warning: availability of public charging equipped with the small paddle inductive chargers is limited.
---


Breaking News 11/18/2005 - I just heard that Citroen has stopped production of the Berlingo Electrique.
Citroen has made the all electric version of the Berlingo available in France and the UK. While it was intended for the Berlingo to be used by fleets, Citroen has sold them to individuals, although it is usual to lease the battery pack.
The Berlingo is a Van so it is only designed to seat two people and has a payload capacity of 500Kg in a 3 cubic meter cargo space. It has a top speed of 60 mph and a range of around 50 miles. It features a 28Kw DC motor with the ability to provide regenerative braking. Power comes from 27 NiCad batteries.
To Purchase a Citroen Berlingo EV contact your local Citroen dealer. They may not be aware that these vehicles are available so you will need to be persistant.

GPI are currently offering the Berlingo in the UK. Check out their AD on ElectricCarsUK
---

Breaking News 9/10/2008:Due to illness the owners have shut down operations and place their prototype on ebay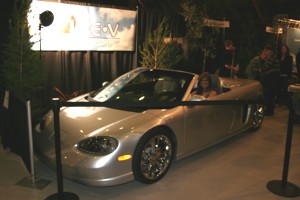 Universal Electric Vehicle Corp is a start-up company that is planning to build a variety of electric vehicles. They currently have a prototype of a two-seat electric sports car, the Electrum Spyder, that has a 112 HP duel motor rear wheel drive system that gives it a top speed of 80 mph. It will be offered with NiZn batteries with a NiMH or Li pack as an option.
Range will vary from 70 to 150 miles depending on battery type and driving style. They have incorporated a charger that will accept both 110 or 240 volt inputs which provides for maximum flexibility. It also comes with a removable hard top that should make this a fun car to drive. Target price for this vehicle is around $70,000
They also plan to produce two additional vehicles, both three wheelers. The first will be a commuter vehicle and the second will be targeted at local government applications such as parking enforcement.
See video of the Electrum Spyder on the road courtesy of Youtube
---

Breaking News 12/1/2008 - Ian Wright at WrightSpeed has indicated that he will not be putting the X1 into production, instead the company will focus on making EV components.
What happens when you cross an Ariel Atom kit car with an AC Propulsion AC-150 drive train - that's what Ian Wright did at Wrightspeed. What he ended up with was on high performance electric sports car that will blow the doors of almost anything on the road. Their first prototype, the X1 can do zero to sixty in three seconds, do the standing quarter mile in eleven and a half seconds, and reach a top speed of 112 mph. The lithium Ion battery pack gives the X1 a range of about 100 miles at an energy equivalent of 170 mpg. Weighing in at just 1500 lbs the X1 provides all the handling an style of the Ariel Atom in an eco friendly package. They have no target date yet on when they plan to go into production.
---

It looks like Paul's Exotics has bit the dust, the web site is no longer available as of June 2005.
Paul's Exotics, based in West Palm Beach Florida, builds an electric conversion based on a variety of Porsche body styles. The vehicle can be custom built to your requirements depending on whether you want high speed or long range. Vehicles start at around $29,000.
They can also offer a conversion built on a Lamborghini body style.
Contact Paul's Exotics LLC
West Palm Beach, FL 33406
Phone: (561) 681-8875
---

The eSpyder is a custom built EV based on a replica of the1953 Porsche 550 Spyder. The eSpyder body is fiberglass on a tubular steel frame. It comes in a variety of configurations with from 20 to 24 Lead Acid Batteries (240V - 284V). The vehicle has a top speed of 100 mph and can accelerate from zero to sixty in 9 seconds. Range is from 50 - 100 miles depending on battery configuration.
Prices start at around $36,000.
For more information contact espyder.org
Peter Ohler has an excellent write-up on his eSpyder
---

Aixim-Mega has taken over the resources of NICE Car Company
The NICE Car Company introduced its Mega City at the British International Motorshow in July, 2006. The car is a a light weight City class car developed by the French Aixam-Mega Group. The Mega City has a 48V battery pack consisting of eight 6V batteries giving it a quoted range of 40 - 50 miles on a charge. The batteries can be charged from empty in about eight hours using a standard 240V 16 amp supply. There is also an integrated battery management system which will allow them to offer a 2 year or 59,000 amp hour battery waranty. The 4 KW DC motor can drive the car at a top speed of a little over 40 mph.
The body is made of Acrylic ABS on an Aluminum frame. It comes with McPherson Strut front suspension with trailing arm and coil springs in the rear. It will also be equipped with a heater and defroster, three point seatbelts, CD Radio, central remote locking and power windows.
The Mega City, exempt from London's congestion charges, is targeted at people who need to commute in and around central London. One interesting feature is a link up with Streetcar, the Uk's largest car club, to give Mega City owners special concessions on pay-as-you-go access to a VW Golf when they want to take a trip that it beyond the range of their EV.
The price of the Mega City is targeted at $9995 which should make it competitive with the G-Wiz. It is expected to go on sale in October, 2006.
See the Nice Mega City review by MegaWhatTV Part 1 and Part 2 courtesy of youtube
To purchase a Mega City or to schedule a test drive go to the NICE Car Company Trying & Buying page
---

Ronaele has been making performance versions of the Mustang, based on the Shelby Mustang design, for about two years. They are now working on electric versions of this car. They currently plan to build two versions, the 300EV which will be 300hp and the 600EV which will tip the scales at 600 hp. The cars will be driven by a DC motor and LiFePh batteries. The 300EV will offer over 1000 ft lbs of torque while the 600EV will give over 2000 ft lbs of Torque. They are currently experimenting with gearing but expect that both cars will top out at around 150mph and will offer a range of around 100 - 125 miles. The battery pack they are using has the capability to be recharged in 15 minutes. They will also be offering a second battery pack option for increased range.
If you provide them with a mustang and they will convert it to electric, including upgrading the suspension, interior, and exterior including new wheels starting at about $80,000. They hope to begin production around the end of March, 2008
See the interview with Ronaele at EVS 23 courtesy of Autoblog Green and Youtube.
---
ZENN Motor Company


Breaking News 3/18/2010 - production if the ZENN has been shut down and remaining inventory sold off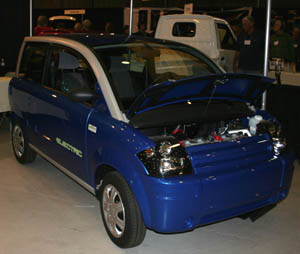 When the owner of Feelgood Cars bought a 1960s vintage Henney Kilowatt he was so impressed that he decided to put them back into production. He began buying old Renault Dauphines (the base vehicle for the Henney) and converting them to electric drive. The company is based in Canada and, while it has received permission to sell them in that country they couldn't get approval from the NHTSA to sell them in the USA so these plans were eventually abandoned.
They have since developed the ZENN a 2 seat, 3 door Hatchback NEV, based on a French built micocar. At the ETI conference held in Florida in December 2002 they announced that they were starting production of the Zenn. I
t has been a long haul for Feelgood Cars, now renamed to ZENN Motor Company, to get an electric car to market, but the Zenn is now in dealerships in the US and Canada with plans to start selling in the UK later this year.
Top speed 25mph Range 30 - 35 Miles
6 12V PbA flooded cell batteries
The 110V charger will reach 80% SOC in 4 hours and takes 6-8 hours for a full charge.
The last information I had is that the ZENN will retail for $11,000 - $13,000 US ($17,000 CDN to $20,000 CDN)

Lang Motors in Vancouver, BC is now taking orders

The ZENN is now available through MC Electric in Seattle or Portland.

In Seattle, Spokane and Portland they can be found at MC Electric

1200 S. Dearborn St. Seattle, WA 98124

Phone: (206) 328-1750

East 10310 Buckeye lane #1, Spokane, WA 99206

Phone: (509) 922-6677

19099 NE San Rafael, Portland, OR 87230

Phone (503) 667-5093

And at Grants Pass Electric Vehicles 145 Redwood Highway, Grants Pass, OR 97527

Phone (541) 218-8850 Email Grants Pass Electric Vehicles

or MC Electric in Beaverton, OR and Seattle, WA

In Northern California it can be found at Davis Electric Cars, Green Motors in San Francisco, and Green Rides in Campbell

In Southern California they are on sale at Environmental Motors in Glendale and the Electric Car Company in Long Beach

In Arizona check out Electric Car Outlet of Scottsdale, AZ or Electric Toy Store in Sedona, AZ

In Fayetteville, NC check them out at Bleecker Electric Cars

In Bozeman, MT check out Ecoauto inc.

in Minneapolis, MN they can be found at Cushman Motors

In Colorado they can be found at the Colorado Auto Center in Parker, CO and Electric Cars of Aspen in Aspen, CO

In Elmhurst, IL check them out at Electric Avenue Auto

In Ohio then can be bought at North Central Zenn

In Ft. Worth TX they can be found at evcarco

and in Houston Texas they are sold at Houston Electric Cars

In Janesville, WI you can find them at Green Autos

Or check out their Dealer Locator

Read Mark Chapmon's test drive

Read Tim U's report on his first month of ownership
---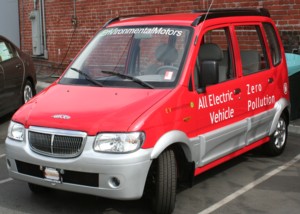 Miles Automotive have begun importing two NEV models, the ZX40 and the ZX40S, from China. Unlike most of the NEVs produced here in the US they are fully enclosed vehicles 11.1 feet long and 4.8 feet wide and weighing in at 2491 pounds. It seats two but there is a 4 seat option.
The ZX40 is powered by a 48V battery pack that drives a 4KW motor for a top speed of 25mph and a quoted range of 40 miles. I would expect real world range to be more like 25 -30 miles in US traffic.
The ZX40S has a 72V battery pack which increases the range while keeping the top speed at 25mph. Range for the ZX40S is quoted as 60-70 miles but again I would expect quite real world range to be more like 40 miles.
They also have the ZX40ST which is a two seat pick-up truck with a top speed of 25mph driven by a 3 phase brushless AC motor and a 72V, 150 amp hour traction pack.
For availability of the ZX40 and ZX40S contact Miles Automotive.
In New York at
42 W 39th Street, New York, NY 10018
and In Californian at
24955 Pacific Coast Highway, Suite B201, Malibu, CA 90265
Telephone (866) 742-6274
FAX (310) 456-6238
Email info@milesautomotive.com
In California you can find them at Environmental Motors of Glendale, CA and EcoSparc Motors in Morgan Hill, CA
In Oregon at Ecomotion In Portland, OR and Milwaukie, OR. Phone (503) 244-5658
or MC Electric in Beaverton, OR and Seattle, WA
In Massachusetts you can find them at Electric City Cars of Belmont , MA
In Minnesota they are sold by The Electric Vehicle Store in St. Louis Park, MN
In Pennsylvania check out Ferrante Motor Cars 601 Jackson Ave. Vandergrift, PA. Phone (724) 567-5675
In Fayetteville, NC check them out at Bleecker Electric Cars
In New York State they are sold in In Amityville, NY at Motorworks Clean Vehicles, Inc. 111 Sunrise Highway, Amityville, NY 11701 and at Buzz Equipment in Barryville, NY
Phone (631) 608-4380 or (866) 527-2669
Check out my Test drive of the ZX40s at EVS 23
---

The Dymac Vehicle Group currently have a group of vehicles that include a Mini Truck, a Cargo Mini Van that can be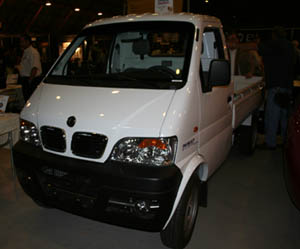 configured to seat two or four people, and a seven passenger Mini Van. These vehicles are based on a 5KW DC motor driven by six 6 volt Lead Acid batteries (48V). Top speed is 24 mph and range is given as 50 miles although I would expect the actual range to be lower in real world driving situations. These vehicles have a maximum carrying capacity of 1800 lbs.
This collection of vehicles continues the trend of bringing NEVs to market that look like normal vehicles rather than pumped up golf carts. The electric truck and electric van options will appeal more to fleets but the seven passenger Minivan will appeal to families who need a vehicle to shuttle the kids to soccer practice or do a quick run to the market.
The Dymac Vehicle Group has completed its NEV certification for these vehicles so for now they are selling them for use in both off road applications such as Campus settings and park maintenance and for on-road applications. More efficient AC versions are also in the works. They also offer a range of shuttle vehicles that will seat 8, 11, or 14 passengers in 48V and 72V configurations.
They can be bought at Electric Vehicles of Long Beach
Also at Ecomotion In Portland, OR and Milwaukie, OR. Phone (503) 244-5658
For more information contact them at (760) 735-9748 or email Dymac Vehicles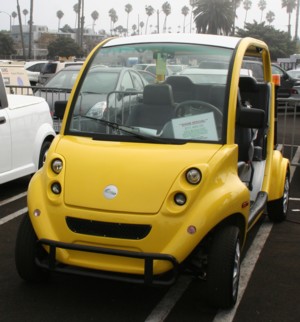 HiLine is another company that seems to be selling a line of GEM clones. These cars have a different look to the headlights and have a different shaped trunk, but are sufficiently similar to have fooled me when I first saw a picture of them.
The NEVs use a 48V pack made up of 8 6V maintenance free batteries to give a quoted range of 50 miles. I would expect the range to be more like 30 miles in real world driving. Top speed is 25 mph but given that these vehicles appear to be the same size as a GEM I would expect hill climbing ability to be less than stellar.
The cars come in 2, 4 or 6 passenger configurations and they also offer a Long Bed Utility.
For the six passenger vehicle they are offering an upgrade to a 7.5 hp motor and 72 volt battery pack for an additional $995 which should provide much better range and hill climbing ability and will be well worth the money unless you live in a really flat area. They claim to have driven the new 6 seat with 8 miles with six people on board and an additional 56 miles with 2 people before the NEV needed to be charged.
They are also in progress increasing the standard motor on the 6 passenger to 6hp to help improve hill climbing ability and they are also committed to address this issue on their other models.
In Florida you can find them at Blue Ribbon Ocala in Ocala, FL
In Michigan they are sold at Lakeshore Electric Cars and Carts in Holland, MI
In Tennessee then can be found at VerdeGoh! in Franklin, TN
For other locations check out their dealer page or call (770) 783-2797
---

Note: As part of the settlement for bankruptcy in 2009 Chrysler apparently sold off the Peapod brand, the web site is still active but there is no indication that the car will be produced.
Chrysler's GEM division is the leading producer of neighborhood electric vehicles. Their latest offering is the Peapod which will be marketed under the Peapod Mobility brand name. Unlike the GEM, Peapod is a fully enclosed vehicle that will be more at home on city streets that at the golf course. The initial offering will be a four door four seat NEV with a top speed of 25mph and a range expected to be around 30 miles. The car has an aerodynamic shape and the front looks like has a distinct smile.
Details of the power train are not yet available. The interior features mesh seats and a docking station for an iPod. The car will come in a variety of colors
The company also plans to produce a two seat version dubbed the Twinpod which will go on sale towards the end of 2009, and a utility vehicle called the Utilitypod which will go on sale in 2010.
Peapod mobility will start taking orders for the car on Earth day, April 22, 2009, with deliveries to begin on Labor Day, September 7, 2009. Price is expected to start at around $12,500 making it significantly cheaper than other fully enclosed NEVs like the ZENN and the Miles ZX40s.
See video of the Peapod courtesy of hulu.com
---

Sadly the main driving force behind the Intimate passed away earlier this year (2009) so further development of the car has been stopped.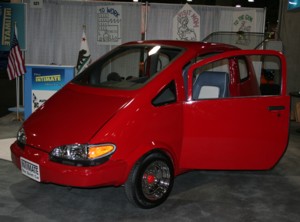 LE Electric Vehicles is an associate company of Louroe Electronics based in Van Nuys, CA. They have had a couple of false starts, first trying to bring the Kewet over to the US from Norway, then they looked at bringing the Reva from India. Now they have started designing their own car, called the Intimate.
They are currently building the first prototype. The car is built using a fiberglass body over a steal tube frame. A 16hp electric motor will offer a top speed of 40mph and a target range of 30 to 60 miles. The car is designed as a city car and will be powered by lead acid batteries.
In reality, unless the current laws are adjusted to include a vehicle classification similar to the European Quadracycle law, this vehicle will eventually be produced as a NEV since the company is probably not going to go to the expense of crash testing. The design criteria of the car is to make it affordable though so the car should be able to compete in the crowded NEV market.
---
Ford Th!nk Neighbor
Ford is no longer producing the Th!nk Neighbor. However, there are still some available through a limited number of dealerships within the United States in those states where NEVs are allowed on public roads. New Neighbors also appear on eBay quite often.
Check out the review of the Th!nk Neighbor in Golf-Car Catalog
---

Another line of Electric Vehicles that appear to be Chinese built clones of the Th!nk Neighbor and GEM are the ones sold as Planet-EV They market a whole line of electric vehicles, most of which look like the Th!nk Neighbor but are based on a 48V system.
Models include the Mercury EV 200 which is a clone of the 2 seat Th!nk, and the Neptune Hauler which is a clone of the The Th!nk Wagon.
In addition to the NEVs they also offer 4 and 6 seat vehicles.
These Th!nk Clones are also sold via Planet-EV in Lincoln, CA under the names Mercury EV 200 for the 2 seat, Atlas EV 400 for the 4 seat, Venus EV 600 for the 6 seat, and Neptune Hauler for the short bed Utility.
Also sold at Mobile West under the brand name IMP-e
They can also be found on the Clean Vehicles NY under the brand name Star
See video of the Champ line courtesy of Youtube
---

The Humdinger is a NEV that is designed to look like the Humvee urban assault vehicle. It is a car for those who like the look of the Hummer but don't want to deal with the huge amounts of waste and pollution that it generates. The Humdinger has a top speed of 25 mph and can reach that speed in about 9 seconds. It comes with the usual safety features such as seat belts, turn signals, headlights, brake lights etc. Six 8V Lead-Acid batteries give it a quoted range of 30 miles though I would expect to get about 20 miles in real world driving.
It comes in 4 seat and 6 seat versions and is priced between $16,000 and $26,000 depending on Options.
---

Yes this is built by Lamborghini in Italy. The following is an extract from an article in Golf Car Advisor.
The Lamborghini NEV's are currently being built in Foligno, Italy, the same place the famed automobiles are made. Between 150 and 200 NEV's are handcrafted each month. The vehicles are 100% Italian technology from the chassis on up. The body design of the Lamborghini NEV's are a joint effort between Lamborghini CEO Tonino Lamborghini and Michael Jun, the president of Leewood Incorporated. For more information on the Lamborghini NEV product line or to inquire about becoming a dealer contact Leewood Incorporated, phone: 352-754-1800, fax: 352-799-6650, E-mail: Leewood@gate.net
Florida Electric Vehicles currently have vehicles in stock
Address 4413 Martin Highway, Palm City, Florida 34990
phone 772-286-5254
toll free 888-619-6090
fax 772-286-5860
Web site for this vehicle does not appear to be up and running yet but there is more information in an EV World Article
---
Tonino Lamborghini Group

Italian Tonino Lamborghini Group produce a line of electric micro cars called the Town Life. They produce two models, the Ginevra and the Helectra. The cars come with a 48V system that gives a top speed of 45 kph (30 mph). Range on the web site is quoted as 500 Km (310 miles) but this appears to be for a version that has a diesel engine, the EV version appears to have a range of around 60 Km (35 miles) and I expect that real world range will be somewhat less than this.
To locate a dealer please check out their dealer page.
See video of this car at Holland-Bikes
---
Frazer-Nash

Frazer-Nash is a UK manufacturer of electric vehicles including NEVs and City EVs. They provided a range of electric vehicles for use in the 2000 Summer Olympics in Australia. At least some of their vehicles might be available in Europe already but there is no sign on their website that they have begun selling to the public. If you come across any dealership or website that is selling these vehicles then EV finder would like to know
---
Electric Rider was formally and EVT dealer but has elected not to continue with that line under EVT World's exclusive dealership. Instead it is also about to launch the Electra. The original prototype of the Electra looked very similar in appearance to the EVT 168 but I hear from Electric Rider that the production version will be quite different. Their web site says it will be built by EVT America but I understand that it will be built in China. The US version is expected to have a top speed of 30 mph. The 48V system uses lead acid batteries which are claimed to carry the vehicle over 50 miles on flat roads at 18 mph. However, I would expect a range of 15 - 20 miles in normal driving conditions. ElectricRider.com has a tentative introductory pirce of $1599 with availability projected for April of 2004. They are currently working with their Chinese supplier to assure that these vehicles are shipped with very low defect rates.
---
Rae-Beck Automotive of Sterling Heights, MI is developing a NEV called the Sanibel. It was shown for the first time at the ETI conference held in December, 2002. The NEV is a four-seat convertible but the rear seats can be removed so it can be used as a utility type vehicle. The car is powered by a 72 V battery pack and 15 HP electric motor. The car will also feature regenerative braking. There is no word yet on when this vehicle will go into production as the web site just says "Coming Soon". More information can be found in the Sanibel article at Electrifying Times.
---
Hummingbird
Hummingbird are developing a line of NEVs. According to Dave Rush, who left Ford to designed the Hummingbird, "The prototypes are running well and are targeted at NEV leadership and lowest cost. Having been intimate with the Bombardier, GEM and Neighbor, we are comfortable that we will lead the market on Introduction." He also added " We are currently remodeling a 17,000 sq.ft facility in Detroit for hummingbird production, and are obviously eager to spread news of the Hummingbird and its capabilities."
---

Lafayette County Car Company has three models the LC3 II is a two-seater, the LC3 IV is a four-seater, and they also offer a truck option. The vehicles look somewhat similar to the GEM. All are powered by a 72V lead Acid battery pack that gives it a quoted range of 30 - 45 miles and a top speed of 25 mph. The car comes with all the safety features required to make it a street legal NEV.
The company doesn't appear to have a web site set up so for more information please contact
Lafayette County Car Company, LLC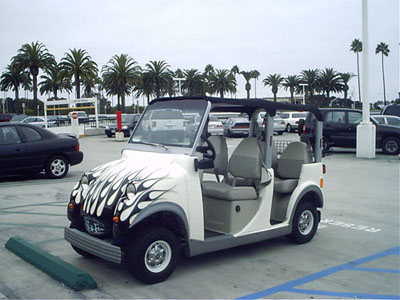 PO Box 140
Odessa,MO 64076
Phone (816) 633-7300
They do have some dealers.
Cars on Juice in Ventura, CA, who offer the four-seat and two seat LC3 and are also taking orders for the Truck version.
Contact Cars on Juice
2111 E Thompson Blvd, Ventura, CA 93035
Telephone: (805) 643 7255
FAX: (805) 643 7255
Or Email Sales:
Florida Electric Vehicles in southern Florida currently have vehicles in stock.
Address 4413 Martin Highway, Palm City, Florida 34990
phone 772-286-5254
toll free 888-619-6090
fax 772-286-5860
You can read more about these NEVs at The Auto Channel
---

Cart-Rite, based on Connecticut, produces a line of NEVs at prices starting as low as $6499.00. These include a passenger vehicle that looks like a GEM 2 seat and four and six passenger vehicles that look like the Th!nk Neighbor. These vehicles are limited in top speed to 20mph so I can't recommend them for on-street use but they might work for you in a residential community or a campus setting. The vehicles come with a 90 day warranty that then reduces on a pro-rated basis until the warranty expires at 1 year.
The company is currently looking to establish a dealer network but the vehicles can be ordered directly from the company by going to their Order Page or by phone at (203) 457-9352.
---
Good Earth Electric Vehicle

Good Earth Electric Vehicle have developed the Freedom line of electric vehicles. This includes two vehicles, the freedom Buggy which is a three wheel vehicle based on a "Vespa style" scooter, and a truck. The company claims to have developed a more efficient drive system that translates about 98% of the battery's energy into motion giving the vehicles a 100 mile range on AGM lead acid batteries. There is no indication at their web site about how fast these vehicles go and so far no indication of when they will be available for sale.
---
The Toprun electric scooter is build in China. It has a 24V system powered by Lead Acid batteries. The range they quote is about 60 Km (38 miles) and a carrying capacity of about 98Kgs (220 Lbs). The top speed of 35Kph (22mph) is on the low side but if you are looking for a Vespa-style scooter and are not concerned about speed then this might be a nice scooter for running around town. Toprun appear to be looking for distributors in the US. They can be contacted at benchiu@ctimail3.com
---
Viento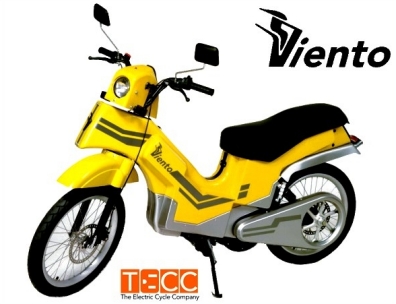 Breaking News; TECC, the manufacturer of the Viento have lost their backers and have halted production. Unless they find new backers they will have to close their doors. There are still a few Viento left if you want one.
Viento from The electric cycle company was designed by Ely Schless, who also designed the highly regarded Denali electric motorbike. It will register as a moped in most states.
Three Hawker Genesis PbA batteries give it a top speed of 30 mph and a quoted range of 25 miles though I would expect about 15 miles in real world situations. The bike will seat two people and will come with a 1 year warranty.
They are currently offering test rides in California only and their web site has an order page which appears to be active so you can place an order.
The Electric Cycle Company are in production and have delivered several vehicles. They are currently being offered at Zapworld.com.
They are also being offered at NYCEWheels
NYCEwheels inc.
1603 York ave (between 84th and 85th)
New York, NY 10028
Phone (800)NYCEWHEELS or (212) 737-3078
Pleiades Enterprises, based in Carlsbad, CA is also a Viento dealer
In Northern California try Mechanically Speaking
Mechanically Speaking
65 Star Way
Phone: (650) 347-7666,
Fax: (650) 347-0660
Buisiness Hours, 8am -6pm, Mon-Fri.
or Berkley Electric Cycle Company
1700 Martin Luther King Way
Berkley, CA 94709
Phone: (510) 848-1410
Email: info
gliderscooter.com sells the Viento online or Call (800) 913-9582 between 9 AM and 5 PM PST. Monday through Friday.
Find the online at Motor Land Sports or call (800) 466-0010
Check out evfinder.com's test drive of the Viento.
---
Electricmoto
Electricmoto (formerly Denali Motors) is developing Blade, an electric motorcycle that uses 4 12V PbA batteries to give it a top speed of 45mph. Range is not quoted on their web site but expect it to be about 10 to 15 mile if you run the bike at top speed. They say the vehicle should be available some time in Mid February 2003 at a cost of about $5995. for more information contact electicmoto,
3165 East Main St.
Ashland, OR.
Tel 541-488-8226.
email sales@electricmoto.com
---
Ford Ranger EV
Breaking News
12/29/2003 - Ford will no longer renew leases on Ford Ranger Trucks. They say that the role of environmentally friendly vehicles will not be filled by their upcoming hybrid offerings.
You could try and contact one of the dealerships that leases the Ranger EV. They may not have a vehicle available but would you might be able to get on the waiting list.
Top Speed 75mph
39 8V sealed Lead Acid Batteries give a range of 50 miles
220V 30 amp Conductive Charger using AVCON connector
They have also just announced a release program on NiMH trucks that have been refurbished after being returned at the end of their original lease. The program is on the Th!nk web site and says in part
Special re-lease opportunity in California. California based NiMH battery equipped vehicles coming off of lease will be refurbished and remarketed to new lease customers for a 36-month lease term at $349 per month. Click here for a list of available vehicles
Ford Rangers can be leased through the following dealerships:
Los Angeles
I've recently (July 14, 2002) heard that Jan Harmonson at Barber Ford/Isuzu, 805-642-6701 have some NiMH Ranger EVs available as part of the re-lease program.
Sacramento
I've recently (march 18, 2002) heard that Ray Roy at Folsom Lake Ford, 916-353-2000 ext.
440, may have a lead on some Ranger EVs available for lease.
San Diego
Pearson Ford 4300 El Cajon Blvd, San Diego CA 92105
Talk to John Lynch at (629)-283-7181 or email him at altfueltek@home.com
San Francisco
S&C Ford have 1 Ford Ranger currently available as of 1/25/2002
Talk to Frank Ginotti 415-431-8100 x 329
For more details check out the Th!nk Mobility web site
Read the EV World article on how one owner leased a Ranger EV
---
EV1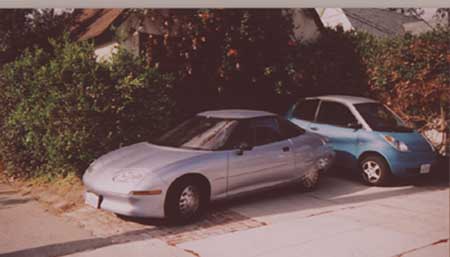 The EV1 is no longer available for lease and GM as informed everyone on their waiting list that they will not be getting a vehicle. You can assume a lease if you can find someone who needs to give up their vehicle.

However, most of the Gen II machines have already been taken away by GEM and they will all be gone by the middle of next year.

There is not much time left for this incredible vehicle.

Read EV1 for a day the story of the day I spent with an EV1 rented from EV Rentals.
---
EMB LECTRA

EMB was bought out by ZAP and for a time they were selling the Lectra on-line. However, they appear to have pulled the plug on this electric motorcycle.

While it is possible that some dealers may still have vehicles in stock the best chance of finding one of these motorbikes is on the used market. Check out the classifieds page.

emotors may have one available at $3995.00

Voltage Vehicles may also have them in stock

Check out Matt Petersons's Lectra Page
---
YAMAHA

Yamaha have built a single seat electric motor scooter called the Passol that they are marketing in Japan. The scooter is be powered by a Li-Ion battery that will give it a range of 15 to 20 miles and a top speed between 25 and 30 mph.
There is no indication on when or if Yamaha will be selling this scooter in other countries.
---
Esarati

They produce a line of electric motorbikes and motor scooters that appear to be state of the art. I have heard some rumors that they might actually be selling these bikes although the Esarati web site says that they are only taking preliminary orders and I know of at least one person who gave up the wait and asked for his deposit back.
Latest news from Esarati is that the company changed its CEO in late spring of 2002. The new CEO has supposedly signed a production agreement with a company in the far east and may begin shipping some motorbikes around October. There is no indication of this on the Esarati web site so EV Finder believes that a wait and see attitude is best. If they begin shipping bikes, and if the bikes live up to their claims, then they will be a good buy, but there has been too much vaporware from this company in the past to justify spending money unless they can give a guaranteed delivery date.
---
Kit-e-Car
E2V in the UK now has their first Kit-e-Car for sale. check it out on the E2V website
---
Freedom Car
Freedom Car is the brainchild of Jerry Dycus, who is building a prototype three wheel EV as time and funds permit. He has already created the molds and the design looks pretty exciting. Jerry could probably be persuaded to custom build one of these vehicles.
---
MEGA Scooter
Electric Powered Mobility Mega scooter available in pink and blue. A 48V sealed PbA battery pack gives this scooter a top speed of 25mph and a quoted range of 32-40 miles but expect about 15 miles or range in real world conditions.
For places to purchase check out their dealer page.
---
eMotion Mobility
Breaking News: 1/30/2004 - eMotion Mobility appear to have ceased operations. Their inventory of Smart bodies and Solectria electronics were sold recently on eBay.
eMotion Mobility is a company established by Donald Panoz to build an electric version of the Daimler Chrysler Smart. They plan to use this car in various Station Car programs in the Atlanta area starting later this year. Future plans call for expanding this program to Californian in 2003 and to the North Eastern States in 2004.
The car will be based on the Solectria AC drive-train and there are rumors that they might use a Li Ion battery pack.
The eMotion Mobility web site now has a form to let you get on their list of people to be notified when their station car service becomes available in your area. The list is organized by Zip code so if you are interested in the Smart as a station car then go to their web page and enter your contact information.
---
GIZMO

Breaking News - NEVCO have alted production of the Gizmo due to increased costs and overhead. They are attempting to restructure. They do have some used vehicles available for sale. If interested contact them by email
The Gizmo is manufactured by the Neighborhood Electric Vehicle Company but it is not an NEV. It is a 3 wheel vehicle that carries 1 person and registers as a Motorcycle.
Top Speed 40 mph
Powered by 8 Trojan T105 6 volt batteries which the manufacture claims gives it a range of 45 Miles.
Price $8650
Orders are currently being taken at the web site. A $250 deposit is required. Delivery time is quoted as 30 days
For more information visit the NEVCO web site
Click here to go their Order Page , call (541)-687-5939 or email gizmo@nevco.com
Also available in Ohio from Midget Motors
Midget Motors Gizmo Dealer
Midget Motors
73 Jefferson St.
Norwalk, Ohio
(419) 663-9287
Email info@midgetmotors.com
Read about the Gizmo Test Drive
Read Davide Andrea's comparison of the Gizmo and Sparrow
---

Breaking News
5/29/2004 - Ron Huch, who got most of the assets from the bankruptcy, has sold Phoenix Environmental motors to Myers Motors. It appears that they are very close to completing the remaining Sparrows, along with many improvements, and making them available for sale. Check out the Phoenix Environmental Motors web site for more information and keep an eye on the Meyers Motors web page for further developments.
The Corbin Sparrow is a 3 wheel vehicle that carries 1 person.
Top speed 70 mph.
Power comes from 13 Optima Yellow Top batteries giving a real world range of about 25 miles.
For more information, or to find a dealer near you, visit the Corbin Motors web site
Read Davide Andrea's comparison of the Sparrow and Gizmo
Corbin are currently testing an AC system on one of the 73 incomplete bodies that they still have. So far tests have been successful so they are beginning to prepare to finish the others. Most of these vehicles are already ordered but some will go to dealers and some will be sold directly by Corbin Motors, There will be 17 2003 Sparrows available for purchase directly from Corbin. They will all be fitted with an AC motor and controller and Corbin's new smart charger that uses pulse technology in an attempt to extend battery life.
For more details please go to The Sparrow page and click on the "Available Colors" link towards the bottom of the page.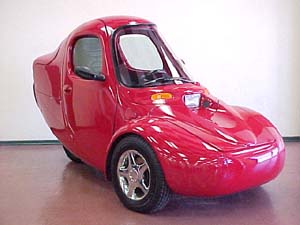 Environmental Motors in Glendale CA. currently have 1 Sparrow, pictured left, available
Ecarmotors in Santa Monica, CA and Emeryville, CA have both new and used Sparrows available
Morland Motors in the San Mateo, CA area has 2 Sarrows available with 2 more due to arrive shortly
Moreland Motors has one red sparrow and one blue fore sale. They also have a silver sparrow that was used in Austin Powers 3 that they are keeping but they might be willing to let it go; for the right price.
Contact Kit Morland 386 El Camino Real, San Carlos, CA 94070. Phone (650)-814-0220
Xtreme Motors in the Sacramento
Their web site says they have 13 Sparrows for Sale but I have been told they only have 4 currently available.
X-Treme Motors Incorporated
4612 Auburn Boulevard
Sacramento, CA 95841
Tel: 916.485.0500
Fax: 916.482.0220
Email xtreme@x-trememotors.com
The Sparrow is what I would call a enthusiasts car. They are lots of fun to drive but they are not Toyotas. They are prone to breakdown and need a lot of TLC. There has recently been some fires caused by a brake line being run too close to the battery box. Fortunately for those of us who are mechanically challenged there is help. Clare Bell, an electrical engineer who formally worked for Corbin Motors and knows the Sparrow better than anyone has started the EVet service. For a fee she will answer questions, diagnose problems and even travel to your location to help you fix problems. She can be contacted at:
The EVet
Telephone Hotline - 831-637-8227
Snailmail:
EVet
1450 Union Rd
Hollister, CA 95023
Warning, Some Sparrow owners have recently reported difficulty in getting insurance for their Sparrows. There are companies that will insure, especially if you have several other vehicles with them, but it may be expensive,
---
Corbin Sparrow II
Corbin, who built and sold the Sparrow, are currently in bankruptcy so it is unlikely that they will ever manufacture the Sparrow II. However, it is possible that whoever purchases their assets will be able to complete development and start up production..
The Sparrow II will be similar in design to the Merlin but will be powered by an AC motor. They learned a lot from the trouble prone Sparrow II and hopefully they will put that knowledge into building a superior vehicle when they come to finalize the design for the new model. They originally put forward a late 2002 date to begin production but that seems very unlikely. Keep watching for further updates as production draws closer.
---

The Electric Hog is currently being developed by Vogelbilt . It is an electric motorbike that has a design reminiscent of a Harley Davidson. Its120V system delivers a top speed of 80mph and you should expect a range of 30 to 40 miles..
Vogelbilt have a prototype running and are in the process of building a second.
They indicate on their web site that they are willing to build custom prototypes for sale but are waiting for funding before moving to production. There is no indication of how much one of these prototypes would cost but I would expect the price to be around $20,000.
There is a great write-up of the Electric Hog in V is for Voltage
---

Evolve Motor Works is has build a prototype front wheel drive recumbant three wheel motorbike called the Eilean/G2 that has a top speed of over 45mph. It is designed to lean in curves ("a leaner") which gives it exceptional stability for a three wheel design. The bike is powered by a LiIon battery pack but they are also testing with other battery configurations including a 72 volt PbA pack that they expect will provide a range of about 45 miles at a constant 25mph on a level road.
For more information contact EMW
---

L/E Autoworks are currently building a prototype of a NEV that they call the LaVie. This NEV was displayed at the 2006 Santa Monica Alernative Fuel Vehicle Expo but was little more than a fiberglass shell. The L/E autoworks talks about a plug in hybrid with a top speed of 40mph but it looks like they have altered their focus to produce a NEV instead.
Their plan is to produce a luxury NEV that can be used by the family and will have such things as Air Conditioning, back-up cameras and keyless operation.
---
Vebco

Vebco, based in British Columbia, Canada, is developing the silencio a line of electric scooters, NEVs and electric buses that they plan to sell over the web. They have three full sized electric scooters, the 800 W Urbano , the 1000W Venice and the 1500W Roma. According to their web site, their NEVs have a top speed of only 20 to 27 kph (13 - 17 mph) which is too slow for use on city streets but would work in campus settings. Their three electric sightseeing buses have a capacity of 8, 11, and 14 passangers and top speeds in the 35-45 kph (22 - 28) mph.
For more information contact them at:
Vebco International
2532 Kingsway Ave.
Port Coquitlam, BC V3C 1T6
Tel: 604.944.5990
Fax: 604.944.5965
or email
---