Plug-In Hybrids
---

About EVFinder

EVents Calendar

FAQ

EV Selector

Links

The EV Finder Archive

Site Map

Blog
---




Toyota has replaced the Plug-in Prius with the Prius Prime based on the Prius Gen 4 platform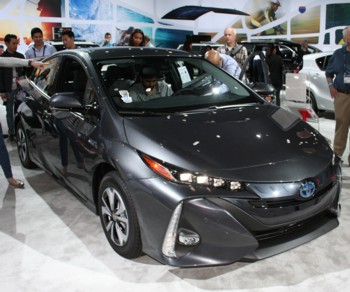 The Prius Prime has received a number of upgrades based on customer feedback from Prius Plug-in customers. The Lithium Ion battery pack has been updated to 8.8 KWHr giving the Prius Prime a very usable 25 miles of electric range. The battery weighs in at only 265lbs Which is slightly lighter than the much smaller capacity battery in the Prius PLug-in. Charging from a standard 110V outlet takes 5.5 hours but a faster charge means that it can charge from 220V in just 2.1 hours.
The EV only range is also more usable on the freeway with the engine will come on when the speed on the Prius Prime exceeds 84mph. Once the battery charge reaches a preset level, or when the car goes faster than 84mpn, the car functions like a conventional hybrid offering EPA combined fuel economy of 54mpg (133mpge). I have also been given to understand that the car can also start the internal combustion engine under very harsh acceleration.
The Prius Prime is meant for people with short commutes, say 12 miles or less each way; where the conventional hybrid is often at its worst. With lots of short trips, and frequent recharging, the Prius Prime should be able to run using very little gasoline while still giving very good fuel economy numbers on a long trip.
The Prius Prime is available in three trim levels, the base trim will start at around $27,750 with the advanced trim starting at about $39,000. It can be found at Toyota dealerships nation wide.
---
Chrysler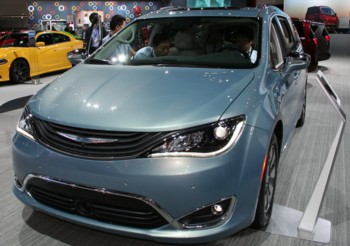 Chrysler produce a hybrid version of the Pacifica. Unlike most other vendors the Pacifica Hybrid is, in fact, a plug-in Hybrid.

The Pacifica Hybrid is currently the only Plug-in Hybrid Minivan available. It will seat 7 people comfortably. It also has 32 cubic feet of cargo space which increases to 141 cubic feet with the third row seats folded away. To increase cargo space still more the second row seats can be removed.

The minivan is driven by a 16 KW lithium battery, feeding two electric motors, that provides an EPA estimated 32 miles of all electric range. If it is run in hybrid mode starting with a full battery then the EPA rates fuel consumption at 80mpg-e. Once the all electric range has been used the 3.6 liter V6 kicks in and returns a fairly decent 30mpg combined city and highway mileage.

Recharging at 110V takes about 9 hours but level 2 charging can take as little as 2 hours according to Chrysler, but I would expect more like 4 hours on most level 2 chargers.

The Pacifica Hybrid starts at a base price of $39,995. It can be found at Jeep/Chrysler/Dodge dealerships nation wide.
Check out my test drive of the Pacifica Hybrid.
---

5/18/2016 - GM has now ceased production of the ELR
In December 2013 Cadillac began deliveries of its first plug-in hybrid called the ELR. The ELR uses the same powertrain as the Volt with a 16.5 KWhr lithium battery pack driving the electric motor and the same 4 cylinder, 1.4 liter gas engine driving a generator when the battery pack is low on charge.
The body and interior is where the car differs, and it looks much more like a Cadillac with leather seating and a whole list of safety features such as collision warning that move the car up into the luxury category. The change in body design increases weight and lowers the coefficient of drag by about .3 which gives the ELR slightly less all electric range and lower fuel economy than its down market sibling.
GM gives the electric only range at 35 miles which sounds about right Once the gas engine kicks in GM says the car will get a combined fuel efficiency of 33mpg. This is a little lower than the Volt but pretty good for a Cadillac. Top speed is expected to be around 106mph. Like the Volt the ELR also requires premium gasoline.
It takes about 5 hours to fully charge the battery from a 220V (level 2) charger. GM says that the time taken when using the supplied 110V charger is from 12.5 to 18 hours depending on outside temperature.
Cadillac ELR is $75,900 including destination chargers but before Federal and State incentives.
---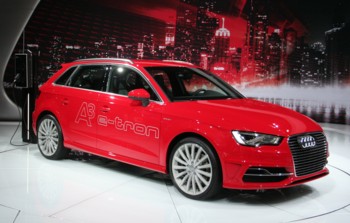 The A3 e-Tron Sportsback is now being sold both is Europe and nationwide in the US. The car is a plug-in hybrid which has an EPA rated all electric range of 16 miles from its 8.8KWhr lithium-ion battery pack. This pack can be charged in about 2.5 hours using a 220V 16amp outlet. When more power is needed or after the pack is depleted the car's 1.4 Liter turbo charged 4 cylinder engine cuts in.
The gas engine can produce 150hp while the electric motor puts out 102hp but in combination they can power the A3 e-Tron from 0 - 60 in a little under 7.6 seconds. Top speed for this car will be 138 mph. The EPA rates the car with an overall fuel economy of 86 mpg-e.
The system comes with several driving modes including Auto which lets the system try and determine the best combination of the gas and electric motors. electric only mode that allows the car to be driven all EV until the battery is depleted, Hold mode that holds the charge in the battery so that you can drive all electric when you get to your destination, and charge mode that uses the engine to re-charge the battery.
This 4 door hatchback can seat up to 5 people.
The base price in the US is $37,900.
---

Note: This car is no longer being produced and has been replaced with the Honda Clarity PHEV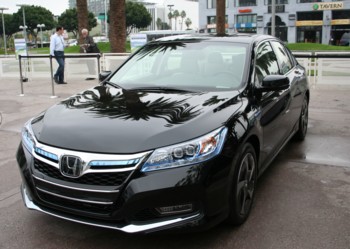 Honda is recently shown a Plug-in Hybrid version of its popular Accord Sedan. The Honda Accord PHEV is different from ealier Honda hybrids. Instead of the Integrated Motor Assist drive train that has been in all ealier Honda hybrids the Accord PHEV features a dual mode hybrid system similar to that found in the Toyota and Ford hybrids. The Accord Hybrid offers an EPA estimated 13 miles of EV only range before the internal combustion engine kicks in. This probably means that the Accord is less suseptible to turning on the ICE during heavy accelleration than the Prius PHEV.
The Honda PHEV will be the first car to meet California's new SULEV20 standards and is EPA rated at 115 mpge. Fuel economy in HEV mode is 49 mpg city, 45 mpg highway, and 47 mpg combined.
The car is powered by a 6.7 KWhr Lithium-ion battery pack that can be recharged in about 3 hours from a standard 110V outlet or in about half that time using a 220V J1772 EVSE. The onboard charger is the same 6.6KW charger that is used in the Fit EV so charging in as little as an hour is possible.
The car is driven by 124KW electric motor in EV mode which is suplemented by a 2.0 Liter, 4 cylinder Atkinson cycle engine in HEV mode.
The 2014 Accord Plug-in went on sale in California and New York starting on January 15, 2013 and will be rolled out nation wide some time in the Summer starting at a base price of 39,780. This price includes lots of features like adaptive cruise control and blind spot monitoring.
---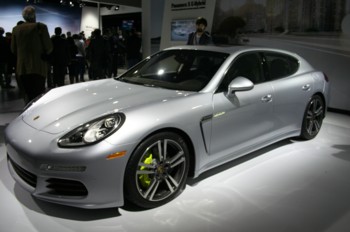 Porsche has a plug-in hybrid on sale, the Panamera S E-Hybrid. This four seat sedan is built off the same platform as the standard wheelbase Panamera S.
It is designed as a hybrid rather than a range extending EV so if you punch the accelerator too hard the gas motor will kick in. To make it easier to keep the car in electric only mode the accelerator pedal gets harder to push as you approach the point where the gas engine turns on
It offers an electric only range of about 22 miles from the 9.4KWhr lithium battery at speed up to 83mph after which the electric motor will kick in to push the car up to its top speed of 167mph. The car can go from 0-60 in 5.2 seconds.
It takes about 2.5 hours to fully charge the battery from a 220V (level 2) charger. Porsche also offers the E-Charge mode that will charge the batteries as you drive. This means that you can choose to charge the battery from the gas engine while cruising on the freeway for around 23 miles so you can drive electric only when you reach your destination. This comes at a cost in terms of lower fuel economy.
Base price for the Panamera S E-Hybrid is $99,000
---





Note: This car is no longer being produced.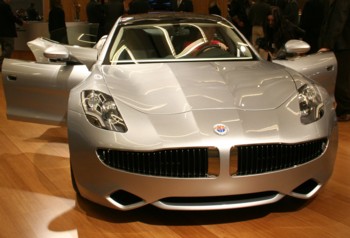 Fisker is a start-up company based in Southern California that has developed a plug-in hybrid called the Karma. The Karma is a serial hybrid which offers an all electric range of around 50 miles from its 22KWHr lithium-ion battery pack, after which a small gasoline engine will start up to keep the batteries charged
Fisker's Q DRIVE technology gives the car a top speed of 125 mph and will go from 0-60mph in under 6 seconds. There are two driving modes, economy mode that offers reduced power to provide maximum range, and sport drive mode that allows full power to kick in. The car also offers regenerative braking and an optional full sized solar roof. To enhance their green image, no animal products are used on the Karma, and the wood used in the interior will come from trees damaged by California wild fires.
The initial vehicle is a 4 seat sedan, which will be built in Finland. It is targeted at the luxury market and will be followed by a convertible version. The car sells at a base price of around $103,000.
Fisker has already started development of a lower cost sedan under a project dubbed Nina but that isn't expected until toward the end of 2012.
The Fisker Karma is being sold through a group of about 45 retailers but 2011 production is already sold out.
In Santa Monica, CA they are available through Fisker of Santa Monica
In Irvine, CA the can be purchased at Fisker of Orange County
In Canada they can be found at Fisker of Calgary and Fisker of Toronto
---

Chinese battery maker BYD has started selling a plug-in Hybrid based on its F3 model. The car, called the F3DM uses BYD's Lithium Iron Phosphate batteries to give the car an electric only range of 100KM (62 miles) and a top speed of 160kph (99mph). The battery pack is expected to provide about 2000 cycles (about 120,000 miles) before it needs to be replaced.
Once the battery capacity runs low the 1 liter three cylinder gas engine fires up and the car will operate like a conventional hybrid. BYD calls this serial/parallel system Dual Mode.
The F3DM is a four door compact sedan that looks a lot like the Toyota Corolla. The car went on sale to government agencies in China in December 2008 but only about 80 vehicles were sold, and I have heard rumors that build quality was quite poor on these cars. The car went on general sale to the public in China during April 2009. The price of the car is 109, 800 Yuan (about $16,000). It is expected to go on sale in Europe and the USA in 2011.
To purchase a BYD F3DM see your local DBD Dealer
---
If any owner out there would like to email evfinder and tell me their experience I would love to pass on the information to prospective buyers. I would also like to hear about any full sized EVs that are not listed here, or send any questions you might have about EVs.
---
Now for the fine print - remember always read the fine print.
The information contained in this web site is based on information I have received about the availability of vehicles both new and used. I attempt to keep the information here as current as possible but I would appreciate being notified of any inaccuracies you may find. The appearance of a vehicle on this site does not imply any endorsement of that vehicle, or any implication that the vehicle will be suitable for your needs. As always you should investigate the vehicle and the seller before shelling out your hard earned money.