Mustang Mach-e
---

About EVFinder

EVents Calendar

FAQ

EV Selector

Links

The EV Finder Archive

Site Map

Blog
---
Sunday December 1, 2019 – Mustang Mach-e - On March 9, 1964 the first Mustang rolled off the line at the Ford assembly plant in Dearborn, Michigan and into History. Now known as the 1964 1/2, it was the concept of Lee Iacocca, vice president and general manager of Ford Division, and is often credited with saving Ford.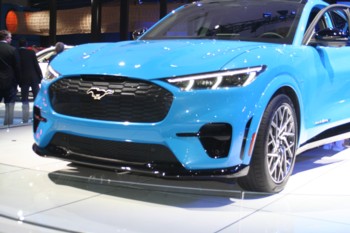 The car was an instant success selling 22,000 on its first day in dealerships, and going on to sell 418,812 cars during the first year of production. Now Ford has just announced the Mustang Mach-e; an all electric crossover based on the Mustang. The question is will it be a success.

The Mach-e is very different from any of its predecessors. While it is based on the Mustang it is not the sporty coupe that we are used to. There is not going to be the throaty roar of a V8 Engine and it will be the first Mustang SUV, so is it going to be a real mustang?

I showed a picture of the Mach-e to my wife, who is a big Ford fan and a former Mustang driver. AT first glance she said "Mustang". Somehow the designers at Ford have managed to capture the style of the Mustang in a crossover body.

I can predict with certainty that the first year of sales on the Mach-e won't come close to the sales of the original. Ford have said that they will produce 50,000 in the first year, limited mostly by battery supply constraints from supplier LG Chem. Approximately 25,000 will be routed to the US market with the rest going to overseas sales. Reservations are now being taken at the Ford website.

Ford plan to release a "First Edition" Mustang Mach-e with a price of around $61,000 in late 2020 as a 2021 model. This model will come pretty loaded with a 332hp AWD configuration and the extended range battery pack. It is expected to offer a range of 270 miles on a charge and to hit 60mph from a standstill in about 5.5 seconds. Ford has not announced how many of these limited edition vehicles will be produced but has said that the First Edition vehicles are sold out.

The First Edition model will be followed by the Premium trim model which will start at $51,700. Following in early 2021 will be the Select model which will be offered in RWD and AWD configuration with a range per charge estimated at 230 miles. Price for the Select model starts at $43,895.

These will be followed in the Spring by the California Route 1 model starting at 52,400 with a 300 mile range but with a slower 0-60 time of about 6.5 seconds, and the GT with a range of 250 miles and a target 0-60 mph of 3.5 seconds.

The Mustang Mach-e is not going to please the Mustang purists but this is a car that has the potential to pull people into electric cars. Ford say that this is not a compliance car but with planned sales in the US of just over 2,000 per month it seems like a compliance car even if it will be available in all 50 States. As usual, I expect more than half of these vehicles will be sold in California, and I know that this car will be on my list of my possible next vehicle.
If you want to comment on this topic, email me, but please include your Name, City and State or Country
---
Follow evfinder.com on Twitter