Sunday October 14, 2018 – 2018 Santa Monica Alt Fuel Expo – In recent years Santa Monica has hosted its annual Alt Fuel Vehicle Expo as part of Drive Electric Week but this year they went back to running the Expo in October. I have to say that this year the event was the worst I have ever attended and I think I have only missed one year since they started these events on third street promenade back in the late 1990s.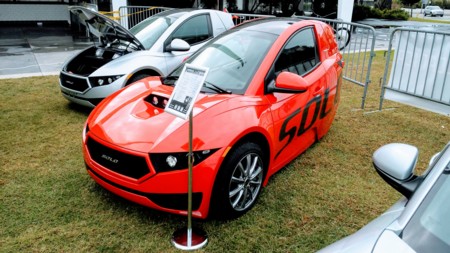 Things started out badly when I arrived at the chargers in Santa Monica Place and found two available. I pulled into one but when I ran my Chargepoint card I got a red light and a message saying the charger had been disabled by the owner. A volt pulled into the other charger spot and the driver was getting the same message at that charger. It seems odd that the City of Santa Monica would shut down chargers when they are hosting an alternative fuel vehicle expo. After some hunting around I did find a charger in the 2nd street parking structure so I was able to get enough electrons to make it home on electric power.
The exposition itself was a lot smaller than in recent years. Instead of the usual display in the Civic Center the static displays were set up in the small area of grass out front. There they had some interesting vehicles there including a Hyundai Tucson fuel cell vehicle. They also had three new BEVs on display.
The first two were from Electra Meccanica, a Canadian company based out of Vancouver, BC. They had their Solo, a single seat three wheel electric vehicle. The Solo is rated at 100 miles from a full charge of its 17.3 KWHr Lithium-ion battery pack. It can hit 82 mph so it can be used on the freeway. Its base price is only $15,500 and in most states it will be registered as a motorcycle. They also had the eRoadster which is a Porsche 356 Speedster replica. It is driven by a 50 KWhr lithium battery pack that they say provides a range of 155 miles on a 9 hour charge. It also offers a 0-60 time of 6 seconds and costs $124,900.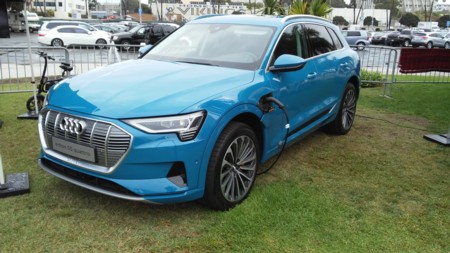 The other EV on display came from Audi who were showing the e-Tron for the first time in the US. The e-Tron is one of a growing number of all electric crossover vehicles that are beginning to arrive in US dealerships. Apart from the name confusion with the A3 e-Tron which is a hachback PHEV, the e-Tron is a fully electric 5 seat crossover. It has a 95 KWhr battery pack, but so far Audi has not given a range for this vehicle as the official EPA numbers are not likely to be available until closer to delivery. One thing Audi is giving out is the ability to fast charge at 150 KW DC. This is faster than the competition, at least for now, and should allow for an 80% charge in 30 minutes. Top speed is rated at 124mph with a 0-60 time of 5.5 seconds. Base price for the e-Tron is $74,800 with deliveries expected to start early in second quarter of 2019.
Reservations are now being taken for both the Solo and the Audi e-Tron
After checking out the fixed exhibit I wanted to stop off at the bathroom before trying the ride and drive. The bathrooms are in the Civic Center but there was a guard stationed at the entrance who would not allow anyone in. There was supposed to be a portable restroom out by the ride and drive but it looked like someone had forgotten to bring it in; at least I couldn't find it. There was a Tesla Model 3 parked in that area as a static display but they are becoming a pretty common sight on the streets around here so it wasn't getting much attention.
There were only 3 participants in the ride and drive while I was there. Toyota, Honda, and Nissan. Toyota was giving test rides in the Mirai but I've driven one before. The Toyota vehicle I was interested in, the Prius Prime, was not there. So far I haven't seen Toyota giving test drives for the Prime even though it is one of the best selling plug-ins in the country. Nissan was also there with the Leaf but I have already driven one of those as well, so I decided to pass on that. This left my only choice as Honda.
Honda had the Accord Hybrid and the Clarity PHEV to test drive. I have been thinking about the Clarity PHEV as an eventual replacement for my Prius Plug-in so I jumped at the chance for a test drive. The drive itself is a short loop perhaps about half a mile in length. The car was a pleasure to drive. I started out in eco mode then switched to sport mode while driving along Main Street. There was a notable surge in the car as the mode changed. When hitting the accelerator in Sport mode the car is quite spritely but I was happy with Eco mode so quickly switched back The car is quite luxurious and one feature I liked was the camera that sent an image to the center screen as I flipped on the turn signal. I'm sure this is a feature for the top of the line model but still it was nice to have. It proved its worth as I made the turn from Main onto Olympic as there were three Bird scooter riders in the bike lane and it enabled me to see them quite clearly and let them pass before starting my turn.
The Honda plug-in hybrid has an all electric range of 46 miles from a 17 KWHr Lithium-Ion battery. Price for the base model starts at $33,400 before tax incentives. One of the nicest features on this car is the 7.4 KW charger that allows a charge rate of up to 25 miles per hour.
I got back to the ride and drive area and decided it was time to start for home. As I was leaving I noticed that BMW was showing up in an i3. There was supposed to be an i8 Roadster in the ride and drive too but I wasn't going to wait around on the off chance it would show up soon.
I got back to my car and it still hadn't finished charging so I grabbed a coffee and waited until it was topped up and ready to go. I'm not sure if it was the threat of rain in the forecast, or the fact that plug-in cars have gone mainstream, but the magic had gone from the Santa Monica Alt Fuel Vehicle Expo, at least for this year. Perhaps next year will be better.
If you want to comment on this topic, email me, but please include your Name, City and State or Country