2013 Blog Archive
---

About EVFinder

EVents Calendar

FAQ

EV Selector

Links

The EV Finder Archive

Site Map
---
Sunday Dec 29, 2013 – Unplugged
Sunday Dec 22, 2013 – Energy and EV Secrets
Sunday Dec 15, 2013 – Theft of Electricity
Sunday Dec 8, 2013 – November 2013 EV Sales
Sunday Dec 1, 2013 – Small Change Big Gains
Sunday Nov 24, 2013 – 2013 LA Auto Show
Sunday Nov 17, 2013 – EV Incentives
Sunday Nov 10, 2013 – October 2013 EV Sales
Sunday Nov 3, 2013 – Promoting Charger Installation
Sunday Oct 27, 2013 – States Sign Deal to promote EVs
Sunday Oct 20, 2013 – California Energy Storage Mandate
Sunday Oct 13, 2013 – Tesla Fire
Sunday Oct 6, 2013 – September 2013 EV Sales
Sunday Sep 29, 2013 – Ruminations on the Distortion of Oil Prices and Crony Capitalism
Sunday Sep 22, 2013 –2013 Santa Monica Alt Fuel Vehicle Expo
Sunday Sep 15, 2013 – 2013 Frankfurt Auto Show
Sunday Sep 8, 2013 – August 2013 EV Sales
Sunday Sep 1, 2013 – How to find Charging Stations
Sunday Aug 25, 2013 – Five Star Tesla
Sunday Aug 18, 2013 – Trouble at Ecotality
Sunday Aug 11, 2013 – Prius Plug-in First Year
Sunday Aug 4, 2013 – July 2013 EV Sales
Sunday Jul 28, 2013 – What not to do with Chargers
Sunday Jul 21, 2013 – New Chargers from Chargepoint
Sunday Jul 14, 2013 – I3 from BMW
Sunday Jul 7, 2013 – June 2013 EV Sales
Sunday Jun 30, 2013 – Fiat 500e Sold Out
Sunday Jun 23, 2013 – Tesla Battery Swap
Sunday Jun 16, 2013 – Low Inventory
Sunday Jun 9, 2013 – May 2013 EV Sales
Sunday June 2, 2013 – PIA Leaf Battery Report
Sunday May 26, 2013 – Volvo V60 PHEV
Sunday May 19, 2013 – Primary Car
Sunday May 12, 2013 – Prius Plug-in Second Road Trip
Sunday May 5, 2013 – April 2013 EV Sales
Sunday Apr 28, 2013 – IEE says 5 Million EVs by 2035
Sunday Apr 14, 2013 – Three for the Road
Sunday Apr 7, 2013 – March 2013 EV Sales
Sunday Mar 31, 2013 – 2013 New York Auto Show
Sunday Mar 24, 2013 – Tesla Moving Forward
Sunday Mar 17, 2013 – 2013 Geneva Auto Show
Sunday Mar 10, 2013 – February 2013 EV Sales
Sunday Mar 3, 2013 – Public Charger Shortage
Sunday February 24, 2013 – NY Times v Tesla
Sunday February 17, 2013 – Prius Plug-in First Service
Sunday February 10, 2013 – EV Sales for January 2013
Sunday February 3, 2013 – EU Looks to Expand Charging Network
Sunday January 27, 2013 – 2013 Detroit Auto Show
Sunday January 20, 2013 – Hottest Years on Record
Sunday January 13, 2013 - Plug-ins and Apartment Dwellers
Sunday Jan 6, 2013 – December 2012 EV Sales

Follow evfinder.com on Twitter
---
Sunday Dec 29, 2013 – Unplugged – I hope this week's blog doesn't turn out to be too much of a rant but I almost got a ticket in Beverly Hills this week for parking at a charging station without being plugged in.
I can see you all shouting "Hypocrite" now as I have often criticized people for blocking charging stations either with an ICE or by squatting, or an EV using the charging space as a convenient parking spot so is this a case of the pot calling the kettle black?. To quote Han Solo, "it's not my fault"
On Monday I was in Beverly Hills and my battery was totally discharged so I was running on gas. I stopped at the parking structure on Beverly Drive and found that all four EV charging spots were empty. I like this particular charging location because one of the chargers is attached to a column and is convenient for plugging in to a car with the charge port at the rear.
I plugged in and went off to take care of a little business then get something to eat. When I returned to my car There was a Tesla Model S in the parking space next to mine and the first thing I noticed is that it was plugged in using the J1772 connector that had been plugged in to my car. I also noticed that my charge port door was closed. Powering up the car I found that the charge had been interrupted. Fortunately I was at 10.3 miles so it was nearly full.
It appears that the Tesla driver had decided that because I was a PHEV and he was an EV he had the right to the charger. I was pretty steamed about this at the time since the other charger was not being used so it appeared that the Tesla driver had unplugged me out of spite.
What makes it worse is that there are signs at these parking spaces that clearly say that citations will be issued to cars parked in these spaces that are not connected for charging purposes. The idea was to prevent nasty people like this Tesla driver from purposely unplugging another car. The problem is that there is nothing in the law to prevent the driver from unplugging another car which just makes matters worse.
Fortunately I can't have been unplugged that long and parking enforcement hadn't come by to give me a ticket yet. I was lucky.
When I left the parking structure I complained to the parking attendant that my car had been unplugged and that I could have gotten a ticket. The parking attendant just scratched his head and said "He shouldn't have done that" but I doubt that he would even mention it to the Tesla driver.
I have to admit I was pretty steamed at the Tesla driver and still am. This morning I took the time to go check out the chargers again and I did find that the second charger appears to be stuck thinking that it is still connected so the J1772 would not release. When I waved my Chargepoint card in front of the charger it unlocked the 110V door not the J1772.
It is possible that the driver saw the solid amber light in the charge port and thought that meant the car was fully charged. It is also possible that the person was in such a hurry that he failed to notice the large posted signs saying that cars parked but not connected to the charger would be ticketed.
I seriously doubt that the guy was desperate for a charge but I could be wrong. With a 200+ mile range most Tesla drivers rarely need to use public charging. In fact most EV drivers rarely need public charging but of course when they do need it they are usually have gone beyond their range and really need the charger.
If I was at a charging station and an EV driver came in and said that they desperately need a charge and could they use the charger I would be quite happy to move my car to let them charge. In fact I have done this once at this very charging station. I didn't actually move my car I let the Tesla driver plug in to the J-Plug then plugged in to the 110V outlet with my EVSE. In this case the Tesla driver was surprised to see the 110V outlet.
Unfortunately some EV drivers show up with lots of attitude and this leads to incidents like the one I had last Monday. I know EV drivers that flat out say PHEV drivers should not be allowed to use public charging even though they are the ones that get the most use out of them.
In this area at least chargers are in short supply so we have to learn to share them amicably. In this case I suspect the Tesla driver didn't realize that there was a 110V outlet hidden behind the door in the EVSE and so thought I would be OK since only one space was fed by the charger. If the driver thought that the car was fully charged and didn't realize that he could have gotten me a ticket then that is just a matter of education. If the driver didn't care that I got a ticket because I was a PHEV using public charging then we have a problem.
I dodge a ticket this time but I wonder how long it will be before this driver, or one like him, causes someone to get ticketed or towed.
---
Sunday Dec 15, 2013 – Theft of Electricity – Last week one of my readers sent me an article and suggested it might be an interesting topic for my blog. It was about a Georgia Man who was arrested for plugging in his car without permission while watching his son's tennis practice.
The article stated that the man was attending a Saturday morning practice at his son's middle school when he saw a police officer inspecting his electric car. The police officer was responding to a complaint about the car being plugged in at the school. The car was plugged in for about 20 minutes using a total of about 5 cents worth of electricity.
The Officer interviewed the car owner at the scene then left. Fifteen days later a couple of Police Officers showed up at the guy's door, handcuffed him and took him into custody where he spent 15 hours in jail.
What was interesting were the comments that people had left with the article. It was also hotly debated on Priuschat. The comments fell into several distinct camps. First were the ones that said "theft is theft". Then there were the ones that said "why are the police wasting taxpayer money on the theft of 5 cents worth of electricity". Then there were the ones that said "well nobody gets arrested for plugging in a laptop or cell phone so why would you arrest someone for plugging in a car".
Of course, since this happened in Georgia and the car owner had a dark complexion someone had to play the race card. Based on the guy's name he was probably of middle-eastern descent not African but some people will play the race card anyway.
With these things it is always worthwhile to let them simmer for a bit since the initial story rarely contains all the facts.
A review of the report done by the officer at the scene begins to tell a different story. That says the car's owner was the one using the Tennis Court. He lives in a different city so it is unlikely that he has a son attending this school. According to the police officer the guy was argumentative about the issue. If he had just apologized and unplugged the car he would probably just been let off with a warning.
It appears that the man was known to the school district too, and not only had he not sought permission to plug-in, according to the police the school district had previously warned him not to use the tennis courts without permission.
In the end the police decided to charge the guy but since he lived in another city they turned the warrant over to the local Sherif's department to make the arrest which is why it took so long before he was clapped in irons.
So we can use this as a cautionary tale.
First, let's not get distracted with the "everyone does it" argument. Most people have very little idea of how much electricity an electric car uses and assume that it uses much more than it actually does, so they are much more likely to overreact to this than say a laptop which they know uses very little electricity.
The truth is, owning an electric car does not give you a right to just plug it in anywhere. I have always said that unless the plug is in a space that is marked for electric vehicle charging you should ask permission before plugging in.
Even after you have asked permission you can get problems. Back in the EV1 days C. E. Raum drove his car from Santa Monica to Hilton Head. At one of his overnight stops he asked the night manager at the motel if he could plug-in and was given permission. When he came out in the morning his car was fitted with a boot. The night shift manager hadn't thought to tell the day shift manager about the car being plugged in when the shifts changed and the day manger had called the cops. It all got settled OK but it took several hours for C. E. to get his car unbooted.
I also worry about things I read on Plug-share. They will list parking structures that have 110V outlets and have comments like "it is ok to plug in". Personally I would not plug in unless the outlet was clearly marked for EV charging just in case the person making the report hadn't gotten permission for everyone or security had not been informed that it was OK for people to use the outlets.
Here's an interesting quandary. At the Ralph's at Cloverfield and Olympic in Santa Monica there are two spaces marked for EV charging. Each space is equipped with a Blink charger that costs $1 per hour for members and $2 an hour for guests. There is also an 110V outlet between the two chargers so you could say that it is OK to use the outlet since it is part of the EV charging station of you could say that they clearly want a fee for charging so the 110V outlet is not for use. I have never used either but it is an interesting question.
My recommendation is to always ask before you plug in to someone else's outlet unless it is clearly marked as an EV charging station. It is always good manners to offer to pay for the electricity that you use even though it may only be a few cents worth. If you are given permission at a business like a coffee shop or a restaurant then spend some money there while the car chargers. Finally when a cop or security guard does approach you be polite, as they say you catch more flies with honey that you do with vinegar.
---
Sunday Dec 8, 2013 – November 2013 EV Sales – October was an interesting month for EV sales with a shake-up among the top selling EVs. In November things returned pretty much to normal. Inventories got tight and sales dropped off a little with GM selling a handful more cars than Nissan but with the Leaf being the bestselling Plug-in.
GM sold a total of 2,007 plug-n cars during November with the majority of these being Chevy Volts. They managed to sell 1,920 Volts during the month just over 100 short of the 2,022 cars they sold the previous month. GM still don't appear to have released the 2014 in great volume yet and have already started production of the Cadillac ELR plug-in Hybrid ahead of it going on sale in January which is also likely to hit Volt production as it is built on the same assembly line.
The Chevy Spark was supposed to be going on sale nationwide in 2014 but it appears more and more as if this car is not going to move beyond the current sales area of California and Oregon. This month they managed to sell 87 cars, up a little from the 66 cars sold during October.
Nissan has been selling around 2,000 cars per month which is about their current build capacity. November was no different when they sold 2003 Leafs, just 1 more than the 2002 they sold in October. It was still enough to make the Leaf the bestselling car for the month.
After selling more plug-in vehicles than any other company in October, Ford sales were a little weaker in November at 1926 cars.
The C-Max Energi continued to be Ford's bestselling plug-in with a total of 941 cars sold. This is a little weaker than the 1092 cars they sold in October but still quite a good showing.
The Ford Fusion Energi didn't fare quite so well. After breaking 1,000 units sold for the first time in October at 1,087 cars, they fell back to 870 cars in November. I suspect his is all about dealer inventory which was probably low due to the high sales in the prior month.
Ford saw small increase in sales of the Ford Focus EV in November with 130 cars sold, besting the 115 cars sold in October and 110 cars sold in September. The Focus EV seems to be selling pretty consistently at a little over 100 cars per month.
Toyota couldn't duplicate the exceptional month that it had in October and sold just 1162 cars in November, a little over half the October number.
The majority of these were the Prius Plug-in which sold 1,100 cars in November down almost 1,000 from the 2095 cars that they sold in October. This too is likely to be about inventory since selling so many cars in October has got to have greatly reduced the number of cars on dealer lots.
Toyota also sells a compliance EV in California and Oregon. Sales of the RAV4 EV was 62 cars in November, over 30% below the 91 SUVs that they sold in October
Tesla does not give out sales numbers each month so it is difficult to tell just how many cars they have sold. Sales in Europe continue to expand so it would be a fair guess to say that about 1,000 cars delivered in the US this month.
The Smart Electric Drive continues to sell better than expected and I have begun to see them driving around the LA area. Smart managed to sell 153 of their Fortwo Electric Drive during the month. This is not bad considering it is still only being sold in the original 9 launch states and a sizable increase over the 111 cars sold in October. It has also been reported that there is a 6 month backlog on orders for the Smart Electric Drive and while Daimler-Benz reports that they are catching up it appears that they are building mostly the Coupe so sales are also being constrained by a lack of inventory for the cabriolet.
Chrysler doesn't break out individual numbers for sales of the Fiat 500e so once again we are reduced to guessing. Inside EV estimated that Fiat sold 125 of their electric cars this month and based on what I have seen from sales of companies that sell through eBay this seems to be a reasonable number. This is still better than the 40 or so units they sold in October and reflects increases in sales as dealers start to honor the originally advertise lease rate of $199 per month.
Honda has made it very clear that they see the future as fuel cell cars and are selling plug-in cars reluctantly. This can be clearly illustrated as their two plug-in models combined sales of 91 units was beaten by both Smart and Fiat.
After selling 71 Honda Accord Plug-ins in October they managed to move just 68 in November. This is partly a result of the car being overpriced and partly a result of very low dealer inventory.
They also saw a drop in sales of the Fit EV managing to move just 23 of them in November, well below the paltry 40 they sold in October. Inventory is almost non-existent.
Mitsubishi continues to clear out their inventory of 2012 cars and this month they sold another 12 cars. This is a little less than the 28 cars they sold in September. I received a press release from Mitsubishi saying that the 2014 i-MiEV will be coming to the US and that we will see a price reduction of around $6,000 on the base price. I expect to see better sales of the i-MiEV once the 2014 cars begin to arrive but this is not expected until late spring.
Fisker has been out of production for some 15 months now and finally entered bankruptcy. They still have a few cars in inventory and managed to sell 12 in November up from 1 in October. There are still cars available at steep discounts and the Fisker dealer in Los Vegas recently posted 3 unregistered Karma on eBay.
There is also a new kid on the block. In November Porsche launched the plug-in version of the Panamera, the S E-Hybrid. The Panamera S E-Hybrid offers a 20 miles electric only range after which the gas engine will run. Like the Prius Plug-in the E-Hybrid can also turn the gas engine on to help with heavy acceleration or at speeds above 75mph. Porsche currently sells around 500 Panamera per month in the US and the E-Hybrid is expected to be between 50 and 75 of these.
Porsche sold just 4 of the Panamera E-Hybrids in November with about 12 in dealer inventory at month end.
Th!nk and Wheego do not report sales but it is a pretty good guess that they represent only a very small number of cars sold..
Overall November was a good month with sales generally constricted by supply rather than by demand. There are four new Plug-in cars coming to showrooms in the first half of next year. The Cadillac ELR is expected in Dealerships in January followed by the BMW i3 and i8 in May and the MBZ B-Class Electric in June. It will be interesting to see how these sell, especially if the other carmakers continue to keep inventory low.
---
Sunday Dec 1, 2013 – Small Change Big Gains – This week I finished reading one of the most interesting books on climate change that I have seen to date, Small Change Big Gains Reflections of an Energy Entrepreneur by Tomas H. Stoner Jr.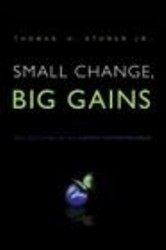 Tom H. Stoner Jr. graduated from Hampshire College with a BA then from the completed his MS at the London School of Economics back in the 1980s. After that he spent 30 years leading companies that worked in clean technology including serving as CEO at two companies, Econergy International, a renewable energy independent power producer, and Evergreen Energy, a company working to develop clean Coal technology.
The book starts out with an introduction that covers the basics of climate science as it relates to global warming. It also introduces project Butterfly which models climate change and builds business models. The project butterfly model shows that the 350-ppm target required by the Kyoto protocol is no longer a reasonable goal and proposes more realistic goals for limiting carbon dioxide levels in the atmosphere.
In this book Mr. Stoner goes on to treat global warming as an economic and sociological problem not a scientific problem. Using the project butterfly model he talks about two cases, "Business as Usual" where we continue to bicker between nations about who should do what to reduce global warming, and the project butterfly "New Business Model" that alters the energy mix worldwide in ways that will be beneficial for everyone.
The book not only tells us what will happen if we don't take action against global warming but also gives us a clear path to keeping global warming at levels that will not be detrimental to society. These actions are based on sound economic principals.
He warns that by sticking to business as usual we are unlikely to see a solution to the global warming problem bringing on global catastrophe. On the other hand by making small changes that increase energy efficiency and move toward the use of more renewable energy we can move toward a brighter future. He also tells us that this needs to be done in a way that makes economic sense to the various stakeholders and provides recommendations on the way that his New Business Model can be implemented.
Now I can't say for sure that this book provides the required solution to global warming but I do agree with one of his recommendations – America needs to take the lead on this issue instead of being one of the major drivers of "business as usual".
I can say that the solutions in this book need to be looked at as they appear to be more viable than anything else I have seen to date. I recommend it as required reading for those interested in limiting the impact of climate change.
---
Sunday Nov 24, 2013 – 2013 LA Auto Show – This week I attended the press days at the LA Auto Show. At first I felt like I had been sucked through a time warp back to the days before the 2008 crash as manufacturers were showing off their new trucks, SUV, and performance models. In the end though I can summarize the show by paraphrasing Paul Revere "The Germans are coming, the Germans are coming".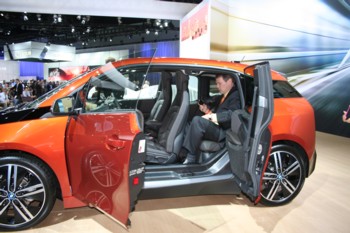 The show got off to a pretty good start with the first press conference of the day at the BMW stand. I had some difficulty locating BWM but was able to get there in time to get a few pictures of the i3 which was sitting on stage but not covered since it had already been shown in the US back in October at the Santa Monica Alt Fuel Expo.
BMW started out by announcing a new 6 cylinder, 1600 cc motorbike that will go on sale here in California next year. 20% of BMW motorbike sales are in the Golden State. They also showed the X4 sport utility vehicle and the new 4 series convertible.
It was the i-series cars that were the real focus of the press conference though. The i3 is a four seat city car with coach doors for easier access into the rear of the car. It is estimated to provide about 100 miles of range from its 22Kwhr battery pack and has a top speed governed to 93mph. This car is meant for use in city though and should be excellent in that role. The i3 just went on sale in Europe and nationwide rollout in the USA is scheduled for the second quarter of 2013 with a base price of $41,350. A range extender option is also available.
The i8 is a two seat sports car that was derived from the prototype that was used in the film "Mission Impossible Ghost Protocol". It is a plug-in hybrid with a 3 cylinder turbo charged engine and a 131hp electric motor. The car is driven by a 7.1KWhr lithium ion battery that can propel the car electric only for a range of about 21 miles and up to 75mph before the gas motor cuts in. Top speed with the gas motor is 155mph. It will also go from 0-62 mph in just 4.4 seconds but is quite a bit slower than that when running electric only. The i8 will also go on sale during the second quarter of 2014 here in the US at a base price of around $135,700.
The next few press conferences were the ones that made me feel like I was in a time warp. At the Chevrolet press conference I was hoping I might hear more about their plans for the Spark EV. While the Spark EV is supposedly selling better than GM expected there is a rumor that the car will not be rolled out nationwide but will be kept as a compliance vehicle. Instead, we got treated to the rollout of the Colorado pickup. At least this is a mid-sized pickup that gives buyers a smaller option than the full sized Silverado.
Subaru's main vehicle was the WRX, a 268hp performance sedan that can get up to 30mpg on the highway. Ten years ago this would have been excellent mpg but today this is quite poor for a compact sedan. They also showed their latest concept for the Legacy sedan but had no real specs on this vehicle.
The Mercedes Benz press conference was also all about performance. All their announcements concerned the AMG vehicles that are their high performance models. I did get a chance to take to take a look at the B-Class Electric Drive.
The B-Class electric drive made its debut at the New York Auto Show earlier this year and is slated to go on sale in the US starting in June 2014. The car is built on the same platform as the A class and will offer a battery supplied by Tesla that is said to give it a range of 115 miles. The 175hp electric motor can push the B-Class from 0-60 in 8 seconds with speed topping out at around 100mph. A full charge from a 220V charger takes about 4 hours. The Tesla built battery packs are capable of charging much faster than that, but so far I have seen no indication that a DC fast charger option will be made available.
My next stop was over at the Porsche exhibit and they too announced a midsized sport utility vehicle, the Macan. When it goes on sale next year the Macan will be the lowest cost Porsche available and they are expecting it to sell well. It wasn't what Porsche were announcing that I was interested in but rather one of the cars that recently went on sale, the Panamera Plug-in hybrid. To Porsche's credit I didn't have to look hard, it was the first car I saw as I entered their exhibit.
The Panamera S E-Hybrid offers an electric only range of about 22 miles. It is designed as a hybrid rather than a range extending EV so if you punch the accelerator too hard the gas motor will kick in. However, from what I have been told the accelerator gets harder to push as you approach the point where the gas engine turns on making it easier to stay in all electric mode. The car goes from 0-60 in 5.2 seconds and tops out at 167mph. Base price for the Panamera S E-Hybrid is $99,000.
The first press conference of the afternoon was Ford in the West Hall but they did not really have any major announcements. What they did show was their Ford Edge Concept which is just loaded with safety feature such as adaptive cruise control, collision avoidance. The automatic parking system has also been enhanced so the car can now park its self in a standard parking space as well as parallel parking.
For the fuel economy standpoint the edge comes with the latest ecoboost technology and auto stop start to further reduce fuel consumption. Ford said that they will be implementing this feature on all high volume products.
At last year's LA Auto show the plug-in cars from Ford were all hidden away at the back of their display. This year the cars were front and center which reflects how important plug-in cars are becoming to the automakers.
The next couple of presentations were also about performance with Nissan showing their new range of Nismo tuned performance cars and Kia showing their new K900 full sized sedan that is designed to compete in the Luxury car segment.
I got to the Honda stand and managed to find a seat with a pretty good view of the stage. Tetsuo Iwamura, president and CEO of Honda Motors America began by telling the crowed about the various fuel types that Honda sells including CNG, hybrids, Plug-in Hybrids, and the Fit EV. He also talked a little about the Clarity fuel cell vehicle and they had almost all of the Clarity drivers in the audience.
He then went on to talk about their next fuel cell vehicle which they plan to begin selling in the US in 2015. Honda has been one of the companies that has been opposed to battery electric vehicles so it was no surprise when he called fuel cell vehicles the "Ultimate solution for low carbon mobility".
He then unveiled their latest fuel cell concept which he said had the world's highest power density fuel cells. The car offers a 300 mile driving range and he claimed that it could be filled in 3 minutes. The fuel cell stack is 33% smaller and 60% more powerful than the one in the Clarity so the power train can now fit under the hood without compromising cargo room.
The concept they showed didn't look anywhere near production ready so we will have to wait until next year to learn more about what the production car will look like and how they plan to roll it out.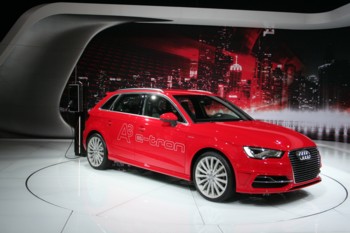 My next stop was over in the South Hall where Audi showed off the new range of A3 compact sedans. Included in this range was the A3 e-Tron. The A3 e-Tron is a plug-in hybrid with an all-electric range of about 30 miles. They currently plan to begin selling this car in the US in early 2015.
Following on from Audi was parent company VW who also had a couple of plug-in cars in their line-up. Now VW have been showing concept Plug-in cars at the LA Auto Show for the past five years but this is the first time they have shown a production ready car that is intended for the US market.
The e-Golf looks exactly like the regular Golf from the outside but under the hood lurks a 115hp electric motor driven by a 24.2KWhr battery that should deliver about 70 miles of range. The car has three selectable levels of regenerative braking. The battery can be charged from a 220V level 2 charger in about 4 hours and VW will also offer a DC fast charger option that will fill the battery to 80% in about 30 minutes. The e-Golf is expected to arrive in US dealerships around this time next year.
VW also showed a concept plug-in hybrid, the Cross Blue sport utility. The car uses a V6 direct injected engine and is capable of 0-60 in 5.8 seconds. They didn't give any indication of all electric range but said that in electric mode it will get 70mpge and total range is about 570 miles on a tank.
The last press conference of the day for me was Toyota and what a waste of time that was. They were supposed to be showing their 2015 Fuel cell vehicle but it appears that they only have once concept vehicle and that was already at the Tokyo Motor Show and so all they could say was that they plan to begin marketing of a four door sedan in 2015 and the car will be shown at CES in Las Vegas in January.
Two presentations that I missed, Cadillac and Hyundai, also had some interesting cars.
While Cadillac announced the latest version of their Escalade full sized SUV they also had the ELR on show. The ELR goes on sale in January with a base price of around $76,000. The ELR, which is based on the Volt platform, gives about 35 miles of EV only range.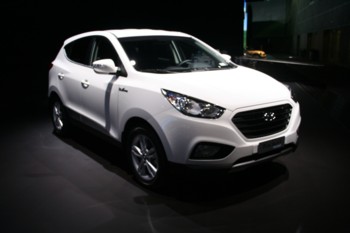 Hyundai showed off their Tucson Fuel Cell Vehicle. They plan to mass market this SUV which should be in showrooms starting next February. The car will be lease only with a $2,999 down-payment and $499 per month which includes all fuel and maintenance. The car will be available first in Southern California but won't be rolled out to other areas until the hydrogen infrastructure grows somewhat.
On Thursday there was rain in the morning turning the LA Freeways into parking lots. Fortunately I had left enough time to make it to the Convention Center in reasonable time. The first presentation was the Green Car of the Year award presented by Green Car Journal. Now this award is usually a disappointment and often features diesel cars which seem to be a favorite with Green Car Journal. This year the award went to the Honda Accord which left me speechless.
My next stop was at the Infinity stand to see them unveil the Q30 compact sedan prototype. Infinity is now an independent subsidiary of Nissan and is beginning to build out its range of cars. It will be rolling out several new cars in 2015 including a compact sedan which will be very close to the Q30 concept, and a sedan based on the Infinity Direct Response Hybrid system.
The final presentation I attended was from Via Motors. Via Motors have a Chevy Silverado truck that they have converted to a plug-in hybrid. The truck offers around 35 miles of electric only range before switching to the gas engine. It also has the ability to export up to 15KW or energy, enough to run an arc welder or even power a house. Bob Lutz is a major supporter of Via Motors and he told the audience that the truck cost less over its projected life than the equivalent full sized truck.
Via Motors is building the trucks in Mexico and will initially market to fleet customers. Along with the Via Truck they will also be producing a plug-in hybrid van.
I also got a chance to test drive the BMW i3. BMW actually handed me the car and a map of the route and let me drive the car on my own. The car is a 4 seat with coach doors that open to make access to the rear seats easy. The seats are firm but comfortable and the car features two LED screens, one that has the speedo and state of charge info and the other that has the NAV system.
Pressing the accelerator in Comfort mode pushes you back into your seat. In eco mode the car still has plenty of zip for getting in and out of traffic. The most interesting thing is the regenerative braking which is connected to the accelerator pedal and if you take your foot off the gas it is the same as braking hard on a regular car. It took me a few blocks but I quickly learned the one foot driving technique that I have often heard Tesla drivers talk about.
By controlling the amount you back off the accelerator you can control the rate of slowing just as you can by pressing on the brakes in a standard car. By half way around the test route I was even able to bring the car to a complete stop without touching the brakes. It should be noted that the brake lights are tied in to the regen circuit and come on when you back off the accelerator and start to slow.
I found the driving experience very soothing considering I was driving in heavy traffic around down town LA and was quite sorry when I arrived back at the Convention Center. Given the price after incentives I think this car will sell well and would certainly be a good choice for those that work in congested cities like San Francisco. I didn't get a chance to try the car on the freeway and it certainly isn't intended for long freeway drives but the range extender option would make trips of 120 miles quite feasible which would take you from LA to San Diego, Santa Barbara, or Palm Springs.
After my test drive I took a short time to take a lap around Kentia Hall where the after market vendors set up but this year I didn't find any small start-up company with an electric car on show so I decided to head for home. Now all we have to do is to see how well these new offerings do as they hit dealerships over the next year.
---
Sunday Nov 17, 2013 – EV Incentives – This week I read an article by Jerry Hirsch about a study by two Indiana University researchers who found that in a survey of 2000 drivers in the nation's 21 largest cities 95% of respondents didn't know that there were incentives to purchase electric cars.
Part of this is because the rules are so complicated and the average car salesman is probably not going to know what they are. Some of the incentives are not even monetary but can be worth a lot to those buying cars for their daily commute.
First let me say that I am not an accountant and so anything that you read here should be checked with your accountant before you jump in and purchase a new set of wheels.
First there is a Federal incentive that applies to residents of all states. This comes in the form of a tax credit that varies depending on the car that you buy. Most pure electric cars get a $7,500 tax incentive. Some plug-in hybrids get lower amounts as the incentive is based on the size of the battery. For example the plug-in Prius gets a $2,500 tax credit.
There are some gotchas for this tax credit. The first is that the credit must be taken for the year that the car is purchased and cannot be carried forward. So if you buy a Chevy Volt this year you can apply for a $7,500 tax credit in your 2013 tax return as long as you have a tax liability that is more than $7,500. Note that this is a tax liability, or the total amount of tax you are required to pay for the year, not the amount you still owe. If you tax liability is $5,000 then you can only claim a $5,000 tax credit and you will end up paying 0 Federal taxes for the year.
The good news here is that the tax credit is not used to calculate the alternative minimum tax so it is not going to push you into AMT and if you have the tax liability you can take the credit.
The Federal tax credit applies to the first 200,000 electric cars sold by each manufacturer. So far none of the manufacturers are at half of that so there should be plenty of incentives through the end of 2014. There are also incentives of 10% of the purchase price up to $2,500 for two and three wheel electric vehicles.
Some states have incentives in place on top of those offered by the Federal Government. For example California offers a rebate of $2,500 for a BEV and $1,500 for a qualified PHEV. There is also a $900 rebates on electric motorcycles and NEVs. This too comes with a caveat; you have to keep the car for at least 3 years or you have to give the rebate back.
One of the most popular incentives offered by several states is the HOV lane privileges. BEVs and qualified PHEVs can get stickers that allow the driver to drive alone in the carpool lane. People with long commutes can save as much as an hour a day by using the carpool lane.
A good source of information on the individual state incentives can be found on the Plug-in America web site at http://www.pluginamerica.org/incentives. Check out the incentives available in your state, that EV you have always wanted may be more affordable than you thought.
---
Sunday Nov 10, 2013 – October 2013 EV Sales – October was an interesting month for EV sales with a shake-up among the top selling EVs. Since 2011 it has been mostly The Chevy Volt or the Nissan Leaf that has been the top selling car while GM and Nissan have dueled for the title of most Plug-in cars sold. October saw these companies getting knocked from the top in both categories with a very tight four company race for top honors.
The company with the most plug-in sales in October was Ford with a total of 2,294 cars. Their two plug-in Hybrids ran neck and neck with the C-Max Energi just inching ahead with sales of 1,092 cars. This is the first time that the C-Max Energi has broken the 1,000 units since the first month it went on sale in November 2012, when Ford delivered 1,259 cars, and well ahead of the previous high for the year set in September at 758 cars.
The Ford Fusion Energi trailed by just 5 units selling a whopping 1,087 cars for the month. This is a record high sales number for the Fusion Energi, well ahead of the previous records set in September when 750 cars were sold.
Ford also saw a modest gain in sales of the Ford Focus EV in October with 115 cars sold, besting the 110 cars sold in September by just 5 cars.
Toyota moved into second place managing to sell 2,186 plug-in cars on October. The vast majority of these were Plug-in Prius which sold a surprising 2,095 cars. This made the PIP the bestselling plug-in for the month. It is even more amazing when you consider that the car is only sold in about 16 states. Toyota recently lowered the price on its 2013 models which has obviously spurred sales. This represents a record for Plug-in Prius sales and was almost double the 1,152 cars that they sold in September.
Toyota also sells a compliance EV in California and Oregon. Sales of the RAV4 EV was 91 cars in October, well below the 167 SUVs that they sold in September
GM dropped to third place in October as they worked to clear a backlog of inventory on the 2013 models before releasing the lower cost 2014 models in large quantities. Overall they sold a total of 2,108 plug-n cars during the month.
The majority of these were Chevy Volts and GM managed to deliver 2,022 cars. This is quite a bit better than the 1,766 cars that were sold in September but still well short of the 2,961 cars they sold in October, 2012. This year Sales of the Chevy Volt is running slightly behind what they were at this time last year.
Chevy also has a pure EV that they are now selling, the Chevy Spark EV. In October they sold just 66 cars, which was below the 78 they sold in September. The Spark is only being sold in California and Oregon at the moment and Inside EV is reporting that the car will not be sold nationwide as GM has first said it was planning to do so this may be just a compliance car after all.
Nissan was relegated to 4th place in October even though it managed to sell 2,002 Leafs during the month. This beat out September sales of 1,953 cars but not by many. It appears that Nissan is constrained to selling around 2,000 per month because that is about how many they can build on a month over month basis. Until Nissan gets over its current supply problems it is unlikely we will see sales climb significantly.
Tesla does not give out sales numbers each month so it is difficult to tell just how many cars they have sold. Now that their third quarter results are out it appears that they sold 5,500 cars of which 1,000 went to Europe. That would lead me to guess about 1,500 cars delivered in the US this month.
For sixth place we have a tie between Honda and Smart which both sold 111 Plug-in cars in October.
Smart managed to sell 111 of their Fortwo Electric Drive during the month. This was a little short of the 137 cars that they sold in September but still well ahead of the 60 or so cars they projected. It has also been reported that due to better than expected demand worldwide the rollout of the Smart EV nationwide that was supposed to start in October has been postponed until sometime in 2014.
Honda still seems to be dragging their feet in selling plug-in cars and still do not have any inventory to speak of but managed to sell 71 Honda Accord Plug-ins; up from 51 sold in September and 44 in August.
They also saw a modest gain in sales of the Fit EV managing to move 40 of them in October beating the previous month sales of 35. Inventory is almost non-existent with just 10 cars available on dealer lots going into November.
After a brief shutdown in sales of the 500e because of the recall Fiat are now back building dealer inventory and one dealer in California recently put 22 cars on eBay. While Fiat do report monthly sales numbers they do not separate out the 500e from the other Fiat 500 cars so it is difficult to get a good estimate of how well the cars have been selling but it appears that the initial rush to buy these cars has dampened and Inside EV estimates that they sold just 40 cars in October. This is down a little from the 50 cars that we estimated as being sold in September.
Mitsubishi continues to clear out their inventory of 2012 cars and this month they sold another 28 cars. This is a little more than the 20 cars they sold in September. As some point I expect the 2014 i-MiEV to begin shipping to the US but so far there is no indication of when that will happen. Perhaps we will hear more at the LA Auto Show later this month.
Fisker has been out of production for some 15 months now but they still have a few cars in inventory but only sold 1 in October down from 3 in September. There are still cars available and the Fisker dealer in Los Vegas recently posted 5 unregistered Karma on eBay.
Th!nk and Wheego do not report sales but it is a pretty good guess that they represent only a very small number of cars sold..
Overall October was a good month and it is nice to see growth in the Plug-in cars being sold by ford. It will be interesting to see if they can continue to increase market share or if their sales will be bested by Nissan and Chevy in November.
---
Sunday Nov 3, 2013 – Promoting Charger Installation – I just read an interesting article by David Heron on The Plug-in Cars web site that talked about a new program from Chargepoint aimed at allowing businesses to install public charging with little or no upfront cost.
I had just returned from a trip to Santa Monica when I read the article. Now Santa Monica is 7 miles from home so with my current 10.6 mile range on the Prius Plug-in I am not able to go there and back on a single charge so it would be really nice to get a charge at Santa Monica Place which was my intended destination. There are 5 J1772 chargers at this location and all of them were in use except for one that appeared to be blocked by a Fusion hybrid. This is very common at Santa Monica Place and is one of the reasons why I hardly ever go there anymore.
For me more public charging would be a good thing.
The Chargepoint program basically finances the install of the chargers on a lease to own basis. The company pays from $3 to $6 per day on a 5 or 7 year lease. The cost can be recouped by charging fees or the chargers can just be used to attract affluent EV drivers. This is similar to programs being used by several solar panel installers such as Verengo Solar. The idea is that the company installs solar panels on your roof then sells you the electricity at a rate less than your electric utility charges.
Right now in this area, gas prices have dipped below $4 a gallon which, for me would make the breakeven point somewhere around 72 cents per hour. Chargers in the Blink network are running $1 per hour and the Chargepoint charger at work is $2 an hour. I'm lucky since there are plenty of free chargers left in this area but at $1 per hour I would probably just put gas in the car.
Interestingly while the free chargers in the area are often busy the four $2 chargers at work are hardly ever used. We have 3 Leafs, 2 Volts, and a Plug-in Prius that park in the garage every day and a few other EVs like a Tesla and a BMW Active E that visit periodically. The only vehicle that charges on a regular basis is one of the Volts.
Let's compare this with the 110V charging at Century City Shopping Center. There they have 4 receptacles and two parking spaces. It is not unusual to find both spaces occupied and one or two other EVs charging from the other two receptacles using extension cords. Tesla also has 4 free charging stations for Tesla owners and it is common to see these totally full too.
Different EVs charge at different speeds. The Ford Focus EV has a 6.6Kw charger while my Plug-in Prius has a 2.6KW charger. At $2 per hour the Focus driver is getting a much better deal than the Plug-in Prius driver.
The objective of public charging is to allow people to go beyond their EV range. Typically this is not for the guy who wants to drive his Leaf from LA to Las Vegas. There are people who do that but it is never going to be easy to do a 300 mile drive with a car that gets about 70 miles on a charge even with DC fast charging.
To truly make electric cars long range we either have to have a car like the Tesla Model S that can drive a couple of hundred miles then fill up in the time it takes to make a rest stop and grab a meal, or we need to set up a system where the electric can be picked up inductively from the roadway so no refueling stops are needed.
Public charging is needed to allow people to go beyond their normal range either for commuting which means charging at work, or for trips like mine to Santa Monica Place.
Now, if we are going to be at work for 9 hours out of the day many people can manage on 110V charging. A typical charger will add about 25-30 miles of range to a car in that time. That's about 70-80% for a Chevy Volt and will be more than adequate to fill up the other plug-in hybrids that are currently available. For a Nissan Leaf owner it means a commute of 90-100 miles is do-able and that is going to cover most people's commutes. A couple of 220V chargers could be added for those that might need more range.
For the owner of a destination like a Shopping Center such as Santa Monica Place the objective is to get people into your location and have them spend money. The longer you keep them there the more they are likely to spend. To accomplish this having low cost, low speed charging is what you need.
I might be unusual, but since I got my Plug-in Prius I have started frequenting businesses that provide free charging and now spend less and less time and money at those places which either do not have charging or charge by the hour.
It seems to me that a business anxious to attract EV drivers is not going to find it hard to justify chargers at say $6 per day plus electricity costs. The question then becomes what to charge. Overcharge and you deter people from coming to your business. Under charging might mean that you lose money on the charger.
This is not going to be a hard sell for the business as it is going to be something they can do without much cost. I think it is going to be a hard sell to EV drivers who are not going to flood to these stations unless the cost is reasonable. In the end I think that this program to work to put many more low cost chargers where they will do some good.
---
Sunday Oct 27, 2013 – States Sign Deal to promote EVs – This week I got a press release and several tweets about and agreement signed between eight states to boost sales of electric cars.
The states, California, Connecticut, Maryland, Massachusetts, New York, Oregon, Rhode Island, and Vermont are all states that follow the California ZEV mandate rules and they have now agreed to work together to build a plan aimed at putting 3.3 million electric cars on the road by 2025.
Details of the program have yet to be worked out but plans include co-operation between the states such as letting Plug-in cars from one state drive solo in the carpool lane in the other states. It will also most likely include additional incentives for buyers and an expansion of the number of EV charging stations across the eight states.
SFGate quoted Mary Nichols, chairperson of the California Air resource board as saying, "We can't go out and force people to buy cars, and we have no intention of doing that. ... But we're in the midst of a transformation. Our job is to make it happen faster and more successfully."
One thing that might be included in the plan is to have the various states add electric cars to their fleet. They might also allocate funds to encourage municipalities to add electric cars to their fleets. Zap's Gary Star once told me that "the best thing that states could do to help electric car makers is to buy electric cars".
Back in the days of the original California ZEV mandate this was done in California. For example the city of Beverly Hills leased ten RAV4-EVs from Toyota. They were very happy with how they performed but returned them after the lease finished. Newport Beach also had 10 RAV4-EVs and they too returned them at the end of the lease.
Santa Monica has always been one of the largest supporters of electric cars in this state and they too had a number of RAV4-EVs but they hung onto them at the end of the lease and many of them are still in service today. I understand that the city has now allocated funds to replace some of them with the new RAV4-EV.
It's hard to say how effective this program will be until we see an actual plan. They have a six month deadline for drafting the plan and during that time any of the states can drop out but the participants have all expressed a strong interest in building a vibrant EV market.
I will be watching with anticipation to see what the plan brings.
---
Sunday Oct 20, 2013 – California Energy Storage Mandate – California has led the nation in the adoption of Zero Emission Vehicles and it now plans to do the same for renewable energy. In legislation just adopted the California Public Utilities Commission (PUC) will require the State's publicly owned utilities purchase a fixed amount of energy storage by 2014 with 1.325 megawatts of storage in place by 2020.
The problem we have with most renewable energy is that it doesn't always generate when we need it. Solar for example only generates when the sun shines so it is not usually available in high demand situations in the evening. Wind can be even more sporadic and will often produce peak power during the night when demand is low.
The solution is to store the excess energy and then release it when demand is high. There are a few solar generation facilities that already do this by storing the energy in molten salts that can continue to generate power long after the sun goes down. Off grid solar installations store excess power in batteries so that it is ready for use when the sun doesn't shine. In general though, the excess power is just wasted.
At the moment most energy storage is done using pumped power. Pumped power stores energy by pumping water up to a reservoir when there is excess power. At peak demand the water is released back through the turbines to generate large amounts of power. The LA Department of Water and Power has such a facility at Castaic that is capable of producing 1.2GW of electricity during peak periods.
If the objective is to increase the usefulness of renewable energy then the use of high capacity pump storage would be a no brainer. Southern California Edison already has a 1.3GW facility in the planning stages. I have to wonder then why the use of pumped storage is restricted to projects of less than 50MW.
It appears that the PUC has a more expansive agenda. What they are trying to do is to stimulate the development of new energy storage technologies. There are a few promising technologies that might help in leveling the load on the grid.
Such technologies as vehicle to grid, compressed air storage, compressed liquid storage, and hydrogen, all show promise but need additional time and investment to become competitive. Battery storage has been used for years but there are new things coming along that could make this type of storage much more cost effective. These range from the use of used EV battery packs to the development of really cheap storage batteries such as the liquid metal batteries being worked on by Dr. Sadoway at MIT.
I have very mixed feelings about this legislation. The idea of actually making renewable energy much more feasible is an idea that is really needed. The fact that this legislation is more than likely to come out of my pocket as a Southern California Edison customer makes me less enthusiastic. My biggest fear is that the cost increases we see because of this legislation will make electric cars less desirable in their largest market. Electric rates for Southern California Edison are already such that if an EV pushes you into Tier 1 rates the cost for charging is not much cheaper that buying gas.
In the end, for electric cars to work we need to couple them to zero emission electricity generations so this legislation will certainly move us in that direction. I understand the need for eliminating pumped storage to stimulate alternatives but it does seem to me that the proven technology would be the fastest way to achieve the energy storage objective. The question is would this be the best option long term. Clearly the PUC does not think so.
---
Sunday Oct 13, 2013 – Tesla Fire – Earlier this month Robert Carlson was driving his Tesla model S on the freeway when he thought that he had hit something. The issue was apparently bad as the car instructed him to pull over and exit the vehicle.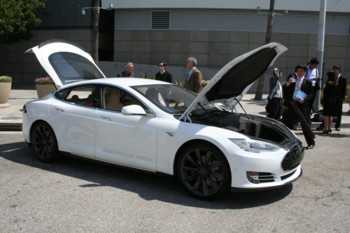 The next day a viral video of the car with fire billowing out of the front appeared on youtube. There was a lot of speculation about the fire being caused by something flammable being carried in what Tesla calls the "Frunc" which is where the fire appeared to originate.
In what has now come to be seen as expected behavior from Tesla they had people studying the issue within hours and within a day or two had an analysis of what happened.
In their message to car owners they said "Earlier this week, a Model S traveling at highway speed struck a large metal object, causing significant damage to the vehicle. A curved section that fell off a semi-trailer was recovered from the roadway near where the accident occurred and, according to the road crew that was on the scene, appears to be the culprit. The geometry of the object caused a powerful lever action as it went under the car, punching upward and impaling the Model S with a peak force on the order of 25 tons. Only a force of this magnitude would be strong enough to punch a 3 inch diameter hole through the quarter inch armor plate protecting the base of the vehicle."
It appears that in such situations the battery pack, which is compartmentalized with fire walls to contain a blaze to a small number of modules, is designed to vent the flames down toward the road. This is what happened in this case.
So why was the fire seen raging in the frunc?
It appears that the correct way to deal with this kind of fire is to spray water onto the battery pack to cool it down and let the fire burn itself out. In this case the emergency responders cut holes into the battery box to try and extinguish the fire and this allowed the fire to vent upwards into the frunc. It should be noted that the forward fire wall did its job and at no time did the fire enter the passenger space.
In a follow-up email to Tesla Mr. Carlson said "the car performed very well under such an extreme test. The batteries went through a controlled burn which the internet images really exaggerates".
News of the fire caused Tesla shares to drop a little but the hit does not seem to be major. The incident shows that you can't plan for every eventuality but in this case the Tesla appears to have done what it is meant to do, keep the driver and passengers from harm.
I can't imagine what would have happened had the object been hit by a conventional car. I doubt the floor plating would have been strong enough to withstand the 25 tons of pressure exerted by the object which would probably have ended up intruding into the passenger cabin with the possibility of severe injuries.
Fires in internal combustion engine cars are also pretty common. Remember the video a few weeks ago of Dick Van Dyke's Jag going up in flames on the 405 here in LA? Usually in these fires the car ends up as a burned out shell and the driver has very little time to exit the car before the fire gets through the fire wall and into the passenger compartment. Compare this to the Tesla and you can see how much better the Tesla protects the passengers in a vehicle fire.
Like any other car company Tesla has been hit with issues such as this one and the way that they handled such issues should act as a lesson for the more seasoned car companies. I don't know yet what the response from the NTSB will be to the fire, but I expect Tesla will handle it in their usual professional manner.
---
Sunday Oct 6, 2013 – September 2013 EV Sales – After recording the best sales month ever for plug-in vehicles in August it seemed inevitable that we would see a pullback in sales for September although sales were still proceeding at a good pace.
Top sales honors this month goes to the Nissan leaf. Nissan still have inventory problems with the leaf as they are unable to build enough cars to meet demand so after selling 2,420 cars in August it wasn't surprising to see the number for September drop back to 1,953 cars.
After a killer month in August when Chevy sold a record 3,351 Volts they pulled back significantly in September with sales dropping to 1,766 cars. This is probably because there were large incentives in August to clear the 2013 inventory to make room for 2014 models.
Sales of the Chevy Spark also fell in September down to 78 cars from the 102 cars sold in August.
In September GM had total sales of 1844 plug-in Cars
Ford went against the trend this month seeing all-time high sales of the Fusion Energi, and a high for the year for the C-Max Energi. Only the Focus Electric saw a pullback in sales.
After setting a year to date high of 621 cars in August the C-Max Energi saw sales of 758 cars in September.
The Ford Fusion Energi continues to pick up sales and September saw a new all-time high with sales hitting 750 cars. This beat their previous high of 621 cars set in August.
Sales of the Focus Electric dropped to a disappointing 110 cars down from the 175 units they sold in August. Focus EV sales appear to be stuck in the 100 – 200 range but this may change after Ford announced a dropping the price of about $4,000 for the 2014 model.
Overall Ford sold a total of 1618 Plug-in Cars in September
After months of slow sales the Plug-in Prius took off in August with sales of 1,791 cars. Toyota was not able to keep up that pace but sales were still a respectable 1,152 cars in September which was the second highest sales volumes for the car in 2013.
The RAV4 EV also set a new sales record in August with 231 cars sold, and like the Prius Plug-in sales fell in September to 167 cars. This still makes September the second best sales month ever for the RAV4 EV.
Overall Toyota sold 1,319 Plug-in Cars in September
Tesla does not report month over month sales, so the actual numbers sold represents someone's best guess. This month estimates range from 1000 to 1716. Since sales have been ramping up in Europe this month I am going to say that approximately 1,100 cars were sold in the US.
One hard number that we do have is the number of Tesla Model S registered in Norway. In September there were 616 new owners of the Model S making it the number one selling car in Norway and giving Tesla a 5.1% market share.
Smart also set an all-time sales record of 182 Smart ForTwo Electric Drive cars in August and like many other car makers they fell a little short in September with sales of 137 cars. This was still the second best month for Smart Electric Drive sales and when you consider that in September Smart sold a total of only 625 cars then this number represents 22% for car sales for the month. It should also be remembered that the car does not go on sale nationwide until this month so the October numbers are going to be really interesting.
Honda continues to drag their feet when it comes to Plug-in car sales and their numbers show this.
They managed to sell 35 Fit EVs in September after sales of 66 cars in August took dealer inventory down to only 8 cars. Honda continued to keep inventory low with just 4 cars left in dealer stock at the start of October. While demand for the fit greatly outstrips supply this is clearly a compliance car for Honda who has no real interest in selling them.
Sales of the Honda Accord Plug-in increased slightly to 51 cars which is better than the 44 cars sold in August but still down from the 54 cars they sold in July. The reason these cars are not selling is three-fold, $40,000 is too expensive for a mid–sized Honda, the 13 miles of plug-in range is just not enough for a car in that price range, and Honda appears to be deliberately keeping inventory low.
In September Honda managed to sell just 86 plug-in cars.
Fiat is another car company that doesn't break out sales of the 500e each month. In July they had a recall and halted sales. After Sales resumed in August they sold about 160 cars. However, it appears that dealers are not selling the cars at the low lease rate advertised by Fiat and this has impacted sales of the car with only about 50 cars sold in September.
Mitsubishi continues to clear out its 2012 i-MiEV inventory selling another 20 cars in September after sales of 30 cars in August. Dealer inventory now stands at around 30 cars. It appears that there will be a 2014 model but I don't expect to hear when they will arrive until the LA Auto Show in November.
Fisker has not made a single car for the last year but there still have a few cars left in dealer inventory. In September the sold another 3 cars from dealer inventory down from 5 sold in August. By my count this leaves inventory at about 44 cars.
Th!nk and Wheego don't give out any month over month sales numbers but it is certain that sales will be very low and their sales will not significantly affect overall EV Sales. It should be noted that Coda also has a few cars in inventory and are currently offering cars without battery packs on eBay.
Sales of plug-in cars pulled back in September but this was also true of sales of most models not just the plug-in cars. In part this was due to there being only 25 sales days in September. With the Smart Electric Drive going on sale nationwide in October and the new, generally cheaper, 2014 models making their way into dealer inventory October should be another good month for sales.
---
Sunday Sep 29, 2013 – Ruminations on the Distortion of Oil Prices and Crony Capitalism – I just finished reading Ruminations on the distortion of Oil Prices and Crony Capitalism by Raymond J. Learsy and it was quite an eye opener.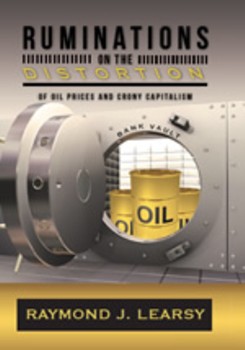 Raymond J. Learsy is a graduate from Wharton School and began working in commodities trading in 1959. In 1963 he started his own firm and for the next twenty years he expanded internationally and traded in many bulk commodities including oil. In 1982 he was appointed to the National Endowment for the Arts by Ronald Reagan, a post he held until 1988. In recent years he has penned several books including "Over a Barrel: Breaking Oil's Grip on our Future" and "The Epic Corruption 2006-2010". He is a regular contributor to the Huffington Post.
Ruminations on the distortion of Oil Prices and Crony Capitalism is a collection of blog post that illustrate how oil and gas prices are being manipulated to increase profits for the oil and gas producers, the commodities traders who can create large swings in the price of these commodities, and the large banks who are shown as gambling depositors money on risky trades. He tells us that this whole structure is being supported by Crony Capitalism where government turns a blind eye to such manipulation.
The premise of the book is that oil is plentiful enough that the price should not be more than about $30 per barrel and that $100 per barrel oil is a level that is only achieved by manipulation of the market by groups like OPEC restricting supply, and commodities traders who manipulate the price in order to increase profits.
The book tends to be very repetitive with the same quotes or pieces of information being repeated in chapter after chapter. Just occasionally, I stumbled upon a real gem that sets out exactly how a certain entity manipulated the price of oil.
The book also deals with the way that some banking entities are basically gambling with depositor's money knowing that the FDIC is there to bail out investors if they lose money, and taking advantage of very low interest rate borrowing from the Federal government to further pursue risky investments.
He also faults the Obama administration for not working to prevent such manipulation, especially for not taking action against OPEC interests in the United States for their monopolistic practices.
Mr. Learsey clearly believes that the US should currently have a much lower gas price than we currently see, that the future of transportation should be natural gas of which the US has an abundant supply, and that the move to natural gas would create a big improvement in transportation generated pollution.
In his book he presents evidence that consumers are being ripped off to the tune of billions of dollars at the gas pump and when buying heating oil. If it lacks anything it is an analysis of at what level higher oil prices make the exploitation of oil sources like the tar sands in Canada economically viable.
Reading the book made me more aware of these issues and I have since noticed articles in the press that highlight some of the excesses of at least one of the financial institutions spotlighted in this book. I have also seen reports of new oil discoveries in really deep water that also supports his contention that oil is too plentiful to support a $100 per barrel price.
While the book is tedious at times I still recommend it for anyone who is interested in finding out what is happening behind the scenes to control oil prices.
---
Sunday Sep 22, 2013 – 2013 Santa Monica Alt Fuel Vehicle Expo – Santa Monica has been holding an ALT Fuel Vehicle expo for many years now and the 2013 event was last Friday and Saturday. I had very limited time this weekend but managed to stop by the Civic Center for an hour to take a quick look.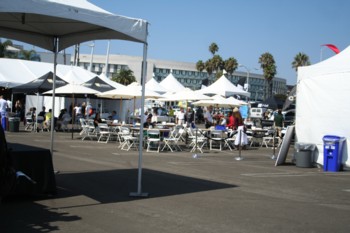 My first impression was that this year was somehow different. Perhaps that was because it was being held outside in the parking lot not in its usual venue in the Civic Center Auditorium, but that wasn't it. Then I realized that while in previous years the show was mostly made up of guys with prototype vehicles and a scattering of the major manufacturers, this year it was mostly the big automakers showing cars that you can actually buy.
There were some guys showing a converted VW and another group with a solar boat project but I didn't see any small companies with prototype vehicles, but the big carmakers dominated the expo.
BMW just introduce the i3, production car at the Frankfurt Auto Show a couple of weeks ago and opted to show it in the US for the first time in Santa Monica. They didn't have a car in the ride and drive but they did have one on display. They claim that the i3 has a range of 80-100 miles in standard mode and as much as 124 miles in eco pro mode. I expect that to be lower once we have the official EPA numbers. They also said that the car has a top speed of 93mph and can go from empty to full charge in 3 hours using a 32amp level 2 charger. The car should be available in Europe by the end of the year and in US dealerships sometime in the second quarter of 2014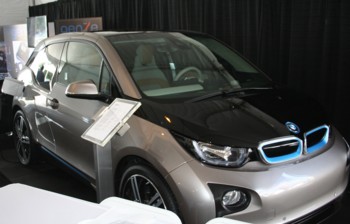 Another soon to be in dealerships vehicle was the Cadillac ELR and GM had one on display. Unfortunately they had it kind of tucked away so it wasn't generating the interest I expected. GM did not have a Cadillac ELR in the ride and drive either. The ELR is basically a Chevy Volt under the covers but it has been updated with a new body and a trim level more in keeping with a luxury car brand. The ELR is expected to begin arriving in Cadillac dealerships early in 2014.
GM did have a nice little lounge set up with a Chevy Spark EV that was drawing a lot of interest. They also had both the Volt and the Spark EV available for test drives. They had several of these in the Ride and drive and so while my wife settled down on a nice comfy sofa I took the Spark for a short test drive.
The Spark is a compact 4 seat car but GM has made it a little sporty. The car has very nice pickup when you hit the accelerator. Unfortunately the traffic was pretty heavy in Santa Monica so I wasn't able to punch it to see how well it will really accelerate. It appears to me that GM has done an excellent job with the Spark EV. The power steering has just the right feel to it. Regenerative braking appears to be tied to the brake pedal and so you just get very mild regen when you back off the accelerator with regen increasing in relation to how hard you press the brake pedal.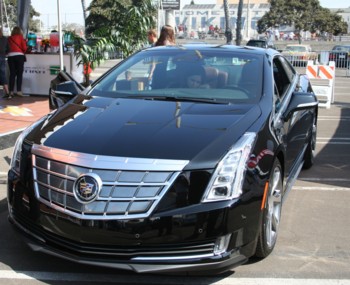 It wasn't until I got home that I realized I had forgotten to take a picture of the Spark after my test drive – another senior moment!
There were some of other vehicles that I would have liked to drive. Ford had both the Fusion Energi and C-Max Energi available and I also wanted to drive the new Smart EV but both Ford and Smart had long lines and I just didn't have the time.
Toyota also had a nice lounge are set up for people waiting to test drive the Prius Plug-in and the RAV4 EV but since I drive a Prius Plug-in and have test driven the RAV4 EV I didn't spend the time to take a closer look. Honda had the Fit EV and the Accord Plug-in available for test drives which surprised me since they are notorious for pushing Fuel Cell cars over battery electric. The California Fuel Cell partnership had a Honda Clarity FCV available for test drives.
Walking around the Expo I found a few other interesting things. Chargepoint had their new Dual head charger on display. This charger allows one installation to feed two parking spaces with level 2 charging. I would really like to see some of these showing up in the area since charging is becoming harder and harder to find. There are charging stations at the Civic Center but the only one available was the SPI charger for the old RAV4 EV so I had to drive most of the way home on gas.
Edison also had quite a nice little display with a truck that you could walk through that gave tips on saving energy and handouts that showed the different options they offer for installing EV charging stations and time of use metering.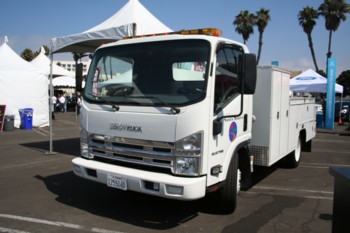 Tucked away in a corner I found something to remind me that although we are focused on the personal mobility, electric vehicles are often the perfect solution for local delivery. The City of Santa Monica had one of their Zerotruck vehicles on display. Zerotruck offers a variety of options from a panel van to a flatbed truck. They offer up to 80 miles of range in the city which is plenty for most local delivery applications. They also offer an extended range option that adds another 20 miles of range.
On my way back to the car I stopped by the exhibit from the Petersen Automotive Museum. They have a wide variety of alternative fuel vehicles in their collection but this time they had pulled out a car I had never heard of, the 1978 Hybricon Centaur II. This car was one of the cars developed in response to the gas crisis in the early 1970s. It used a 2 cylinder engine and a pair of electric motors to give a fuel consumption of over 30mpg which was quite impressive for the time. Unfortunately Hybricon were unable to obtain sufficient funding and so they disappeared into the history books.
I also saw a very interesting car in the parking lot. It looked like a Honda EV+ but all of those were taken back by Honda years ago. However, Honda did convert about 50 of these to fuel cell vehicles and when I got closer to the car I realized that this was one of these 50 cars. I thought these were all long gone since it has been several years since the last time I saw one but apparently some of them are still alive and kicking.
---
Sunday Sep 15, 2013 – 2013 Frankfurt Auto Show – The world's largest Auto show has just wound up in Frankfurt, Germany and there were some interesting announcements as the German car makers finally begin to enter the electric car market.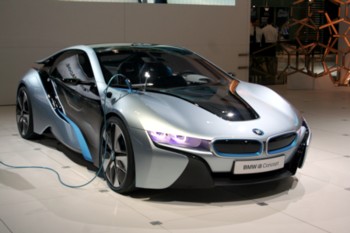 The most exciting news was the revelation of the BMW i8. This car first made its appearance at the 2011 LA Auto show (pictured left) as a tie in to the upcoming film Mission Impossible Ghost Protocol with Tom Cruise and Paula Patton where the i8 played a starring role. Since then BMW have been showing updated versions of the car at auto shows around the world.
At this year's Frankfurt Motor Show they finally took the wraps off the production version. The four seat i8 is a plug-in hybrid powered by a lithium ion battery pack driving a 129bhp electric motor connected to the front wheels. The rear wheels are driven by a 1.5 liter three cylinder turbo charged engine that can develop 228bhp. Put the two together and you get a car that can do 0-62mph in 4.4 seconds and has a top speed governed at 155mph. All electric range is up to 22 miles and the car can run in all-electric mode at up to 75mph.
The i8 is scheduled to go on sale in Europe later this year and will sell at a base price of around £100,000 and should appear in dealerships in the US where the base price has been set at $135,925.
Also on display at the BMW stand was the i3, the first fully electric car that BMW will actually offer for sale rather than lease. The i3 is a 4 seat car designed for city use. It has a 22KWhr lithium ion battery pack that gives the car a range of about 80 miles on a charge. There is also an optional range extender available with the car. This option adds a small motor and fuel tank to the i3 increasing range to about 175 miles.
The i3 is due to appear in European showrooms in November but won't make it to the US until the spring of 2013. The base price has been set at $42, 275.
VW has also been showing prototype electric cars at various auto shows over the last three or four years. At Frankfurt this year they finally showed production versions of two models, the e-Up and the e-Golf.
The e-Up is a four seat all-electric car which is intended for city driving. Power comes from an 18.7KWh lithium battery that drives an 80bhp electric motor giving the car range of up to 100 miles and a top speed limited to 80mph.
They also showed off the e-Golf. This car has a larger battery pack at 24.2KWH and also a larger electric motor offering 114bhp. This gives the e-golf a range of up to 118 miles on a charge. The more powerful motor also brings the top speed up to 86mph.
VW said that the e-up will go on sale in Europe early next year with a base price of around €26,900. There was no indication of when the e-Golf would go on sale but it does appear to be production ready.
Smart is built in France but is also German owned as part of the Daimler-Benz family. They showed off a concept car at the Frankfurt Auto Show that might just be an indication of what they intend for the next Smart four seat. The Smart Forjoy is a four seat car with no doors. It is built on a Renault Twingo platform and has a 55KW electric motor driven by a 17.6KWh lithium ion battery pack. It seems unlikely that the Forjoy will appear in this form as a production car but since Smart has been seeing about 18% of sales in the US from its electric models we may see an electric version once the car has been made production ready.
As Electric car sales grow it is interesting to see carmakers that have been sitting on the fence finally becoming players in the electric car market. These offerings continue to expand the variety and quantity of cars available in the plug-in market segment.
---
Sunday Sep 8, 2013 – August 2013 EV Sales – Sales had lost little steam in the last couple of months but August proved to be the best month ever for plug-in car sales with many vehicles either breaking sales records or coming close to having their best month.
Leading the pack was the Chevy Volt which managed to break the 3000 barrier for the first time returning sales of 3,351 cars in August. This was probably driven by the large drop in price for the 2014 model. In comparison they sold 1,788 cars in July just a little over half the August sales.
Sales of the Chevy Spark were 102 cars, just one short of the 103 cars they sold in July.
In August GM had total sales of 3,453 plug-in Cars
Nissan, which now appears to be building enough of the base model, managed to move an all-time high of 2,420 cars. Nissan still hasn't fixed its inventory problem since it cannot build enough cars in the US to meet demand, but sales are likely to increase later in the year as component suppliers begin to ramp up production. In July Nissan sold 1,864 cars.
After months of sluggish sales Toyota's plug-in Prius finally popped with sales of 1,791 cars, more than double the 817 cars they sold in July.
The RAV4 EV also set a new sales record with 231 cars sold, almost 100 more than the previous record of 133 cars set back in March and well ahead of the 109 cars they sold in July. Most of these sales were probably generated because of a new unlimited mileage least now available for the car.
Overall Toyota sold 2022 Plug-in Cars in August
Ford also had a good month with sales of the C-Max energi increasing from 433 cars in July to 621 cars sold in August. While this was well below their record sales it is still makes August their best monthly sales for 2013
Sales of the Fusion Energi did set a new sales record at 600 cars in August. This was well ahead of their previous record of 416 cars sold back in May, and July sales of 407 cars.
Sales of the Focus Electric have been pretty constant month over month and August was no exception at 175 cars. This compares pretty well with the 177 cars sold in June and the 150 cars they sold in July.
Overall Ford sold a total of 1,396 Plug-in cars in August
Tesla don't report month over month sales but Inside EV estimates that US sales for the month of August were 1,300 units. It should be noted that Tesla is currently ramping up for sales in Europe so US sales are expected to be lower through the end of the year.
Smart also set an all-time sales record selling a total of 182 Smart ForTwo Electric Drive cars in August. While this does not seem like a big number, it represents 18% of overall Smart car sales for the month. The Smart Electric Drive is currently the lowest priced EV on the market, and a $2,000 dealer incentive on top of the low price helped boost sales. The sales are well ahead of the 58 cars sold in July and also beats the previous high of 60 cars sold in May, their first month of sales. It should also be noted that the car will not be sold nationwide until October.
Fiat is another car company that doesn't break out sales of the 500e each month. In July they had a recall and halted sales. After Sales resumed in August them sold about 160 cars. However, it appears that production has been halted and is not likely to resume until 2014 so we should expect to see almost no sales over the rest of this year.
Honda is one of the car companies that does not want to sell battery electric vehicles, believing that the way forward comes in the form of fuel cells. It is clear that they are trying very hard to show that battery cars are not selling well which is difficult given the numbers that were sold this month by GM and Nissan.
They managed to sell 66 Fit EVs in August. This is about the same as the 63 cars they sold in July and reflects the fact that they are keeping inventory low and if the dealers don't have cars to lease then they can't deliver cars.
Sales of the Honda Accord Plug-in were an anemic 44 cars in August, down from the 54 cars they sold in July. The reason these cars are not selling is three-fold, $40,000 is too expensive for a mid –sized Honda, Honda appears to be deliberately keeping inventory low, and the 13 mile range is too low for the price of the car.
In August Honda managed to sell just 130 plug-in cars.
Mitsubishi has been slowly – very slowly – clearing the inventory of 2012 i-MiEV. This continued in August where another 30 cars were sold. This is quite a bit lower than the 46 cars they sold in June and leaves about 50 cars in dealer inventory.
Fisker has not made a single car for the last year but there still are a few cars left in dealer inventory. In August 5 cars were sold leaving inventory at about 47 cars.
Th!nk and Wheego don't give out any month over month sales numbers but it is certain that sales will be very low and their sales will not significantly affect overall EV Sales. It should be noted that Coda also has a few cars in inventory and are currently offering cars without battery packs on eBay.
August was a great month for EV sales and I look forward to what September brings
---
Sunday Sep 1, 2013 – How to find Charging Stations – This morning I was reading some posts on the RAV4-EV mailing list and someone who had just bought one of the new RAV-EVs asked how he could find J1772 charging stations.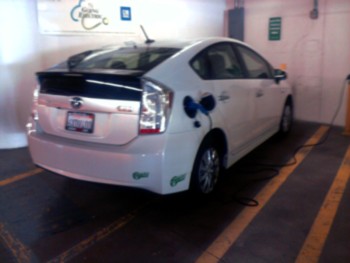 Now I have been following the RAV4-EV mailing list since it started out as a Yahoo group back in 2000. It was hard finding public charging stations back then too. There were several sites that showed either EV charging stations or all types of alternative fuel stations. The problem was that none of them were kept up-to-date so they couldn't be relied upon.
One EV Driver, Tom Dowling, took matters into his own hands and built a web site called evchargernews.com that allowed EV drivers to send in information about sites and this created a site that was very reliable. An EV driver could look at this site and find a charging station on route or near their destination and could usually tell if there was a problem with the site. In some cases EV drivers would adopt a site and would go check it on a regular basis.
As Technology improved the site was upgraded and became EVChargermaps.com a site that was now map driven rather than text driven. Comments from EV Drivers were posted automatically and so a driver could find a site and check to see if there are any issues before setting out on their journey. This site is no longer updated and does not include J1772 chargers but the comments are out there and this is still the main site for drivers of cars like the RAV4-EV that still use the old inductive charging systems.
The good news for those of us who drive a car that uses the J1772 standard is that there are a number of sites that keep up-to-date information on the location of chargers, and in some cases can even tell you if the site is in use at the moment. This is becoming more and more necessary as the number of charger sites continues to lag the rate of sales for plug-in cars.
While most of these sites are listed on the evfinder links page it struck me that a brief primer on locating chargers might help new Plug-in car drivers. The sites listed here are all pretty much map based and all work in much the same way. You just find the area where you want to go and see if there are flags indicating charging stations there. Expand the map using the + sign on the bar at the left side of the map until the individual sites show up then click on the flags to get more information about the site. Most of these sites also offer a search by either zip code or address to zero in on the area you are interested in.
The two major networks of chargers both have maps to show where their chargers are located.
My favorite is the Chargepoint Network
https://na.chargepoint.com/index.php/charge_point
Chargepoint now have 13,000 chargers installed across the US. You have to be a member, or have a credit card that is RF enabled to use their chargers but the information on their site gives you the location, typically tells you if parking is free of you have to pay, and also tells you the cost of charging. It will also tell you if the charger is in use of available. Membership of the Chargepoint network allows you to select either free stations only or those that are fee based and for fee based stations will also allow you to reserve the charger. The down is that the map doesn't tell you when a charger is having problems and it often takes chargepoint months to fix a broken charger.
The other major network is Blink but they have been going through some problems over the past few months and announced that they may need to file for bankruptcy. This morning I went to check the Blink Network and their web site appears to be down. It is possible it was routine maintenance since the site was back up again this afternoon
http://www.blinknetwork.com/locator.html
I tend to stay away from the Blink Network because their chargers tend to be the highest cost chargers in the area and for me the cost of using their chargers is more expensive than using gas. In some areas they do offer free charging though and if you have a 6KW charger in your car they become much more economical and might be worth checking out.
I just checked the sites I would be most likely to use. One site was up and the other site had one charger in use and the other one out of service. Blink is well known for the unreliability of their equipment and they are also slow to fix problems.
One of the sites I use on a regular basis is Plugshare.com. Plugshare.com is the site that is most like evchargermaps.com
This site is also kept up-to-date by reports from Plug-in drivers and will list all types of locations from DC fast chargers to locations that make a 110V outlet available for use as an EV charging station. They also list some residential chargers where the owner has elected to allow people to use their home charger. They also show which chargers have costs associated with them including charging fees and parking fees.
The downside of plug-share is that they will sometimes list 110V locations in parking structures that are of questionable availability. I these cases it is always a good idea to get permission before plugging in.
Recargo is another site that lists many different charging sites.
http://www.recargo.com/search#
I used to use Recargo a lot but I have stopped using them recently because I have found that they are not as comprehensive as other sites like Plugshare,com and sometimes have incorrect information. When I checked today they had two locations on Crescent drive in Beverly Hills that were omitted and the third site had incorrect information about parking fees. The MGM site on Beverly Drive, which is the most expensive in the area, was also missing information on both the fees charges and parking costs.
Carstations.com is another site that lists a variety of locations, and they have a pretty nifty cell phone ap to help locate charging stations close to where you are. I used to use Carstations all the time but then their ap stopped working on my Android based cell phone so I ended up deleting the ap and never tried to re-install it.
Carstations does a bit better job than re-cargo at listing charging stations and there is also a way that EV drivers can enter current information about charging stations that they have visited which helps keep the listing up-to-date. Unfortunately when I went to the web site and asked for details the site wanted me to log in but wouldn't accept what I thought was my userid so I couldn't verify if they listed parking and fees correctly although from what I remember they did.
Carstations is also one of the few US based sites that lists charging stations outside the USA.
The official government site for alternative fuels is the Alternative Fuel Data Center and their EV charger map is located at:
http://www.afdc.energy.gov/fuels/electricity_locations.html
This site allows you to search either by using the map or by entering a ZIP code or address.
The down side to this site is the same problem that we had with the site back in 2000, it just isn't kept that well up to date. For example when I search for Temecula, CA it lists many of the sites that are available but does not list the charging stations at Pechanga Casino, although it does list the Blink chargers at Pala 12 miles away. Another problem is that information given for the chargers doesn't tell you if they are fee based or free.
There are also some regional sites that you can find on the evfinder links page and these are useful for locating places that are likely to let you plug-in to a 110V outlet if you ask nicely.
I find that you get to know the charging station locations in the areas where you travel regularly so the need for these charging locators are mostly for when I am going outside my normal range of travel. In this case it really helps to know the location and cost of charging. For example when travelling to Temecula Plugshare.com told me that there were free chargers at Pechanga while the chargers at Pala were $2 per hour. This tipped us in favor of Pechanga and I was able to charge up there while we played at the casino. If I had only checked Chargepoint I would not have seen either of these charging stations since one is Aerovironment and the other is Blink.
If you drive a plug-in car then you probably do most of your charging at home. Still, if you travel with the car then it is worth familiarizing yourself with these charger locators since being able to charger at your destination or on route can make life much easier for the plug-in driver.
---
Sunday Aug 25, 2013 – Five Star Tesla – This week a press release from Tesla was brought to my attention. In it Tesla announced that independent crash testing by the National Highway Traffic Safety Administration (NHTSA) had given the Tesla Model S five stars in every category.
Five Stars is the highest category that the NHTSA offers and only 13 vehicles have been given this rating in all categories, so this is a pretty impressive feat for a start-up company like Tesla.
The press release went on to say that the car had received an overall figure of 5.4 stars and this is the highest crash test rating given to any vehicle that the NHTSA has ever tested. The NHTSA shot back saying that they only give a maximum rating of 5 stars and that is what the public should be considering.
However, it does appear that the NHTSA does indeed give out more details but they are well hidden on their web site. While they still hold that the 5.4 Star number is not valid they do admit that the Tesla Model S scored higher than any other vehicle that they have ever tested.
While not part of the NHTSA test Tesla also noted in their press release that they have not had any battery fires, in either the crash test cars, nor in the several high speed crashes that have involved Tesla vehicles.
Tesla has worked hard to make the Tesla Model S safe for its occupants. Placement of the batteries under the floor in the center of the vehicle gives the Model S a very low center of gravity. Tesla said "During testing at an independent facility, the Model S refused to turn over via the normal methods and special means were needed to induce the car to roll." During other independent testing of roof strength the test machine broke at a just above 4 g's which is the equivalent of 4 fully loaded Model S sitting on top of the car.
Tesla also said they went beyond what was needed to get the 5 star rating from the NHTSA. In the press release they said that they "analyzed the Model S to determine the weakest points in the car and retested at those locations until the car achieved 5 stars no matter how the test equipment was configured."
Does this make the Tesla Model S the safest car on the road? – Not necessarily.
I was very surprised by the car that scored number 2 in the list. This is the Chevy Camaro which also has a 5 star rating in every category. Even with this sort of safety rating the death rate in accidents is quite high.
The difference is that the Camaro is a muscle car and is bought by people who are going to drive it fast and hard. This is going to result higher energy impacts and more deaths. In contrast, people buying the Tesla Model S are going to be more prone to driving slower to maximize battery range. In the press release Tesla noted that they are not aware of any fatality in any of their vehicles, either the Roadster or the Model S,
Some competing luxury cars are now beginning to introduce collision avoidance systems such as adaptive cruise control that tracks the speed of the car in front and automatically adjusts speed to keep a safe distance from it. Other models have systems that warn the driver if they begin to stray out of their lane.
The latest safety features that now appears on some Daimler and Acura Vehicles is a system that will automatically apply the brakes if you get too close to the vehicle in front. Imagine approaching a stoplight that has turned green. You don't realize that the car ahead hasn't moved but your car does and slams on the brakes before you rear-end the car in front.
These collision avoidance systems don't show up in crash test statistics. Right now Tesla doesn't have these safety features although given the attention that they have shown in getting the five star crash test rating in every category, I am sure that their engineers are already working on incorporating such advances into future models.
While accident avoidance has been shown to reduce the incidence of accident claims by about 14%, if you do get into an accident the Tesla model S will protect the driver and passengers as well as or better than any other car, minivan, or SUV on the road. One more reason to consider buying Tesla Model S.
---
Sunday Aug 18, 2013 – Trouble at Ecotality – My wife and I are regular visitors to Westfield's Century City Shopping Center here in LA and we were there again yesterday. We go there because we like the open air mall but also because we like to support businesses that provide free or low cost public charging.
On Saturday I drove around to the EV parking spaces but both were occupied, one by a Leaf and the other by a Volt. These two cars are also regulars at the shopping center on a Saturday lunch time. There was a parking space available next to the Volt however and since Westfield's provide 4 110 outlets I was able to use my extension cord to connect up.
After eating lunch I went back to the car to drop some stuff in the back and noticed another extension cord plugged into the outlet. This is the first time I have seen all four outlets in use at once. When I came out to leave there was a Honda Fit in the space next to the Leaf. I was sorry that he couldn't plug because all the outlets were taken and the driver hadn't left a note so I couldn't call him to let him know the outlet was now available.
It is clear that even though we have a pretty good concentration of chargers in our area the number of chargers is just not keeping up with the pace of EV sales in Los Angeles counnty.
So it is quite sad to hear that financial troubles at Ecotality, the suppliers of the Blink network of chargers. They appear be on the verge of declaring bankruptcy.
I have long been a critic of Blink because in this area their pricing model puts them out of competition with the likes of Chargepoint and other free public charging like the 110V outlets in Century City. For a long time Blink had a pricing model that required a membership fee in some cases. There were three levels with the highest cost level allowing charging at $1 per hour and the lowest cost level, called guest charging, at $2 per hour. Recently they removed the fees so you can now sign up for their charging at $1 per hour or use a credit card to charge at $2 per hour.
They also charge for full hours so for the PIP, a full charge, which takes about 90 minutes, would cost $2 for a network member and $2 for a guest. The two places that have Blink Chargers that I would use are at grocery stores in Santa Monica, one at a Ralphs and the other at a Whole Foods. The problem is that I usually spend about 20 to 30 minutes in a grocery store so I would get about 5 miles of range for $1, the equivalent of $10 per gallon for a Prius or $6 a gallon for your typical 30mpg compact sedan.
On top of that they have garnered a reputation in the industry for poor quality. There have been reports of the charger head melting and of chargers getting locked into the charge port of electric cars because of faulty release mechanisms. People complain that the company is slow to fix problems with their chargers and that in general their customer support is lacking.
Quality issues came to a head with their development of the Minit charger. This supposedly failed so badly in testing that the company has abandoned plans to roll it out in 2013. It is also rumored that 12,000 of their chargers may need to be recalled.
Ecotality was a key part of the EV Project which seeks to installed residential and public charging infrastructure across the US. The chargers are connected to the internet and send data that is used to track their usage. Ecotality received over $100 million as part of this project from the Department of the Environment but the DOE have now suspended payments to Ecotatlity, which means that they are close to filing for bankruptcy.
What bankruptcy will mean for one of the two major players in the EV charger space is not clear. Bankruptcy doesn't necessarily mean going out of business. More often it means that the company's creditors get less money than they are owed while the company itself restructures to get to a point where it can resume viable operations. In this case Ecotality are also considering a sale of the company.
I personally have never actually used my Blink card and I stay away from businesses that have Blink chargers installed because the cost is higher than gas for my PIP and just not worth it. The question is what happens to their existing chargers.
If Ecotality manages to restructure, addresses their quality issues, and keeps their existing network intact then there will be no problems. If the network goes away it will put even more pressure on public charging infrastructure in this area that is already getting stretched too thin.
If another company takes over the network I would hope that we get good reliable chargers at a reasonable price.
---
Sunday Aug 4, 2013 – July 2013 EV Sales – EV sales lost a little steam in July but sales were still pretty good. This month the top seller was the Nissan Leaf but GM came in with highest number of plug-in sales.
In July GM sold a total of 1,788 Volts in July. This is down quite a bit from the 2,698 cars they sold in June. I think this has more to do with fact that GM has suspended production of the 2013 Volt as it begins to ramp up for the 2014 model. They are expected to announce a price drop for the 2014 model and this is sure to be affecting sales.
GM also sold a total of 103 Spark EVs. This is up from the 27 cars they sold in June and, since this car is currently only sold in California, not a bad sales total for the month.
This means that GM sold a total of 1891 Plug-in cars in July.
Nissan came in a close second with 1,864 Leafs sold. This was considerably lower than the 2,225 cars they sold in June but was still enough to take the lead as the top selling model for the month. Part of the reason for the lower sales is that Nissan has once again gotten into an inventory crunch. Even though they sold fewer cars this month than last, dealer inventory still fell. It is likely that Nissan Leaf sales will be constrained by dealer inventory for the next few months until production can be increased at their plant in Tennessee.
It's hard to tell where Tesla stands on sales since they don't currently report month over month sales. It appears that they are now beginning sales in Europe with cars being prepared for shipment to Norway and Switzerland. This reduced the number of cars that they delivered here in the US. Sales numbers are somewhat of a guessing game and while Inside EV estimates that they delivered 700 cars in July, the LA times reported sales of 1,470 cars and Autoblog Green estimated 1,633 cars. I'm going to go along with the LA Times and guess 1,470 cars for July. We won't know for sure until Tesla produce their quarterly sales report later this month.
Ford managed sales of 990 plug-in cars this month spread out over three models, the C-Max Energi, Fusion Energi, and Focus EV.
There best-selling model was the C-Max Energi which sold 433 cars in July. This was down a little from the 455 cars they sold in June.
Coming in a close second was the Fusion Energi which sold a total of 407 cars; a slight increase over the 390 cars they sold in June and just a little shy of the 416 cars they sold in May.
June was the second best sales numbers for the Focus EV with 177 cars sold, but sales in July slipped back to a more normal 150 cars. Ford has cut the entry level price of the 2014 Focus EV by $4,000 so I expect to see sales increase quite a bit once dealers begin to get sufficient inventory of the 2014 model.
Toyota was one of the few companies that managed to see a month over month increase in plug-in sales. In July they increased sales of the Plug-in Prius to 817 cars which is well up over the 584 cars that were sold in June.
In addition they sold 109 RAV4 EVs which was a sizable gain over the 42 cars they sold in June. This is quite good considering that the RAV4 EV is a compliance car and only sold in California.
Overall Toyota sold 926 Plug-in cars in July.
Honda also has two Plug-in cars for sale and they managed to deliver 117 plug-in cars in July.
In June the new lease rates for the Fit EV kicked in and Honda sold 208 cars. This totally depleted dealer inventory so it is quite an achievement that they managed to sell 63 cars in July.
Sales of the Accord Plug-in were up slightly from June's total of 42 cars to 56 in July. The problem here is that the car is over $40,000 but still only has the same sort of range as the Prius Plug-in. I think Inside EV summed this up best when they said "This should have been an Acura model".
Smart has stated that they will only sell about 60 cars per month until the nationwide roll-out in October. True to their work they sold 58 cars in July, up 5 cars from the 53 they sold in June.
Mitsubishi is currently clearing out the inventory of the i-MiEV and will probably replace this with a plug-in Hybrid for the 2014 model year. With very little dealer inventory left they managed to sell 46 cars in July. This is up from the 39 cars they sold in June. Sales can't continue for much longer though as there is only about 80 cars left in dealer inventory.
It has been one year since Fisker built a car but they still have a few left in inventory and in July they sold 2 cars. This is down from the 5 cars they sold in June. They appear to have 52 cars still in dealer inventory.
This month the Fiat 500e went on sale in California with first delivery occurring on July 15. Chrysler Fiat has now joined the list of cars that are not reporting plug-in sales so I have no idea how many they delivered but I expect sales numbers were low.
Wheego, Coda, and Th!nk do not report sales numbers but Wheego is now the only one of these companies that is actively producing cars, and even they produce very low volumes, so we can assume that sales of these cars are extremely low.
Sales of plug-in cars continue to move along at a pace ahead of 2012. Now that we are getting closer to year end I expect to see more people buying cars to take advantage of the Federal tax credit. California is also considering extending the HOV lane privileges for 3 more years for plug-in hybrids and this should spur the sales of these vehicles in the California market.
---
Sunday Jul 28, 2013 – What not to do with Chargers – When I first moved to the office building where I am currently working I was happy to see that there were public chargers there. Even though there was no EV parking signage the spaces in front of them were coned off to discourage ICEing.
The setup was not bad. There were four chargers with the spaces in front of two of them marked as reserve spaces and usually occupied by a pair of Nissan Leafs. The spaces in front of the other two chargers, plus two additional spaces next to the chargers where coned off to allow vehicles to share the chargers. The down side is that the chargers were $2 per hour,
The first change came about a month ago. I noticed that the charge of $2 an hour was no longer showing on the chargers. I suspected that this was because nobody was actually using the chargers with the exception of one Chevy Volt driver. I have only seen one of the Nissan Leafs using the chargers and that was only on two occasions in the last three months. I used to see other plug-ins park next to the charging stations but never using them.
Charging usage didn't increase much after they were made free. I began to use the chargers but that was only once a week for about one and a half hours. The rest of the time I only ever say the Volt charging there.
A couple of weeks ago I came down to the parking lot at lunch time and noticed a BMW Z8 parking in one of the coned off parking spaces. The guys from parking were there leaving a note asking the driver not to park in that spot.
My only explanation for what happened next is that this guy must have been a pretty high up in the company that manages the building, or a very important tenant. The driver had obviously felt important enough to park in a coned off space but within a day or two of the incident the cone was permanently removed from that parking space. The result is that the space is now regularly ICEd.
Things began going downhill from there. A few days later I noticed that all the cones had been removed from the EV parking spaces. The result is that apart from the two spaces reserved for the Nissan Leaf drivers these spaces get ICEd every day. I do notice that the Volt usually still gets to use the charger and perhaps this is because the driver gets in early or maybe he has been using the space for so long that other drivers just assume it is reserved for him and don't block it.
I get into the office pretty early so I have started taking up one of the old EV spaces and leaving a note with my phone number in case anyone wants to use the charger. So far I have had no callers.
On Friday I went to use the charger again and found that the $2 charge has returned. Since it would cost $3 for a full charge on the PIP and give me a range of about 11 miles it is way more expensive that just using gas so I opted not to use the charger. The funny thing is that later in the day I noticed that one of the Leafs was charging so I guess he must have needed the charge to get home.
So, let's say that someone driving a Leaf wants to charge and they are going to need a 3 hour charge. If they work in the office building then that would cost them $6. That's not too bad if you really need to get home. There are at least 16 chargers within a three block radius that are free, although in all cases parking rates would apply. For that three hour charge at the closest parking structure, half a block away, it would cost $5 in parking fees.
Now, for a person not working in the building the cost would be $6 for charging and $20 for parking fees which makes using the other lots a no brainer.
There has been a troll on Priuschat lately who has been calling PIP drivers "thieves" for using free charging. Another term I hear often is "freeloader". If this person wasn't clearly a troll then I would expect that they were just confusing the driver who searches around a parking lot to find a 110 outlet and plugs in without permission with the guys who use spaces clearly marked as EV charging stations that the owner has elected to provide for free either as a way to attract EV drivers to their business, or as a way to build green "street cred".
So why would a business provide free charging?
First let's go back to the constant argument we hear about electric cars; "there are too expensive". Right now electric cars are in the late early adopter phase. Prices are starting to fall but there is still quite a large price premium for an electric car. This means that the people who buy electric cars typically have more money for discretionary spending that the average person – just the person you want in your store.
Another argument against electric cars is that "They take too long to charge". Marketing 101 would tell us that the longer you keep a person in your store the more they are likely to spend so if you have someone who needs to charge for 3 hours the chances are that they are going to stay in the shop and will likely end up buying stuff.
Now, each driver must figure out how much he or she is willing to pay to charge. For me the breakeven point is around 70₡ per hour although I would probably not bother unless the cost was around 50₡ per hour. I do like to frequent businesses that provide low cost or free charging and now about 75% of expenditure goes to these businesses.
Now that Blink has removed the fees from their Blink Plus membership you can now charge at a blink station for $1 per hour if you are a member and $2 an hour if you are not a member and use a credit card at the blink station. Effectively the charging stations at my office building are now the most expensive in the area.
Hopefully they will see the light and go back to how it was before the BMW incident.
If public Infrastructure is going to work then the spaces need to be marked as EV only and cars parked but not charging need to be ticketed or towed. I don't expect the free charging to stay long term but if you want people to use these charging stations the cost needs to be reasonable.
---
Sunday Jul 21, 2013 – New Chargers from Chargepoint – With the rapid growth of electric cars the charging infrastructure is just not keeping pace with the number of vehicles hitting the streets. It seems like it is harder and harder to find a public charging station that is not in use. It's not just me; I am hearing more and more complaints each day.
My favorite charging network, Chargepoint, has just released a new group of chargers that may make a difference in the race between the number of electric cars on the road and reliable public charging infrastructure.
First let me clarify a little. What people call chargers are not really chargers at all! The charger is usually installed in the vehicle. The "charger" you see in the parking lot at your local Mall is really Electric Vehicle Supply Equipment better known as an EVSE. The purpose of the EVSE is to provide a safe way of connecting the vehicle's charger to the electric supply. In this article when I talk about the "charger" I am really talking about the EVSE.
The CT4000 series chargers have a couple of things going for them. First they offer wall mounted and pedestal mounted models with two charging cords instead of just one. This is going to lower the cost of charger installation because now the business only needs to set up one connection and pay for one charger installation to support two EV parking spaces. Of course if the business only wants to service on space they do have single cord models too.
This is not the first time that Chargepoint have done this. They already offer chargers that have a 220V charging cord and also have a hatch that hides an additional 110V receptacle. The problem is that you arrive at the charging station and the 220V charger is occupied so you have to plug in the 110V EVSE that came with the car and charge at half the speed. This means that you only get half the miles for a given amount of charging. It's happened to me a few times recently. With the new double headed charger both parking spaces will have access to 220V charging.
Second the CT4000 chargers come with a self-retracting cable. With the old chargers you always had to coil the cable back onto the charger manually and since many people are lazy or just don't care it meant that the cable often just lays on the ground presenting a tripping hazard and also offering the risk that someone would park on it making it unusable.
Now once charging is done the cord just retracts back into the charger. This also reduces another risk; the cord being cut by thieves who want to steal the copper. With the new design most of the copper is tucked away inside the charger making it a much less attractive target for thieves.
Another interesting feature is an LCD screen that will allow the owner to play custom video content. If one of these is installed outside a department store the screen could be showing ads for specials and showcase the latest fashions. We already know that the typical EV owner who uses the charger spends more time in the store and spends more money than the average customer, now the store as a way to present advertising just before the EV driver enters the store possibly increasing revenue further.
I'm a big fan of chargepoint. We have chargepoint chargers in the parking lot of the office where I work and also in some areas around town. These chargers are currently free so I have started to use them once in a while. I've found that I have now shifted most of my business to places that provide charging infrastructure and do most shopping there now even when I am not using the charger.
I hope we start to see these new chargers appear in shopping centers and other businesses in this area soon.
---
Sunday Jul 14, 2013 – I3 from BMW – Over the past few years BMW has been experimenting with electric cars in real world situations. Their first effort was the Mini-e which was basically a Mini converted to electric by AC Propulsion. Their second trial was the Active-e; a Series 1 converted to electric power by BWM.
Details are now starting to emerge on their first production electric car, the 2014 i3.
The i3 is a based on their i3 Mega City concept car that was shown at last year's LA Auto Show (pictured) and is a subcompact designed for use in the city. Unlike the Mini-e and Active-e this car is designed from the ground up as an electric car. Doing this allows them to package the electrical components to maximize space. It also allows them to distribute weight 50/50 front and rear while keeping the center of gravity low to improve handling.
Extensive use of carbon fiber and other lightweight materials such as magnesium keeps the car trim at only 2,634 pounds, over 700 pounds less than the Nissan Leaf. It will seat four people in relative comfort.
The hart of the car lies in a 168hp electric motor driving the rear wheels. This is powered by a 22KWh lithium-ion battery pack. The car comes with three drive modes, Comfort Mode, Eco Pro, and Eco Pro+. Regenerative braking is tied to the gas pedal so as soon as you lift your foot off the gas the car begins to regen and this action will also turn on the brake lights. The car is programmed to vary the amount of regen with speed so that at high speed regeneration is lower so that the car effectively coasts while at low speed regeneration is much higher. This allows driving the car using just the accelerator for most of the time while using the brakes only to come to a complete stop or in an emergency situation.
You will be able to charge the i3 from a conventional 110V outlet but going from empty to full is expected to take about 18 hours. This should drop to about 6 hours using a standard 220V option. It is rumored that there will also be a fast charging option allowing the car to go from 0 to 80% charge in about 30 minutes but details of this are not clear.
The car is electronically limited to a top speed of 93 mph and is capable of going from 0-6 in a little over 7 seconds (0 – 100kph in 7.2 seconds). BMW give the range of this car as 80 -100 miles depending on driving style and weather conditions.
BMW will also be offering a range extender option. With this option you get a 650cc twin cylinder engine that sits next to the electric motor. A 9 liter (about 2.5 gallons) gas tank located in the front of the car will give the i3 and additional 100 miles or so of range before needing to recharge, or refuel.
The 2014 BWM i3 is expected to arrive in dealerships here in the US starting in March 2014. Price has not been set yet but it is not expected to be cheap
---
Sunday Jul 7, 2013 – June 2013 EV Sales – EV Sales continued to be brisk in June as new incentives and better lease rates kept buyers in showrooms. So far the first half of 2013 has seen a steady growth in sales over the same period in 2012.
GM once again took the lead in sales for June as a $4,000 incentive on the 2013 models drove sales to 2,698 cars for the month, handily beating the 1,607 cars they sold in May. June was the best month so far this year for the Volt which still has a large inventory on dealer lots. I expect that we will see the incentives continue for a while to clear out the 2013 models before the 2014 Volt hits showrooms. GM is expected to follow Nissan by reducing the base price on the 2014 Volt.
On June 19 GM made the first delivery of the Chevy Spark EV to customers. This meant only 12 days of sales for June, and the car is currently only being sold in California, so the 27 cars they delivered in the month is quite good.
Nissan dropped to second place in plug-in sales this month with 2,225 cars delivered. This beat their May sales total of 2,138 cars and was just short of their all-time record of 2,236 Leafs that they sold in March.
One way that Tesla annoys the media is that they do not put out monthly sales figures like the other major car makers. However, the LA times reports that Tesla sold 1,425 Model S sedans in June, giving them a total of 8,931 cars so far this year. This is just short of the 9,839 Leafs that Nissan has sold this year and 9,855 Volts that Chevy sold in the first half of the 2013.
June was the month that Tesla began shipping cars to meet their order backlog in Europe so we can expect lower sales numbers from them in the US through the rest of this year.
Once again ford held on to fourth place overall although individual models sold less than the Prius plug-in. Ford's top selling plug-in was once again the C-Max Energi posting sales of 455 cars, just 5 more than the 450 cars they sold in May.
Ford saw a slight drop in the sales of the Fusion Energi managing to sell 390 cars in June down from the 416 cars that they sold in May.
Ford did see an increase in the number of Ford Focus EVs which climbed to 177 sales from a May total of 157 cars. This is the third straight month of increasing car sales and fell just 3 short of the 180 cars they sold in March.
Overall Ford sold 1022 plug-in cars for the month of June.
Toyota has been struggling to sell the Prius Plug-in this year and June was another disappointing sales month with 584 cars sold. This is quite a bit below the 678 cars that Toyota sold in May. Year to date they are also trailing 2010 sales numbers with 4,214 Plug-ins sold this year which is a little below the 4,347 cars they had sold at this point in 2012. Toyota has still not rolled the Prius plug-In beyond the handful of states that follow the California emission rules and seem unlikely to do so in the immediate future.
They also sold less of their Compliance vehicle; the RAV4-EV. Sales of the RAV4-EV have been all over the place and June was no exception. Toyota managed to sell just 40 SUVs, quite a bit short of the 84 cars they sold in May and well below the record 133 cars they sold in March. Keep in mind that this car is only being sold in California but is now being offered at steep discounts.
Honda finally decided to step it up with the Fit EV dropping the lease rate from $389 per month down to just $259 per month and also threw in unlimited mileage and free collision insurance. The trouble is that they didn't have the dealer inventory to meet the increased demand. Still they managed to lease 208 Fit EVs which is more than the total number they leased for the first eleven months the car was on sale.
Honda also markets the Accord Hybrid but sales have been extremely slow. In June they only managed to sell 42 cars well below the 58 they sold in May and the 55 they sold in April.
Smart still hasn't rolled out the latest version of the Smart Electric Drive to dealers nationwide so they said to expect sales of around 60 vehicles per month until that happens. Well they did sell 60 cars in May, their first month on sales. Sales for June fell to 53 cars. Right now the Smart Electric Drive is only sold through dealers in eight states with nationwide rollout set for October. Smart expects sales of the electric drive to be in the 10-20% of total car sales which puts the numbers at around 60-120 cars per month so they are pretty much on track.
Mitsubishi have almost sold off the inventory of 2012 i-MiEV cars and are not looking to market a 2013 version. This, I think, is the reason for the 39 cars sold in May after big sales numbers in the first quarter of the year. They appear to have about 120 cars left in dealer inventory after which they will be gone. Look to Mitsubishi announcing a plug-in hybrid, probably at the Los Angeles Auto Show.
Fisker have not made a car for almost a year now and dealer inventory is down to about 54 cars with just 5 sold in June.
Th!nk and Wheego don't give out monthly sales numbers. I did hear of 1 car being sold by a Th!nk dealer this month but I don't have any other numbers, For both these manufacturers I expect sales to be very low.
With new electric car models becoming available we can expect to see the number of plug-in sales moving right along. In July we should see the first sales of the Fiat 500e and as I reported last week they are already sold out for the rest of the year. I don't expect to see dramatic increases in sales totals month over month until toward the end of the year as people rush to buy cars to take advantage of the Federal tax credit.
---
Sunday Jun 30, 2013 – Fiat 500e Sold Out – This week Treehugger.com reported that production of the Fiat 500e for the rest of 2013 had been sold out, and that's before it even shows up in dealerships. I reported last week that some dealers had stopped taking orders as their quota of cars were already spoken for.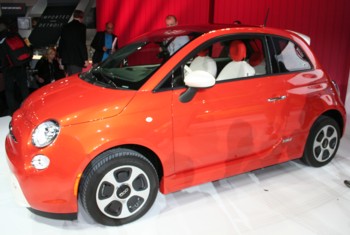 Fiat has made it very clear that the 500e is a compliance car and that they are losing about $10,000 on each car they build. That's why the car is currently only available in California although Fiat does have plans to roll out the car to other states that follow California's emission rules.
While the 500e looks like the standard 500, the main drive is accomplished with a 111hp electric motor that is driven from a 24KWhr lithium-ion battery pack. The Fiat 500e has a top speed of 85mph and the EPA rates the range as 87 miles per charge.
The car comes with a base price of $32,300 before Federal and State incentives. Fiat also offers the car on a $199 per month lease which is the same cost as the ICE version. To deal with range anxiety they also offer up to 12 days per year of free car rental from Enterprise for use if you want to take a longer trip.
It seems to me that the Fiat 500e selling out demonstrates that there is a demand for electric cars, at least here in California. I've also read several comments from people who have tried to buy one in other states only to be told that it won't be available there.
Perhaps selling out production for the rest of the year might spur Fiat into making more of these cars. It costs a lot to develop a car, even when you start with an existing model. I have to assume that most of the $10,000 loss on each car is made up of fixed costs like development costs and crash testing. What is key in the auto industry is marginal cost; the cost to make one additional vehicle.
If Fiat is losing money on the marginal cost of the car then they will probably not make more than the minimum number they need to comply with California's mandate. If they are selling the car for more than the marginal cost then there is an incentive to build more and sell them.
Volume does come into the equation. The more parts they buy from a supplier the cheaper those parts tend to be, at least up to a point so increasing volume can reduce marginal costs.
Hopefully Fiat will finally see that there is a developing market for electric cars and that they have a very desirable product in the Fiat 500e. This may prompt them to increase the build rate on these cars and roll them out to other states – we can only hope!
---
Sunday Jun 23, 2013 – Tesla Battery Swap – This week Elon Musk was out front and center here in Southern California to demonstrate Tesla's latest battery swap technology. In a five minute demonstration they were able to swap out two model S battery packs in the same amount of time it took for one of their employees to fill the tank of an Audi A8.
Now the Audi A8 has a tank capacity of 23.8 gallons which is probably a pretty good example of the tank size on the sort of cars that the Tesla Model S competes with. At a pump rate of 10 gallons a minute a refill of the Audi A8 would take about 2 minutes not counting the time it takes to get out of the car and pay at the pump. The Tesla battery pack swap took a little over 90 seconds.
What is even more impressive is that the Model S cars did not appear to be specially designed for battery swapping like the cars that were included in the now defunct Better Place program. The swap station uses the same bolt runners that are used in the factory to undo the bolts so the old pack can be dropped and to torque the bolts for the replacement pack to factory spec. That means that the Model S that sits in someone's garages is already able to use the battery swap stations.
Tesla is going to roll out the battery swap system to their Supercharger stations. While the fast chargers at these stations remain free battery swapping will come at a price. It appears that the cost to swap the battery pack will be around $60; about what it costs to add 15 gallons of gas to a car. In the words of Mr. Musk "The only decision you need to make when you come to one of our Tesla stations is do you prefer faster or free."
Once the battery swap stations are rolled out the whole idea of an electric car not being able to compete with a gas car on range becomes moot. With a range of around 235 miles the trip from Los Angeles to San Francisco can be done with one short stop for a battery swap. While there are plenty of cars out there that can do the journey on a single tank most cars have to stop and get gas so there is no longer a benefit to using gas. My Prius of course would easily make the trip on a single tank but my old Chevy Cavalier used to give me around 180 miles on a tank and I would have to stop at least once on the trip sometimes twice.
So what's happens to your battery pack which you just left at the Tesla Station. It appears that you will have to stop by the same station on your way back and pick up your original battery pack. This means that you can't drive I5 to San Francisco and return to LA on highway 101. You could of course plan the trip accordingly assuming that you have Tesla stations in the correct locations. For example you could dive from LA to Barstow, Swap batteries in Barstow then drive from Barstow to Laughlin via I40. From Laughlin you could take highway 95 to Las Vegas the return from Las Vegas via I15 to Barstow to pick up you pack.
The technology is pretty good and I could also see this as being used for fleet type applications. For example a limo company that wants to replace their Lincoln town cars with the Model S, or a taxi company that wants to use the Model X.
In the end I just wonder how many people will spend $60 for a pack swap when they could use the fast charger while they visit the restroom then grab a bite to eat or get a coffee. I've often said that while battery swapping is good on paper there is often a lot of issues that make it less practical in real life.
Tesla's demonstration is by far the best implementation of battery swapping I have seen so far and could very well be a game changer. Once stations are available it certainly removes the "charging takes too long" argument. Couple this with a battery leasing option so you don't have to return to the same swap station on the way home and they will have hit a home run with all bases loaded. Once again Tesla has demonstrated that it is the car company of the future.
One last word on Tesla; they just announced a recall on certain Model S cars because of a possible weld problem on the latch for the second row seats. Tesla did the recall voluntarily after recognizing the problem and people with the affected vehicles should be getting recall notices soon. Tesla will pick up the car leaving a loner in its place, fix it and return it a few hours later. Recalls can be a huge problem for a startup car maker but the way that Tesla has handled this recall can only be described as exemplary.
---
Sunday Jun 16, 2013 – Low Inventory – I just read an interesting article in the LA Times about how after Honda had lowered the lease rates for the Fit EV they were suddenly sold out all across California. The article focused on Honda and Fiat and was about how lack of inventory was inhibiting sales.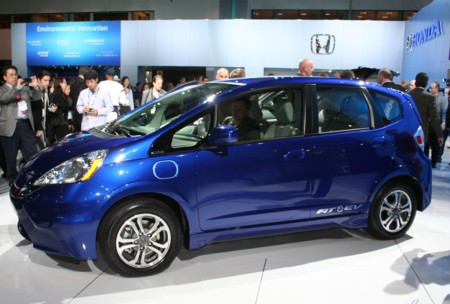 It is true that dealer inventory has a major impact on sales. This was best illustrated by the huge drop-off in sales that we saw after Nissan stopped shipping the 2012 Leaf to the US from Japan and production at their US plant was not to the point where it could take up the slack. For a period of about 3 months Leaf inventories were very low and car sales plummeted.
By March inventories had recovered and that, coupled with the introduction of the lower priced base entry model, produced a record sales month for the Leaf in March and close to record sales each month after that.
Inventory is a major factor in the purchase decision. I've heard of people who wanted to buy a Ford Focus EV but Ford keeps inventory very low on this model so often the dealership doesn't even have a car available for a test drive. On the other hand the local Nissan dealership has a good selection of cars to choose from and the buyer ends up with a Leaf.
I'm not saying one car is better than the other; in general Focus EV and Leaf owners are both very happy with their cars. The cars are pretty similar though so if you need a car now you are not going to wait for a couple of months while Ford builds a car for you when you can drive a leaf off the lot today.
The reality is that there is a pent up demand for electric cars, at least here in California. What it boils down to is "can I afford it". In general an electric car is a lot more expensive to buy than an equivalent gas model. While people are interested in electric cars they often are not willing to pay the larger monthly payment it takes to get into one.
Many of the electric cars currently on the market are compliance vehicles. The state of California, and other states that follow California emission rules, require each manufacturer to build a certain number of zero emission vehicles. Basically the more cars that the manufacturer sells in the state the more zero emission cars they must sell. Some manufacturers like Nissan and GM are building electric cars targeted for a mass market. Others like Honda and Fiat are building cars just to meet the California ZEV mandate. Still others like Ford and Toyota sit in the middle building plug-in hybrids for mass sales while building all electric cars for low volume sales. The cars for low volume sales are the ones considered compliance cars.
It costs a lot of money to develop a new car so if you plan on making money you have to build a car to sell in volume. Volume sales don't often come immediately so you have to be prepared to sell over a long period of time. It took Toyota many years to make the Prius profitable but now it is one of the best selling cars in the world. The good news is that sales of the Chevy Volt and Nissan Leaf are actually running ahead of sales we saw for the Prius in the early days so these two cars are on track to become profitable.
Compliance cars are a different story though. These cars are built to comply with the California Mandate. To keep development costs low the cars are typically built around an existing model with the drive train updated to electric. Even so, since the automaker is only going to produce enough of these to fill their requirement it is unlikely they will be able to make a profit on them. Fiat for example claims that they will lose $10,000 on each car they sell.
It then becomes a balancing act to price the car so you can sell the number you need to sell while limiting losses. Of course you could just admit that electric cars are the wave of the future and plan to sell them in enough volume to make them profitable but then the market is slow right now and there are already two big players in the space, three if you include luxury carmaker Tesla, so it's not easy to take market share from them.
Honda for example has an excellent car in the Fit EV. I've driven most of the current wave of electric cars and I really liked the Fit EV. It's small and nippy and totally fun to drive. I haven't had a chance to get behind the wheel of the Fiat 500 EV yet but word on the street is that this car is a better drive than the gas version.
Honda began leasing their Fit EV at $389 per month and had few takers with sales of just 176 cars in the first 10 months of sales. This is way below the 1100 cars they need to sell in this model year. While inventory was low, some dealers did have two or three cars on their lot but sales were very slow. Personally I think that the price, which is way higher than the lease on the gas Fit, coupled with Honda's lease-only policy, encouraged few sales. This month Honda dropped the lease price down to $259 per month and threw in a few perks like the price including insurance, and suddenly sales took off.
Sales took off so much that dealerships in Southern California were out of inventory by the end of the first weekend and had developed long wait lists for the car. Honda is still not going to increase production rates so the people on the wait list may have a long wait for a car. Honda, it should be noted, is a big proponent of hydrogen fuel cells so are not keen to push battery based vehicles. They do have the Accord plug-in on sale but this is priced very high and it is my understanding that inventory on this car is also very low.
The Fiat 500E is expected on dealer lots in July and they are going to come out of the gate with a very aggressive lease rate of just $199 a month, the same as you would pay for a base Fiat 500. This has generated a lot of interest in the car and according to the LA times article some Southern California dealerships have already stopped taking orders because they have sold out their entire quota of cars.
Another aggressively priced car is the Smart Electric Drive. This does not look to be a compliance car as Smart is selling the Electric Drive across the country. With a base price of just $25,000 before Federal and State incentives the car nets out at around the same price as the gas model. Smart managed to sell 60 cars in the second half of May and that was with limited dealer inventory and very little advertising.
It seems to me that if you want to sell electric cars you need to have inventory on the lot but the key factor is to get prices more in line with current gas models. Prices can be a little higher than the standard gas model because running costs tend to be lower. Electric cars are towards the end of the early adopter phase and prices are starting to fall so we are trending in the right direction. For those who want to get into an electric car there are now some nice bargains available on compliance cars.
---
Sunday Jun 21, 2013 Noel Added Daily Tech and other news media have been reporting that Nissan is now sellings the Leaf at a rate faster than they can build them. Apparently many dealers were not selling the Leaf but as sales surge more and more dealerships are clamoring for cars. This means that over the next few months, until Nissan can ramp up production, dealer inventory is likely to become a bottleneck to Leaf sales.
---
Sunday Jun 9, 2013 – May 2013 EV Sales – May was an interesting month for Plug-in car sales where plug-in hybrids sales were generally sluggish as people moved toward buying pure electric cars. According to Plug-in America, this month also saw the sale of the 100,000th plug-in vehicles since the major manufacturers started putting them on sale back in 2010.
In May Nissan led the pack selling a total of 2138 Leafs. This was their second best sales month ever ahead of the 1,936 cars they sold in April and just 98 shy of their all-time record of 2,236 Leafs sold in March. The Nissan plant in Tennessee is having difficulty keeping up with demand, especially for the base model, and dealer inventory fell during the month.
Tesla still does not report monthly sales so it is difficult to determine how many they delivered during any given month. InsideEV estimated that they sold 1,800 in May, and that seems as good a number as any. That would put them firmly ahead of the Chevy Volt in sales making them the number 2 plug-in vehicle seller during the month.
After three months of declining sales, GM saw sales improved from 1,306 units in April to 1607 cars in May. The May number was still a little below the 1,626 cars that they sold in February but I am sure they are glad to see sales climb once again.
Ford turned in the next highest sales numbers for plug-in cars. While the plug-in Prius outsold individual models from Ford, their combined total put them slightly head. Their top selling Plug-in was still the C-Max Energi with a total of 450 cars sold in May. This was up slightly from the 411 that they sold in April. The good news is that dealer inventory is starting to improve which should allow for higher sales volumes in the upcoming months.
The Ford Fusion increased sales from 365 in April to an all-time high of 416 cars sold in June. Since its launch in February Ford has seen a steady increase in the number of cars that have been sold. It also appears that dealer inventory is beginning to reach normal levels so it will be interesting to see how the car sells in June.
Ford also showed a month over month increase in the sales of the Focus EV. Sales were up from the 147 in April to 157 in May. This is still below the 180 cars they sold in March but it appears that they have settled into a sales rate of about 150 per month for this car.
After a very strong start, sales of the Prius Plug-in have been declining. The good news is that in May Toyota once again saw a pickup in sales going from their April sales total of 599 cars up to 678 cars in May. This is still below the 786 cars that they sold in March. We are now waiting for Toyota to roll out the Prius Plug-in to states that do not follow CARB rules.
Toyota also saw an increase in sales of the RAV4 EV. Sales Climbed from 70 cars in April to 84 cars sold in May. This is still below their record month of March where they recorded 133 sales. Keep in mind that this is currently being sold as a compliance car so it is only available in California.
Mitsubishi, continued clearing its inventory of 2012 models, managed to sell 91 i-MiEV in May, down from 127 units they sold in March. It appears that Mitsubishi will not be selling a 2013 model in the US so once the 2012 inventory is sold, and there aren't many left on dealer lots, the i-MiEV will be gone.
Honda managed to sell 58 of their plug-in Accord during the month of May, up just 3 cars from 55 they sold in April. Honda doesn't appear to be making much of an effort to sell the Accord plug-in since dealer inventory is almost non-existent, but at least this is a Honda plug-in car that you can buy.
Honda managed to lease only 15 Fit EVs this month. Sales of this CARB compliance car were down from the 22 units sold in April. The Fit is an excellent EV but the lease only strategy and sales limited to just California make the car a difficult sale for the dealer. They have just announced that they are reducing the monthly lease cost by $130 to $259 a month so let's see if this stimulates sales.
Smart put the latest generation of the Smart Fortwo Electric Drive on sale starting on May 15. With a base price of just $25,000 before Federal and State incentives, this is now the cheapest EV on the market. Inventories are still low at dealerships and they only had half a month of sales but still notched up sales of 60 cars. Now Smart also has limited dealerships so it will be interesting to see how well these cars sell over time.
Troubled automaker Fisker, now in bankruptcy, hasn't built a car since of July last year. They still have a number of unsold cars in dealer inventory and in April they managed to sell 29 cars. This is up considerably from the 14 cars they sold in March with remaining dealer inventory standing at about 59 cars.
Th!nk and Wheego also don't give out monthly sales numbers. For both these manufacturers I expect sales to be very low.
It's nice to see plug-in car sales pick up again a little, especially in the pure EV category which is now handsomely outselling plug-in hybrids. Both have a valid niche and I would like to see sales of each increase over the next few months. With year to date sales just a little short of 37,000 it appears that we are on track to sell about 80,000 plug-in cars in 2013. There are two additional EVs coming to market soon. Chevy will be offering their Spark EV in California and Oregon starting in June, and fiat will begin selling the Fiat 500e in July, but it will probably be offered initially in California only.
---
Sunday June 2, 2013 – PIA Leaf Battery Report – Plug-in America has been doing a survey of battery capacity for various EVs and this week I got to take a look at the report for the Nissan Leaf. This is a preliminary report since the survey is still in progress but the results were certainly interesting.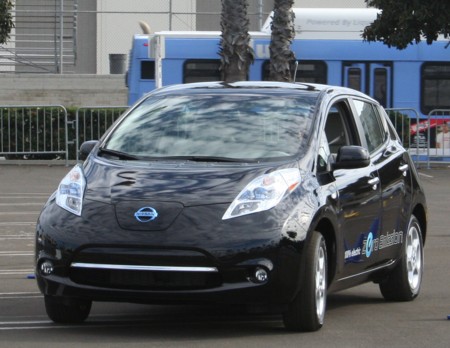 The report looked at 240 Nissan Leafs that were distributed over 25 states, 2 Canadian Provinces, and the UK. The highest mileage car had travelled 57,600 miles while the lowest had just 104 miles on the odometer. The average miles travelled was 13,152 miles while the median was 11,600 miles.
In the Nissan Leaf manual there are four things that have been given for preventing capacity loss on the batteries. It is suggested that frequent use of quick charging, doing frequent top-off charges, pulling very high currents while driving, and parking the car for more 12 hours or more fully charged should be avoided. The report was designed to see how these factors impacted battery capacity.
It appears that there was very little correlation between these four factors and the loss of capacity, based on the display of capacity shown on the Leaf display, experienced by about 10% of drivers surveyed. There also does not appear to be any correlation between these factors and the approximately 10% of owners who say they have experienced a significant drop (more than 10 miles) in range.
Based on the survey results the most significant factor in range loss appears to be with cars that are driven in extremely hot climates with the biggest impact being in the Arizona desert area which experiences very high temperatures most of the year.
In fact, all of the vehicles that have shown over 20% reduction in capacity are all based in areas where the average high temperature is 95F or higher and all but one of the cars showing a loss in the range of 15% to 20% are in areas where the average high temperature is above 90%. The one outlier is showing an average high temperature of 84%.
The cars with the highest odometer readings were also reviewed. All three of these cars are still showing full capacity on the vehicle display but actual capacity readings are only available for the highest mileage car which is currently at 87.2% of battery capacity. The car indicator does not show reduced capacity until the car hits 85% capacity which is expected to occur somewhere between 75,000 and 80,000 miles.
This driver, who is based in Washington State and does not have to deal with high average temperatures, drives a daily commute of 130 miles charging the car at both home and office. What is interesting is that this driver charges the car to 100% every day instead of the Nissan recommended 80%. In fact, all three of the highest mileage drivers live in cooler areas of the country and all charge to 100% each day.
It appears that for the Nissan Leaf, which doesn't have an active cooling system for the batteries, high ambient temperature is the biggest factor causing loss of capacity in the batteries. It is my guess that as more data becomes available it will also be shown that charging to 100% on a regular basis also causes more rapid loss of capacity.
The survey did appear to ignore one vehicle which was a Los Angeles based vehicle that had 47,260 miles on the odometer and was reporting a loss of capacity of over 15% and a significant loss of miles per charge. Since Los Angeles is not a high temperature location this particular entry needs more review.
PIA's battery capacity survey is still ongoing and at last check they currently have 347 participants now so it will be interesting to see how the additional 107 cars will impact the report.
So far it appears that the best way to keep your leaf batteries in good condition is to try not to expose them to very high temperatures and to not charge them beyond 80% unless you really need the additional range. Based on the numbers so far it appears that the leaf's batteries are, in general, holding up pretty well. Leaf batteries are warrantied to retain at least 80% of their capacity for 8 years of 100,000 miles.
---
Sunday May 26, 2013 – Volvo V60 PHEV – Diesel has always been more fuel efficient than the standard gas engine and now powers almost half the vehicles sold in Europe. It was only a matter of time before one of the European manufacturers came out with a plug in Hybrid, but it was Chinese owned Volvo that was first out of the gate.
The Volvo V60 plug-in hybrid combines a 5 cylinder diesel engine with a displacement of 2.4 liters that can put out 215 bhp and 325 pound feed of torque. This is coupled to a 6 speed automatic gearbox. This is complemented by a 70hp AC motor capable of 148 pound feet of torque.
The electric motor is driven by an 11.2 KWh Lithium Ion battery that can be recharged either from an external source or via the V60's diesel engine. In electric only mode the battery gives a range of up to 31 miles before the gas engine comes on. Recharge time varies from 7.5 hours using a 6amp feed to as little as 3.4 hours when using a 16amp feed.
Performance for the V60 isn't shabby either. In pure electric mode the car can be driven up to 75mph and with both the gas and electric motor driving the vehicle it has a top speed of just over 140 mph. Its 0-60 time is an impressive 6.1 seconds.
While most plug-in hybrids default to EV mode the V60 actually defaults to hybrid mode. There are three mode buttons on the dash. Press Pure and you are in EV mode; press Hybrid and you are back in hybrid mode; press Power and you have the full power mode of the blended system. Of course running in power mode will negatively impact fuel consumption.
The V60 plug-in is based on the standard Volvo V60 station wagon and will seat 5 people in comfort. The battery pack and hybrid system do take some space from the cargo area so carrying capacity is reduced over the standard V60. The fuel tank is also smaller on the V60 plug-in but the car should still be able to do over 500 miles on a tank of diesel.
The V60 hybrid is currently on sale across Europe and should be appearing at UK dealerships in June. So far Volvo hasn't announced any plans to make the car available in the USA and expected sales volumes may not make the cost of crash testing the car worthwhile.
Sales in Europe are running ahead of expectations, especially in Italy, Belgium and the Netherlands, so Volvo recently increased the build rate for these cars. Their plant in Torslanda, Sweden is now producing 282 cars per week up from the initial build rate of 150 cars per week. That comes down to 7,600 cars in 2013 with a 2014 target of 10,000 cars. From what I hear they are barely keeping up with demand at the current build rate.
The Volvo V60 Plug-in Hybrid is a good choice for those that want a more luxurious car that will run on pure EV but does not have the range anxiety issue that some people worry about when considering the purchase of an electric car.
---
Sunday May 19, 2013 – Primary Car – One thing that you see in the media on a pretty regular basis is that electric cars are only good as a second car to be used for commuting. It is true that most electric cars have limited range and so they can't be used for long trips but that doesn't mean they are going to be relegated to second car status.
To quote actor Ed Begley Jr. at the EV1 Funeral "the detractors of electric vehicles are correct when they claim battery-powered cars aren't for everyone. Given their limited range, they can only meet the needs of 90% of the population."
The idea that a car will be your primary driver just because it can travel more than 70 or 80 miles before needing to be refueled is thinking derived from old habits stemming from years of driving gas cars. I like to think of a primary car as the one that you drive the most.
Going back to Ed's 90% of the population quote it is fair to say that most people travel less than 50 miles per day for most of their driving. If we consider 15,000 miles per year as being a fair average for a car, then we are talking and average of 41 miles per day. That is well within the range of most modern EVs.
I was on Priuschat last night and there was a Plug-in Prius owner who was considering buying a Nissan Leaf as a "second car". This has been my experience; most people buy an EV as a second car but the drive in an EV is so much better than driving the old ICE that people tend to gravitate to the EV.
After a few months of ownership what they find is that the ICE car is getting used less and less while the EV is carrying the bulk of their usage. The ICE car is still in the garage and it still gets rolled out to take that long trip, but it is not the vehicle of choice for that run to the grocery store or a trip to the local mall.
Not everyone goes this route. For some, anxiety about range means that they tend to leave the EV in the garage and continue to rack up miles on the ICE. They might take the EV for that 1 mile trip to the grocery store but are so worried about range that they will take the ICE even when the trip is only 8 or 10 miles. That's where the plug-in hybrid comes along.
With the plug-in hybrid there is no real worry about running out of juice. Once the battery goes below a certain state of charge there is an ICE engine that comes on so you can keep driving as long as you can put gas in your tank. Now here is something that I have found with Prius Plug-in owners; we hate having the gas engine start. What I expect to happen is that once people get used to having a plug-in hybrid and find that they can travel to and from their destinations using gas only they are more likely to switch to an EV.
The people on Priuschat are not a random sample. They are people who are interested enough in the technology to actually spend time talking about their cars. They break down into a few groups. One group is the die-hard Toyota fan. They are the ones that think that Toyota makes the best cars out there and won't consider any other brand. Then there are the Prius haters. These guys will try and tell you that the Prius is inferior to other Plug-in vehicles. These are often owners of competing car and while there are not many of these on Priuschat, they do show up once in a while. There are those that are thinking about a Plug-in Prius and want to get more information. These people often lurk on the forums site but few of them actively participate in the discussion. Then there are the ones that own a Prius Plug-in and are looking to move on.
It's the last group that I am talking about here. These are people who have experienced driving electric and like it. They are not people that dislike the Prius Plug-in, they just want more. Often these people are not looking to replace their PIP but are looking to add a pure electric to their fleet.
There are a couple of threads about people who want to trade in their Prius Plug-in for a Volt or a Tesla Model S. So far nobody seems interested in trying one of the Ford offerings even though they do seem to be a nice step up in range. I've also seen people who have added one of the new RAV4 EVs to their fleet.
So, if you are on the fence about an EV but think it might work as a second car you have a few options. Take a look at how far you tend to drive each day and see if you can comfortably make that one of the current EVs. Keep in mind that your mileage may vary. If you drive with a heavy foot, or if you are in a region that gets very cold weather in the winter, you can expect your range to drop by as much as 40% so keep that in mind. If you are not sure then there are plenty of plug-in hybrid options available.
One last word of caution, charging infrastructure continues to grow but it is not growing as fast as the number of electric cars that are appearing on the roads, especially if you are in a place like Southern California where sales of plug-in cars is very strong. Here in this area the problem used to be ICE cars blocking the chargers, now it's getting to the charging station to find all chargers in use. Unless you have guaranteed charging at work then don't plan to get an EV if you need public charging to make it work for you.
---
Sunday May 5, 2013 – April 2013 EV Sales – April saw a general drop in EV sales for most companies after stellar March sales. Since Tesla don't give out sales numbers each month it is difficult to tell the exact number of EV sales but it look like Tesla was the top seller this month.
Tesla has said that it is producing around 500 cars per week so we can take a guess and say that they sold around 2,000 of their Model S sedans this month. This would place them above Nissan in overall plug-in car sales for the month.
Nissan came in a close second selling 1,936 Leafs in April. This was their second best sales month ever but dropped below the 2,236 Leafs sold in March. The Nissan plant in Tennessee has been able to keep up with demand but dealer inventory is still a little on the low side.
After poor sales of just 1,478 units in March GM saw sales slip again in April down to 1,306 units for the month. April is a traditionally slow month for Volt sales but these numbers were even below the 1,462 cars that were sold in April 2012. Year to date sales for the Volt are still running slightly ahead of the number for 2012.
After a brief surge in sales in March where they sold 786 units, Toyota saw sales of the Prius Plug-in drop once again to just 599 cars, their lowest monthly total since the Plug-in went on sales in March 2013. It appears that sales of the Prius plug-in are being impacted by competition from Ford who now has two plug-in hybrids on sale. It should also be noted that Toyota currently limits sales of the Prius Plug-in to just a handful of state and seems reluctant to expand sales to other states any time soon.
Toyota also saw a drop in sales of the RAV4 EV. Sales fell from their best month ever in March where they recorded 133 sales down to a more normal 70 of the SUV in April. Keep in mind that this is currently being sold as a compliance car so it is only available in California.
While the Prius Plug-in outsold Fords individual plug-in hybrid offerings the total number of plug-in hybrids sold by Ford exceeded the number of Plug-in Prius sold in April. In the lead was the Ford C-Max Energi which sold 411 cars in April, This was down quite a bit from the 494 cars that they sold in March even though dealer inventory, while still low, did improve over the month.
Sales of the Ford Fusion saw a nice jump from the 295 units sold in March up to 365 cars in April. Dealer Inventory for the Fusion is still constrained as Ford has been building inventory very slowly.
Ford's total plug-in hybrid sales for April were 776 cars.
Ford also saw a drop in sales of their Focus EV over the previous month with 147 cars sold. This is well below the 180 that they sold in March. Ford has continued to keep dealer inventory low so it isn't surprising that the car is selling in low volume.
Mitsubishi, which is still clearing its inventory of 2012 models, managed to sell 127 i-MiEV in April, up from just 31 units they sold in March. It appears that Mitsubishi will not be selling a 2013 model in the US so once the 2012 inventory is sold, and there aren't many left on dealer lots, the i-MiEV will be gone.
Honda managed to sell 55 of their plug-in Accord during the month of April, up from 26 cars sold in March. Honda doesn't appear to be making much of an effort to sell the Accord plug-in since dealer inventory is almost non-existent.
Honda managed to lease 22 Fit EV this month. Sales of this CARB compliance car were down from the 23 units sold in March. The Fit is an excellent EV but the lease only strategy and sales limited to just California make the car a difficult sale for the dealer.
Troubled automaker Fisker hasn't built a car since July last year and look like they will soon be filing for bankruptcy protection. They still have a number of unsold cars in dealer inventory though and in April they managed to sell 14 cars. This is down from the 19 cars they sold in March with remaining dealer inventory standing at about 74 cars.
Coda did declare bankruptcy this month and will be exiting the car business. Overall they sold about 100 cars and there are still a limited number in dealer inventory.
Smart did not report any sales of the old model of the Smart ED this month but I expect that to change as the 2014 model goes on sale in May. The new model will have increased performance and range while selling at a price that is comparable with the gas model after state and federal incentives.
Th!nk and Wheego also don't give out monthly sales numbers. There was a report that there was still some inventory in one of the Th!nk dealerships back east and I do know of at least one sale this month. Wheego has continued to expand its dealer network so I assume they are also selling some cars but I expect sales to be very low.
I have to admit that I was somewhat disappointed with electric car sales for the month of April. This month has traditionally been a low sales month and with three new battery-electric cars coming out over the next three months we should see sales pick up later in the year.
---
Sunday Apr 28, 2013 – IEE says 5 Million EVs by 2035 – I just read a report published by Edison Foundation's IEE that projects a minimum of 5 million electric vehicles on the road by 2035.
The report examined a number of scenarios for the coming two decades including the impact of CAFÉ standards, the impact of a projected rise in oil prices to $200 a barrel by 2035, the impact of possible new battery technologies that reduce costs, and enhancements to allow faster charging.
Using a combination of these scenarios they projected 3 different outcomes.
In the low EV scenario, based purely on the implementation of current CAFE standards, they project total penetration of electric vehicles at 5.3 million out of 276 million light duty vehicles by 2035. This would cause an increase in power consumption of 33TWh per year by 2035 and would reduce CO2 emissions by between 9 and 22 Million metric tons depending on how much renewable energy was introduced into the power generation mix, and also on the amount of improvement in efficiency seen in ICE vehicles.
In the medium scenario, which is based on projected improvements in battery technology, they see electric vehicles increasing to 24.8 million cars while the total number of light duty vehicles would fall to 261 million. This pushes the amount of additional electricity consumed up to 112TWh and a resultant saving of 41 to 94 metric tons of CO2.
In the high scenario the study considered both the introduction of new battery technology and the rise of crude oil prices to $200 per barrel by 2035. Under this scenario they predicted a fall in the total number light duty vehicles on the road from 276 million to 256 Million with 30.4 million of these being electric. This increased electricity consumption to 147TWh in 2035 and results in saving 51 to 116 million metric tons of CO2. One thing of interest is that they projected the rise in oil prices would have very little effect on the number of EVs sold since the price rise would be gradual so it would be accepted by the population. A sudden huge spike in oil prices on the other hand would have a major impact on purchase decisions.
I did have a few quibbles with the report. They used 2010 as the starting point for their projections. They defined light duty vehicles as automobiles, light trucks, and motorcycles and used 20,000 as the total number on the roads. I can only assume that they totally ignored NEVs since there were at least 60,000 of these on the roads at the end of 2010 and the numbers continue to grow.
This brings into question what we call a light duty vehicle. Under their definition a Zero S electric motorcycle is clearly a Light duty vehicle, but how do we classify electric bikes for example. These vehicles have the ability to offset miles driven in an internal combustion engine but since they are not registered the number on the road and the amount of miles driven become very difficult to estimate.
Another issue I had was the low impact they assumed for high oil prices. In their graphs they show the impact of doubling oil prices as increasing oil sales by about one million. What we have seen in the past is that as oil process rise the number of people considering electric cars goes up. As prices fall back people shelve the idea of buying a plug-in vehicle but then prices advance again and we get another round of people looking to go EV. As some point the cost differential between gas and electric will become so great that going electric will be a no brainer and we will see a big surge in the purchase of electric cars and trucks. At $200 a barrel we are talking around $7 a gallon for gas which would make a huge difference unless electricity costs also double.
They show a pretty big impact from battery technology and this is an area where I totally agree with them. There are multiple issues that need to be addressed though. The biggest need is to reduce costs since is it the cost difference between electric and ICE vehicles that is the biggest single barrier to sales. Next we need to enhance energy density so that we can get longer range at the same or less cost. Third it is not good to increase energy density if we can't also back that up with increased battery life. Right now most electric cars are expected to lose about 20% of their battery capacity by 100,000 miles and this needs to be improved. Batteries need to pretty much last the life of the car and then have enough capacity to be repurposed for applications such as grid backup after their capacity falls below 80%.
In the end I expect that electric car sales will follow the path of other technology improvements. There will be slow growth at first as costs are high and it is mostly early adopters that are buying. Eventually as volume increases cost fall until the product becomes mainstream. At some point we hit a tipping point where most people begin buying the new product and the old product eventually disappears from the market or is relegated to niche applications.
---
Sunday Apr 14, 2013 – Three for the Road – There is a trio of subcompact electric vehicles that are coming to showrooms over the next few of months that will add more choice in electric cars.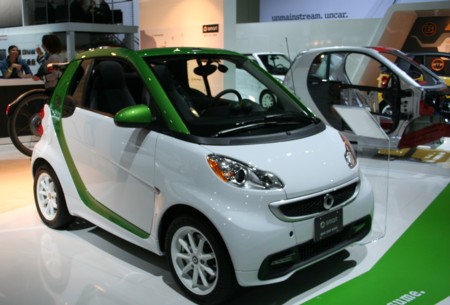 Daimler has had the Smart ForTwo ED on sale for quite some time now but for the 2014 model year they are making some improvements.
For a start they are adding a cabriolet to complement the existing coupe model. This will be the first convertible EV since Tesla stopped production of their Roadster and should make a nice addition to the Smart line-up for those that want to put the top down but don't want to shell out the $75,000 or so for a used Tesla Roadster.
There are also a bunch of improvements in the drive train too.
First the size of the motor has been increased to a peak load of 55Kw (74hp) which also increases the top speed to 75mph which makes the car much more usable on the freeway. The battery pack capacity has been increased from 16.5Kwhrs to 17.5KWhrs which pushes the range up to 90 miles, although not if you drive the car at 75mph on the freeway. I haven't seen the official EPA range numbers yet and typically these will be lower than the numbers provided in the Daimler press release.
The car also comes with a 22KW charger that will allow the car to charge up in less than an hour but this will require an EVSE that will support such high rates.
All these changes come at a base price that is less than the current model Smart ED. With Federal Tax incentives the price for the electric Smart is comparable with that of the equivalent gas version.
The 2014 Smart ED is expected to go on sale in Canada this month and in the US starting in early May. It will go on sale in Europe shortly after that.
Another new offering which should start making its way into showrooms in July is the Fiat 400e. You may remember that before Chrysler was bought by Fiat they had a lead in electric car development with a production ready electric sports car and a much needed plug-in hybrid minivan concept that was close to being production ready. Fiat cancelled these programs and instead began developing an electric version of the Fiat 500 which they showed at last year's LA Auto show.
The Fiat 500e is a compliance vehicle which will only go on sale in California initially. The base price, which has just been announced, is $32,500 which means with the Federal tax credit and the California incentives that the car could cost as little as $22,500 for California residents. At this price Fiat claims that they will be losing around $10,000 per vehicle.
Externally the 500e looks like its ICE driven sibling the Fiat 500 but under the covers is a different story. The main drive is accomplished with a 111hp electric motor that is driven from a 24KWhr lithium-ion battery pack. The Fiat 500e has a top speed of 85mph and the EPA rates the range as 87 miles per charge.
One interesting feature that Fiat is introducing with the car is that each owner will get 12 days of ICE car rental each year for the first three years of ownership. This will allow the owner to get a car rental when they want to take a long distance road trip and don't feel they can make the trip with their EV.
The Fiat 500e is expected to be available in July and some California dealers are already beginning to sign up potential buyers.
Also set to launch in July is the first all-electric car from GM since the days of the EV1. The Chevy Spark EV is an electric version of GMs smallest subcompact. The cars will initially go on sale in California, Oregon, and South Korea where the car is built, gradually rolling out to other States, with introduction in Europe set for early 2014.
The Spark EV was set to use A123 batteries but GM has said that the bankruptcy of A123 will have no effect on the availability of the car.
The main drive is done by a 130hp electric motor that can drive the car from 0-60 in less than 7 seconds. The 20KWhr lithium-ion battery pack offers a range of around 60 miles. This vehicle will be the first electric car that comes with the new J1772 charging port with fast charge option. With this port, the car can be charged at 110V using the supplied charger or 220V using any standard J1772 EVSE. It takes about 7 hours to charge the car on a 220V EVSE so it appears that the car will come with a 3KW onboard charger. With the fast charging option the batteries can be charged to 80% in about 20 minutes.
The battery pack is coupled to a 114hp electric motor that can zoom the car from 0-60mph in less than 8 seconds. The motor actually produces 31hp more than the ICE version.
Chevrolet hasn't released full specs for the Spark EV yet so I don't currently know what the top speed or official EPA range of this car will be. Official pricing has also not been released
All three of these subcompacts are intended for urban markets. With their tiny size they are perfect for navigating tight city streets and squeezing into even tighter parking spots. People living in these environments also tend to have shorter commutes, which works well for the limited range of these cars. They are also quick enough to be used on the freeway so they are the ideal commuter cars.
It remains to be seen if the public will buy these cars, or if, like the Honda Fit EV or the current model Smart EV, they will sell in very limited numbers.
---
Sunday Apr 7, 2013 – March 2013 EV Sales – March 2013 became the best month ever for EV sales led by the Tesla Model S, Chevy Volt, and a big increase in sales of the Nissan Leaf as the 2013 model finally made its way to dealerships in numbers.
Since Tesla Motors do not release monthly sales numbers it is not easy to tell who the leader in Plug-in sales was this month since sales numbers for the Leaf and the Model S were probably quite close. I am going to go out on a limb here and declare Nissan the winner with 2,236 leafs delivered to customers in March. This was an all-time sales record for the Leaf and way ahead of the 653 cars it sold in February. Nissan has said that they won't be back to full dealer inventory for the leaf until sometime this month and expect sales to continue to be robust.
Tesla Motors announced that they were shipping 500 cars per week to customers in March, somewhat ahead of the 400 build rate they had targeted. Using this we can estimate that they delivered approximately 2,100 cars during the month of March. This beat my estimate of 1400 cars for the month of February. Tesla has a large order backlog so I expect them to continue delivering around 2000 cars per month for the rest of this year.
Sales of the Chevy Volt dropped from a February sales number of 1626 cars down to just 1478 Volts in March. This was the first time ever that year over year sales have fallen for the Volt with a level quite a bit below the 2,289 cars they delivered in March 2012.
The 2014 Volt is expected to go on sale in Late May so it may be that consumers are waiting to see what changes, if any, they will see in the next model year. This may be influenced by the price drop that was seen when the 2013 Nissan Leaf was introduced.
While the Toyota Prius Plug-in is still struggling to reach its full sales potential this month did see an increase in month over month sales for the first time since October of last year. Sales increased from 693 cars in February to 786 cars in March. This is still short of the 874 cars they sold in January but at least it is a move in the right direction. Toyota still hasn't said when they will expand sales into other states.
In late February Toyota introduced heavy discounts on the RAV4 EV. This is a compliance car and as such sales are expected to be low but they did manage to sell 133 cars, which was more than double the 54 cars they sold in February.
Ford has been struggling to build dealer inventory for its Energi line of cars and sales have reflected this. Sales of the C-Max Energi increased from 334 cars in February to 494 cars in March.
Sales of the Fusion Energi also increased from 119 in February to 295 cars in March. This is not a bad sales number considering that the car starts at a base price of just under $40,000 which is more expensive than the base Volt model.
Although sales of individual models was lower than the total number of Prius Plug-ins sold combined sales of Plug-in Hybrids at Ford was 789 cars, 3 more than Toyota's Plug-in Hybrid sales.
Ford also sold 180 Focus EVs up from 158 cars sold in February. Ford has been selling these cars steadily over the months and has implied that they don't expect any sizable increase in sales of this model as the number of dealerships that can sell them triples over the next few months.
Mitsubishi have introduced a very low lease rate on their i-MiEV with costs as low as $69 per month. This spurred sales of the car in January and February when they sold more cars in those two months then they did in the whole of 2012. In March however they had cleared out most of their inventory of 2012 models and sales plummeted to just 31 cars. Mitsubishi is now down to about 200 cars in inventory and so far has made no indication that there will be a 2013 model.
Honda had their second best month ever when they leased 23 Fit EVs in March up from 15 cars sold in February. The Honda Fit is actually an excellent EV but the limited distribution and lease only option is a definite inhibitor of sales.
Honda does not seem to be making much of an effort to sell the Accord Hybrid either. Since they went on sale in mid-January they have sold only 45 cars with 26 of those in March and 17 in February. The main problem is extremely low inventory with only around 20 in stock. Honda have made it clear that they think that Fuel Cells is the way to go and it appears they are only attempting to make the minimum sales of plug-in cars needed to meet CARB requirements.
With the departure of Heinrich Fisker from Fisker Motors it looks like they are headed into the history books and they haven't produced a car since August of last year. Still, they did manage to sell 19 cars during the month of March leaving inventory at about 88 cars.
Coda, Wheego, Th!nk and Smart do not report month to month sales but we can assume that only a handful of cars were sold this month, especially since Coda is no longer building cars but still has cars in dealer inventory. Th!nk too is probably not producing cars at this time and Smart is waiting for Sales of the next generation Smart Electric Drive which goes on sale in march.
By my estimate there were approximately 7,800 plug-in cars sold in March, the best month for EV sales on record.
---
Sunday Mar 31, 2013 – 2013 New York Auto Show – Now that many companies have plug-in cars on sale the number of new announcements have gone to almost nil. This year's New York Auto Show was more focused on performance with new cars from Porsche, Lotus, McLaren, Bentley and Rolls Royce. There was a surprise though, and it came from luxury carmaker Daimler.
They had an all-electric version of their popular Mercedes-Benz B-Class hatchback. The surprise was that this was not just another concept destined to go nowhere, car is going on sale in the US in early 2014.
The B-Class hatchback will come with a 28KWhr lithium-ion battery pack which we can assume will be sourced from Tesla Motors. Daimler claims that this pack will be able to take the car up to 115 miles before needing a charge. Their press release didn't state the full recharge time but said it could be charged for a range of 60 miles in about 2 hours using a 240V charger.
The car is limited to a top speed of 100mph and can get from 0-60mph in less than 10 seconds. The system also includes pre-heating and pre-cooling which is a big help in managing range when the weather is very cold or very hot. Pricing for this car has not been announced yet.
Another announcement from Daimler said that the Smart ForTwo Electric Drive will be going on sale here in the USA starting May 1. The Smart ED offers 76 miles of range and takes about 6 hours to top up the batteries using a 240V charger. It can go from 0 – 60mph in about 12 seconds which is one second faster than the gas model.
The ForTwo Electric will be offered as either a Coupe or Convertible with the base model Coupe starting at $25,000 and the Convertible starting at $28,000. This pricing is before the $7,500 Federal tax credit and any state incentives. In California the price after incentives will be $15,000 for the Coupe and $18,000 for the Convertible which makes them very competitive with the gas model.
BWM also showed off their Active Tourer plug-in hybrid concept. The active Tourer is based on the Sub-1-series hatchback. It has a 1.5 liter 3 cylinder gas engine that is mated to an electric motor that produces a combined 190hp. The car is said to have a top speed of 124mph and will go from 0-60mph in less than 8 seconds. The Active Tourer is not production ready but is a hint of future cars coming from BMW.
Word from Cadillac is that when the ELR plug-in hybrid goes on sale not all of their dealerships will carry the car. The approach they are taking is similar to what Ford has done. Before they can sell the car each dealership has to undergo special training and also purchase special equipment to be able to service the car. The special equipment is going to cost around $15,000 and this is expected to deter some smaller dealerships from selling the ERL. Since the ERL is based on the Volt platform a Chevy dealership will be able to repair the ELR in the event that the local Cadillac dealership does not support this model.
So far there has been no word from Cadillac about when the ELR will go on sale, or about which dealerships are going to carry the car. They would only say that they are beginning to firm up plans for the 2014 model.
Subaru will finally enter the world of hybrid cars when the 2014 XV Crosstrek hybrid hits their dealerships this fall. The XV Crosstrek is a small crossover that is based on the Impreza platform. The car mates a 2.0 Liter four cylinder gas engine with a small electric motor to give a combined horsepower that is similar to the gas version. Electric power is supplied by a small NiMH battery pack under the rear cargo area.
The XV Crosstrek is expected to get EPA fuel economy ratings of 28mpg city and 34mpg highway which is not much of an improvement over the 25mph city and 33mph highway given by the gas only model. Pricing has not been announced yet so it will remain to be seen if the price premium for the hybrid drive train will be worth the extra 2mpg.
Nissan also hinted that they will sell about 1,900 of their US build Leafs in the month of March which is good boost over sales for the last few months where dealer inventory was low. Actual sales numbers will be available next week.
---
Sunday Mar 24, 2013 – Tesla Moving Forward – Back in 2006 when the film "Who Killed the Electric Car" was released the ending showed an electric sports car gliding noiselessly down a winding road. This was the first many of us had heard of Tesla Motors.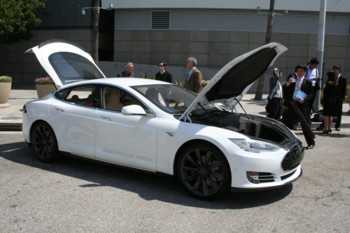 The car shown in the film turned out to be an all-electric sports car based on the Lotus Elise platform with a heritage based heavily on the AC Propulsion T-Zero. Tesla went on to put the car into production. The glider for the Tesla Roadster was built at the Lotus plant in the UK and shipped to San Jose, CA where the electric drive train and battery pack were installed. Tesla went on to build and sell 2,500 of these sports cars.
Unfortunately when Lotus revamped the Elise line they stopped manufacturing the Roadster glider. Tesla already had their next model under development but the lack of a product did leave a void. Fortunately Tesla was able to hang on and get their next offering, the Model S sedan, into production.
Things appear to be looking up for the Tesla. They recently announced that in the month of March they have been delivering 500 cars per week which is 100 ahead of the projected build rate of 400 cars per week. On March 21 they registered their 3,000 Model S in their home state of California.
Tesla estimates that since they delivered the first Model S on June 22, 2012 the cars have been driven over 12 million miles.
They hit another roadblock recently when a NY Times review of the network of public chargers they are installing on the east went horribly wrong, with the test car running out of juice after being left sitting overnight in sub-zero temperatures. The negative publicity did lead to a significant number of order cancellations but they actually took more orders in that same period than they had cancellations.
Tesla also does something different in their distribution network. Where all the other carmakers sell through a network of independent dealers, Tesla has taken the approach of selling through their Tesla Stores. They are currently expanding this network with new stores. They recently opened a store in Austin, TX and this will be followed soon by one in the Century City area of Los Angeles, CA, and Miami, FL will get a second store.
Tesla appears to be doing well at the moment and has done better than any other automobile startup in the last 50 years. I hope they continue to succeed in this very tough and competitive market segment.
---
Matt Wrote
I really enjoy reading your blog, but I have one small suggestion for it as well. Be careful as to not give Tesla bad press. And in this sense I mean misinformation rather than just negative information. You mention the New York times review of the Tesla model S, but you do not mention the scandal
behind the review, and the response of Tesla to the review. The negative review of the charging network was debunked, with much news coverage on the subject. The person reviewing the model S fabricated the story in an effort to hurt the image of Tesla and EV's in general. Check out a link or two, the Times journalist that created the fake review of the Model S almost lost his job over it. See links attached. All the best and happy
motoring!

http://www.bbc.co.uk/news/technology-21426132

http://www.businessinsider.com/tesla-ceo-versus-new-york-times-2013-2
---
---
Sunday Mar 17, 2013 – 2013 Geneva Auto Show – March is the time when the auto world heads to Switzerland for the Geneva Auto Show. This year electric cars took a back seat for the most part as many manufacturers have already shown their EV offerings at earlier shows. There were still a few interesting electric cars being show.
Although it debuted at the Paris auto show, French carmaker Exagon Motors showed off their Furtive-eGT electric sports car in Geneva. The car is built around a carbon fiber honeycomb monocoque body with the batteries contained in the carbon fiber floor to provide a low center of gravity without encroaching on the cabin space. The car is driven by two electric motors and also features a three speed automatic transmission. It is electronically limited to a top speed of 155 mph and can do 0-60 in 3.5 seconds. The company claims that the 53KWhr lithium battery pack will give a range of 223 miles in city driving and has a life expectancy of 3000 cycles.
The Furtive-eGE is designed to allow for a custom built body and because of this they are only building about 100 cars per year. Price starts at around €350,000
The Hikiro Fold is not new, but at this year's Geneva Show the company announced that they would start production of the car soon. The Hikiro is a single seat micro-car that is designed for use in cities where parking is very difficult. Entry to the car is via the front which lifts up similar to the old BMW Isetta. This requires that the car be "drive-by-wire". The steering wheel is pushed forward to get the car to move forward and backward for reverse. When stopped the car can be folded to about half its length and the wheels are able to turn over 60 degrees to make parallel parking easy.
This car has a top speed of 31mph. Its lithium Ion battery pack is capable of driving the car for about 75 miles between charges and can be recharged in as little as 15 minutes when utilizing its fast charging capability. It should be available in Europe in early 2014 at a price starting at about $16,000 and may be brought to the USA where it would be sold as a NEV.
There has been a trend toward small urban car concepts in recent times and at this year's Geneva Auto Show Toyota followed the trend with the i-Road Concept. The i-Road is a three wheel electric car that will seat two passengers in tandem. It features leaning technology, which Toyota call "Active Lean", so that the car behaves more like a covered scooter than a car.
The car is configured with two wheels at the front driven by in-wheel 2KW electric motors driven by a lithium-ion battery pack that can drive the car about 50 kilometers (31 miles) on a full charge. The i-Road is, of course, a concept car and is unlikely to make it into production.
At the opposite end of the spectrum, Land Rover showed off an electric version of the Defender. This SUV is driven by 70KW electric motor powered by a 300 Volt lithium battery pack that can provide up to 50 miles of range. Tests taking the car off-road, where speeds are very slow, resulted in a run time of about eight hours. The electric Defender comes with both regular and fast charging capabilities.
Even with the electric power drain the Land Rover Defender Electric has retained the off-road capability of its conventionally powered sibling including the ability to travel through water up to two and a half feet deep.
Rinspeed, who have shown up with unusual concepts at the Genva Auto show for the last few years, did it again with the microMAX. The MicroMAX is basically a mini-bus that can be used for carpooling, as an electric shuttle, or as a taxi.
The most notable feature of the microMAX is its height. At 2.2 meters (about 7ft) it allows most people to stand upright. This is done to allow for upright seating which increases passenger density in the van.
There was no real information about speed or range in the Rinspeed press release but it appears that there will be a variety of options at Prices ranging from €5,000 to €10,000.
VW displayed an updated version of their XL1 plug-in hybrid concept. This car is highly streamlined and sports a coefficient of drag of just 0.189. The car has a lithium Ion battery pack which, when fully charged which takes about an hour at 220V, can drive the car for up to 50 miles. Once the battery is depleted the 1.6 liter turbo-diesel takes over from the 27hp electric motor. Power is applied to the rear wheels via a 6 speed duel clutch automatic transmission. The car requires just 8hp to cruise at 62mph but this is a tradeoff against a 0-60 time of 12.7 seconds.
The XL1 is expected to go into production soon at the VW plant in Onsabruck, Germany but the price is expected to be a steep $60,000.
Currently the electric vehicle market is in the early growth stage where most manufacturers have vehicles in production or nearing production so there is not much new to show. The market is going to build slowly over time so it is likely that we will see a trickle of new models over the next few years until it becomes time to refresh the model lines of the current EV offerings. It's also interesting to see how manufacturers are experimenting with designs that lend themselves better to electric cars
---
Sunday Mar 10, 2013 – February 2013 EV Sales – Electric car sales rebounded a bit in February as inventory began to trickle into dealerships again. Sales were actually quite brisk considering that it is now going to be more than a year before buyers can take advantage of the Federal tax incentive unless they adjust their withholding to account for the credit.
GM moved back to the top of the pack in February selling a total of 1626 Volts which was a nice increase over January when they sold just 1140 cars, and well ahead of the 1023 cars they sold in February 2012. The improved sales have a lot to do with increased inventory at the dealers after the long shutdown of the factory over Christmas and New Year.
We don't know for sure how many cars Tesla delivered in February since they don't publish monthly sales numbers. We can get a fairly good estimate of the number of sales though since they are currently building 400 per week so that given that they had 4 weeks of production less 1 day for President's day they theoretically produced 1520 cars in February. Now, since some of these cars are built for export and Tesla has been known to not hit build targets I can make a pretty good guess and say that they actually delivered around 1400 Model S sedans.
What we do know, based on Tesla's recent financial filing is that they delivered 2400 Model S sedans in the fourth quarter of 212. They also indicate that while the New York Times article did result in a lot of cancellations they are still taking orders for both the Model S and the Model X at a brisk rate.
While most of the companies showed sizable increases in sales over January, sales of the Toyota Prius Plug-in fell to 693 cars from January's total of 874 cars. I am not sure why sales of the Prius Plug-in have been dropping apart from the fact that they still limit sales to just a handful of states, but sales have dropped steadily month after month since Toyota's record sales of 1899 in October, 2012.
Heavy discounts on the RAV4 EV more than doubled the sales of this all electric SUV from 25 units sold in January to 52 vehicles delivered in February. Keep in mind that this car is California only and I have been hearing reports of dealerships with less than enthusiastic sales people that have put off potential customers.
Nissan dealerships have been very short of inventory as the last deliveries of the 2012 from Japan were sold but the first deliveries of the 2013 Leaf from Tennessee were only just starting to trickle in. Given the limited supply I think Nissan are going to be quite happy with the 653 sales they rang up in February, just a slight increase over the 650 sales in January. Nissan has reported that almost all of the 2012s have now been sold.
The 2013 models are starting to arrive in dealerships in larger numbers now so March sales figure should be interesting. Nissan indicates that dealer inventories will not be back up to normal levels until April however.
Mitsubishi, who have been offering very low lease rate on the i-MiEV since the start of the year, had another record sales month selling 337 cars. When you add that to the 257 cars they sold in January the total of 594 cars sold so far in 2013 is 6 more than the 582 cars they sold in the whole of 2012.
Another car that was impacted by low inventory was the C-Max Energi, as Ford built up production of the Fusion Energi. Ford Still managed to sell 334 of the 5 seat crossovers in February but still less than the 338 cars they sold in January.
Indications were that the Fusion Energi wouldn't go on sale until March and there was almost no inventory on dealer lots, but Ford did manage to deliver 119 cars by the end of February. I have heard that the cars are beginning to arrive at dealerships in volume now so it will be interesting to see how sales go in March.
Sales of the Focus EV rebounded back from the dismal 81 sales in January to 158 cars in February. This is just a little below the 167 they sold in December. I expect sales to improve in 2013 as more dealers become certified to sell these cars now that the Fusion Energi is going on sale.
Honda started selling the Accord Hybrid on January 15 but sold only 17 Plug-in Accord Hybrids. They have made it clear that they consider fuel cells to be the way to go and don't appear to be making much of an effort to sell their plug-in vehicles. There appears to be little or no Inventory of the Accord Plug-in on dealer lots which probably accounts for their dismal sales.
Honda also leased just 15 of their Fit EV. This is still a big improvement over the 8 they leased in January.
Smart also released some sales numbers recently. It appears that they sold 2 Smart EVs in January and 1 in February. These are the old 2012 model, while the much anticipated 2014 model Smart ForTwo ED should go on sale in late March or early April and will have a lower price than the current model and will add a cabriolet to the line-up.
Fisker, Coda, Th!nk and wheego don't give out monthly sales totals but it is pretty certain that this will add up to only a handful of cars. Fisker and Coda are no longer manufacturing cars and while Th!nk is building cars again in Europe they have not been shipping cars to Th!nk USA recently. Inside EV estimates that Fisker sold 13 cars this month based on their inventory going from 120 cars down to 107 cars. I doubt that Coda has sold a car in the last couple of months although one of their dealers does have a car on eBay the auction doesn't end until March 12.
Plug-in Sales seem to be humming along at between 5,000 and 6,000 cars per month but it will be interesting to see how the lower prices on the Leaf and Smart ED will impact sales. We will know more once March sales numbers are available.
---
Sunday Mar 3, 2013 – Public Charger Shortage – Back in the days of the first California ZEV Mandate cars a charger infrastructure that was built here in California to make the cars more usable. The lack of electric cars at that time, coupled with the fact that most of the charging was done at home meant that these chargers were seldom used. Things are starting to change!
California leads the nation in electric car sales. Approximately one third of all plug-in cars sold are purchased in this state. It's no wonder then that the charging infrastructure is beginning to be stretched thin
The original problem began to show at LAX where, because Plug-in cars were allowed to park for free for up to 30 days in lots 1 and 6, chargers quickly became a premium and there were many more electric cars parked there than the chargers could accommodate. This led to a situation where pure electric drivers could no longer use their BEV to drive to the airport because they could no longer rely on getting a charge.
The obvious answer was to add more chargers but instead the city of LA took the opposite position and simply stopped the 30 day free parking effective March 1. This should free up the charger situation but of course now the cost of parking in the short term lots becomes prohibitive.
Now that plug-in cars are becoming much more plentiful here in LA I am beginning to find it more common to get to a charger location and find it busy. One of the places I visit often is Westfield's Century City Shopping Center. There they removed the old legacy chargers and replaced them with 110V outlets. It is not uncommon to find at least one car charging there when I visit and I have had a couple of occasions where both spaces are occupied.
Yesterday my wife and I had lunch there and when I arrived one of the spaces had a Leaf charging so I took the other spot and plugged in. When we returned after lunch and some shopping the Leaf had gone and in its place was a Chevy Volt. It used to be that I had the EV spaces to myself but now there is usually at least one spot taken.
I've found a similar situation in Beverly Hills where the city installed chargers at all of their parking lots. Each Monday evening I take my wife to Physical Therapy in Beverly Hills. I park at the City lot on Cannon Drive. It is quite common to find at least one other car charging there but two weeks ago when I got to the parking lot both chargers were busy, one charging a Volt and the other connected to a Tesla Model S. The chargers are the dual 220V/110 Chargepoint chargers so I was able to connect up my110V charger to one of the units and get a partial charge. When I got back to the parking lot both spaces had been vacated.
I also park at the lots on Crescent, and Bedford on occasion and have had similar experiences there recently. I don't recall any additional chargers being installed in the West LA area for quite some time so things are only going to get worse as hundreds more electric cars are added each month to those already competing for these limited resources.
This situation has started up the old debate about pure EV v plug-in hybrid that we had after GM first showed their Volt concept. The truth is that a plug-in hybrid doesn't really need to charge at a public charging station to make it home while a BEV does. Some BEV drivers have vocally expressed the idea that only pure electric vehicles should be allowed to use public charging.
I have heard stories about EV drivers unplugging plug-in hybrids to get a charge. This gets complicated in California since the law says that a car must be plugged in for the purpose of charging or it can be towed. That means that if an EV driver unplugs a PHEV then that car could be towed. Many people get confused about the law, thinking that it makes it illegal to unplug another car. There is nothing in the California law that makes it illegal to unplug another car, which is one of the failings of the law. So far I haven't heard any reports of anyone being towed after being unplugged.
In my opinion the whole purpose of paying the premium for driving a Plug-in Hybrid is to drive as much as possible on electric only power. A car like my Plug-in Prius only gets around 11-13 miles of range from a full charge and so to maximize electric only driving public charging is necessary. If an EV driver drives beyond their capability to return home without charging and then finds that the charger isn't available then that is a problem but it is a failure to provide sufficient charger infrastructure rather than a PHEV being plugged in to the charger.
Let's take the case the west side of LA. Charging takes a significant time for most Plug-ins so what is needed is chargers at locations where people stay a long time like Shopping Centers, Cinemas and Concert Halls. In this area such infrastructure is sadly lacking.
Santa Monica place has 6 chargers in the Broadway parking structure with one of these being an old fashioned small paddle inductive charger that hasn't worked for several years now. It is not unusual to find the other chargers in use. There are also chargers on Santa Monica Pier.
Westside Pavilion used to have two of the old legacy chargers but these were removed when the area was remodeled to add the Landmark Cinemas and they were never replaced.
Fox Hills Mall in Culver City also has no chargers, although Plugshare.com reports that management is OK with EV drivers using the 110V outlets in the parking garage. Also in Culver City the old Helms Bakery, which is now a restaurant and shopping complex, boasts two J1772 chargers.
Westfield's Century City used to have 2 public J1772 chargers and three legacy chargers. The legacy chargers were replaced with a 110V outlet with 4 receptacles and the J1772 chargers were removed when Coda shut down its Experience Center at the mall. Tesla is taking over the Coda space and it does appear that they will install chargers, but since the Tesla chargers are not standard J1772 units these chargers will more than likely only be useful for Tesla vehicles.
Beverly Center has no chargers, neither does the Beverly Connection across the street.
The Grove has 6 chargers but these are Blink units with a guest price of $2 per hour so they are really expensive unless you really need a charge to get home.
Hollywood is particularly short of chargers. There is none at Hollywood and Highland, nor at the large shopping center complex on the corner of Santa Monica and La Brea which is actually in West Hollywood.
Universal Studios is also devoid of chargers. Plugshare.com reports that there are 110V receptacles in the Curious George parking lot but as far as I know there is no approval by management to allow plug-in drivers to use these receptacles so drivers do so at their own risk.
All in all, the charger infrastructure is adequate in West LA but could be a lot better. It is not to the point yet where it can be solidly relied upon to the point where people can drive well beyond their range and be confident that they can grab a charge at their destination.
Personally I would like to see an emphasis on building a charging infrastructure at hotels. Now that lots of people have plug-in cars that can be used for long distance travel it makes a huge difference if you can charge at your destination as I found out using the chargers at Pechanga while on a road trip to Temecula.
---
Sunday February 24, 2013 – NY Times v Tesla– On February 8 John Broder published an article in the New York Times about his test drive of the Tesla Model S. The test drive, set up by Tesla, had been targeted as evaluating the fast chargers recently installed on the East Coast that should allow a Tesla Model S, at least the 85Kw version, to be driven from Washington DC to Boston. The test drive did not go well.
The first problem was the extreme cold weather, the coldest day of the year to date. According to the article, after a great deal of range anxiety and the car getting so low on battery that it shut of the heater, he finally made it to the fast charger and charged up. He drove on to Stonington, CT where he spent the night.
In the article he said that when he parked the car it had a range of 90 miles indicated, plenty of range to get back to the charging stations, but after a cold soak overnight the start-up range only registered 25 miles, way short of the distance needed..
According to Mr Broder when he called Tesla they told him to condition the battery pack by sitting in the car with the heat on low for half an hour. After this process the range display was down to 19 miles. Tesla found a nearby charging station and had him drive there and charged the car. For some inexplicable reason he stopped charging well before the car reached anything close to the range that would be needed to get back to the fast charger. The result was that the car shut down on the way back to the Fast charger and had to be towed on a flatbed truck to the charging station.
Elon Musk, Tesla's CEO, quickly tweeted foul and even accused Mr Broder of intentionally causing the car to run out of juice. The next day he released a blog that was supposed to be an analysis of the data logged by the car during the test drive.
His contended that the Tesla battery never ran out of juice. According to the guy driving the tow truck it appears that the car actually had a dead auxiliary battery so I don't know why the car needed to be towed rather than just jumping the Aux battery but the car certainly was dead.
Mr Musk also accused Mr Broder of driving much faster than he claimed and also disconnecting the car from the charger before it was fully charged. He also claimed that the logged data showed that Mr Broder had been driving around the parking lot before plugging in to the fast charger. His interpretation was that Mr Broder was deliberately trying to run the battery down. Mr Broder shot back that he had difficulty finding the charger and had to drive around the lot several times before he found it.
Now, I have to ask, if Mr Broder was writing an article about the fast charger network, wouldn't having difficulty in finding the charger rank as a key story element?
I'm personally not convinced that Mr Broder deliberately set out to sabotage the test drive but I do have some questions. For example, if you wake up and have 25 miles showing on your range display then the obvious thing to do is charge the car. I can't understand why, when Tesla recommends plugging in the car when not in use, the car was let sit overnight in sub-zero temperatures. Assuming the car was sitting for 10 hours overnight then even at 110V the car would have added at least 50 more miles of range.
Still, Mr Broder said that when he reported the low range to Tesla he was told to condition the batteries by letting the heater run on low for half an hour. If the car had been connected to a charger this would probably have done the trick but with the car just sitting in the parking lot I don't understand what other outcome would have been expected other than the reduced range that Mr Broder saw.
It also seems bizarre that Mr. Broder, who had been suffering extreme range anxiety the day before, would stop charging when the car was showing a range less than half the range he needed to make it back to the fast charger. He claims that Tesla told him he had enough range, but given his prominent display of range anxiety the previous day I find it hard to believe that he would set off on a trip with the range showing only half of what he needed.
It appears that Mr Broder's article had a huge impact on the sales of the Model S. Mr Musk claims that after the article appeared Tesla had hundreds of order cancelations which reduced Tesla's stock price and cost them an estimated $100M.
CNN tried to duplicate Mr Broder's test drive and, with the temperature about 10F warmer, had no trouble at all driving from Washington to Boston. Several Tesla Model S drivers have also done the drive although a couple of the drivers had problems with one of the fast chargers. It should be noted that all these drives were done in a single day so nobody left their car sitting overnight without being attached to a charger.
It is clear that even with the range of the Tesla Model S and the availability of fast chargers, long distance travel requires a little more planning and a good understanding of the particular requirements of the EV. I personally know people who have done long distance drives in other EVs including Drives between Los Angeles and San Francisco in Tesla Roadsters and the older RAV4 EV so long distance travel is do-able.
---
Sunday February 10, 2013 – EV Sales for January 2013 – January saw a huge drop in EV sales over December although sales numbers were still ahead of those that we saw for January 2012. There were several mundane reasons for this so it should have come as no surprise to anyone.
One of the primary reasons for the low sales was that January is usually a slow month in car sales as a combination of winter weather and the aftermath of Christmas and New Year tends to keep buyers away. Electric car sales were hit more than ICE cars as people scrambled to get cars in December so they could take advantage of the tax credit on their 2012 taxes.
While we probably won't know how many they actually sold until they publish their financials later in the year it is a pretty safe bet that the highest sales in terms of plug-in cars in January went to Tesla Motors. They are now producing 400 cars per week so we can be pretty certain that their sales for January were in the 1,200 to 1,600 range. Since they have about 13 months of orders on the books, and should be able to sustain the current build rate, we can expect those numbers to repeat for the rest of this year.
Sales of the Chevy Volt fell to second place with their worst monthly sales numbers since January 2012. They sold just 1,140 cars down from the 2633 cars sold in the previous month. In part this was caused by a drop in vehicle inventory due to the Hamtramck plant being shut down for three weeks over Christmas and New Year.
The Toyota Prius Plug-in came in at number three with sales of 874 cars. This was down considerably from the 1,361 cars they sold in December. Toyota was one of the few EV sellers that weren't affected by low inventory but the low sales can more than likely be attributed to the regular slow sales in January.
The RAV4 EV also experienced low sales with only 25 units being sold. This is less than half the 52 cars sold in December.
Nissan was in the middle of the switch from Japanese built 2012 model to the US built 2013 model and since no 2013 cars had been delivered to dealership, and shipments were no longer arriving from Japan, inventories were very low with some dealers reporting that they had no Leafs on their lot. Nissan still managed to record 650 sales for January, down from 1489 sold in December. It is unclear if inventories will recover in February so expect slow sales again this month.
Low inventory also impacted sales of the C-Max Energi as Ford ramped up to begin selling the Fusion Energi. At the start of January Ford only had 175 cars on dealer lots so sales of just 338 cars shouldn't be a big surprise. This is considerably lower than the 971 units they sold in December. The Fusion Energi should go on sale early this month so it will be interesting to see how many Ford sells in February.
Sales of the Focus EV also fell from 167 cars in December to just 81 in January. I'm not sure if lower inventories had anything to do with the lower sales numbers or if it was just an effect of the overall slow January Sales.
The one bright spot in January was Mitsubishi who had some heavy discounts on the i-MiEV with lease rates as low as $69 per month. They managed to sell 257 cars in January; their best month ever. Sales in previous months were 77 units.
Fisker does not report sales but since they haven't built a car since July of last year and dealer inventory dropped by 20 cars in January it's a pretty safe bet that they sold 20 cars during the month.
Honda also had a very poor month leasing only 8 Fit EVs during January, down from 19 cars in December. The Honda Accord Plug-in officially went on sale on January 15 but it appears that there were very few cars in dealer inventory and Honda only managed to sell 2 cars in January. Hopefully inventories and sales will pick up in February.
Coda, Th!nk, Wheego, and Smart don't report sales but it is quite likely that they only sold a handful of cars between them during January.
Car sales usually pick up in February and I expect to see better EV sales next month. A lot will depend on if the companies, especially Nissan, can get sufficient inventory to dealers to allow sales to pick up. Only time will tell.
---
Sunday February 3, 2013 – EU Looks to Expand Charging Network – There has long been a debate about the need for public charging stations to drive EV Sales. Some people think that lack of charging infrastructure is the primary reason for people not buying electric cars.
The EU is looking at legislation that would finally give a definitive answer to this question..
The EU proposal would require that each of the counties in the Union would have to install a minimum number of public charging stations by 2020. The proposal, for example, would require Germany to have 146,000 public charging stations while the island of Malta would be required to have 1,000.
In Europe this makes lots of sense since many citizens live in homes that don't have a garage or place to park. They have to park on the street so they can't even be sure of a parking spot near enough to their home to run an extension cord. Their only option is public charging stations. We have a similar problem here in the US but a much larger percentage of people here have access to home charging.
Even if we take a look at the European country that has been most successful at adopting electric cars it is still difficult to determine if public infrastructure is available or not. In Norway, with a population of five million people, more than 10,000 electric vehicles were sold last year. That is 5.2% of all car sales, with the Nissan Leaf ranked 13 in sales for all vehicles.
So what makes Norway so successful? It appears to be a combination of tax incentives, perks such as use of bus lanes, free parking in city centers, and avoiding congestion charges. Norway also has one of the biggest public charging station network per capita with 3,500 charging station and 100 fast chargers.
It is clear that the EU has not rolled out as many electric cars has they had expected. They are blaming this on the lack of public charging stations thus the plan to expand the charging network. I think this is only part of the issue.
One thing that puts people off buying electric cars is the cost. When people buy cars they often only look at the up-front costs not the overall cost of ownership. It is becoming more common for people to look at mpg as part of their decision making process but it is still the bottom line number to drive the car off the lot that counts.
Now, electric cars are expensive up-front with relatively low running costs. What makes the car so appealing in Norway is that the government doesn't charge import taxes on electric cars which makes their price very competitive with ICE vehicles.
I think that infrastructure is an important for the adoption of electric cars but I think the biggest barrier to the purchase of an EV is the high cost of these cars. The good news is that costs are starting to decline as sales volume increases. Both Smart and Nissan recently announced lower costs on their electric cars. Mitsubishi recently placed incentives on the i-MiEV and in January they sold almost as many cars in the US as they did in the first nine months of 2012.
The real chicken and egg situation in the same as we see in nearly any manufactured item. Volume starts low, prices are high, and the typical purchaser is the early adopter. As the item becomes more accepted in the market place then more people begin to buy the it. Volume goes up and prices begin to decline. As volume increases economies of scale kick in, prices continue to drop. The item is now accepted in the market place and becomes the normal item to purchase. A good example of this is the flat screen TV. Ten years ago the flat screen TV was very expensive, now you are lucky if you can find a TV that uses a tube, everyone buys flat screen TVs at prices that are as low or lower than the old tube TVs from ten years ago.
The sale of electric vehicles is just starting to enter the second phase of this model. Prices are beginning to fall and as they do, volume will continue to increase.
To kick start the EV market government should look to purchase more electric vehicles. This was done in California during the 1997-2002 when the EV1 and the original RAV4 EV were available. An example would be the city of Beverly Hills. They had 10 RAV4 EVs and they worked perfectly for the city. When the leases ran out they returned to cars to Toyota and replaced them with a variety of ICE models including a couple of hybrids. This time around the city has only 1 EV in its fleet, a Miles ZX40S NEV.
Now, Beverly Hills does have one of the most comprehensive networks of public charging in the country with chargers at all the city owned parking structures around the city. It would be nice if they also began to bring electric cars into their fleet again.
In Europe if most cities added just a few electric cars to their fleets it could stimulate sales. Fleet vehicles don't typically need public charging, a 60 mile range is usually quite adequate to cover the daily usage of these vehicles so overnight charging is all that is needed.
Do we need more public infrastructure? Of course we do.
What is especially needed here in the USA is the ability to charge at work. Where I work there is one other plug-in Prius in addition to mine, at least one Nissan Leaf, and one Volt. I think there are probably more but these are the ones I see around the parking lot. Being able to charge at work, even if it is just at 110V, would make it much easier for people to buy electric cars without worrying about range issues.
I also think that more hotels should be encouraged to set up charging stations. This may not be required for the current generation of electric cars since they typically have only a 60-70 mile range. However, it would allow for relatively short trips, for example from LA to Ventura or Newport Beach. It would also allow plug-in hybrids to run electric only when in town; a good thing for air quality.
It will be interesting to see if the EU manages to establish minimum numbers for EV charging stations, and if so if this has a material impact on the number of electric cars being sold. In the end there are so many factors involved I doubt we will ever get a clear answer.
---
Sunday January 27, 2013 – 2013 Detroit Auto Show – This year's Detroit Auto show is winding up and this year the automakers took up most of the show announcing updates to their current internal combustion engine fleet. Of course there are a lot of electric cars on sale and these were on display but not much in the way of new announcements.
The biggest one from the electric vehicles standpoint was from Cadillac which showed off the much anticipated ELR plug-in hybrid. The ELR is built on the same basic platform as the Chevy Volt but apart from the power train, which has been tuned up somewhat for the ELR, the two cars are quite different.
The ELR has a 1.6 inch wider track than the Volt and also uses fatter tires. Even so, the lower roof line means that the car has less internal room than the Volt. The ELR also adds an additional 300 lbs. in curb weight. Electric only range drops to 35 miles from the Volt's 38 miles. This is accomplished by utilizing more of the battery packs overall capacity.
The ELR will go into production at GM's Hamtramck plant alongside the Volt starting toward the end of this year with first deliveries scheduled for early 2014. Pricing hasn't been announced yet but is expected to start at around $60,000.
Nissan also announced changes for the 2013 Leaf. Production of the 2013 Leaf, for the US market, moves to the Nissan plant in Smyrna, TN. A new trim-level, S, will join the existing SV and SL packages. The S trim will now start at $29,650 with the top of the line SL model starting at $35,680.
The SV and SL models will come with a 6.6Kw onboard charger, which will half charging time at 220V. The S model comes with the older 3.3Kw charger with the faster charger as an option.
The charger has also been moved to the front of the car increasing cargo space by 9.5 cubic feet. Nissan has also tweaked the aerodynamics of the car and for the SV and SL models have also added a B mode that increases the amount of regeneration. These changes should add a modest increase in range but the EPA ratings have not been published yet.
Nissan CEO Carlos Ghosn wasn't forthcoming on Nissan's sales goals for the 2013 Leaf, only noting that sales should be at least 20% higher than the 2012 model.
Tesla Motors announced their Model X concept crossover at this year's show. There didn't seem to be any major difference between the model shown in Detroit and the one that they revealed in California on February 9 last year.
The Model X is set to begin production in 2014 so base price and EPA range ratings are still not available. Tesla did make one additional announcement; they are going to be expanding their string of fast charging stations from the current 9 up to 100 within the next three years. The fast chargers allow Tesla Model S, drivers to charge up to 50% in 30 minutes for free.
The other interesting vehicle on show was the Plug-in Hybrid truck from another start-up company Via Motors. The Via Motors XTRUX is a Chevrolet Silverado sized truck that provides over 800hp.
The truck has a 24Kwhr lithium-Ion battery pack that drives a pair of 403hp electric motors. Once the battery charge gets low a 3.5 liter Chevy V8 engine takes over. Via Motors claims the battery will allow the truck to travel 35 miles on a charge and the XTRUX will average 100mpg over the typical drive cycle. The truck also has the capability of providing power to run power tools for those that are looking for a more environmentally friendly work truck.
Price and EPA fuel economy numbers are not currently available for this truck
They also went on to announce an all-electric full sized 4WD SUV and a Plug-in Hybrid cargo van.
We continue to see new electric and plug-in hybrid vehicles coming to market. What we are also beginning to witness is a lowering of costs for these vehicles as increased production and improvements in battery technology slowly begin to bring prices down. We saw this with the Smart ED announcement at the Los Angeles Auto Show and now with the 2013 Leaf. I expect this trend to continue over the next few years.
---
Sunday January 20, 2013 – Hottest Years on Record. – Earlier this month the National Oceanic and Atmospheric Administration (NOOA) announced that 2012 had been the hottest year on record for the lower 48 states, beating the previous hottest year, 1998, by one degree Fahrenheit.
Now, global warming skeptics often like to tell people that temperatures reached a peak worldwide in 1998 and things have been cooling off since then. When you point out that 2012 was hotter they will, of course, remind you that we should be looking at global temperature not just localized regions like the lower 48 States here in the USA.
They are correct; we should be looking at global temperatures. So how did 2012 stack up?
According to NOOA 2012 was the 10th hottest year on record. Still, there was only one year in the twentieth century that was hotter – 1998. Why would we see the hottest year on record in the USA but the year only rank 10th globally? The answer lies in La Niňa.
La Niňa is a cooling affect that happens periodically when the equatorial regions of the Eastern Central Pacific Ocean become cooler than normal. 2012 was a La Niňa year so global temperatures were affected by this phenomenon.
The opposite of La Niňa is El Niňo where the equatorial regions of the Eastern Central Pacific Ocean become hotter than usual. 1998 was an El Niňo year.
So what of the claims that the earth's temperature has been cooling since 1998?
Well, most presentations that use this claim fudge the data by using only data up to 2000 as the basis. In this data 1998 is truly the hottest year on record. But, 9 of the ten hottest years ever recorded have occurred since 2000. Of these two years, 2005 and 2010 were both hotter globally that 1998. It should be noted that 2010 was also an El Niňo year.
It is becoming harder to deny that the world is getting warmer. There are still skeptics out there that deny global warming exists at all, and those that live in colder climates like Minnesota for example still have difficulty in seeing a problem with the warmer weather.
Those on the eastern seaboard saw just how the effects of global warming can impact them when super-storm Sandy blew in causing catastrophic flooding and leaving large areas of the region without electricity.
It's time to stop denying global warming and start taking action to curb the amount of greenhouse gasses in the atmosphere. We need to move quickly toward the use of renewable energy, use that energy more efficiently, and convert our transportations systems from the use of fossil fuels to the use of electricity.
---
Sunday January 13, 2013 - Plug-ins and Apartment Dwellers - Plug-in cars require access to a plug to feed them. This is often a problem for apartment dwellers since parking is often a long way from the apartment and even if there is an electric outlet in the parking area the owner is more than likely unwilling to let their tenant plug in.
This situation applies equally to condo owners and those town dwellers that have no parking and have to park on the street. So if you are in this situation and really want to drive a plugin car what are you to do?
The first step is to evaluate your situation and figure out what will fit your lifestyle.
The first step is to review your parking situation. Do you have an electric outlet convenient to your parking spot? If so check with the apartment owner or condo association to see if you can use it It's always a good idea to offer to pay for the electricity you will use.
If there is no outlet near where you park then one option is to ask permission to install an outlet at your parking space. Many apartment renters and almost all condo owners have their own electric meter so the outlet could be connected to their own meter which eliminates the issue of who pays for that juice. Since apartments tend to be less permanent than homes I can understand if people are reluctant to spend money installing an outlet.
Another place to look for possible charging opportunities is work. More and more companies are starting to provide charging spots for electric car drivers. If there are no charging spots then try talking to the facilities department. They may be willing to allow you to plug in.
The other option is public charging. There are a growing number of public charging stations being rolled out across the country although coverage so far is spotty. If you are in an area where there are public chargers, check out the cost. Charging runs anywhere from free to $4 an hour.
If you can't find anywhere to charge then a plugin may not be practical. Still, I know there are a few people who have bought a plugin hybrid even though they have nowhere to plug in. The idea might be based on the idea that at some point they will move to a new location, or in the case of California it may have been done just to get free access to the carpool lane.
Now, being an apartment dweller I have lived with a Prius Plug-in for almost six months. I have nowhere to plug in my car at home. My former employee had EV charging in their garage but after being laid off my new job doesn't currently have anywhere for me to charge so I use public charging when I can. Fortunately here in Southern California there is a good number of charging spots that I can use.
Based on my experience I wouldn't recommend a pure BEV to anyone. Yesterday for example I was charging at Century City and it appears I don't think it was done maliciously. When I came back to my car I found the connector plugged in but it hadn't been pushed all the way home so there was no charging. There was a Volt next to me so perhaps he tried to see if the Prius EVSE would work with the Volt, or perhaps someone was curious and played with the connector. The bottom line was that instead of 10 miles of EV range I had 1.3 miles of EV range, not enough to get me home. No problem for the Prius Plug-in but it could have left a BEV driver stranded.
With the Plug-in Prius I can get more than 50 mpg in hybrid mode even without charging although a few charges greatly improves mpg. There are lots of other choices for plug-in hybrids, the Chevy Volt, and Ford C-MAX Energi and the Fisker Karma are available right now with the Honda Accord Plug-in and the Ford Fusion Energi in dealers by the end of this month.
For anyone in my position a Hybrid would be more cost effective than a plug-in but with just a little bit of charging the plug-in will work for those that want the experience of driving in EV mode but don't have the necessary access to regular charging required to make a pure electric car work.
---
Sunday Jan 6, 2013 – December 2012 EV Sales – Plug-in Hybrids continued to lead the way in December. The clear winner in sales was the Chevy Volt regaining the lead this, month followed by the Nissan Leaf, with the Prius Plug-in dropping to third place.
Chevrolet managed to sell 2,633 Chevy Volts in December which was their 4th best month ever and was a big improvement over the 1,519 cars they sold in November. In 2012 a total of 23,451 Volts were sold.
Nissan had a very good sales month in December considering that the arrival of the 2013 Leaf, which will introduce a lower cost base model, is expected soon. They sold 1,489 Leafs in December, down from the November number of 1,539 cars sold, but still their 3rd best month of the year. Nissan managed to sell 9,819 Leafs in 2012.
Sales of the Plug-in Prius continued to hum along with an additional 1,361 cars leaving dealer lots during the month. Toyota has sold a total of 12,750 Prius Plug-ins since they went on sale at the end of February, 2012.
Toyota also heavily discounted the RAV4 EV but still only sold 52 vehicles in December surpassing their November sales count by 20 cars. By my count they sold 192 of the 103 mile range EV since they went on sale in September.
In its second month of sales Ford sold 971 of its C-Max Energi plug-in hybrids. This was down from the 1,259 cars they sold in November, but this appears to be due to low inventory as Ford began getting ready for the launch of the Fusion Energi at the end of this month, rather than a lack of demand. For the year ford has sold 2230 C-Max Energi. The most interesting thing about Ford's sales is that most of them have come from states other than California which is opposite the usual pattern where about one third of all plug-in car sales are in that state.
Sales of the Ford Focus EV dropped slightly from 179 sold in November to 167 in December but that was still the 2nd best month for Focus EV sales. Ford has sold a total of 685 Focus EVs since they started deliveries at the end of May.
Mitsubishi heavily discounted the i-MiEV in December and sales increased again from 42 sold in November to 77 sold this month.
Honda had another disappointing month with the Honda Fit and I think the bulk of their problem is that the car is only available for lease not for sale which is probably discouraging potential buyers who are more likely to opt for a Leaf or Volt. In December Honda sold just 19 cars, down from an all-time high of 26 cars in November. In 2012 Honda leased just 74 Fit EVs.
Tesla, Fisker, Coda, ThInk, Wheego, and Smart don't report monthly sales numbers but it's a pretty safe bet that only Tesla had a significant number of sales this month. Coda laid-off 15% of its staff recently including most of their sales staff. Fisker is no longer producing cars until it finds a replacement supplier for battery packs. Th!nk continues to deliver a handful of cars each month as does Wheego. Smart is probably not selling cars at the moment as it gears up for the next generation Smart EV expected in the spring.
We won't know for sure how many of their Model S sedan Tesla has delivered until they release their quarterly report in February but InsideEV estimates that they delivered 1,500 cars this month. If that is true then they outsold the Nissan Leaf.
January of 2013 will see two new Plug-in Hybrids arriving on the market. The Ford Fusion Energi, and the Honda Accord Plug-in. It is unclear at the moment how this will impact sales of the existing Plug-in Hybrids especially the Toyota Prius Plug-in, but at least choices are growing.
---