2012 Blog Archive
---

About EVFinder

EVents Calendar

FAQ

EV Selector

Links

The EV Finder Archive

Site Map
---
Sunday Dec 30, 2012 – Trouble at Coda
Sunday Dec 23, 2012 – Tesla Profitability
Sunday Dec 16, 2012, 2012 – Fisker's Troubles
Sunday Dec 9, 2012 – November 2012 EV Sales
Sunday Dec 2, 2012 – 2012 LA Auto Show
Sunday Nov 25, 2012 – Prius Plug-in Road Trip
Sunday Nov 18, 2012 – Ford's Plug-in Push
Sunday Nov 4, 2012 – Not ICEing, EVing
Sunday Nov 4, 2012 – October 2012 EV Sales
Sunday October 28, 2012 - Who Pays for Charging
Sunday Oct 21, 2012 – Prius Plug-in Month 2
Sunday Oct 7, 2012 – September 2012 EV Sales
Sunday Sep 30, 2012 – 2012 Santa Monica Alt Fuel Vehicle Expo
Sunday Sep 23, 2012 – Climate Change Policy Failures
Sunday Sep 16, 2012 – Plug-in Prius the First Month
Sunday Sep 9, 2012 – August 2012 EV Sales
Sunday September 2, 2012 – CAFÉ 2025
Sunday August 26, 2012 – Romney Energy Plan
Sunday August 19, 2012 – i-MiEV v Pikes Peak
Sunday August 11, 2012 - Prius Plug-in the First Week
Sunday Aug 5, 2012 – July 2012 EV Sales
Sunday Jul 29, 2012 – Drought and Your Gas Tank
Sunday Jul 22, 2012 – Understanding the EV Fueling Model
Sunday Jul 15, 2012 – Delivery by Electric
Sunday Jul 8, 2012 – June 2012 EV Sales
Sunday Jul 1, 2012 - If You Build it They Will Come
Sunday June 24, 2012 - Where to Put Chargers
Sunday Jun 17, 2012 – Hatchet Job From CNN Money
Sunday Jun 10, 2012 – Lots happening in June 2012
Sunday Jun 3, 2012 – May 2012 EV Sales
Sunday May 27, 2012 – Little Things
Sunday May 19, 2012 – Storage for Renewable Energy
Sunday May 6, 2012 – Plug-in Sales for April 2011
Sunday April 29, 2012 – Th!nking of Going Electric
Sunday April 22, 2012 – UCS Report on EVs and Global Warming
Sunday April 15, 2012 – March 2012 EV Sales
Sunday April 8, 2012 – 2012 New York Auto Show
Sunday April 1, 2012 – OLEV Technologies
Sunday March 25, 2012 – Power Crisis Settlement
Sunday March 18, 2012 – EV Charging in Condos
Sunday March 11, 2012 – 2012 Geneva Auto Show
Sunday March 4, 2012 – Are Electric Cars Doomed?
Sunday February 26, 2012 – Tesla Brick
Sunday February 19, 2012 – Taxing Electric Vehicles
Sunday February 12, 2012 – Tesla's Next Big Thing
Sunday February 5, 2012 – Revenge of the Electric Car
Sunday January 29, 2012 – ZEV Mandate Part 4 a New Beginning
Sunday January 22, 2012 - Prius Curse
Sunday January 15, 2012 - 2012 Detroit Auto Show
Sunday January 8, 2011 - 2011 EV Sales
Sunday January 1, 2012 – 2011 A Retrospective

Follow evfinder.com on Twitter
---
Sunday Dec 30, 2012 – Trouble at Coda – I was on Prius Chat earlier this week reviewing a thread about charging at Century City Shopping Center here in LA and someone made a comment that the six Coda installed J1772 chargers had been removed. Someone also mentioned that the Coda Experience Center had been shut down.
On Thursday night my wife and I stopped by the Mall and I was able to confirm that the chargers had been removed. There were still a couple of Coda Sedans parked in two of the spaces but three of the other spaces had reverted to regular parking spots. On Saturday I parked in one of these spaces and when I returned to the parking about 1pm the two Sedans had gone.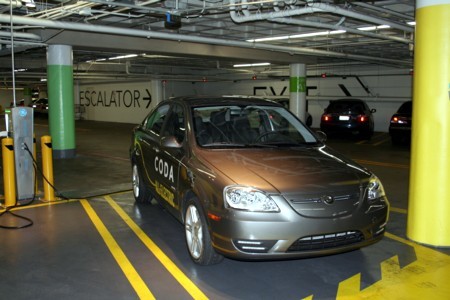 Further research showed that things were not going well for Coda. They have sold less than 100 sedans since they went on sale in March. This isn't that surprising since the car, which they are only selling through 4 dealerships, is priced about the same as the Nissan Leaf and Ford Focus EV, both mainstream automotive manufactures.
To add to their woes the NHTSA issued a recall that affected 78 of their vehicles because of a faulty side curtain airbag that may not deploy properly. Adding to the pain the NHTSA released their crash test ratings for the Coda Sedan and while it scored 5 stars in side impact, rear impact, and rollover tests it only managed 2 stars in the front impact test for an overall rating of 4 stars.
The result of these two actions by the NHTSA has been to slow Coda sales to almost nothing. In addition Coda has been trying to raise $150 million in capital but reportedly only managed to get $21.5 million.
On December 11 Brad Berman at plugincars.com broke the news of layoffs at Coda Automotive. According to plugincars.com Forrest Beanum from Coda responded with the following statement. "CODA has released approximately 50 employees or 15% of our workforce across all functions to streamline our operations and right-size the Company. The Company is taking this action to better position our business going forward. We remain committed to the continued development and distribution of our products."
It seems that CODA laid-off a good number of their sales and marketing staff including the folks working at the experience center in Century City. It also appears that they let go most of the engineers working on their next generation vehicle.
The whole situation does not look good for CODA. The poor crash test performance in frontal impact, added to the car's dated look, are likely to mean very few sales. Even the bigger battery capacity and resulting longer range is unlikely to lure buyers away from more established makes like the Nissan Leaf and Ford Focus EV. The tiny dealer network, and the idea of selling only in California, is also going to be a big drawback.
Things are looking pretty bleak for CODA Automotive as a viable maker of electric cars. Unless they can manage some hefty fleet sales in the near future it seems unlikely that they will be able to continue marketing the car.
CODA does have other things to fall back on. They have a technology partnership with a battery company based in China that could make them a major player in the grid storage market space.
I've said this plenty of times in the past, starting up a viable car company is very difficult. That's why the young kid on the block when it comes to major car makers is 72 years old. It takes a lot of capital, a lot of know-how, and a lot of hard work to get a car onto the market, sell it in volume, and grow the business. It is not surprising to see these start-ups fail.
CODA may continue to produce and sell a small number of CODA sedans but it seems unlikely now that they will ever become a volume manufacturer without a major cash infusion.
---
Sunday Dec 23, 2012 – Tesla Profitability – Earlier this month Elon Musk tweeted to his followers that the company had been cash flow positive for the previous week. This is the first time that Tesla has been cash flow positive since back in 2009 when it was delivering the Roadster.
While this is a minor triumph for the company, and there is lots of work ahead to maintain profitability, the news is nevertheless very good for Tesla Fans.
After pointing out that production for 2013 was already sold out in an interview last week with Bloomberg, Mr. Musk went on to say that the company should become profitable in 2013 as production ramps up.
The Bloomberg interview showed the media hostility toward electric cars. In their opening they talked about sales of the Tesla roadster being "Sluggish" and sales of "only 1,800 cars worldwide". The first thing Elon Musk did was to point out that the Roadster had always been a limited production car and that sales were actually better than expected. He didn't correct their sales numbers but by my count Tesla have sold a total of 2,500 Roadsters.
They also kept trying to compare them to Chinese automaker BYD which made Mr Musk laugh. He was obviously trying not to trash the BYD vehicles but anyone who knows anything about that company will know that they are about as different from Tesla as you can get.
He also said something I thought was very significant. He mentioned that the almost no parts were sourced from China. The reason he gave was that the Chinese parts were about 5-10% more expensive than parts sourced closer to home and he was often getting better prices when sourcing parts in California.
Tesla hasn't grown to the point where they are reporting monthly sales yet so it's difficult to know just how many Model S cars they have delivered but they do seem to be rolling them out at an ever increasing pace.
Production is still ramping up and there is a cost associated with that ramp-up that needs to be met by sales to continue to remain in the black. At the moment Tesla is in a pretty good situation with over a year's worth of production already pre-sold, but with a price hike of $2,500 starting in January 2013 there will be a continuing need to build additional sales of the Model S as 2014 approaches.
Another thing that can drag a company out of profitability is the need for warranty work. The Roadster proved to be a very reliable car and so far the Model S also appears to be reliable although I have heard a few instances of problems with this car. A problem resulting in a recall could put a major damper on profitability so I am hoping that this situation won't arise with the model S.
There is also continued development work on their next model, the Model X, expected in 2014. I think the Model X fits a market niche that is currently not being serviced by the big auto makers so this could be a big seller for Tesla but there is always a big cost to get these new models through crash testing and into production.
In his interview with Bloomberg Mr. Musk said that their next generation car; one that is lower cost and higher production volume, should be ready in about 6 years so there will be ongoing costs to develop this vehicle.
Taken together the news at Tesla has been good recently. The roll-out of the Model S has been a little slower than expected but the car seems to be solid and has been winning many prestigious awards. I hope that Tesla can do what no start up car maker has been able to do for the last 70 years, become a thriving automobile manufacturer.
---
Sunday Dec 16, 2012, 2012 – Fisker's Troubles – Fisker is one of the new group of auto manufacturers that are selling plug-in vehicles to the public. The Karma, a gorgeous high end extended range electric sports car that began shipping last year, has been plagued with problems. The company is also working on a follow up car codenamed Atlantic that has also seen a few bumps in the road.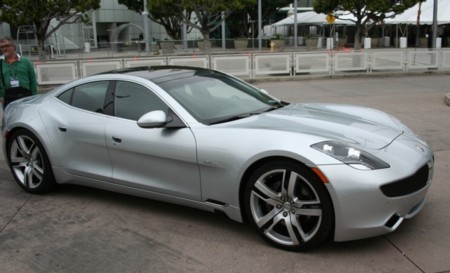 First there were a couple of car fires. These turned out to not be caused by the EV power train but the press jumped on them as it did on the Volt fires to paint the car in a negative light.
Then it was reported that the car delivered to Consumer Reports had died almost immediately. Fisker got the car fixed quickly but the impression was set and when Consumer Reports came out with their review they really panned the Karma.
In March its only battery supplies, A123, discovered a potential defect due to a manufacturing issue and Fisker had to issue a recall to replace battery packs. This eventual lead to A123 filing for bankruptcy in October and they stopped supplying battery packs. A123 moved to liquidate assets leaving Fisker with no supply of batteries.
Fisker still had some battery packs left and was able to assemble about 350 cars which were shipped to the US last month. Approximately 300 of these cars were sitting in port on the East Coast awaiting shipment when super storm Sandy hit. The port facility was flooded by the tidal surge and all 300 cars were destroyed. Now, Fisker no doubt had these cars insured but it is unlikely that they will receive the full retail value for these cars.
The result of the battery supply shortage was to halt the production line in Valmet, Finland until a new source of batteries could be found. There have also been layoffs here in the US where Fisker has cut its workforce by about 50% and is now down to about 300 workers. It also appears that work on the Atlantic is currently on hold.
The assets of A123 were auctioned off earlier this week and the bidding was won by Chinese auto parts maker Wanxiang. The deal still has to be approved by both the bankruptcy judge and the Committee on Foreign Investments in the United States before it is finalized. Some Republicans in Congress have also shown opposition to this sale so it is by no means a done deal.
Fisker will now need to negotiate with the new owners to get the flow of battery packs started again. The longer the whole process takes the worse things will get for Fisker. They say they have enough battery packs available to meet any warranty issues up through the end of the first quarter of 2013 but beyond that there may also be issues with warranty claims which will not bode well for resale values for existing Karma owners.
I have driven the Karma on a short test drive at the recent LA Auto show but there are not many companies that allow me to drive $100,000 sports cars so I don't have anything much to compare it with. I found the drive quite good although it certainly didn't perform as well as I had expected. The car has incredible good looks and although Consumer Reports says that the car "Sacrifices too much function for fashion" I thought that the car was a lot of fun to drive.
I hope that Fisker can weather the current setbacks and get a deal together to get a supply of battery packs. They should also use this time to try and resolve all the glitches that have been reported. Fisker also needs to be aware that warranty work is often the thing that kills most start-up car makers. Today's consumers expect reliability in their cars, especially when you pay over $100,000 for it. Early adopters are often willing to put up with such glitches just to be the first on their block to drive one, but long term buyers will not plunk down lots of cash for a car that is going to spend half its life in the shop.
---
Sunday Dec 9, 2012 – November 2012 EV Sales – Sales of plug-in vehicles continue to improve as more options begin to hit the market. Plug-in Hybrids continue to be the big sellers although most Plug-in models saw a drop in sales volume over their October sales numbers.
This month Toyota, who has been heavily discounting the Prius Plug-in, was the top seller. There were 1766 Plug-in Prius sold this month down from 1,889 cars sold in October. Sales of the Toyota RAV4 EV saw another decline this month down from 47 in October to just 32 cars in November for total sales of 140 cars.
Sales of the Chevy Volt dropped from 2961 cars in October to 1519 cars in November after they stopped offering heavy discounts. This still pushed year to date sales of the Volt passed the twenty thousand mark to 20,288 cars sold. While this is still short of the 35,000 cars they had hoped to sell it is still a very impressive sales volume.
Nissan saw a very small drop in the number of Leaf it sold in November to 1539 cars down from the previous month's year high sales of 1,579 cars. December sales are expected to light has Nissan gears up to offer the US built 2013 Leaf with a new lower priced base model in the first quarter of 2013.
The bright spot this month came from Ford who had their first complete month of sales for the C-Max Energi selling 1259 cars during the month. They also saw an improvement in sales of the Focus EV selling 179 cars in November up from 112 cars sold the previous month. Now that the C-Max Energi is available more Ford dealerships have begun selling the plug-in models and this number, which currently stands at around 200 dealerships, is set to increase dramatically over the next few months as the Fusion Energi comes to market early next year.
Mitsubishi had a better sales month increasing sales to 42 in November. This is the first time in the last six months that Mitsubishi has sold more than 40 cars. They have also said that they will not be making a second generation i-MiEV but will concentrate on the PHEV market with the release of the Outlander PHEV in mid-2013. That's a pity since low sales in the US of this excellent EV have been hampered more by the low number of sales outlets rather than any issues with the car.
Honda managed to set a sales record for the Fit EV managing to sell 26 cars, or rather lease since this ZEV Mandate compliance car is only available for lease. This is a sizable increase over their previous best month when they sold 16 cars. Honda will be entering the PHEV market next year when the Honda Accord PHEV hits dealerships on January 15, 2013.
Tesla, Fisker, Coda, Th!nk, Wheego, and Smart don't report sales numbers but some numbers can be guessed at from the various filings that they make.
Tesla has been delivering a growing number of Model S to meet the large number of orders they have for this car. They produced about 800 cars in October but some of these are destined for the Canadian Market. Even so we can guess that they delivered at least 500 cars this month.
Fisker reported in an SEC filing that they were going to deliver 400 Karma to customers in November. Unfortunately many of these cars were in port on the east coast when hurricane Sandy blew through and 350 cars were destroyed in the resulting flooding. We can then extrapolate that 50 cars were delivered this month.
The other bad news for Fisker is related to the bankruptcy of battery maker A123. Since they are no longer supplying battery packs for Fisker the production line in Finland has been idled and so far no restart date has been announced.
I don't have any sales numbers for the other cars but I do know that Th!nk continues to deliver a small number of the cars through their 4 outlets around the USA and there has been a buzz on the forums that they might be getting some more cars from Europe. We can guess that Coda probably sold about 14 cars and we can assume that Wheego and Smart didn't sell any.
Wheego expect to receive 100 rolling chassis from China and plan to have them ready by the end of the year. They say that these 100 are, for the most part, spoken for by the 30 dealerships they have around the country. It is likely that they will sell some cars in the coming months although volumes will be low.
I don't expect any sales at Smart until their next generation EV becomes available in the summer of 2013. These cars will be for sale, not lease only, and after tax incentives their price will be compatible with the gas models. Smart are expecting 30% of sales to come from EVs once they go on sale.
Almost 4600 Plug-in Hybrids were sold in the month of November spurred by sales of the C-Max Energi. This pushes the total sales of Plug-in Cars to around 7,000 for the month of November. Lower sales may also be related to November being a 30 day month, and dealerships being closed for Thanksgiving giving only 28 days for sales.
---
Sunday Dec 2, 2012 – 2012 LA Auto Show – This week I got to attend the 2012 Los Angeles Auto show. This year was everyone was pushing improved fuel economy, the Cabriolet is making a comeback, and so it the crossover.
Toyota for example launched the latest version of the RAV4. We also saw large sized crossovers from Mitsubishi, Daimler, and many more. Mitsubishi are planning a plug-in version of their new Outlander but we will have to wait until 2014 for that.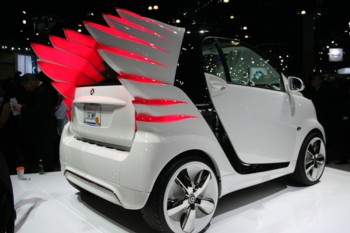 We did get some good news, possibly game changing news from Smart. They showed off the Jeremy Scott designed Smart with wings concept that is based on the new Smart electric drive. They announced that Smarts with an updated electric drive will be available in the Spring of 2013 with two models, the Fortwo Coupe EV that will be priced starting at $25,000 and the Fortwo Cabriolet EV that will start at $28,000. According to the guy I talked to at Smart these prices are before tax incentives. In California after the $2500 State rebate and the $7,500 federal tax credit the electric version will be cheaper to buy than the corresponding gas version.
Chevy also showed off the new Spark EV. This electric version of the Spark features a 20KWhr battery and will be capable of doing 0-60 in less than 8 seconds. It will come equipped with the new combined low speed/high speed charge port that will allow Level 1, Level 2, and Fast DC charging. I got my first look at the charge port and it will take a standard J1772 connector so the Spark
EV will be able to use existing infrastructure. Price will start at around $25,000 after tax incentives making the car very competitive. It will be offered initially in just two states, California and Oregon.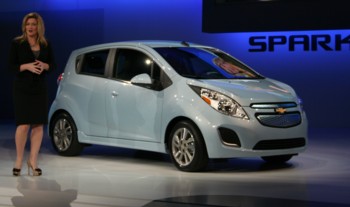 The most fun press conference at the show was the one from Fiat who used amusing adverts to get the message over about the new Fiat 500 EV. One of these ads showed a good looking model climbing into the car while the voiceover said that this was a speed and handling test. The car starts off then begins to swerve and knock over cones, finally spinning out onto the side of the track. When they open the doors the model is making out with a hansom guy and the tag line is "Environmentally Sexy"
The Fiat 500e will offer 80 miles of range on the highway and 100 miles of range in the city. The car will go from 0-60 in 9 seconds. Charge time will be around 4 hours. Fiat says that performance should be consistent in all weather conditions which is unusual for any vehicle.
Honda showed off the Plug-in version of the accord. This car will be the first Honda to use their new two mode hybrid system instead of Integrated Motor Assist. The Accord Plug-in will offer an EPA estimated all electric range of 13 miles. The car will go on sale in California and New York starting January 15, 2013 with a base price of $39,780 before tax incentives.
.
BMW showed off two concept cars, the i8 plug-in Hybrid and the i3 all electric city car. While these cars are still in the concept stage BMW say that the cars that go into production will be very similar to the ones shown in LA. These cars should be available in 2014.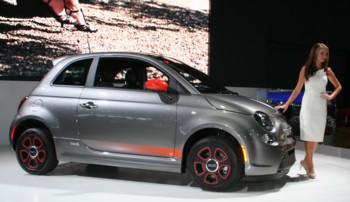 I also got a chance to test drive some of the latest plug-in cars. I was hoping to get behind the wheel of the Fiat 500e, the Chevy Spark, and the Ford C-Max Energi but none of these vehicles were included in the ride and drive.
I had a 9:15 appointment to drive the Honda Accord Hybrid but there was nobody there with the cars and I was told to just take the car for a test drive. There are good things and bad things about just being handed the keys and driving on your own. The good thing is that you can select your own route but the bad thing is that there is nobody there to describe the features of the car. I also found that the car was not charged so I wound up driving in HEV mode. In HEV mode the car drives pretty much like a standard accord. I did like the blind-spot monitoring that gave me good visibility to see what was at the side of me by putting a video image on the NAV screen.
I also got to drive the new RAV4 EV. While this is a Toyota base the drivetrain is pure Tesla. Again in the short drive around the convention center I didn't get much of a chance to test the car in different driving modes. I was driving the car in Eco mode but in Eco mode the car drives really well and I never felt like I couldn't accelerate into a gap in traffic or worried about merging into a fast street from a side street. The previous driver had been driving in sports mode so the estimated range kept going up as I drove; going from 103 miles at the start of my drive to 106 miles by the time I got back to the convention center.
Finally I got to drive the Fisker Karma. Like any sports car the Karma is difficult to get in and out of for us senior citizens and I did manage to bump my head both getting in and getting out, but I found the car to be easier to get in and out of than a Corvette and once inside the ride was quite comfortable. Over the limited circuit around the convention center in downtown LA I wasn't really able to put the car through its paces but I did get to hit the accelerator on one stretch and while in EV mode the acceleration wasn't neck snapping I was still pushed back in my seat. The power steering was also nice and precise and I the overall drive was very satisfying.
---
Sunday Nov 18, 2012 – Ford's Plug-in Push – Sales of plug-in cars have been showing strong growth over the last few months, led by the Chevy Volt and the Plug-in Prius. On the other hand, Ford sales have lagged.

This has had a lot to do with Ford's strategy. They began delivering the Ford Focus EV long after the Nissan Leaf had established itself as the market leader in electric cars. The C-Max Energi has only just started to show up in dealerships giving both the Chevy Volt and Plug-in Prius a sizable lead in market share.

Ford's strategy appears to have been to take is slowly. When they released the Ford Focus EV they did so through only 60 certified dealers. Something else that slowed sales was that they were only building cars to order so even if you found a certified dealer in your area you couldn't just walk in and buy one off the lot.

With the introduction of the C-Max Energy in October things have started to change. The number of certified dealers has grown to around 200 and at least some of these dealerships have cars available for purchase.

The dealer certification program is continuing to expand. A further 700 dealerships are either in the process of getting certification or have signed up to become certified dealerships. By early 2013, when Ford is set to release the Fusion Energi they should have 900 certified dealerships spread across all 50 states.

Ford has also done a pretty good job with the cars themselves. The Ford Focus EV for example offers slightly more range than the Nissan Leaf and 6mpge better fuel economy on the EPA ratings.

The C-Max Energi offers an EPA estimated 21 miles of all electric range, better than the 6 miles range that the EPA state for the Prius Plug-in. Now, the Prius Plug-in actually gets more like 11 miles of all electric range but the ICE will come on under hard acceleration and the EPA test does hard acceleration at the 6 mile point. It appears that the C-Max Energi works more like the volt since the engine is not coming on at the 6 mile point like it does for the Prius. These are similar sized vehicles at a similar price so I expect the C-Max Energi to sell well.

When it arrives in dealerships next year the Fusion Energi is also expected to have a range of around 21 miles and to post a fuel economy of around 100mpge. This car is expected to go head to head with the Chevy Volt rather than the Prius Plug-in.

To become certified to sell these cars the dealership must go through electric vehicle training to ensure that the dealership has at least 80% of Sale persons, Sales Managers, Service Advisors and Service Managers are certified on electric cars. The dealership must go through a facility assessment to identify opportunities to improve energy efficiency, They must have at least one of each of the plug-in vehicles to be used as demo cars, and they must install at least two charging stations one of which must be available to customers.

I will be watching the sales numbers carefully over the next few months to see how these changes affect Ford's plug-in sales. It will also be interesting to see if sales of the C-Max Energi impacts sales of the Plug-in Prius.
---
Sunday Nov 4, 2012 – Not ICEing, EVing – Yesterday I was at Westfield's Shopping Center in Century City and stopped at the EV charging station. One of the two parking spots was available but the other was filled by a Nissan Leaf.
That might not seem like a surprise but the Nissan leaf wasn't charging, it was just using the space as a parking spot. Now, the signage at Century City says "EV Parking Only" so technically the driver wasn't doing anything wrong.

I could even cut him or her a bit more slack by noting that these two parking spaces no longer have a level 2 charging station there, they are only served by an box that contains 4 110V 20A outlets. It is possible that the driver just didn't realize that this was actually a charging spot and not just a privileged parking space for EV drivers.

Given that the outlets are at eye level as you pull into the spot I doubt that the driver failed to notice them so my guess is that given that this was a busy Saturday afternoon the driver had just grabbed the spot for convenience.

I would also be willing to bet that if the same driver was in desperate need for a charge and found someone blocking the charging spot they would yell bloody murder. It wouldn't surprise me at all if the driver got really upset if they needed a charge and found me charging my plug-in hybrid since I don't really need a charge to get home.

Now the truth is that these spots rarely get used for charging. I think this is in part because they are 110V so the charge rate is only about 5 miles of range per hour of charge, and partly because these spaces are not well document in the various charger search engines like re-cargo and plug-share. Recargo makes them look like they are located at the same location as the Coda chargers while Plug-share still shows the old style Inductive chargers.

In this area public chargers are reasonably common and I have only seen a few occasions where all of the spaces have been taken by charging vehicles. This occurs most often and Santa Monica place where all the J1772 chargers are often all in use. The other place is at LAX where it is so common for the EV chargers to be fully occupied that EV drivers can no longer consider using their EV if they cannot get home again from the airport without a charge.

ICEing, where a car driven solely by an internal combustion engine parks in an EV charging spot, has long been a problem with EV charging spots. EV drivers have complained long and hard about this so you would think that they would not feel like they can block chargers at will, but EVing a charging spot is become all too common an occurrence.

My message today is that if you drive a plug-in car and need a charge then park in the charging space and connect to the charger. If you don't need a charge then please leave the charging space open for someone who may need it to get home safely.
---
Sunday Nov 4, 2012 – October 2012 EV Sales – October saw a disruption in gas supplies in California pushing gas prices up to over $5 a gallon in some locations. We also saw a surge in plug-in car sales led by the plug-in hybrids
The big winner again in October was the Chevy Volt. GM missed the 3000 mark by just a handful of cars but still managed their best month ever selling 2,961 Volts in the US. While I don't have sales numbers for Europe the Chevy Volt/Opel Ampera/Vauxhall Ampera is the top selling Plug-in in Europe too accounting for as many as 1 in 5 of all plug-in sales.

Toyota has also gotten more aggressive with both advertising and pricing for the Prius Plug-in and the sales numbers for October reflect this. With 1,889 Plug-in Prius sold Toyota had the best sales month ever for its plug-in Hybrid, handsomely beating the previous record of 1,654 set in April; the first full month of sales. It should also be remembered that the PIP is still only being sold in a limited number of states and is not set to sell nationwide until 2013.

Toyota also sold 47 RAV4 EVs in the second month of sales. The RAV4 EV is only being sold in 2 states and is being sold without any sort of advertising.

Nissan also had a good sales month in October. Sales of the leaf hit 1,579 cars making this the second best sales month for Nissan. With the US built 2013 arriving in dealerships soon and a cheaper base version on the way we should see Leaf sales start to grow in the coming months.

Tesla doesn't give out monthly sales figures but it did announce that they had completed their 1000 model S bodies. Inside EV did some calculations and estimate that Tesla delivered around 290 cars in October, a number that seems to be a good estimate to me.

Another company that hit their best sales month so far is Ford who managed to move 112 Ford Focus EVs in October. While Ford has said they would only build to customer orders I do see dealerships in California that appear to have Ford Focus EVs in inventory. Ford is keeping the car very low key so limited sales are not surprising. Still, some dealerships are offering low cost leases to match the ones being offered by Nissan on the Leaf which has definitely improved sales.

This month also saw the first deliveries of the C-Max Energi Plug-in Hybrid. There were just 5 cars delivered without any fanfare, but I expect sales to move higher in November as Ford begins delivering to those who have pre-ordered.

One dark spot this month was in sales of the Mitsubishi i-MiEV which only managed to sell 30 cars this month, down from 36 cars in September.

Honda also failed to increase sales this month coming in at 16 cars, the same number they posted in September. Their plan is to lease 40 per month in California and Oregon until they have sold 1,100 vehicles. It's a pity really because the Honda Fit EV is an excellent EV.

Honda also managed to lease 2 Clarity Fuel cell vehicles in October.

Fisker, Coda, Smart, Th!nk and Wheego do not report sales of their EVs so we can't be sure how many they sold. I would hazard a guess that Fisker probably sold around 80 Karma this month. I know that Th!nk delivered a couple of truckloads of their City EV to Oregon in mid-October and most of these have sold so let's say 16 cars. A twitter post from Wheego indicated that at least 1 LiFe had been delivered. Coda has been averaging around 14 cars per month and that is probably in the ballpark for their October deliveries. I haven't found any indication that Smart sold an EV this month.

Based on the numbers above it's a fair bet that at least 6700 Plug-in cars were sold this month, not counting NEVs. That means that there were more plug-in cars sold this month than the total US sales for companies like Volvo, Mitsubishi, and Porsche.

I expect Sales of Plug-in cars to continue to climb as more people experience the fun of driving electric.
---
Sunday October 28, 2012 - Who Pays for Charging - I was on the Prius Chat Plug-in Prius forum looking at a thread about chargers being ICEed at a Walmart store and someone had asked the question "who pays for the charging". That's a good question.
There is no one answer to this question; it all depends on the charging station.
There is a growing number of charging stations that are pay to charge. This includes stations in the Chargepoint and Blink networks that allow for hourly fees for charging, but also includes some companies that have found interesting ways to collect revenue.
Take Coda for example. They have an Experience Center in Century City Shopping Center in LA. They installed 6 chargers but only used one so the others were available to the public for free. The chargers became quite popular and were often all in use. As Coda's business grew they needed more chargers for the demo vehicles they had so public charging got squeezed.
Eventually Coda stopped allowing public charging altogether but I suspect that this was not a good move for a company trying to build an electric vehicle business. Eventually they allowed public charging on the two unused chargers at a cost of a dollar per hour which covers the cost of electricity for most charging.
The GE chargers they have do not have any provision for collecting payment but the standard J1772 charger head has a hole that can be used to lock the charger in place. Coda installed padlocks on all their chargers. Now you have to park at a charger then go the Coda store, pay for the amount of time you want to charge, then someone from the store goes down with you to the car, unlocks the charger and sets the timer. When it's time to leave you go back to the store and someone goes down with you to unlock the charger so you can leave.
Both the Blink and Chargepoint networks allow their chargers to be configured as pay-per-hour. In this area all the Blink chargers are now set up to charge between $1.50 and $2.00 per hour depending on membership type. Most Chargepoint chargers are still free in some locations.
So why would anyone install free charging?
The electric vehicles that are currently being sold are quite expensive and the people who buy them tend to have more than average disposable income. These are people you want to bring into your store. In addition it takes a long time to charge a car so that helps keep people in the store increasing the likelihood they will buy stuff.
For example, Beverly Hills has installed chargers at almost all the city owned parking lots. I can park art the charger in the lot on Crescent drive and grab a quick charge while I shop at Rite-Aid, Whole Foods, and Beverly Market or eat at one of the restaurants on Cannon drive. The cost is quite small for the city but it brings in revenue for both local businesses and sales tax revenue for the city.
Kohls installed chargers at select stores and recently began expanding to other locations. In their press release John Worthington, Chief Administrative Officer, was quoted as saying that they had, "received extremely positive feedback from our customers who are excited about the added convenience". It also appears that they get benefits above the green credit though, it has been reported that EV drivers spend 45 minutes longer and $50 more in the store than the average shopper. This is well worth the dollar or so in electricity that the charging costs the store.
One of the issues is that nobody really knows what to charge for EV charging. If you charge too much then people will not use the chargers but if you charge too little you run the risk of not being able to cover your costs.
For example the Whole Foods store in Santa Monica has a Blink charger that has a guest rate of $2 an hour. That's equivalent to $10 per gallon gas if you drive a Prius Plug-in. Why would I shop there when I can charge near the Beverly Hills store and get a free charge. Of course there is no sense driving a long way just to be able to charge, so if you are like me and live closer to the Beverly Hills store than the Santa Monica store then it makes a lot more sense to use your local store and skip the charge if it is going to cost too much.
Another example would be the Walgreen's store in Aliso Viejo which charges $2 per hour for charging with a $2 minimum. A stop at Walgreens would last 20 to 30 minutes so why would anyone pay the equivalent of $4.00 per hour to charge there unless they were desperate for a charge to get home? Of course there are other shops in the area that might benefit but that is unlikely to pull Plug-in drivers into that Walgreen's store.
The big cost to any business is the cost of the parking spot followed by the installation cost for the charger. The actual cost of electricity for a charge is not great. At 220V a full charge for my Prius Plug-in takes 90 minutes and uses about the same amount of electricity it takes to roast a chicken.
I do know that I have started to support businesses that provide free or low cost charging and I think that most EV drivers will too. It's a good way to attract customers and that gives a company a competitive edge over companies that don't have chargers or charge higher fees.
---
Sunday Oct 7, 2012 – September 2012 EV Sales – September was the best month ever for sales of plug-in vehicles as new sales incentives start to have an impact and gas prices remain high. For the first month ever Plug-in car sales topped 5,000 vehicles.
It started out with Chevrolet who turned in their best month ever for the volt with 2851 cars sold narrowly surpassing the 2831 cars they sold in August and almost four times the number of cars they sold in September 2012.
Toyota have also been giving sales incentives for the Plug-in Prius which boosted sales to 1652 cars, just 2 short of the record 1654 cars they sold in April and much better than the 1047 cars they sold in August.

Toward the end of September Toyota very quietly began to sell the RAV4 EV. They are currently the only car company that is selling both a plug-in Hybrid and a pure EV. In September they delivered 61 RAV4 EVs to customers.
While Nissan didn't set a sales record, their total leaf sales of 984 cars was their best month so far this year and was much improved over the 685 cars they sold in August.
Sales of the Ford Focus EV also improved last month increasing sales from 34 in August to 59 in September. This was their second best sales month being bested only by the 89 cars they delivered in June.
Sales of the Mitsubishi i-MiEV dropped from 37 last month to 36 in September, less than half the 88 cars they sold back in May.
Honda Fit EV sales climbed from 9 cars in August to 16 cars in September. They have now leased 32 of the 1,000 cars they plan to make available in the US.
It appears that Smart failed to sell any of the Smart ED cars this month.
Tesla, Fisker, Coda, Th!nk and Wheego don't report month over month car sales so we will have to wait until their shareholder reports come out to get an idea how well their cars are selling. We can make some educated guesses though.
Tesla announced recently that they were ramping up production slower than expected and as of September 23 they had built 255 Model S sedans, delivering 132 cars to customers. Assuming the 45 estimate for August was correct then they delivered 87 cars. Current build rate appears to be around 100 per week, but we can assume that they are only going to deliver a small number of cars in the last week of September. It's a pretty safe guess that they delivered at least 100 cars in September, outselling all other pure electric cars except the Leaf.
Fisker is also reported as saying that they delivered about 150 Karma plug-in hybrids to customers in September. This seems like a reasonable number although the poor rating that they received from Consumer Reports is bound to impact sales going forward.
Coda also doesn't report monthly sales numbers but according to TheEEStory they have been averaging about 14 vehicles per month.
Th!nk is still in bankruptcy but have been slowly completing cars at their Elkhart, IN plant and recently delivered a truck load of Blue Th!nk Cities to Oregon. Latest reports are that all the cars have been sold and there were also a few sales from their East Coast distributor so a good guess would be 10 cars sold in September.
Wheego didn't sell any Wheego LiFe this month. Their production has been halted as they tried to get a waiver from the government on vehicle stability control requirements. They received this waiver for a limited number of cars at the end of September and production was scheduled to restart on October 1.
While armchair pundits continue to proclaim that Plug-in cars are a failure more and more people are beginning to learn that they are a viable alternative to gas cars. With the prospect of fuel shortages and $5 a gallon gas looming in California we might just see another bumper month in October.
---
Sunday Sep 30, 2012 – 2012 Santa Monica Alt Fuel Vehicle Expo – Friday and Saturday saw the annual Alt Fuel Vehicle Expo being held at the Santa Monica Civic Center. I decided to go on Saturday morning.
This weekend was also the weekend of "Carmagedon II", where the 405 freeway in West LA was closed for the weekend while part of a bridge over the freeway was being demolished. My route to Santa Monica is over surface streets but I did need to go under the closed stretch of the 405 and I was worried about heavy congestion in that area. It turned out that most people were staying away from the area and traffic was light for a Saturday morning.
The expo was also quiet when I arrived just after 10am and the exhibit hall was mostly empty. The mix of exhibitors was quite different this year. Usually there are several people at the expo who are doing EV conversions or are trying to develop a new electric car. This year the exhibit space was taken up mostly with charger manufacturers and there were a few stands with electric bicycles.
At the Plug-in America stand I noticed and old friend of mine, Paul Scott. I hadn't seen Paul for several years so it was nice to catch up. Paul now sells the Nissan Leaf at the Nissan Dealer in downtown LA and he told me that the car was really starting to move since Nissan introduced the new lower lease rates. He told me that he had sold five last week and already had two more to be delivered next week. I think we might see much better sales numbers for the Leaf when Nissan report sales for September.
Honda was also represented in the exhibit hall with the first showing of the new Plug-in Hybrid Honda Accord. This car looks pretty much like the newly released 2013 Accord model but comes with a plug. I didn't see anyone around to get more info about the car so I snapped a photo and moved on.
After grabbing a $2 cup of so-so coffee I decided to head for the ride and drive area outside.
Registration to drive the cars is pretty straight forward but for some reason GM wanted a separate form filled out before you could drive one of their vehicles. Since I had driven the Volt several times already I decided to pass on GM and walked over to the Wheego display
Wheego had a LiFe available for a test drive. My first question was to see if Wheego had received the waiver on vehicle stability control that they had applied for. The answer was yes so the Wheego LiFe is once again for sale. I was told that they were going to be allowed to build a limited number of cars and that production would start on Monday at their Ontario, CA factory. They are currently working on adding stability control and that should be available soon.
Another piece of information is that Wheego are also developing a new vehicle, this time a compact crossover. The new car should be ready to show at next year's Alt Fuel expo.
I was a little disappointed in the Wheego LiFe. I had a little trouble getting it into the right gear. What confused me was that Neutral was marked green and this made me think that I was in Neutral when I was actually in reverse. It's something that a driver would get used to quickly but it was still a little confusing for a newbie driver.
The car performed quite well on the road although it did have quite a high whine from the transmission in both acceleration and regen. This doesn't bother me much; the sound was very George Jetson, but it may bother others.
After I got back from my Wheego test drive I moved next door to the Ford stand hoping to get a test drive of the C-Max Energi. They had a C-Max hybrid there but not the energi and as I had already driven the Focus EV I decided to pass on to the Honda Stand. Honda had three cars for test drive, the Civic CNG, the Clarity, and the Fit EV. Since the CNG didn't really interest me and I have already driven the Clarity, I decided to give the Fit EV a drive.
The Fit EV looks very much like the standard Fit on the outside. I haven't driven the standard Fit but I suspect the EV version drives somewhat better. This car is well build and lots of fun to drive.
Honda had provided a combination of six different driving selections and you can switch from one to the other on the fly as you drive. There are three different driving modes, Sport, Standard and Eco. For each of these modes you can select D for standard Drive or B for enhanced regenerative braking.
Each mode has its own characteristics and you can switch between modes depending on your current situation. For example is heavy stop and go driving you may chose eco mode with the drive set to B while if you have a short enough trip, and an open road, you can put the car in sport mode and D to really get the torque to the wheels.
I think the Fit EV just overtook the i-MiEV as my favorite EV. It is unfortunate that this car is only available in limited numbers and a limited market.
I just had time to test drive one more EV and the top of my list was the new RAV4 EV that just went on sale in California. This car has been jointly developed by Toyota and Tesla and I am getting some rave reviews.
Unfortunately everyone else is hearing the rave reviews too and the line for a test drive was way too long for the remaining time I had available. I decided to pass on the RAV4 EV and hope that they will have one available at the LA Auto show in November.
Instead I went over to check out the solar car port. Charging away under the solar car port were a variety of electric cars including Volts, a BMW Active-e, two of the older RAV4 EVs, a Leaf, and even a Porsche 914 conversion. I am happy to say that the City of Santa Monica has increased the number of charging stations at the Civic center and there were still a couple of charging spots available.
Charging there is free but the $10 per day parking fee still makes it an expensive option but if you are in Santa Monica for the day then it's not a bad choice for parking.
Even though my time at the Alt Fuel Vehicle Expo was short I still had a very good time and I am encouraged to see the array of new plug-in vehicles that are now available, or will be soon.
---
Sunday Sep 23, 2012 – Climate Change Policy Failures – I just finished reading Howard A. Latin's book Climate change Policy Failures (World Scientific, 2012) and it proved to be a major eye opener for me.
Howard A Latin is Professor of Law and Justice John J. Francis Scholar at Rutgers University School of Law in Newark, NJ. Over the last 30 years he has travelled the world conducting research into global climate change and international biodiversity conservation issues, and has published many articles on environmental law, torts, and product liability.
In climate change policy failures he points out how the existing approach, which is based on reducing the amount of greenhouse gas emissions to below a fixed level, which he calls business as usual, just isn't going to work.
He reviews current legislation including carbon taxes and cap and trade programs and shows how they all have the same basic flaw so none of them will achieve the required results. He is able to show quite convincingly that such programs, based as they are on gradual carbon emissions reduction over decades, is going to be just too little too late.
He also goes into one of the basic issues of the climate change debate, the conflict between the developed nations, who want to reduce carbon emissions without impacting their lifestyles, and the developing nations who don't want to do anything that will impact their growth and shows how this is creating a major block on building a workable carbon mitigation policy.
Professor Latin also proposes a solution; pursuing a greenhouse gas free replacement technology strategy. His mesage is that only by pursuing a strategy that stops any increase in greenhouse gas levels in the atmosphere can we hope to prevent severe impacts from climate change.
Professor Latin also sees the current lack of co-operation in our government and the influence of powerful special interest groups as a major road block to truly addressing climate change issues
If I would find any fault with this book it would be the lack of any review of climate change science. In my opinion a review of the science of climate change would help better understand the issues we face. Having said that, Professor Latin does provide a large number of references if anyone wants to do further reading on the subject.
This book changed my whole thinking about the issues of climate change mitigation strategies. It made me realize that even the most aggressive plans we have seen from government fall way short of what is needed to prevent serious issues caused by global warming. It is a must read for anyone interested in the welfare of future generations.
---
John Sliwinski, Philadelphia, PA Wrote
I have been reading your blog for a few years now. I really admire your ambition and dedication toward promoting the EV industry.You are really one of my hero's. As an environmentalist I have been worried about global warming for years. I am also concerned about peak oil finally arriving. I was searching You Tube about a month ago and ran into a BBC documentary called "The Great Global Warming Swindle".
I watched this in its entirety and I was totally shocked. I did some research and I started finding more and more data that I could not believe. It appears that people are very much divided on this topic like Republicans and Democrats. Most people seem to be believers and feel global warming and pollution is the same thing. I see a global scam that is using the idea of saving the earth in order to tax and control everything in our lives. There are just so many things that stink about the global warming science.- Carbon dioxide is not a pollutant. We breathe this out all the time.
We would be dead if it were not for carbon dioxide. The plants need it to live. Greenhouses add it to make plants grow faster.
What is wrong with carbon? I am made of carbon the trees are made of carbon. Being carbon neutral is a biased slogan for the cause.
Al Gore mention in his movie that it is carbon dioxide that follows temperature and not temperature following carbon dioxide. This makes perfect sense because most CO2 is generated by decomposing organic matter on land and in the oceans. The data for his hockey stick graph was secret and had to be accessed from the freedom of information act. Also the graph was missing important data and changes sources half way through to support the conclusion. Al Gore has gotten rich from this. He has bought carbon credits from a company that he owns.
The earth has been cooling since 1998 even though CO2 levels have been rising. Up until 1978 we were threatened with global cooling after 4 decades of cooling even though man made CO2 production was increasing.- Carbon dioxide is only .003% of the atmosphere. Everything that humans do accounts for 3% of .003%. 97% of all CO2 has a natural source.- Global warming has not been proven to be caused by CO2.

Water vapor accounts for 95% of all greenhouse gasses.- Warming and cooling of the earth has been proven to be related to solar activity. Yes it is the sun that makes us warmer.- People that don't believe this are call deniers and skeptics and are either discredited or are threatened in some way.
Things are dramatized. Ice-burgs falling into the sea. This is like leaves that fall from the trees, it has been happening for centuries. Smoke stacks with water vapor that leads you to think this is all CO2.
This list could go on and on. How much proof is enough? Global warming research has increased from $200 million to $4 billion dollars a year. I think we could get rid of a lot more pollution if we used that $4 billion dollars for solar panels every year. As an environmentalist I would like to see the pollution problem separated from the Global Warming problem.
---
Sunday Sep 9, 2012 – August 2012 EV Sales – After a disappointing July, sales of Plug-in cars rebounded somewhat in August, especially the plug-in hybrids.
GM had a relatively good month in July selling 1849 Volts, but in August they blew past that number to garner their bestselling month so far, selling 2831 cars. I'm not sure if they can sustain this level in September when the Hamtramck plant, where the Volt is built, will be closed for 4 weeks as they retool for the new Impala.
After an initial sales rush following its launch, sales of the Prius Plug-in had hovered at just under 700, with 695 sold in June and 688 in July. Sales for the month of August rebounded with 1047 cars sold. Considering that Toyota is only selling the car in 15 states this should be regarded as quite a good sales level.
Nissan Leaf sales rebounded up to 685 cars up from just 395 cars sold in July. Nissan began offering a lower cost lease option in July and this may account for some of the increase in sales. What might be damaging sales right now are persistent rumors that there will be a price drop on the Leaf.
Ford saw yet another drop in sales of the Focus EV falling to 34 cars sold down from 38 the previous month. Ford should be starting sales of the C-MAX Energi plug-in hybrid soon so it will be interesting to see how sales of that will go.
Ford is still selling through a limited number of dealerships in just three states so it isn't surprising that sales are low. Volume should pick up as more dealers in more states are added to the group selling this EV.
Mitsubishi have re-introduced the name i-MiEV since nobody used the term Mitsubishi I. While overall sales at Mitsubishi were low in August they did see sales of the i-MiEV increase to 37, up from 33 in July, but still well short of the 88 cars they sold in May.
August was the first full month of sales of the Honda Fit EV but they only managed to lease 9 cars, up from 7 in July. The Fit EV is available only for lease and only in California and Oregon. They will only produce about 1,000 vehicles in total so sales of the Honda fit EV won't have a big impact on the number of electric cars on the road, and I don't expect to see big sales numbers for this car.
It also appears that Honda leased 1 Clarity Fuel Cell Vehicle in August.
Insider.com reported that Tesla had 45 cars ready for delivery in August but a minor issue with a sensor meant that the cars were held until August 27 so we don't know how many of the cars actually made it to customers.
Th!nk are still assembling the last few cars at the Elkhart plant in Indiana and there is a possibility that they may still be receiving cars from Norway. They have delivered a few cars to dealers in August but there is no indication of how many.
The other two major sellers of electric cars, Fisker, and Coda don't report the number of sales they have each month. Insider.com reported that Fisker had sold about 250 cars worldwide.
With over 4000 plug-in hybrid sold in August, assuming that half the Fisker Karma sold were sold in the US. It appears that people are beginning to accept these cars. Given that the Chevy plant will be closed for most of September, it is likely that sales of the Volt will be down this month but I hope that we will see sales of plug-in cars trending up over the next few months.
---
Sunday September 2, 2012 – CAFÉ 2025 – This week, after months of wrangling, the new CAFÉ standard for 2025 was finally approved. This new standard effect cars from model year 2017 to 2025 and would require new cars sold by 2025 to have a fleet average fuel economy of 54.5 mpg.
According to the Union of Concerned Scientists the new standards would cut oil consumption by 3.1 million barrels of oil per day by 2030, save consumers and average of $8,000 over the life of a 2025 model year vehicle, and reduce the amount of global warming pollution produced in the US by 2030 which would be the equivalent of taking 85 million of today's vehicles off the road.
Stephanie Dryer, a spokesperson for Operation Free, a group of veterans from the wars in Iraq and Afghanistan who gets most of their funding from the Truman National Security Project said, "Under the new gas mileage standards, by 2025 we will cut our oil consumption by 2.2 million barrels a day — equal to half of the oil we now import from OPEC. Making the cars and trucks on America's roads go farther on a gallon of gas will save Americans $80 billion at the pump every year by 2030 and create 150,000 jobs. We applaud this forward-looking policy for providing a boost to the long-term security and economy of the United States."
There were plenty of people opposed to this CAFÉ standard mostly those that see this as just another government plot to limit their freedom. Mitt Romney will be pandering to these potential voters; he has already vowed to overturn the standard if he gets elected.
So the question is will we see a fleet average of 54.5mpg in 2025, and the answer is most likely no. First of all the fleet average is not calculated using the current EPA test criteria which offers fuel economy numbers that are pretty close to what you get in the rear world. They are based on the earlier test criteria which gives inflated mpg numbers. According to John O'Dell at Edmunds.com, the true fleet average is going to be something like 36mpg but this is still quite a bit better than the 23 mpg that we had for car, trucks and SUVs sold in June 2012.
In the end the US automakers are going to have to make their cars more fuel efficient or they are going to go out of business, it's as simple as that. The European, Japanese, and Korean carmakers are upping the fuel efficiency of the cars they build and they are going to keep doing that irrespective of if the US CAFÉ standard is in place or not. If the US carmakers can't respond then they will see more and more sales going to their more fuel efficient competitors.
The good news is that the US carmakers are responding. Ford's new Ecoboost system for example has been applied on the F-150 Truck, the most popular vehicle on the planet, producing a truck with the performance of the V8 and the 19 mpg combined fuel economy of the V6. GM is also doing well with the Cruze Eco which turned in a respectable 40.4 mpg in a recent Motor Trend test.
The question is can the auto makers really produce cars that return close to 54.5 miles at an affordable price. Right now the closest we have is the Prius line of hybrids starting with the Prius C which, at a base price of around $19,000, which can return an impressive 50 mpg. The Prius Liftback also comes in at around 50 mpg and the larger Prius V wagon turns in a combined 42 mpg. Clearly car companies can already build cars that come close to 54.5 mpg but many of these cars require new technologies and right now that moves the typical consumer out of their comfort zone.
US consumers are also notorious at thinking in the short term. They look at the car's sticker price and don't take into account the overall cost of ownership which includes fuel costs, maintenance costs and depreciation. In the end we are going to have to decide do we go for more efficiency now or squander our resources and leave the mess for our grandchildren. The new Café standard can help us stretch out the finite resource oil, and give us a chance to find long term sustainable alternatives.
---
Sunday August 26, 2012 – Romney Energy Plan – In a speech given in Hobbs, MN on August 23, 2012 Republican Presidential Candidate Mitt Romney outlined his energy policy. The key part of his policy calls for energy independence for North America by 2020.
"North America" is the key phrase here. He isn't calling for energy independence for the US by 2020 but for North America, meaning the US, Canada, and Mexico. What his plan really calls for is the shift from oil imports from the Middle East to oil imports from Canada and Mexico and will include building the Keystone XL pipeline to import oil from the Canadian tar sand deposits.
His energy policy also includes the concept of giving states control to issue permits for drilling on federal land. It would open up more offshore drilling starting with an area where President Obama has already approved oil exploration; but has not yet issued drilling permits; the Virginia Coast. The policy would also include an assessment of all US oil and gas resources, streamline the issuing of permits for new oil and gas drilling, and for the most part, shift development of new energy technologies to the private sector.
Romney claims that his plan will reduce the trade deficit and strengthen the dollar. I'm not sure how much the deficit will be reduced since it looks like most of the money will just flow to our neighbors to the north and south instead of to the Middle East. Oil prices are set on the international market so the fact that we are buying Canadian Shale Oil instead of Saudi crude makes little difference to the amount we pay.
He also claims that aggressive drilling will result in an additional 3.6 million new jobs. This claim appears to be based on a report by Citigroup published in March that many Economists think is wildly optimistic.
It also seems likely that to reach the goal of energy independence by 2020 we will need to cut oil consumption drastically. To help accomplish this Congress introduced new CAFE standards that would dramatically increase fuel consumption in new cars sold after 2025. This drive to achieve a fleet average of 54.5 mpg would produce considerable reductions in oil consumption even as early as 2020. The problem is that Romney has already expressed his intention to repeal the new CAFÉ standards. This could have a huge impact not only on energy independence but also on the ability of US carmakers to remain competitive against European and Japanese carmakers that are being driven by their local governments to produce cars that will meet or exceed a 54.5 mpg fleet average.
In the end the Romney energy policy is just a rehash of Sarah Palin's "Drill baby drill". It totally fails to meet any sort of effort to address global warming, it doesn't really address true energy independence for the US, and it fails miserably at conserving a precious and finite resource; Oil. I hope we see some real changes to address these issues before the election.
---
Sunday August 19, 2012 – i-MiEV v Pikes Peak - Sunday, August 12 saw the running of the annual Pikes Peak Hill Climb which now includes an electric vehicles category. Climbing steep hills can be a hard on electric cars often causing a substantial loss of range, so a hill climb race is the ultimate challenge.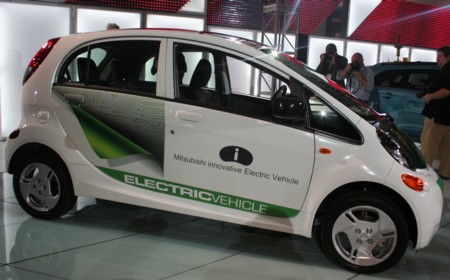 The Pikes Peak hill climb has been run since 1916. The "Race to the Clouds" gains 4720 feet over a 12.42 mile course that includes 156 turns, many of them hairpin bends. The race attracts developers who use it as a proving ground for new automotive technology.
This year's race was won by Rhys Millen in a Hyundai Genesis Coupe specially modified for the race. His willing time of 9:46.165 set a new record for the event, Winning the electric vehicle category, and coming in 6th place overall was the Toyota Motorsport TMG EVP002 driven by Fumio Nutahara in 10:15.38. Like Rhys Millen's Hyundai this car was specially engineered for the race.
In 8th place overall and second in the EV category was Hiroshi Masuoka in a modified Mitsubishi i-MiEV Evolution. What makes this run more impressive is that Mausouka crashed the car on the first day of practice and the front end had to be rebuilt, meaning that he was unable to practice again before the start of the race.
Another impressive performance from Mitsubishi came from Beccy Gordon who drove the only street legal electric car in the race. Her Mitsubishi i-MiEV was unmodified with the exception of safety equipment like a racing harness and modified bumpers. She still managed to make the climb in 15:10.557 placing 6th in the EV category and 126th overall out of a total of 170 cars.
Commenting about the performance of the car Beccy said, "The Mitsubishi i-MiEV was awesome. It produced a lot more power – especially torque – than I had expected. The handling was also very good because so much of the car's weight – the electric motor and lithium-ion batteries – sit so low in the chassis. This allowed me to carry much more speed into the corners than I expected, and the torque from the electric motor helps to propel the car out of the corners. The car is really peppy,"
The fact that a street legal electric car can handle such a challenging route, and do so at an average speed of a little over 47mph, says a lot for the current crop of electric cars. And remember, while the car lost a lot of range on the way up it will gain some on the way back down something that your average family sedan just can't do.
---
Sunday Aug 5, 2012 – July 2012 EV Sales – July sales of Plug-in cars continued to disappoint as sales slipped again over June fueled by further drops in the sales of the Plug-in Prius and all of the battery electric vehicles from companies that report sales.
Only GM seem to be doing well as sales of the Volt increased again in July to 1849 units up from 1760 in June. In July GM also celebrated a significant milestone as the 30,000th Volt rolled off the assembly line.
July saw another drop in the sale of the Plug-in Prius but this was only a very modest drop of just 7 cars, selling 688 Plug-in Prius in July down for 695 in June. Although these numbers are relatively low we should remember that the Plug-in Prius is only being sold in 15 States.
After a modest sales increase in July, sales of the Nissan Leaf dropped to just 395 cars. The reason for lackluster sales isn't clear since dealerships, at least here in Southern California, do have cars in inventory. Nissan also began offering a lower cost lease option in July but it doesn't seem to have had a big impact.
If sales don't pick up again soon Nissan may re-think the decision to begin production of the leaf in Tennessee.
Sales of the Ford Focus EV and also soft in July where they sold only 38 cars down from 89 cars in June. Ford Dealers also appear to have cars in inventory here in Southern California although the number of vehicles they have is very limited.
Ford is still selling through a limited number of dealerships in just three states so it isn't surprising that sales are low. Volume should pick up as more dealers in more states are added to the group selling this EV.
Sales for the Mitsubishi I, stayed level in July at 33, the exact same number as they sold in June.
Honda also began shipping their Fit EV to customers in July leasing 7 vehicles during the month. The Fit EV is available only for lease and only in California and Oregon. They will only produce about 1,000 vehicles in total so sales of the Honda fit EV won't have a big impact on the number of electric cars on the road.
Th!nk still have a few of their 2011 model year cars left to sell and did ship a small number of cars to customers in July but total numbers are not available.
The other three major sellers of electric cars, Tesla, Fisker, and Coda don't report the number of sales they have each month.
It appears that sales of battery electric cars falls and rises with gas prices. As prices pulled back in July so did the number of electric cars sold. Another issue I am seeing is that there appears to be less fleet sales of cars than we saw in the 1997-2003 period. At that time cities like Beverly Hills and Newport Beach would have around 10 EVs in their fleet but currently cities don't appear to be acquiring electric cars. These fleet buyers could make a significant impact on EV sales.
I must say that I found July sales, other than the numbers for the Volt, to be very disappointing. Of course we don't know how many of their Model S that Tesla has delivered which may have been a sizable number given the number of orders they have. Overall, I am quite disappointed with the lackluster BEV sales for the past month.
It does appear that people are voting for Plug-in Hybrids over pure electric vehicles at the moment but that was to be expected. Once plug-in hybrid owners realize they can run electric quite happily with a 40 miles range Plug-in hybrid then a 100 mile range BEV will quite possibly be their next choice, I'm hoping to see better sales numbers for August.
---
Sunday Jul 29, 2012 – Drought and Your Gas Tank – According to Federal Government statistics 2012 is shaping up to be the hottest year on record. The Mid-West and parts of the East Coast are baking in unusually high temperatures and low rainfall and more than three thousand counties have already been declared disaster areas due to severe drought conditions.
The drought is wreaking havoc with crops in the farm belt which will lead to unusually low yields on crops this fall. Especially hard hit is going to be two of the major cash crops grown in the USA, Corn and soybeans.
It is amazing how many product use these two crops. Most soft drinks sold in the US for example use high fructose corn syrup in place of sugar. Soy protein is used in a whole bunch of foods. One of the big uses of these two products is in animal feed stocks.
A shortage of these two crops is going to drive up food prices. Economist expect to see a short term drop in the price of meat, especially beef, as farmers sell of their stock early to avoid the higher cost of animal feed. Once the initial selloff has occurred meat prices will begin to rise. Other products that use these two staples as their base will probably not be so lucky so look to see higher costs for a whole range of food products toward the end of the year.
The US also exports large quantities of both these products and it is likely that exports are going to be the most severely hit. This means that we can expect to see a big increase in the trade deficit and this will impact countries that rely on imports for the US to feed their populations and in the end people are going to go hungry.
So you might ask what this has to do with your gas tank.
Most states now use ethanol as an oxygenate for gasoline. It is added to gas to help it burn cleaner. In states like California gasoline contains 10% ethanol and the EPA has just upped the maximum amount allowable to 15%.
In the USA most ethanol is produced from corn so if the price of corn goes up so does the cost of ethanol and this will lead to higher gas prices. Since ethanol makes up only a small portion of the cost of gas that price rise won't be too much, but even a few cents per gallon adds up to a lot of money when you consider the millions of gallons of gas sold each day. People who use E85, a blend of 15% gasoline and 85% ethanol, will be more severely impacted as will those who use commercial bio-diesel produced from soy beans.
The current drought highlights one of the biggest issues with bio-fuels; the feedstock to produce the bio-fuel often competes with the feedstock that powers people. At the moment most bio-fuels are made from either corn which is used to produce ethanol, or soy beans which is used to produce bio-diesel. It is hard to consider using these food products to drive to the beach while people around the world go hungry.
Of course bio-fuels, especially ethanol, can be derived from other sources such as switch grass or algae, but so far there are very few plants capable of doing this economically. If the drought runs for an extended period of time this might be an incentive to implement alternatives to the current corn and soy bean based bio-fuels, but new production facilities are going to take some time.
Several things are clear to me. We are going to go into a period of higher inflation driven by higher food prices caused by the drought. We are going to have to deal with a likely shortfall of ethanol production possibly by reducing the amount of ethanol in gasoline which will potentially increase air pollution. Once again we are seeing our way of life being impacted by our addiction to gasoline, this time in a way that doesn't concern oil directly.
It is clear to me that we have to move away from the liquid based fuel paradigm that we have been following for more than a century. Electric cars are one way to reduce our dependence on liquid based fuels and at the moment this appears to be the most viable alternative.
---
Sunday Jul 22, 2012 – Understanding the EV Fueling Model – I was reading the comments on an article about conventional hybrids and electric cars and one of the comments really stuck me as highlighting how people still don't understand that owning an EV changes the rules about how you consider fueling your vehicle.
The commenter started by saying that he owned a volt and as he only drove about 40 miles a day he was using about one tank of gas a year. He then went on to say that he wouldn't buy an electric car if it didn't have a range of 300 miles.
Of course this poster could be an internet troll, there are plenty of them out there who are anti EV to the extent that they will post falsehoods and half-truths to make them sound bad, but somehow this guy didn't strike me as a troll just somebody who just hasn't come to terms with some of the key features of owning an electric car.
The Chevy Volt gets about 300 miles on a tank (GM quotes 344 miles of range but most people will not wait until the tank is empty to refill) so if the guy uses one tank of gas a year then we can assume that the 40 mile range of his car covers most of his driving requirements. Now, 300 miles is a little less than 1 mile per day so an EV with 50 miles of range would cover all his driving needs.
That may be true but it is more than likely that the tank of gas was mostly consumed in a single trip – let's say a 200 mile trip with the rest being used to drive around while at the destination.
In this case the 50 mile electric range EV would require multiple recharges during the trip. A 100 mile range EV would just barely be able to handle the trip and a 150 mile range EV would be able to handle it fine as long as there is a place to charge at the destination.
It is clear that this person does not really need a 300 mile EV, but he is probably used to having 300 miles of range on his gas cars with another 300 miles after just a 10 minute fill-up. It's the model we are used to from more than a century of driving gas cars and it is so ingrained into us that it's hard to consider that there might be a different way. It's part of our comfort zone.
Electric cars are different; they can be filled up by plugging them in almost anywhere. You don't drive them for 300 miles then charge them up. You top them off every night so you always have a full tank in the morning. Even when you have a 300 mile car like the Tesla S, most people would still top it off every night rather than waiting until the batteries are low to fill up since a fill up of the Tesla S batteries could take a very long time especially if you only have a 110V outlet to charge from.
We've all heard about range anxiety but in the end, if you have 70 to 100 miles of range when you wake up each morning then it's unlikely that you will suddenly find the need to drive further than this in a day.
Just to put this in context, the EVs with the longest record are the 300 or so RAV4 EVs that Toyota sold during 2002 and early 2003. The mileage champion of these cars has done over 200,000 miles in the 9 years since it hit the road. That is over 22,000 miles per year, much higher than the 15,000 mile average of most cars. The RAV4 EV has an EPA estimated range of around 120 miles, and will get around 70 miles of range when being driven at freeway speeds, yet many drivers have been able to match the number of miles driven by their gas guzzler counterparts.
It is true that some people drive much more than the average and if a person is driving 100,000 miles per year it would be very difficult for an EV driver to meet that sort of mileage but very few people drive anything like that far.
So, if you are considering an electric car forget about the gas station model that you are used to. The new fueling paradigm is to plug your car into the wall and let the car charge overnight. The next morning you wake up with more than enough fuel to see you through your daily driving.
---
Sunday Jul 15, 2012 – Delivery by Electric – Earlier this week my friend Jerry forwarded me a picture of a Coca Cola Hybrid delivery truck that had been delivering to the place where he works. Coca Cola and UPS are perhaps the two most high profile companies to use Hybrids delivery vehicles in their fleet, but some companies have gone further and are beginning to experiment with all electric vehicles.
This idea isn't new, electric delivery vehicles have been around since the early 1900s, and the first successful electric vehicles were electric taxi cabs built in the 1890's. When I was growing up in the UK I would see electric milk floats delivering milk each morning. Electric had a huge advantage in this application because it was so quiet compared to a gasoline powered delivery vehicle.
One of the companies that build these milk floats is still around. Smith's electric vehicles still builds a range of electric vehicles for both on-road and off-road use. Smith's electric vehicles are now made in the USA and some pretty high profile companies are beginning to use their delivery Vans
One such company is Staples who has 68 Smith's electric delivery vehicles used mostly in Southern California. PepsiCo subsidiary Frito-Lay operates a fleet of 176 electric delivery vehicles and will expanded that number to 276 by the end of 2012. Their electric delivery fleet has logged more than a million miles which has saved a lot of gasoline
Another company selling electric delivery vans is Navistar. Like Smith's they have brought the basic design from a UK company, this time Modec. FedEx currently has two of the Navistar delivery Vans on trial in Los Angeles with additional vehicles to be added soon. They also have 10 Modec vehicles on trial in London and another 5 being used around Paris.
Electric vehicles often work well for delivery as they are usually used on a fairly fixed route that is both low mileage and low speed. Routes are often as short as 22 miles but some of Staples routes are as long as 70 miles which is still well within the 150 mile maximum range of the Smith's Newton vehicles they are using.
The trucks can be charged overnight and then driven all day on the delivery route without being worried about lack of range. While the cost of these electric vehicles is much more than the equivalent diesel delivery truck maintenance costs are much lower and reliability is better. This not only translates to lower cost but also less down time.
Electric delivery trucks work well in many environments and I expect to see this as a major growth area for electric vehicles over the next ten to fifteen years.
---
Sunday Jul 8, 2012 – June 2012 EV Sales – June sales of Plug-in cars slipped slightly from May fueled by a big drop in sales of the Plug-in Prius after initial orders had been filled.
Like May, GM took the lead in Plug-in vehicle sales selling 1760 volts, up from 1,680 sold in May. GM has sold a total of 8,817 Volts in 2012 which, if current sales continue, puts them on track for sales of about 18,000 cars for the year.
June was the first full month of sales for the Plug-in Prius after the initial orders had been filled, and sales dropped from 1086 in May to 695 in June. Although these numbers are relatively low we should remember that the Plug-in Prius is only being sold in 15 States.
Nissan saw another month of increased sales of the Leaf growing from 510 cars in May to 535 cars in June. Part of the issue is that supplies are still constrained on the Leaf and Nissan say that this situation will remain until the 2013 model year cars become available in September.
Hybridcars.com reported that Smart, which only leases cars, sent 127 of their Smart ED to customers in June and this appears to be the first sales they have had in 2012. So far I have been unable to confirm this number but Car-To-Go uses Smart cars in its San Diego, Austin, Washington DC, and Vancouver locations so it isn't hard to believe that they have added additional cars in one or more of these cities.
Ford have finally started to sell their Focus EV and actually outsold Mitsubishi this month with 89 vehicle sales after shipping 6 cars to customers in May. With the 2 they sold back in January that makes 97 cars sold this year and 107 cars in total.
Ford is still selling through a limited number of dealerships in just three states so it isn't surprising that sales are low. Volume should pick up as more dealers in more states are added to the group selling this EV.
After two straight months of record sales for the Mitsubishi I, sales dropped from 85 cars in May to just 33 vehicles in June. To help offset this they introduced some low cost lease options which should help sales in July. Mitsubishi has sold a total of 328 of its electric subcompact in the US so far.
Tesla finally began to ship the Model S to customers selling one to a Tesla board member in early June and another may have gone to Elon Musk. On June 22 they began shipping to regular customers and during the launch event we saw them send 10 sedans on their way to new homes. Tesla usually announces sales every quarter in their stockholder report so we may not hear how many they sold until late October.
Th!nk is currently in bankruptcy but have been selling off their inventory of about 150 2011 model year cars they still had at the Indiana factory. It appears that most of these are now sold and I would estimate they reached 100 sales in June. Considering that the cars were being sold through only three dealers this was quite an achievement although the sales price of these cars was so attractive that many found the risk of purchasing a car from a company in bankruptcy was worth taking.
The other two major sellers of electric cars, Fisker, and Coda don't report the number of sales they have each month.
I am now beginning to see Fisker Karma on the streets of LA so they must have sold a number of cars here by now. Given that the company has been dealing with some reliability issues that have been widely reported in the press, including negative publicity over a garage fire, it doesn't surprise me that they are reluctant to post sales numbers.
Coda appears to be doing OK and they have added a fourth car to their demo vehicles at the Experience Center in Century City. They did have orders from companies like Enterprise Rent-a-Car and Hertz but I haven't heard of any cars arriving in rental locations yet.
The number of plug-in vehicles continues to grow steadily. With 3260 plus whatever cars were sold by Coda and Fisker sold this month, plug-in cars continue to be a choice for consumers looking to skip the gas pump.
At the current sales rate we are would expect to see more than 36,000 plug-in cars sold in 2012 and with new models from Toyota (RAV4 EV) and Honda (Fit EV) coming soon, and Tesla targeting delivery of 5000 model S this year, we should see the number push well past 40,000 which puts us well on target to beat second year sales of hybrids, which managed to hit 36,035 cars in 2001.
---
Sunday Jul 1, 2012 - If You Build it They Will Come - I have been spending some time in Universal City recently and have been surprised at the amount of use that the metro is getting. It just goes to show, "if you build it they will come", even in LA
LA is well known as the car capital of the world. It is difficult to live in LA without a car since the bus system is often difficult to access and even more difficult to use unless you wanted to go from one end of a major artery like Wilshire Boulevard to the other.
It wasn't always like that. At one time the Pacific Red Cars were the best public transit system in the US but it was destroyed in the 1940s to make was for GM busses. It finally shut down in 1955 as the LA Freeway system began to evolve.
After the Second World War LA transformed into a city mostly driven by the automobile but as the number of cars grew and the number of miles travelled increased with urban sprawl air quality declined. LA soon became the city with the worst air quality in the nation.
Improvements in vehicle technology over the last 40 years have led to some improvements but breathing the air in LA is still hazardous to your health. With the current focus on greenhouse gas emissions we often forget about all the other pollutants, such as particulates and ozone, that have a negative impact on people's health.
While California, with its zero emission vehicle mandate, is still at the forefront of the movement to clean up vehicle emissions, LA has moved to rebuild an effective light rail system.
It started in a small way when the Red Line subway opened in 1993 with just 4 stations. This line started from Union Station and terminated at McArthur Park. Starting the red line from Union Station meant that passengers could now link up with the Metro Link Surface Rail services from the San Fernando Valley, Orange County, and Riverside County.
Since then the Red Line has been expanded to reach North Hollywood, including the stop in Universal City. There is a shuttle that takes people up the hill to the Universal Studios theme park and City Walk. This means that tourists staying at hotels in downtown LA or Hollywood can hop on the Red Line and visit these attractions. The cost of the subway is a lot less than parking fees for most visitors. The shuttle gets a lot of use.
There are lots of offices in the area and people travel in from places as diverse as Anaheim, Diamond Bar, and even from Hollywood.
A few days ago I took a walk around the parking which is large enough to hold at least 200 cars. The lot was jam packed with cars and people were circling the lot hunting for none existing parking spaces. I can't say for sure that people weren't parking there to save the parking fee at Universal Studio but it seemed to me that most people were parked to use the subway.
Subways form a clean, fast, and efficient system for getting people around a city. Now, if a subway can work in LA then it can work anywhere. They just need to be built it to link the places people live with places people want to go. "If you build it they will come".
---
Sunday June 24, 2012 - Where to Put Chargers - I was browsing the Plug-in Prius (PIP) forum on Prius Chat this week and came across a post from a guy who just came back from a 3,000 mile trip in his PIP. His experience with charging had some surprises including hotels being rated as worst place to charge and gas stations being rated as the best.
He found that most gas stations had 110V outlets in easily accessible locations and a request to charge was usually answered in the affirmative by the station attendant.
The managers at the hotels he stayed at usually agreed to let him charge too but the big issue was the difficulty in finding outlets in accessible places
This got me thinking about how we are deploying public infrastructure.
The problem is that installing EV charging is often costly so chargers tend to get installed at locations where the owner supports EVs rather than where they are most needed, or at locations where the owners find out that they can get a grant to cover most of their installation costs. Charging an EV takes some time so we really need chargers at places where people aren't going to hang around, but we do need them at places where people can go to spend their hard earned dollars.
Hotels are the obvious first choice. People stay overnight at a hotel and overnight charging is the optimum for both EV drivers and the electric grid. For PHEVs like the PIP or Volt, that don't even need level 2 charging, 110V will works fine but pure electric cars really need 220V chargers. People also stay a long time at Malls and Cinemas, often 2 to 3 hours. Some tourist attractions are all day affairs.
We are currently building electric highways by installing fast chargers every 50 miles or so to allow EV drivers a better chance to take their EVs on longer trips. The utility of these stations is greatly reduced if there in nowhere to charge at the destination.
I think that we should be encouraging hotels in particular to install chargers. Let's face it. it is wonderful that Walgreens has installed chargers but how often do you stay for more than 30 minutes and if you are being charged a minimum of $2 per charge it isn't that economical to plug in for perhaps 5 miles of range.
Parking lots for tourist attractions are another prime location. People often drive 40 or 50 miles to visit Theme Parks like Disneyland, Universal Studios, or Sea World and if you wanted to use one of the latest electric cars you could probably manage the drive on a single charge if you were very careful but most of us would prefer to leave for home with a full charge.
A quick check on the Chargepoint and Blink networks showed a mixed bag for charging at theme parks and tourist destinations around Los Angeles. Disneyland didn't appear to have any J1772 chargers nearby although I did find a reference to 110V outlets in one of the parking garages. There were also no J1772 public chargers at Universal Studios, Knott's Berry Farm, or Magic Mountain. There were public chargers at Sea World in San Diego and Aquarium of the Pacific in Long Beach. Solvang, a major tourist destination in Southern California has three Chargepoint stations in city parking areas; a good start.
There are some hotels that have older style Inductive or Conductive chargers but very few I found that had J1772 chargers installed. It seems to me that we need to get chargers installed at Major tourist destinations as the highest priority. We also need to move forward with encouraging hotels to provide charging for their guests.
The key is to educate the management of these locations that the availability of chargers will help attract customers. At Century City Shopping Center they had 3 J1772 charging stations available to the public that belonged to Coda. These stations were heavily used but at the start of May Coda changed policy and now only allow Coda vehicles to charge there. Since this happened I have seen very few EVs at the Mall and I am sure that there has been a negative impact on business. I am sure this is a total coincidence but since this change three businesses in the food court have closed.
We now have a situation where we have lots of chargers installed but not in the right places. This leads to reports of chargers going unused while people can't find a hotel with a place to charge. The perception is that EVs are commuter vehicles so they won't be used for overnight trips. While this may be true for many of today's electric cars we need to remember that there are now over 10,000 plug-in hybrids on the roads, all of which can benefit from an overnight charge. With the launch of the Tesla S, a new generation of extended range electric cars is starting to arrive in showrooms. These are going to be used for overnight trips.
We really need to educate the owners of hotels, shopping centers and cinema complexes on using the availability of charging to bring in customers. I'm sure that EV drivers are going to Santa Monica Place instead of Century City or Westside Pavilion just because charging is available there.
---
Sunday Jun 17, 2012 – Hatchet Job From CNN Money – I just finished reading an article from CNN Money that was one of the worst hatchet jobs I have seen on electric vehicles.
The article blares the headline "Building Electric Cars is Harder Than Rocket Science" and starts out by talking about Elon Musk and how Space-X has just finished its first mission to transport cargo to the International Space Station while Elon's other company, Tesla Motors is struggling.
The article says "Tesla sales have screeched to a halt while it gets ready to launch its first all-new model", making it should like people are shunning the Tesla Roadster when reality is that the car is based on the old model Lotus Elise; Lotus stopped making the chassis for this vehicle so Tesla could no longer build the roadster. People aren't going to buy what isn't available which is why Tesla sales have gone missing.
It then talks about Tesla Motors and the launch of the model S. It talks about Tesla's cash drain which only demonstrates that the author knows very little about car manufacture. It costs a huge amount of money to put a car on the market so the cash drain at Tesla is surprisingly low. What the article fails to mention is that the Model S is sold out through 2013 – that doesn't should like a failure to me.
He then goes on to talk about Fisker, but not about the current struggles with the Karma, which appears to have sold quite a few cars but is having quality issues that they need to overcome before moving forward. His jab is at the delay in the launch of the Atlantic, Fisker's next vehicle that has been pushed back because the DOE pulled funding and Fisker has to hunt for alternative sources of funding. This is a start-up company in a very cash intensive business so it should come as no surprise that shortage of cash would cause delay.
He goes on to hit out at the Leaf, which has seen low sales of cars since the supply interruptions after the earthquake and tsunami that interrupted supplies for all Japanese car makers. Last month the leaf sold more cars than the total number of cars sold for the Generation 1, or Generation 2 EV1 sold in total. That seems to be a major move forward. They are even selling at a pace similar to the early sales of hybrid vehicles ten years ago. Much of what is being said here was said about the Prius too and it is now one of the top selling cars in Toyota's lineup.
Talking of Prius, one of the cars listed in the article wasn't a plug-in car at all, it was the Prius C. The car was listed because Consumer Reports didn't like it and gave it a rating of only 53. This is a car that dealers can't keep on the lot. It has a base price below $20,000 and returns better mpg than the standard generation 3 Prius. This car is selling well but I guess if someone at consumer reports doesn't like it then it must be a flop.
Even the Volt, a car that is out-selling many models currently in showrooms, came in for criticism for low sales because sales are below GMs earlier predicted levels. Volt sales are clipping right along, even though the car now has competition from the Plug-in Prius and the Fisker Karma. The 2013 Volt is also going to have a slightly longer range than the current Volt so this may also delay sales until the new model is available, just as people waited for the low emissions model to become available in California.
For some reason the author included A123, a battery manufacturer, in his list of EV failures. Now it is true that A123 does supply some of the batteries used in various EVs but that is a very small part of their business. A123 is a major supplier of batteries for cordless power tools. How this is somehow a failure of electric cars escapes me.
What did surprise me is that the Mitsubishi I wasn't included in the list even though the car is only selling in very low numbers. Perhaps the fact that it has been setting sales records for the last two months had something to do with that. It would seem like it would have been a better place to stick the hatchet that A123 but I guess saying "But the recall of 200 Fisker cars in December with A123 batteries cost the company nearly $67 million and left its survival in doubt" is a lot more dramatic.
The truth is that electric car sales are going slowly. Sales might not be up to the expectations of the major manufacturers but they are doing better than those of us who have been interested in electric cars for a long time expected.
Electric Vehicles require a whole new way of thinking about transportation. You change from driving 300 miles then going to the gas station and filling up in 10 minutes to recharging your car at home and getting a full tank range of 70 – 100 miles every morning. It pulls people out of their comfort zone. Since filling up at home is a requirement for most people this means that people who live in apartment buildings, or in houses that require on-street parking can't, in most cases, use an electric vehicles.
They are also expensive, and will remain so until sales reach a tipping point after which prices should start to decline as costs are reduced by volume manufacture. To paraphrase Mark Twain "New of the EVs Death has been greatly exaggerated".
---
Sunday Jun 10, 2012 – Lots happening in June 2012 – This month there is a lot of breaking news in the world of electric vehicles with new models hitting the road and new plug-in vehicles beginning to move from concept to production ready.
First a Leadership change at ZAP Jonway. In an announcement earlier this week, long time CEO of ZAP, Steve Schneider, has stepped down as Co-Chief Executive Officer of ZAP Jonway's US operations. He has been replaced temporarily by Alex Wang, Co-Chief Executive Officer of ZAP Jonway's China operations. With ZAP founder Gary Starr now relegated to Chairman Emeritus the old guard at ZAP have, for all intent and purpose, gone.
Last week also showed Tesla making its first delivery of the model S to board member Steve Jurvetson who was the first to put down a deposit on the Tesla S at a Tesla Board meeting in 2009. Rumor has it that Tesla CEO Elon Musk, who received the first Tesla Roadster, is now driving around in Tesla S #2. First deliveries to the general public are scheduled to begin on Jun 22.
GM also made an announcement last week about changes for the 2013 Volt. Unfortunately they didn't address the most glaring issue with the Volt, the use of 92 Octane gas. Also missing was the move to an E85 compatible engine. What we are going to get with the 2013 Volt is tweaks to the battery chemistry that will increase range from 35Miles to 38 Miles, getting closer to the 40mpg original estimate and boosting MPGE from 93mpge to 98mpge.
This change increases battery capacity from 16 KWh to 16.5 KWh with a comparable increase in usable capacity from 10.3 KWh to 10.8 KWh. GM reports, "Cells with improved chemistry have accumulated 150,000 test miles to date. The tests have revealed less battery degradation, the ability to withstand temperatures as low as -30 degrees Celsius and less impact by energy throughput."
Ford has just started showing a commercial, in my area at least, that is intended to show that it is doing a lot to improve mpg across its line of cars and trucks, One of the cars shown appears to be the C-Max Energi plug-in hybrid. While Ford is currently taking orders for the C-Max hybrid the C-Max Energy isn't supposed to be available until towards the end of the year so I was surprised to see it in a commercial.
On the other hand, Fisker continues to have a hard time. Earlier this year some whistle blower at Fisker claimed that the Karma was released before it was ready. From what I have heard this appears to be true as lots of owners seem to be having issues and I see very low mileage vehicles popping up on the used market almost every day.
A few weeks ago there was a highly publicized event where the Karma bought by Consumer Reports broke down during their check-in process. Since then issues experienced by other owners have surfaced in blogs and on discussion lists. All I can say is that of the two Fisker Karma I have seen on the road, one was making a very expensive sounding noise.
It isn't unusual for a start-up company to use paying customers as part of their beta test. Often the cost of warranty work pushes the company into insolvency. Fisker appears to be well funded so hopefully they will be able to weather the storm and get the cars fixed so they run properly. In the meantime there may be some bargains in a used Karma for those who want a sexy sports car and can afford to have their car out of service for long periods of time.
Finally a word for all those who are saying that Electric Vehicles don't make sense, that they are not cost effective, and that companies will never make a profit on them. Just a few years ago the pundits were saying the same thing about hybrids too. This week Toyota announced that Prius had become the world's third best-selling car line after Camry and Corolla. I've been saying for a while now that the market for electric cars has to mature. Plug-in vehicles are already selling better than hybrids did in the early years and as awareness continues to go they will eventually become mainstream, just like the Prius.
---
Sunday Jun 3, 2012 – May 2012 EV Sales – May saw sales of Plug-in cars continuing to go slowly, but still moving along at a reasonable pace. Plug-in hybrid sales continue to set the pace with pure electric cars selling at a lower rate.
The winner in the plug-in car sales race for May was GM who managed to sell 1,680 Chevy Volts in May besting April sales of 1462 but still behind the 2289 cars they sold in March.
Toyota cleared up the last of the pre-orders during May and began direct sales to the public. Sales dropped from the April total of 1654 to a still respectable 1086 Plug-in Prius. It will be interesting to see how many plug-in Prius sales they have in June which will be the first full month of sales after the pre-orders have been satisfied.
Nissan increased sales of the Leaf by 140 cars over March sales coming in at a respectable 510 cars for the month. Nissan acknowledges that while they have cars on dealer lots in California most Nissan dealerships outside the golden state don't have cars on their lot. In May Nissan stopped the build to order program and will be pushing to get cars onto lots across the US in the coming months.
Mitsubishi continued is slow but steady sales climb by setting a new record for sales of the I, selling 85 cars, 6 more than they sold in April. Mitsubishi has a network of 400 dealerships nationwide and sold a total of only 5,575 cars in May so the 85 cars actually represents a much bigger percentage of sales than the Nissan leaf was for Nissan.
Ford finally sold some more Focus EVs towards the end of May. You may recall that Ford sold a total of 12 Focus EVs in December 2011 and a January 2012 but sold none in February, March and April. The original 12 cars were sold to fleet buyers so no cars had been sold to the public at all.
During these months Ford had been preparing a group of 67 dealerships in California, New Jersey and New York by having them install charging stations and have technicians trained to service and repair electric cars. In may they shipped about 6 cars to each of these dealerships with 5 being for sale and the sixth to be used as a demo car.
On May 29, 2012 Whit Gallman picked up his Ford Focus EV from a dealership in New York. The sale was done without fanfare, possibly because Mr Gallman is from North Carolina a state outside the three initial states that Ford had targeted. Other sales have occurred since then but so far Ford has not said how many cars were actually sold. Given that sales didn't start until the end of the month it seems likely that sales numbers were in the single digits. It will be interesting to see how many cars they sell next month. Allan Mulally, CEO of Ford Motor Company, has been reported as saying that Ford will be satisfied if they sell 5,000 Focus EVs this year.
Wheego has been selling it's Whip NEV recently including sales to local municipalities for use in parking control, but production of the LiFe has been put on hold while the company awaits the results of a request for a federal waiver the requirement for vehicle stability control. This is likely to stop sales of the LiFe for several months.
The other three major sellers of electric cars, Fisker, Coda and Smart, don't report the number of sales, of in the case of Smart leases, they have each month.
Fisker has completed sales of their pre-ordered cars and vehicles are now starting to show up on dealer lots. They are also dealing with some issues including mechanical problems with the cars and a car fire that is currently under investigation by the NHTSB. There are also a lot of used Fisker Karma on sale around the country which doesn't hold well for the long term viability of this company. I hope they can deal with these issues because the car is gorgeous. Hiding their sales numbers also doesn't build confidence in the company.
Coda appears to be doing OK and they did deliver an undisclosed number of cars this month. Coda initially focused on delivery of pre-orders to the public but in May they delivered their first car to fleets when they sent an unknown number of cars to electric power utility AEP in Ohio. Coda appears to be a good company with a good product. I think full disclosure of the number of cars they sell each month would be a good way to build investor confidence.
Smart also does not disclose numbers of cars leased each month. The Smart ED is available nationwide. I suspect the reason that they don't report sales is that sales volume is so low that they don't want to report it separately. Total Smart sales of May were only 703 vehicles so the number of electric smarts can probably be counted on one hand.
While Th!nk US is still in bankruptcy they did make about 150 unsold 2011 model cars available for sale through three dealerships, one in California, one in Illinois, and one in New York at excellent prices at the end of April. They have sold a number of these cars but I have no idea how many.
As a side note, BMW made 700 ActiveE electric cars available in the US for a trial making the cars available on a two year lease. The trial was run in California, New York, Connecticut and in the Boston, MA area. The last of these cars was leased at the start of May so this car is no longer available.
The number of plug-in vehicles continues to grow steadily. With 3361 plus whatever cars were sold by Ford, Coda and Fisker, plug-in cars continue to be a choice for consumers looking to skip the gas pump. As you can see from the above both the Chevy Volt and the Plug-in Prius outsold the Smart in May.
In June we can expect to see Tesla begin delivery of the much anticipated Model S. The Model S has been sold out through 2013 and Tesla is another company that doesn't give out monthly sales figures but does give out quarterly numbers so we may need to wait until September or October to get an idea of production volume at their California assembly plant.
Once Ford gets production of the Focus Electric moving, and Nissan starts to get the Leaf into dealerships across the nation, I expect to see sales of battery electric cars growing again. Still, the plug-in hybrid is a transitional car. It deals with the range issues especially with single car families, so early sales are expected to be stronger in the early years with BEV sales growing as people realize that they don't need 300 miles of range on all their cars.
---
Sunday May 27, 2012 – Little Things – This week I was over at Universal Studios and saw a sign on a door that suggested that people do little things to make the company greener. Things like turning of computer monitors when they leave for the day. This got me thinking about how we could modify our behavior just a little to help the environment.
"So what" I can hear you all say how is one person turning off a monitor going to help the environment?
There are two things to be considered here. One individual action doesn't do much to help the environment. You aren't going to save a lot of coal by turning off your computer monitor when you go to a 1 hour meeting, but if you do that every time you go to a meeting, or lunch, or when you leave for the day, the savings begin to mount up. The other thing is that people tend to follow others so if they see you turning off your monitor they might begin to do it too. There are probably thousands of monitors all over Universal Studios and if everyone turns off their monitor when it isn't in use then the savings in electricity becomes very significant.
You've probably done some things to help reduce electricity usage such as swapping light bulbs for CFL's, running the dishwasher and washing machine during none peak hours, and installing an energy star rated refrigerator, but there are other things that you can do that you might not have thought about.
Take for example the simple act of drinking a cup of coffee. Most of us like to have our coffee in the morning, or perhaps you prefer tea. Well, if you go over to the coffee station there is usually paper or Styrofoam cups that you can use then discard. Consider getting a mug instead. The energy to create the mug is much higher than that needed to create disposable cups and there is some water use when you wash your mug, but over the life of the mug the amount of energy savings, and the amount of waste sent to landfills, is significant. Let's say you work 250 days per year and have three cups of coffee per day. That would be 750 disposable cups per year. If the average mug lasts 10 year, that's 7500 less disposable cups sent to landfills.
Every year there are billions of plastic grocery bags that show up in landfills, at the beach, in parks, and on the streets. These bags can then injure animals, clog storm drains, and spoil the view at otherwise pristine locations. There are ways to help here too.
One way is to get reusable canvas shopping bags and take then with you. You can buy a disposable bag at your local grocery store for about a dollar and they are often given away at environmental shows such as the ones associated with the upcoming National Plug-in day being held on Sunday September 23, 2012. The concept of using a reusable bag is similar to using a reusable mug, each time you use it there are one or two less plastic bags that are being sent to the local landfill.
If you don't want to use a canvas bag then at least recycle the old plastic bags rather than just throwing them out. Many supermarkets have plastic bag recycling boxes where you can drop your old plastic bags on your next visit. Here in Los Angeles less than 5% of plastic bags are recycled – we need to do better.
Driving is another big consumer of resources. There are alternatives that we can use once in a while to reduce our oil consumption. There are several options that are available in most cities including walking, biking, or taking public transport. Instead of working out at the gym one night consider taking a walk to your local supermarket and doing some shopping. Instead of loading the bike onto the back of your car then driving somewhere to take a ride consider riding your bike to do errands like going to the bank or the post office. Think about taking public transport or carpooling to work at least one day a week. Here in Los Angeles the busiest day of the week for traffic is Thursday. I've never been able to figure out quite why that is but if more people took public transport of carpooled each Thursday consider how much fuel could be saved just because there are fewer traffic jams.
There are lots of ways to save gas while driving and evfinder.com is a strong supporter of electric vehicles as a way to reduce carbon footprint and dependence on foreign oil. I do realize that most people will not be getting on board the plug-in vehicle movement any time soon for a variety of reasons so consider looking at ways to drive more economically when you take out the old gas guzzler. For example driving just 5mph slower can often make a big difference in how much gas you use. This might mean leaving for your destination a few minutes earlier but the savings on the wallet over time can be significant.
We humans are a tribal species and we tend to follow the herd. It is often in our nature to do things because other people do them. I was in a carpool once where one of the drivers habitually did California stops at stop signs. For those that don't know, a California stop is where the driver slows down checks for other cars and is there are no other cars at the other stop signs they roll through the intersection without coming to a complete stop. After a while I noticed that other drivers in the carpool were also adopting California stop techniques. Don't fall into the trap and stop doing things like using cloth bags because other people can't be bothered. Become the leader of the heard and have people adopt your way of doing things.
We may not make much of an impact individually but if we all start using environmentally friendly behavior we can make a huge difference. If one person uses a reusable mug then they stop 7,500 disposable cups going to landfills. If three other co-workers start copying this behavior then that's 30,000 disposable cups that don't go to landfills. If a million people adopt this behavior then we are talking 7.5 billion disposable cups over ten years that are no longer clogging our landfills. There are over 30 million people in Californian and over 300 million people in the USA so the amount of disposable cups going to landfills each year is staggering but most of these can be avoided.
Now here is the challenge. If you aren't already doing some of the things above then consider adopting one or more of them as a regular part of your life. The little things add up and together we can make a huge impact.
---
Sunday May 19, 2012 – Storage for Renewable Energy – One of the big problems with wind and solar power is that it is intermittent. Both solar and wind energy are affected by the weather, if the sun doesn't shine the solar panels don't produce electricity and if the wind doesn't blow the wind turbines don't turn. This week I saw video of a talk given at a recent TED conference by Professor Donald Sadoway who is working to remedy this issue.
Canadian Born Dr. Sadoway is currently John F. Elliott Professor of Materials Chemistry at MIT. He is co-inventor of the solid polymer electrolyte which doubles the power per kilogram possible for Lithium Ion batteries, and his research also includes environmentally friendly ways to extract metal for ores.
He started out by saying, "If we are going to get this country out of its current energy situation we can't just conserve our way out; we can't just drill our way out; we can't bomb our way out; we are going to do it the old fashioned American Way we are going to invent our way out working together."
"Today there is no battery technology capable of meeting the demanding performance requirements of the grid, namely uncommonly high power, long service lifetime, and super low cost", he continued.
There are several ways that have been used to store energy from the grid, often these have been more focused on storage of excess energy produced by baseline energy sources during low demand periods such as overnight. One way this has been done is to use hydroelectric storage by using excess electricity to pump water from a lower reservoir to a higher one when demand is low then releasing it back through the turbines to generate electricity when demand is high. This is effective and allows the storage of a large amount of energy, but is very costly.
Another method proposed is to use older electric vehicle battery packs that have lost too much capacity to function effectively in EV applications but still have capacity to work as a backup power supply. The issue here is that the batteries are going to have a pretty short service life.
One process being attempted for solar power stations is to have the sun's rays focused onto a pipe that contains molten salt. Excess power can then be stored as heat and used to generate electricity after sunset. This only works when the power is generated from a large scale solar plant and does not help with small scale solar using solar cells, or with wind farms
Professor Sadoway realized that what was needed was a really cheap battery that was high capacity, had a long service life, and was dirt cheap. "If you want to make something dirt cheap, make it out of dirt, preferably dirt that is locally sourced", he said.
Professor Sadoway took inspiration from the process to smelt aluminum, a process that runs at high temperature and uses molten salt as the electrolyte allowing high current to be passed through it.
He proposed using a battery that had one layer of low density liquid metal at the top, a layer of molten salt in the middle as an electrolyte, and a layer of high density molten metal at the bottom. He looked at the periodic table and found selected Liquid Magnesium (Mg) for the top layer, liquid Antimony (Sb) for the bottom layer separated by a layer of molten salt.
Initial testing was done with a ¾ inch diameter cell that held 1Wh then they scaled up to a 3 inch diameter 20Wh cell, then to a 6inch cell that held 200Wh. He formed Liquid Metal Battery Corporation (LMBC) to manufacture these cells and they are currently testing a 16 inch diameter cell with a capacity of 1KWh. They are also working on a 36 inch diameter cell that will hold 4KWh. These larger cells will then be placed into a string that will fit in a 40ft container and have a storage capacity of 2MWh. The batteries themselves have been tested to over 1 million cycles which means long cycle life.
So far there is no indication of how much such a battery would cost and a lot of research still needs to be done before this solution can be used commercially but it does have lots of potential. These storage batteries could be placed at wind farms and large scale solar generation sites to smooth out the curves between generation and demand.
A quick example will illustrate the utility of these batteries. If I own a wind farm I have two problems, first if the wind doesn't blow, or blows too hard, I don't produce electricity to sell. On the other hand the wind may be blowing but if demand is low and the utility can meet that demand from its baseline generation facilities they still won't be buying the electricity I produce so the wind farm will be idle. Now, I place a 40ft container full of liquid metal batteries next to my wind farm. When the wind is blowing but the utility isn't buying I can now store 2MWh of electrical energy in the batteries. When demand increases, and the utility needs more energy, I can release the energy from the batteries into the grid. I get to sell more of the energy I produce while the utility gets renewable energy at peak times – a win win.
Smaller scale versions to be used at local sites such as homes with rooftop solar as a cost effective way of going off grid. In places where there a lots of homes that have solar on their roof the batteries could be placed at the local power distribution hub instead of using the grid as power storage. In third world countries locations where there is no grid can now make a mini-grid of their own using solar cells or wind generation and the battery to smooth out supply v demand.
Professor Sadoway's liquid metal batteries appear to have a lot of potential to make renewable energy more useful and I look forward to seeing these batteries moved into large scale testing.
---
Sunday May 12, 2012 – EVS 26 – This year the 26th Electric Vehicle Symposium was held at the Los Angeles Convention Center and I was able to attend the show last Monday. EVS is one of the biggest get together of the electric vehicle industry and this year was no exception.
LA is the car capital of the world and it seemed like everyone in LA was on the 10 freeway as I crawled my way downtown to the convention center. Since this was an electric vehicle event it wasn't a surprise to see lots of EVs and I followed a Coda Sedan into the parking lot which was full of Leafs and Volts and even a couple of Mitsubishi I.

I arrived early expecting to take a while to register but since I had pre-registered the process was remarkably easy. I was directed to a computer at the registration desk and after entering my name it printed out my badge and I was on my way.
The first thing I did was to head for the ride and drive but found that they didn't start until 11am so I wandered over to the exhibition hall but they were also set to open at 11am so I finished up going into the plenary session.
In the Plenary session Los Angeles received the E-Visionary award for America as the city doing the most to encourage electric vehicles. While accepting the award Mayor Antonio Villaraigosa also announced that joining Coda and BYD in LA would be electric truck maker Boulder Electric Vehicles who will be building a manufacturing plant in the city.

I also learned something new; the California Air Resource Board was originally established under then California Governor Ronald Regan. I knew there was something I liked about him.
At 10:45 I went in search of coffee and then it was on to the ride and drive. I did miss out on the Toyota presentation but here are a few of the highlights. Toyota will be ready to market a fuel cell vehicle by 2015. 67% of Prius V and 79% of Prius C customers are new to hybrids. Toyota will release the IQ-EV later this year. The car is designed for use in car-share programs
While all this was going on I made my way to the ride and drive to get my first drive of the production Ford Focus. I had to wait a while though, apparently power had been shut off overnight so they only had one car that was charged and ready to go. Fortunately the lines were very short, as was the test loop, so the wait wasn't too long.
The Ford Focus looks exactly like the ICE Focus on the outside but once you get into the driver's seat the instrumentation is decidedly different. There is an indicator that shows the state of charge and the projected range of the car. I did have trouble adjusting the seat. I like to sit in an upright position and most drivers like to lean back a little so I usually have to adjust the seatback. In the Ford Focus EV I had difficulty finding the adjustment. It turned out to be hiding behind the seatbelt and once I had the seatbelt fastened I was able to reach the seatback lever with no problem.
The car drives really well. Even for an EV the car I drove was quiet. I didn't even notice any significant tire noise when I was out on the street. Acceleration was brisk but not really any better than you would expect from its gas guzzling sibling. The power steering is nice and firm and it gave me good feel for the road.
In Drive, backing off the accelerator gave me very light regen, similar to what I get in the Prius. Regen is integrated into the brake pedal so it doesn't really kick in until you press on the brakes. When I dropped the car into L (for Low), regenerative braking was significantly stronger when I backed off the accelerator. In L I could let the car coast down when approaching a red traffic light then apply the brake to come to a final stop. This kind of regen design doesn't suit everyone but it works well for me.
The Focus EV is going to be available in California, New York and New Jersey only and will be sold through a select group of Ford Dealerships which currently numbers about 65 dealers. I had high expectation for the Ford Focus EV but it appears that Ford is making this car just to comply with CARB requirements.
When I got back from the test drive it was getting close to noon so I hurried over to the convention hall to attend the Toyota press conference. I arrived at the Toyota stand and there was a car covered up. I asked if this was where the press conference was going to be and the guys there directed me to the back of the hall. I managed to snag a seat up front for the presentation.
The RAV4-EV is a designed to have the same performance and comfort as the V6 version of the current RAV although it does have a slightly different grill at the front. The car was developed as a joint effort between Toyota and Tesla and contains a Tesla drive train and battery pack.
The RAV4-EV, which will retail for $49,800, will offer a top speed of 85mph, a driving range of 100 miles, and is capable of 0-60 in 7 seconds. It has a coefficient of drag of just 0.3 which is the lowest CD of any SUV currently available. It will be offered in three color choices, White, Silver, and Blue and has seats made from a unique fabric created for this vehicle.
The RAV4 EV should be available through select California dealerships starting in late summer and will be available for purchase or lease to both fleets and individuals. The down side is that Toyota is only going to build 2,600 of these cars over the next 3 years so they are definitely being produced for the purpose of CARB compliance. The Tesla built battery pack will come with an 8 year, 100,000 mile warranty. During the presentation I had missed the launch date so I asked the presenter at the end and he said "Late Summer" then added "sometime in the next 90 days"
After the Toyota presentation I made my way back to the ride and drive and took a look at the Tesla Model S. The Model S is a nice sized car but it still looked a little small to me for a 7 passenger vehicles. They had both the front and back luggage compartments open and there is a ton of luggage space in this car. I asked about availability and the guy from Tesla told me they would begin shipping to customers in July but they were sold out through 2013. Unfortunately this was a static display and they were not taking part in the ride and drive.
Another car sitting among the ride and drive vehicles was the Fisker Karma. This is another car that I would like to drive and I did see the car going out to the test loop, but I found out that the car wasn't part of the ride and drive either so I was quite disappointed.
Next to the Tesla was the Mercedes Fuel Cell vehicle. The F-Cell is based on a Mercedes-Benz B Class five door and has a 700 bar tank for hydrogen storage that gives the car a range of 240 miles. I got a chance to drive this car for the first time and it drives very much like the A Class that I rented a few years ago when I was in the UK.
The car accelerated briskly and when I backed off the accelerator the whine of the regenerative braking was quite noticeable. It wasn't that long ago that fuel cell vehicles were noisier than ICE vehicles but the ones I have driven recently are just as quite as battery electric cars and this one was no exception. Daimler has about 30 B Class F-Cell cars currently leased in California and they still have some available. They can be leased for a cost of $845 per month for a 2 year lease that includes just about everything including fuel. I chatted a bit about the car and the problem in LA is that the only public fuel station currently available is 350 bar which cuts range down to 120 miles so Daimler are reluctant to lease cars to people like me who live on LA's West Side.
After test driving the F-Cell I went over to Toyota to take a test drive of the Plug-in Prius. Fans of my blog will remember that I had to cancel my order for a Plug-in Prius back in January and although I have driven the early test vehicles I have never driven the production version.
The car that I was to drive was an advanced version. Inside it looks pretty much like a standard Generation 3 Prius. The car was showing about 13 miles of all electric range and was in EV mode. When I stepped lightly on the gas the car glided forward silently and I was soon out on the test loop. The drive experience in the Plug-in Prius is pretty much what you expect from a Prius. It wasn't appreciably different from driving my Gen 2 except that it mostly stayed in EV mode.
Once I had a nice long straight road that was relatively clear of traffic pressed hard on the accelerator. The car started to accelerate rather sluggishly for a second then the gas engine started and the car began to take of quickly. I backed off the throttle but to my surprise the gas engine kept running. I asked if this was the warm-up cycle but was told "no, the car keeps the engine running for a while in case you need to accelerate hard again".
I was a little disappointed about the way the car behaved under heavy acceleration but I suspect the system is designed to limit the current draw from the battery which will help preserve battery life. This is also the reason you may see reports that show the Plug-in Prius only has 6 miles of EV range. On the EPA test cycle there is heavy acceleration at 6 miles which starts the gas engine on the Plug-in Prius and since battery range is measured up to the gas motor starting this is reported as the limit of battery only range. In reality most drivers are seeing 12 – 14 miles of range.
When I got to the end of my Prius test drive I decided to take a Volt for a drive so I could do a direct comparison.
The Volt that I drove showed 35 miles of EV range and I also noticed that the car seems to have been driven in a mixture of electric and gas modes for the current tank that were around 50/50. Gas mileage showed as just over 37 mpg.
The Volt is about the same size as the Prius but unlike the Prius which seats 5 it will only seat 4 people as the battery pack intrudes into the area where the third passenger would sit in the rear.
The driving experience on the Prius is more like driving a hybrid while the driving experience in the Volt is more like driving an EV. When I hit the accelerator hard on the volt it just took off with no delay and no engine start.
I also found that there was a nice little device on the Volt to help you drive more economically. It's basically an accelerometer with a gage that has a vertical bar with a circle in the center. The object of the game is to keep the circle in the center of the bar. If you accelerate hard the circle moves upward, if you brake hard the circle moves downward. The gage gave me instant feedback and I found myself adjusting my driving to try and keep the ball centered.
I am a big fan of Toyota and in the end I will still plan to have a Plug-in Prius as my next car since it suits my lifestyle better, but truth be told I had more fun driving the Volt.
My next stop was to try and test-drive the BYD E6. This all electric crossover vehicle is already on sale in China but the launch here in the US has been delayed over and over again. When I got to the stand the two guys were just on the point of leaving for lunch and didn't wait around for me to take a test drive.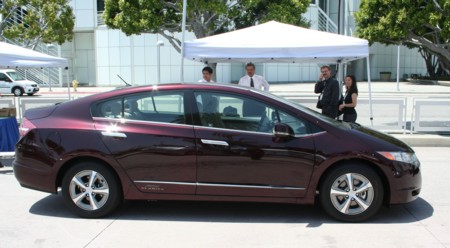 Instead I decided it was high time that I tested out the Honda Clarity. The Clarity FCEV has been available for lease in California since 2008 and the lady who gave me the test drive told me that they currently have 30 running around the state.
The Clarity is a full sized four door sedan and drives pretty much like the full sized Honda Accord. Acceleration is brisk and the car is really quiet except for a notable whine when the regenerative braking kicks in. Of all the cars I drove the Clarity was the most comfortable. It will comfortably seat 5 and has plenty of head and leg room, at least in the front seats.
Like the MBZ F-Cell the Clarity offers a range of 240 miles on a tank of hydrogen. Unlike the F-Cell the Clarity doesn't need 700 bar service to obtain that range. Instead the Clarity is equipped with a large 350 bar fuel tank which robs the trunk of some of its space.
The cars are leased in California from select dealers for $600 per month and several of the early adopters have already renewed their lease.
When I got back to the ride and drive area the folks from BYD still hadn't returned. I contemplated driving the Leaf or the Mitsubishi I but decided against it since I have driven both those in the past. I decided to call it a day and head back home. I had a thoroughly enjoyable time with plenty of EV driving and I look forward to the next time EVS is held in Southern California.
---
Sunday May 6, 2012 – Plug-in Sales for April 2011 – The end of April saw a mixed bag of sales for plug-in vehicles with sales of Plug-in Hybrids galloping ahead of pure EV sales while overall fleet mpg dropped from 23.4 mpg to 23.3 mpg as people bought more trucks and SUV than they did in March.
Toyota sold more plug-in cars in April than any other manufacturer with 1654 Plug-in Prius sent to customers. This just about fills the orders taken for the early buyers program so we won't get a good idea of the true sales of this car until next month when cars start to arrive on dealer lots.

The volt came in second place with 1462 cars sold which were 827 less cars than they sold in March. Some of this can be attributed to a rush to buy the low emission cars that have access to the California HOV lanes that came available in April. Word is that these are now hard to find which is inhibiting sales.
The Nissan Leaf came in third with just 370 cars, their lowest monthly total in over a year and 209 cars less than the 579 cars sold in March. While inventories of Nissan Leaf are still low, which is part of the issue with sales of this car, I am beginning to see them on dealer lots around Southern California. For example Power Nissan in Hawthorne has 17 advertised on eBay while Miller Nissan in Van Nuys has 5 listed. It will be interesting to see how this affects sales for May.

In contrast with the low sales of the Nissan Leaf Mitsubishi had their best month ever selling 79 Mitsubishi I. I have mentioned in the past that Mitsubishi have a very small distribution network with overall sales of only 5,280 cars in April so the I represents about 1% of sales. Sales of the Mitsubishi I were no doubt helped by them starting to deliver nationwide.

Ford failed to sell a single Focus EV for the third straight month. After beginning sales in December last year and selling only 12 cars they seem to have changed strategies and haven't delivered a single Focus EV since the 10 they delivered in January. Instead they seem to be setting up sales through selected dealerships who will have to install at least 2 charging stations, one in their service bay and 1 for customers, have a Focus EV available as a demo vehicle, and have technicians trained to service EVs. So far they appear to have set up 69 dealerships in California to sell the cars. Cars will be built to order so we will have to wait until June to see if they actually shipped cars in May.

Wheego, Coda and Fisker were all delivering cars in April but will not say how many they delivered.
Wheego only builds cars when they have the cash on hand but since they completed an equity deal with a major investor at the end of March, it may be possible that they got cars into dealerships in April, but more likely that cars will start to roll out in late May.
Coda, who started deliveries in March, should still have been delivering pre-orders during April and must have delivered a number of cars during the month. They have also increased the number of cars available for test drives at their experience center in Century City from 2 to 3 (and sometime 4).
Fisker said they had 3,000 pre orders when they started shipping cars in October, 2011 and it has taken them until the end of April to get these cars to their early adopters. It appears that dealerships are now starting to get cars into inventory so they should be available for sale this month. I am also seeing a lot of low mileage vehicles appearing on the used market.

Th!nk also sold some cars in April when they offered 150 cars from existing inventory for sale at around $22K before Federal ($7,500) and State ($2,500 in CA) incentives, which makes these cars an absolute bargain. I know of at least 10 cars that were sold out of this inventory and I expect that in reality most of these cars are already gone. It will be interesting to see if Th!nk USA can use the cash raised by this fire sale to emerge from bankruptcy.
When I first reviewed these figures I was quite disappointed but then I began to realize that these numbers are what might be expected at this stage as gas prices start to stabilize and people get used to the new price point. The current level of gas prices mean that people are moving toward better fuel economy by choosing technology like Ford's ecoboost but this trend has seen buyers gravitating back to larger vehicles leading to the dip in fleet mpg.
I expect that this trend will reverse when gas prices start to climb again when we move into the summer driving season. And think about this; last month Toyota delivered more Plug-in Prius in the USA than the total number of RAV4 EVs that were delivered during the 1997–2003 ZEV mandate period.
---
Sunday April 29, 2012 – Th!nking of Going Electric – The biggest hurdle to buying an electric car has always been the price. Even the Plug-in Prius, with just 13 miles of all electric range, starts at a base cost of almost $33,000. For those that want to go electric but can't afford the payments there is now an opportunity to jump right in; but it's not without risk.
Th!nk has been the phoenix of electric car companies, falling on hard times then being reborn from the ashes on at least four occasions. Things looked like they were going well when they expanded production into the US last year but the company went into bankruptcy and production at the Elkhart, IN factory is currently shut down as the company tries once more to restructure
What's bad for Th!nk may be good for someone willing to take a risk. In an attempt to raise cash the company is offering 150 brand new 2011 Th!nk Cities from its inventory of completed cars at a cost of only $22, 300 before federal and state incentives. The 2-seat Th!nk City qualifies for a $7,500 federal tax credit and is also eligible for some state incentives. Here in California that adds up to another $2,500. For those who can take the full tax incentive this $10,000 brings the cost of the car down to $12,300.
$12,300 is about what you would pay for a base model Fiat 500 and is considerably less than a Smart Fortwo.
The Th!nk City cars being sold are two door hatchbacks that seat two. They can reach a top speed of 70mph that makes them adequate for use on the freeway, and they have a range of 100 miles on a charge according to the EPA but this is deceptive since it is based on an older test cycle so I would expect range to be closer to 75 miles in real world driving and less running heater or AC. The cars come with a 3 year, 36,000 miles factory warranty that covers everything including the batteries. I have been told that the Th!nk factory has plenty of spare parts on hand. So what's the risk?
Well there is no guarantee that Th!nk will emerge from Bankruptcy and become a thriving concern. If it doesn't, the parts inventory will eventually be liquidated. This is OK if the parts are bought out by someone who is willing to support the cars. If not then parts could become scarce. The good news is that the Th!nk City is built using mostly Ford and Peugeot parts so keeping them running will probably be not too much of an issue for anyone who can do the work themselves or uses a competent mechanic.
There are currently a very small number of places where the cars can be serviced so anyone buying a car that doesn't live near one of these service facilities would need to do any required service themselves. The good news is that being an EV most services involves checking tire pressure and rotating the tires periodically which can be done by any competent mechanic. They can also do things like replace wiper blades, top up fluid levels, and service the brakes.
Where the risk lies is with any failure of the electronic components of the car. If the charger or controller fails getting a replacement may be difficult if there is no longer a support system for the car. I have found over the years that this rarely happens. Usually someone steps up and provides service. For example the reason that there are so many Citicars out there is that there is a guy who supports them, even going so far as to rebuild controllers.
There is also a support network of owners being built up in both a yahoo group and a much larger forum of Norwegian owners. The latter of course is in Norwegian so babelfish would be your friend although I have been told there are plenty of people in the forum that speak English.
Personally I think that this is great deal and if I had a place to store and charge a Th!nk City I would have bought one by now.
Right now they can be found at Eurostar Automotive Group in Randallstown, MD, and Green Wheels in Chicago, or for those living in and around California please see the ad on the Classifieds Page.
---
Sunday April 22, 2012 – UCS Report on EVs and Global Warming – This week the media has been buzzing over a report on the impact of electric vehicles on Global Warming by region when compared to gasoline powered cars, issued by the Union of Concerned Scientists (UCS).
Headlines in the LA Times screamed "Electric Cars beat gas? Maybe not Says Union of Concerned Scientists", while the Christian Science Monitor stated "Electric.cars: Big climate aid in LA but not in Wichita". It's quite usual to see the media sensationalize reports like this but one has to scratch one's head at the LA Times headline since the UCS report states that in the LA area electric cars produce less CO2 that even the cleanest gas car or hybrid.
In the executive summary they say "In regions covering 45 percent of the nation's population, electricity is generated with a larger share of cleaner energy resources—such as renewables and natural gas—meaning that EVs produce lower global warming emissions than even the most efficient gasoline hybrids. But in regions where coal still makes up a large percentage of the electricity grid mix, the most efficient gasoline-powered hybrid vehicles will yield lower global warming emissions than an electric vehicle. Even then, however, electric vehicles slash oil consumption in nearly all regions."
In the body of the report some of this information is expanded further. The report says
"Nearly half (45 percent) of Americans live in BEST regions—where an EV has lower global warming emissions than a 50 mpg gasoline-powered vehicle, topping even the best gasoline hybrids on the market."
"Some 37 percent of Americans live in BETTER regions—where an electric vehicle has the equivalent global warming emissions of a 41 to 50 mpg gasoline vehicle, similar to the best gasoline hybrids available today."
"About 18 percent of Americans live in GOOD regions—where an electric vehicle has the equivalent global warming emissions of a 31 to 40 mpg gasoline vehicle, making some gasoline hybrid vehicles a better choice with respect to global warming emissions."
"There are no areas of the country where electric vehicles have higher global warming emissions than the average new gasoline vehicle."
The report didn't really tell us anything that we didn't already know and in the end the conclusion we can draw from the report is that there will be benefits for climate change from driving electric vehicles instead of gasoline powered vehicles but we need to continue to clean up the grid and especially in the 18% of the country that is most dependent on coal for electricity generation.
While this report may have been well intentioned, and if you read past the sensational headlines you find that the report pretty much confirms what many people have said in the past that there are climate change benefits to driving electric cars but we still need to clean up our electricity generation, it is not without its problems.
My first area of concern is that while the report dedicates most of its space to determining source to wheels emissions by region for power generation it does not do the same thing for the well to wheels emissions of gas powered vehicles. In the report the only reference I could find for how they determined the amount of CO2 for gas was "Production and consumption of gasoline are assumed to produce 11,200 grams CO2e/gallon, based on GREET 1_2011 default values."
There was no attempt to determine the difference in CO2 emissions for gasoline production in the same regions as they did for electricity production. For example one of the areas they used as an example of the dirtiest regions for electricity production was Colorado, but they failed to note that Colorado derives much of its gasoline production from Canadian Shale Oil deposits which gives it some of highest CO2 emissions around.
Another thing it didn't deal with is the issue of baseline production for generation. Basically power generation is divided into two distinct groups, baseline generation and peak generation. Baseline generation is the power that is always available twenty-four hours a day. Typically baseline generation is covered by power plants that are difficult to shut down such as nuclear of coal fired generators. Peak generation is the excess that is required above baseline to meet peak demand. Peak generation is mostly powered by natural gas powered plants but also included most renewables like solar and wind which is why you will sometimes see wind generators idled at night even though the wind is blowing.
Now, most electric car owners charge at night. If the area where they exist is producing more baseline electricity than the amount that is being consumed, something that is quite likely in regions that are mostly coal powered because it just takes too long to get a coal fired plant back online if demand peaks suddenly so they are only shut down when they require maintenance.
In this scenario charging an electric vehicle isn't really causing additional fuel to be burned so the incremental CO2 caused by the car being charged is quite low. Of course cars are also charged at peak times, such as when a driver comes home in the evening and plugs in right away. The amount of CO2 caused by this can vary depending on what is used for peak load. If it is renewable energy like wind then the CO2 amounts would be low but demand is often meat by launching older, dirtier peaker plants that can increase pollution during peak hours.
The report does refer to overnight charging in the section that determines cost of driving an electric vehicle noting that power companies provide low cost Time of Use (TOU) rates to encourage drivers to charge overnight. The reason for this is because the power companies want EV drivers to use up the excess baseline power being generated during low demand periods.
Another shortcoming of the report is that it was totally focused on greenhouse gas emissions and didn't take into account two additional key benefits electric vehicles hold on their gasoline powered cousins.
The first benefit arrives from none GHG pollution issues. A zero emission vehicle produces no tailpipe emissions and so it does not have the same impact on people's health as an ICE vehicle does. We already know that emissions from cars and trucks have been tied to lower lung capacity and increased incidents of asthma in children that live close to high traffic areas. Particulates, especially from diesel engines, have also been tied to higher incidences of heart problems in several studies.
Now, while it is true that electric cars move pollution from our city streets to the power plants this gives us several benefits. First, power plants are often located away from large population centers so the amount of pollution impacts a lot less people. Second, having all the pollution being emitted at a small number of location make it much easier to control than having it emitted through millions of tailpipes. For example you can put scrubbers on the smokestacks at power plants to get rid of most Sulfur emissions but to do this with cars you have to formulate low sulfur gasoline. In California we have low sulfur gas so my Prius is rated at SULEV. If I go over the border into Arizona and pick up some fuel that isn't low sulfur then my Prius will still run OK but will actually run at ULEV pollution levels.
The other big issue is one of national security. While coal, gas, hydro, wind, geothermal, and solar electric plants are all derived from domestic sources, only 42% of our oil is produced domestically. The reset comes from foreign sources. Not long ago most of this was coming from the Middle East, a highly unstable region of the world and a region where many of the residents hate America. We have a lot of our imports coming from more local sources with about 11% from Canada and an equal amount from Mexico. Next is Saudi Arabia with 9% and Venezuela with 8%. The rest comes from a variety of countries including Nigeria and Iraq.
US oil consumption is about 19 million barrels a day so that means we import something like 11 million barrels a day. Now with energy prices hovering at around $102 per barrel that means we are sending around $1.1 billion a day out of the country just to fuel our transportation industry. This creates a huge drain on our economy.
To be fair, the report does say "Even then, however, electric vehicles slash oil consumption in nearly all regions", so it does recognize that there is a benefit in reducing oil consumption but this little gem is neither quantified nor expanded upon.
There was an unfortunate formatting issue with the document being circulated to the media. One of the conclusion above, "About 18 percent of Americans live in GOOD regions—where an electric vehicle has the equivalent global warming emissions of a 31 to 40 mpg gasoline vehicle, making some gasoline hybrid vehicles a better choice with respect to global warming emissions." was split between page 17 and page 18. The top of page 18 read "gasoline hybrid vehicles a better choice with respect to global warming emissions". Anyone skimming this page could easily be confused into thinking this was one of the conclusions of the report.
The idea behind the USC report was to help show people the benefits of driving electric instead of gas. The report does that. It just focuses too much on greenhouse gases and ignores other benefits of electrification of our transportation and presents conclusions that can be easily misinterpreted. Just remember the most important finding, "There are no areas of the country where electric vehicles have higher global warming emissions than the average new gasoline vehicle."
---
Sunday April 15, 2012 – March 2012 EV Sales – After a lackluster sales month in February EV sales in the US surged during March to what could be the best sales month ever for electric cars.
The sales surge was led by the Chevy Volt, bolstered by the availability of updated cars in California that qualified for the new green HOV stickers that allow drivers to drive alone in the carpool lane. GM sold 2,289 Volts in March making it their best month ever.
In second place came a newcomer, the Plug-in Prius. Toyota had been taking orders for the PIP since November, 2011 and started delivery in the US at the very end of February. In March they delivered 891 Plug-in Prius to customers and still have a long order backlog.
Nissan, who also had a bad month in February, saw sales increase from 478 to 579 cars. One of the problems facing Nissan is that while they are now selling nationwide, supply still remains constrained with most people having to place orders and wait several months to get a car.
There were 56 Mitsubishi I electric cars sold in March. While this doesn't seem like a lot it should be remembered that Mitsubishi has a limited number of dealerships in the US with total sales average just a little over 3,000 cars per month.
For some reason Ford failed to sell a single Focus EV for the second month in a row and have only managed to deliver 12 since they went on sale in December last year. There is no indication of how many Transit Connect EVs they sold last month but since the cars were being built by Azure Dynamics, who declared bankruptcy toward the end of March and stopped all production, we can assume that sales would have been limited to just a handful of units sitting on dealer lots.
Coda also began deliveries in March and we know they delivered at least 3 cars but so far I haven't been able to find out how many more they sold.
BMW have also been delivering the Active E to customers as part of a second trial being conducted by BMW, after their successful Mini-E trial. Since these are lease only and will be returned at the end of the lease, I will not count these as part of March deliveries. BMW have delivered a total of 553 cars since the deliveries began on January 13, 2012 with 326 of these being delivered in March.
Fisker never releases sales numbers but we can safely assume they delivered at least 100 vehicles. Tesla also had a few Roadsters left to deliver but for the most part there are probably just a handful of these left. Another car company that doesn't give out monthly numbers is Wheego.
Wheego, who offer the LiFe, a smart sized 2 seat, only builds cars when they have the money which basically means they build a car when they get the proceeds from selling a car, or when they can raise some additional venture capital. Wheego has been selling the LiFe since April 2011 and have only sold 34 so far, averaging just a tad short of 3 per month. It is interesting that the majority of Wheego dealers have never had a LiFe on their lot.
I expect April to also be a big month for electric car sales as Toyota continues to fill outstanding orders for the Plug-in Prius and high gas prices leave more people looking to kick the gas habit.
---
Sunday April 8, 2012 – 2012 New York Auto Show – This week saw the start of the 2012 New York Auto Show and although there wasn't a lot of new electric vehicles there were a couple that will probably make it into production in the next few years.
The usual suspects of course, Nissan Leaf, Chevy Volt, Ford Focus EV, Plug-in Prius, Mitsubishi I, and Fisker Karma, were there, some down in the basement where visitors to the show can get rides in these production plug-in cars.
One of the more notable new entries in the EV race came from Infiniti which showed off their new LE Concept. The LE Concept is based on the Nissan Leaf power train but the body is pure Infiniti and the interior has been updated to provide the sort of style and comfort you would expect from Nissan's luxury car brand.
The car is designed to give about 100 miles of range and Infiniti says that the car will provide the sort of performance you expect from an Infiniti. They went on to add that the concept is 85% of what we will see in the production model when it goes on sale in 2014.
One of the biggest reveals at the show was the much awaited Nina project from Fisker. Like the Karma before it the Nina has already seen delays but at this year's Auto Show Fisker took the wraps of their next vehicle, now known as the Fisker Atlantic.
The car, a 2 door Coupe, looks a bit like the Karma and sports the distinctive Fisker grill but overall it is 10 inches shorter, 5 inches narrower, and 2 inches taller than its sporty sibling. With the wheels pushed closer to each corner it actually has more interior space than the Karma, about the same as the compact Audi A5. Details of the power train were in short supply, Fisker only saying that they would be using a BMW 2 liter direct injection four-cylinder engine.
Pricing of this car hasn't been announced but Fisker reports that the car should be a lot more affordable than the Karma. Production of the car is supposed to start toward the end of this year but given Fisker's history it is likely we will see delays. Fisker appears to have raised enough cash to put the Atlantic into production but teething problems with the Karma could mean that production may be touch and go.
BMW have been running trials of electric cars for a while now and their latest offering, the Active-e was on show down in the basement test track. On the main floor BMW rolled out the next i8 concept. The i8 was introduced at last year's LA Auto show and was also featured in the latest installment of the Mission Impossible series, Ghost Protocol. In New York BMW showed off, or rather showed video since they didn't have an actual car at the show, the i8 Spyder.
The plug-in hybrid spyder has a 131hp motor to drive the front wheels and a 223hp gasoline engine to drive the rear wheels. The car can go from 0-60 in 5 seconds and also turn in an impressive 94mpge. The actual car will go on display in China later in the month.
Also tucked away in the basement but not taking part in the ride along on the test track was the DeLorean DMCev, and electric version of the DeLorean sports car that became world famous after being featured in the "Back to the Future" trilogy.
The current prototype, on show at the New York Auto Show, is based on a DC motor but DeLorean is working with Epic EV on an AC version that should be much lighter than the original. In fact, DMC are trying to make the EV lighter than the old petrol version. The outside look will remain the same but the inside will be upgraded to make it appear less dated.
The DMCev is expected to go on sale in 2013 at a price of between $95,000 and $100,000. The 32KwHr Lithium battery pack driving a 260hp AC motor should give the car a 0-60 time of about 6 seconds and propel the car to a top speed of 125mph. Range is expected to be between 64-96 miles.
The DMCev will be built in very small quantities but should find a nice niche for those fans of the DeLorean who want to drive a more environmentally friendly car.
This Year's New York Auto show continued the trend to show that plug-in cars are now main-stream and as more manufacturers bring out models we are going to see a gradual move towards electrification of the automobile that will eventually push us beyond the tipping point and make electric cars the norm rather than an expensive second car.
---
Sunday April 1, 2012 – OLEV Technologies – This week I got a press release forwarded to me from OLEV (On Line Electric Vehicle) Technologies, a star-up company based in Boston, MA who has licensed the EV charging technology from the Korean Advanced Institute of Science and Technology.
The press release was about Catherine Madden from OLEV Technologies speaking at the Electric Vehicles, Land Sea and Air conference being held last week in San Jose, CA. The press release mentioned that OLEV Technologies were about to start a trial of this technology to power a bus for the City of McAllen, TX
OLEV is a system that uses Shaped Magnetic Field Resonance (ISMFR) to charge an electric vehicle from charging strips embedded in the road. The electric vehicle, in this case a standard bus that has been converted to run on electricity, runs from a small battery pack that is kept charged by induction as it passes over these strips.
The strips don't need to be over the entire route of the bus either. They can be placed at locations where the bus needs additional power such as climbing a hill or taking off from rest at a stop sign. Strips located at bus stops can be used to charge the battery pack while the bus is dropping off or picking up passengers.
The idea is one future possibility that can make electric cars even more practical than they are today. Imagine this scenario. In a future where this technology has been deployed across the nation a driver in LA backs the family minivan out of their charging bay in the morning, loads the family and their luggage, and heads out on the road. The trip to the 10 freeway uses almost a third of the charge in the battery pack but there is no range anxiety.
On the freeway the driver moves the minivan into one of the electric car lanes and select "maintain charge" mode. The car moves along with traffic. Moving onto I15 north the driver encounters the first really big obstacle, the Cajon Pass. The long climb up the Cajon pass drops the battery charge by another ten percent but once the summit has been reached the battery is soon restored back to 70% charge and maintained at that level.
From Barstow the driver takes I40 East, still driving in the EV lane except once in a while moving to the other lane to overtake slow moving traffic. The drive is pretty boring and the kids are getting rowdy, so the driver pulls off the freeway at Needles and parks into one of the charging bays outside McDonalds while they go in and eat lunch.
By the time they return to the minivan the battery is fully charged and the driver gets back on the road still travelling east. Exiting onto AZ state route 64 North it is another 56 miles to Grand Canyon Village but the placement of charging strips along the road means that the driver can make the trip without depleting the small battery pack in the minivan.
Once at Grand Canyon Village there are plenty of charging bays to park in and by the time the family is checked into their hotel and have their luggage unloaded the battery pack on the minivan is fully recharged and ready to take then around the park.
In this scenario the 491 miles from Los Angeles to the Grand Canyon, or even longer distances, can be covered with a family vehicle that has a relatively small battery pack. The cost of electricity for this trip would be charged back to the drive via their utility bill. In this case I assumed no charging strips on surface streets just on highways, but strips at stop lights and on steep hills could further extend the range of the vehicle in town.
The biggest cost for current EV technology is the batteries and while battery prices are falling fast a battery that can provide 500 miles of range would still be prohibitively expensive. The OLEV technology would allow journeys of any length without refueling stops once the technology had been rolled out on nationwide.
There are some issues that will need to be addressed. The first is the huge cost of rolling out millions of miles of charging strips on our highways, along with the required grid infrastructure to provide the electricity, and the software and agreements between utilities needed to ensure chargeback for electricity usage. The second issue is to make sure that the charging process is safe. There has been a lot of speculation about links between EMF and cancer and while no definitive link has been identified so far there would need to be sufficient testing before a high power EMF source like this was widely deployed.
Still, I think this is the most likely scenario for the merge from fossil fuel powered vehicles to electric powered vehicles because it is so simple to use. No more pumping gas or plugging in, just park and charge or charge as you drive. It could even solve the problem for those of us who live in apartment buildings or have to park on the street.
---
Brian Gilbert from Hampton,Middx, UK Wrote
I just read your piece on Korea OLEV. It seems to me that the possibly dangerous radiation you mention could be reduced by making the pickup coil retractable. While retracted it gives the required clearance of obstacles as usual. While stationary over the strip it could drop to give closer magnetic coupling and thus a weaker field would suffice.
---
Sunday March 25, 2012 – Power Crisis Settlement – Between 2000 and 2001 California experienced a major power crisis with rolling blackouts and companies having power shut off when supplies got low. The cause turned out to be manipulation of the power grid and caused the downfall of Enron. It took more than ten years but a settlement has now been reached with one of the power companies involved, NRG.
It should be noted that at the time of the energy crisis NRG was a co-owner of the power generation plants with Dynergy and didn't take on full ownership until they acquired Dynergy's share in 2006.
The settlement involved a sum of $120 million and this week Governor Jerry Brown announced that $100 million of that would go to building a network of 200 DC fast chargers and the installation of wiring for an additional 1000 level 2 chargers. The remaining $20 million will go to "ratepayer relief".
This might seem like a great use of the money the network is going to be a fee based network provided, according to Torque News, by Texas based eVgo. Fees for the use of the chargers would be around $10 - $15 per charge.
Here is where the trouble starts. The regular RFP process does not appear to have been followed in this case so the question is why? It appears that eVgo is a wholly owned subsidiary of NGR so the company is basically paying the fine in services rather than cash and setting up to expand their network, probably the most expensive in the country, into California.
Creating networks of fast chargers along busy interstate highways is a way to make electric vehicles more usable. Let's consider an owner of a Nissan Leaf who typically comes from a multi-car family. At freeway speeds you can expect to get 60-70 miles of range for a Nissan Leaf, and perhaps 100 miles if you keep the car at around 55mph. For people living in Los Angeles a typical weekend trip would be to San Diego, Palm Springs, or Santa Barbara, all of these being at least 120 miles away. These trips are not feasible for most Leaf Owners although they can be done if you are prepared to wait for several hours to recharge part way there, and part way back. With fast charging a 20 minute stop would be all that is required.
In a recent article I wrote for EV World I talked about the economics of fast charging and the same principles apply here. Let's say you want to drive from Los Angeles to San Diego, about 120 miles. The Nissan Leaf owner is going to need a Fast charge which will give them around 60 miles of range at a cost of $15. The same 60 miles of range in a 30mpg gas car at the current $4.60 per gallon here in Southern California is going to cost $9.20 so the person would more than likely take the gas car instead of the Leaf.
Now, I'm sure eVgo's argument goes more like – if you fill up at home it costs about $2 then a $15 flat charge means the cost of the trip is $17 but if you took the gas car it would cost $18.40 so it's cheaper to take the Leaf. That still doesn't deal with the fact that the cost of a fast charge is almost twice the cost of gassing up the car. If you compute the costs over the round trip then you get $2 for the overnight charge, $15 for the fast charge, $10 for an overnight charge an eVgo network public charger, and $15 fast charge on the way home. That works out at $40 for the electric and $36.80 for the gas. The more the eVgo network is used the more it will exceed the cost gas.
Now, eVgo does provide some charging plans such as the $89 per month plan that provides for installation of the home charging station, the cost of electricity for off peak charging at home, and unlimited use of the eVgo network chargers. This plan is equivalent to about 580 miles per month in a 30mpg gas car which would be a good deal if you drive the car a typical 15,000 miles per year.
I think that Governor Brown's intent with this executive order is to expand the use of electric cars in California but there are a few questions about the method for choosing the vendor, or even if the use of the settlement to fund electric vehicle charging stations is appropriate. It appears to me that the people of California would be better served if NRG just handed over the $120 in cash and the money was used to support California companies not a Texas company that was part of the rip-off of California utility users that was the energy crisis. I expect a bumpy ride for this executive order.
Electric cars are expensive right now compared to gasoline powered cars and the only thing that brings these additional costs down is the cheaper cost of fuel. Creating charging infrastructure that is more expensing that a visit to the gas station can only inhibit the move to electric cars. The settlement with NRG looks like a bad deal to me.
---
Sunday March 18, 2012 – EV Charging in Condos – This week during my regular scan of eBay I found a Nissan Leaf for sale in Hawaii. The reason given for the sale is that the Condo association would not allow the owner of the leaf to install and EV charging station and public charging was just too inconvenient.
This is not a new issue, some Condo associations are very progressive and some are just downright hostile, and sometimes it's just an issue of who owns the parking space.
An example of a hostile association comes from Toronto Canada where an owner was not allowed to plug his Volt into a nearby 110V plug. Now, the electricity bill in this building is paid by the Condo Association with the amount spread out among the Condo owners by means of the association fees. What makes this hostile is that the 110V plug in question is installed in the parking structure for the purpose of connecting block heaters. A Block heater is going to use almost as much electricity as the Volt uses to charge but of course is only used during the winter months by most drivers.
The owner has offered to pay for the electricity he uses, about 30 Canadian dollars a month but the Condo Association want him to install a $3000 meter to measure his electricity use. It seems that they don't care if an owner leaves the lights on all night but their attitude is that they don't provide fuel for the other residents so why should they provide fuel for the Volt owner.
One of the challenges that face homeowner associations is the use of common areas. More often than not the parking space allocated to a condo owner is not part of the owner's property but is part of the common area allocated for the use of a specific unit. Now, if the HOA allows an owner to install a charging station in the property they imply that the owner has exclusive use of the parking space which makes it very difficult to reallocate spaces in the future.
An issue I had with a Condo I owned was that the parking space dedicated to my Condo what actually a long way from my unit and would have required about 50 yards of trenching, including crossing the main driveway, just to wire a charging station to my electric panel. This makes it very expensive to install the charging station not to mention the inconvenience to the other home owners and the damage the installation would have caused to the common garden area and sprinkler system. In this case, denial of the request to install the charging station would be reasonable.
In an attempt to encourage the acceptance of electric vehicles California Governor Jerry Brown signed into law SB 209, which is designed to ensure that Home Owner Associations don't unreasonably block the installation of electric vehicle charging stations, on July 26, 2011.
Under the bill the HOA must agree to allow a homeowner to install an electric vehicle charging station in a common area or private use common area, such as a parking space dedicated to the homeowner, if the homeowner agrees in writing to certain conditions.
The homeowner must pay all installation and maintenance costs and have the work done by a licensed professional. They must pay the cost of electricity and carry an umbrella insurance policy for one million dollars that will cover the cost of any damage. The installation must comply with the developments architectural standards.
If the homeowner meets all the requirements and the HOA still turns down the request then a fine of up to one thousand dollars can be levied against the HOA.
This bill still left a huge legal hole. As written it could forces Home Owner Associations to dedicate part of the common area to an individual homeowner which violates existing California Law. In signing the bill Governor Brown added a signing message which in part said, "This bill, unfortunately, contains language that could permit individual homeowners to unreasonably use or occupy common areas. The author has assured me that she will pursue legislation that clearly protects the right of the common interest developments to establish reasonable rules for any use of common areas for charging stations."
To rectify this issue Governor Brown approved SB 880 on Feb 29, 2012. SB 880 modifies the sections of the California Civil Code that refer to the allocation of common areas. This change allows the board of the HOA to allocation a portion of the common area to an individual homeowner for the purpose of installing an electric vehicle charging station with the approval of 67% of the homeowners. This in turn ads difficulty to the task because now a person has to wait until there is a general home owners meeting, often held once a year. These meetings often have difficulty reaching a quorum so it is quite likely that the request will never get approved.
The whole issue with Condo Associations has its equivalent with apartment buildings. Some apartment dwellers have been able to install EV charging stations in their parking spaces but most would not be allowed by apartment owners. Others just don't want to spend money on property they don't own.
The whole situation is one of the major hurdles to the rollout of electric cars and it is one that is rarely addressed by the media. The lack of a home charging station removes one of the basic benefits of owning and EV, having a "full tank" every morning and it is one that needs to be addressed before we can fully transition to electric cars.
---
Sunday March 11, 2012 – 2012 Geneva Auto Show – This week the 2012 Geneva Auto show got underway and as in previous years the event was used by some manufacturers to showcase new plug-in vehicle concepts and give us a first glimpse of some models that are close to production.
It looks like the negative publicity that the Volt has endured here in the USA hasn't made too much of an impact over in Europe where the Chevy Volt, and its Opel version the Ampera won the 2012 Car of the Year at the Geneva Show.
Plug-in Hybrids are starting to show up in most automakers plans and the hottest new concept unveiled at this year's show was the Infinity Emerg-E. This mid-engine sports car is powered by two 201bhp electric motors one driving each wheel coupled to a Lithium battery pack that is designed to provide 30 miles of electric only range. A 1.2 Liter 3 cylinder Lotus engine will drive a generator to provide power once the battery has become depleted.
The car will do 0-60 in 4 seconds and takes just 30 seconds to reach its top speed of 130 miles per hour. There is no indication that Infinity will build this car but if they did it would provide some serious competition to Tesla.
Another plug-in Hybrid concept came from Hyundai. The I-oniq has a 108hp electric motor driven by a lithium battery pack that will provide up to 75 miles of electric only range. Once the batteries are depleted a 1 liter 3 cylinder gas engine comes on to extend range up to 435 miles before the tank needs to be refilled. The car also features scissor doors. It is unlikely that the I-oniq will ever be put into production but it might be an indication of the production ready plug-in hybrid I expect Hyundai to show at the LA Auto show in November.
Volkswagen had yet another plug-in hybrid concept on display, the VW Cross Coupe. This crossover vehicle mates a 2.0 liter turbo diesel to electric motors driving both the front and rear wheels. VW say that the car can to 0-60 in 6.5 seconds, and is able to travel 28 miles in electric only mode at speed approaching 75mph. The VW Cross Coupe offers five different driving modes including an eco mode to minimize fuel consumption and an off road mode. The car is not likely to see production but has been developed to test different vehicle variations on a new platform being developed at VW.
Italdesign is part of the Volkswagen family and they also had a plug-in hybrid concept on display. The Giugiaro Brivido is a four seat GT that uses a plug-in hybrid powertrain to offer supercar performance. The car combines a 360hp V6 with an electric motor that will power the car from 0-60 in 5.8 seconds. The car will hit a top speed of 171mph. There was no information given about the battery pack or any range estimates. The company said the car was fully functional although it is unlikely that it will see production.
Venerable British sports car maker Morgan has also thrown its hat into the ring with a bright yellow concept car called the Morgan Plus E. The Plus E looks like any of the other Morgans sitting in their display area but under the traditional bi-hinged Morgan hood the normal BMW power plant is replaced by a Zytek electric motor coupled to a six speed manual transmission. Batteries and controller are also mounted under the hood.
The car has Morgan's next generation aluminum chassis that helps keep the weight to just 2755lbs. The Plus E can go from 0-60 in six seconds and top speed is 115mph. There are no details on the battery pack but Morgan says the car has a range of 120 miles.
Morgan hasn't said if they will manufacture the Plus E for sale but I think that this car would find a nice niche market and let's face it, cars like the Morgan are niche market cars so the Plus E would do well among enthusiasts that want to drive a Morgan and drive green at the same time.
Perhaps the hottest new car release came from Renault who introduced the production version of the ZOE. At 13.4 feet in length the 5 seat ZOE falls in the Supermini category. The car is powered by a 65KW electric motor driven from a Li Ion battery pack that should deliver between 62 and 92 miles of range depending on temperature and driving habits.
The ZOE will retail for £13,650 in the UK after government incentives which is about what it would cost to buy a typical diesel in the Supermini class. The battery pack will be leased separately at a cost starting at £70 per month. The ZOE is expected to go on sale in Europe during the Fall.
Renault also showed off the two-seat Twizy and announced that French DJ David Guetta and his wife Cathy would be Ambassadors for the car. With the addition of the ZOE and the Twizzy to the already available Fluence ZE and Kangoo Van, Renault will have the most complete lineup of electric cars by years end, lacking only a plug-in hybrid.
There are also a couple of really odd looking concepts and one of the weirdest of them was the Valmet Dawn. Valmet is the Finnish company that builds the Fisker Karma and Th!nk City. They produced an EV concept that looks like a race car. The driver sits in a tiny pod on the left side of the car and ground clearance is about an inch so it would be totally impractical on city streets where potholes and speed bumps would wreak havoc. Valmet also did not release any drivetrain information. The Dawn was intended to show that Valmet could do research and development on electric vehicle design and components.
Another interesting concept, though not an electric car, was the Dock+Go from Rinspeed. This is a unit which docks with a car, they were using a Smart but it could be almost any car, and provides additional functionality. The unit could be used to add anything from a warmer for pizza delivery to a bunch of extra batteries, fuel cell, or generator to extend EV range. The unit attaches to the car and adds an additional wheel rather than being towed along as a trailer. Units would be interchangeable to meet differing needs.
Now that the electrification revolution is well underway there were, of course, lots of companies showing production ready, or near production ready cars at the show. Alongside their Roadster Tesla showed off the Model S sedan and Model X crossover. Brabus showed us their soon to be production version of the Smart ED, and Smart showed us the soon to be launched Smart For-US electric pickup. There were lots more reflecting the growing number of electric car options that are becoming available throughout Europe.
---
Sunday March 4, 2012 – Are Electric Cars Doomed? – This week Yahoo Ticker featured Ron Adner proclaiming that "electric cars are doomed".
His reasons for saying that the cars are "doomed" is based on an assumption that people won't buy the cars because the high cost of batteries, and the fact that they will need replacing at some point in the life of a car, meaning that depreciation will be higher on an electric car than it is on an ICE car so resale values will be correspondingly lower.
This idea is nothing new, others have said this in the past but the numbers don't work that way. Let's look at an example. When the RAV4 EV went on sale in 2002 it was priced about the same as a Mercedes Benz E-350. Nobody knew then how long the battery pack would last but most assumed that it would not last as long as the car. We now know that the NiMH battery pack on the RAV4 EV will last about 120,000 and the pack can then be refurbished to almost new condition for around $15,000.
I have been tracking RAV4 EV sales and currently a 2002 RAV4 EV with around 84,000 miles on the clock would be expected to sell for around $16,000 on the used market. According to Kelly Blue Book, a private sale of a Mercedes E-350 with similar mileage would be expected to bring around $9000. Now, there is a rarity factor in the RAV4 EV that the E-350 does not have but so far I haven't seen collectors buying the RAV4 EV, it's mostly people who just want to drive an EV and like the RAV.
Mr. Adner likens selling a used EV to selling a used computer; there is almost no value in a 4 year old computer. The used car market isn't the same as the used computer market though. Personal computers are no longer high cost items, they are now in the same category as personal electronics or phones; disposable
Cars on the other hand are the most expensive purchase that a person will make after a house purchase. One of the primary rules of car purchase is that the car will lose a great deal of value as soon as it is driven off the lot. Some people want the latest and greatest so they buy a new car every few years. Others are happy to pay a lot less for an older model. It doesn't matter if the battery technology on a Nissan Leaf is out of data four years from now, someone will be happy to pay a reduced rate for the car as long as it meets their needs, just as someone will be happy to pay a lot less for that used E-350.
Mr. Adner's solution for this is to follow Project Better Place and decouple the battery costs from the car. The idea, which has already been done in France by Renault, Citroen, and Peugeot, is to sell the car without batteries and to lease the batteries separately. The idea is that after the lease is over on the batteries you can lease a new set which now has updated technology.
One of the problems I see with this is just the problem that Mr. Adner is trying to avoid. When it comes time to sell the car you now have to sell the car without batteries and the buyer then has to go lease a new set of batteries. This drives the resale price of the car down.
Let's face it, the cost of batteries has to be paid by the owner of the car. It doesn't matter if the battery cost is part of the purchase price or if you have to pay a separate monthly payment to lease the batteries, you still have to pay for them. Leasing batteries may make sense to some people but it doesn't make sense for everyone and it is more likely to have negative impact on resale values.
One of the big problems right now is that there is so much FUD (Fear, Uncertainty, and Doubt) being splashed around the media that it's not surprising people are not rushing out to buy electric cars. I see so many negative comments about electric cars based on total ignorance attached to articles like the one on Yahoo Ticker. It amazes me how scared people are of something new. The only thing I am not seeing are viable alternatives.
Electric cars have been around for over 100 years and they will be around long after oil has become so scarce and expensive that nobody but the ultra-rich will be able to afford a tank of gas. The only thing that is doomed is a society that continues to base itself on a finite resource like oil
---
Sunday February 26, 2012 – Tesla Brick – On February 21, 2012 Michael Degusta published an article in Theunderstatement.com entitled "It's a Brick – Tesla's Devastating Design Problem" which detailed an issues that a small number of Tesla owners had faced with leaving their cars unplugged for long periods of time.
Michael Degusta, who is the administrative contact for theunderstatement.com. wrote the article based on the experience of his friend Max Drucker but also mentioned 4 other drivers had also had this problem.
The story was picked up by Jalopnik.com and suddenly the internet was buzzing with the news that Tesla cars were turning into bricks left right and center.
It appears that Max Drucker had driven his Tesla Roadster down to about 25% state of charge then parked it in a garage at a temporary residence while is house was being remodeled. The car was not plugged in so when he came to start the car again the batteries were totally dead.
Mr. Drucker was understandably miffed when Tesla told him that the battery was totally dead and needed to be replaced. Further, since the car had been left unplugged for an extended time the issue constituted abuse and the replacement pack would not be covered by the Tesla Warranty. Because Mr. Drucker had been a long term supporter of Tesla with deposits on both a Tesla S and a Telsa X he was offered the friends and family discount but the replacement cost was still in excess of $40,000 – Mr. Drucker declined to replace the batteries and the car is still non-operative.
In the article Mr. Degusta says that the car has become worthless. In fact the car, in its current state, is still worth something like $35,000, more than what it would cost to buy a new Nissan Leaf if you take into account federal and state tax credits, but a lot less than the $75,000 that I would expect a fully functioning car to fetch.
In its owner's manual Tesla does say that the car should be plugged in when not in use and Mr. Drucker's car clearly wasn't plugged in. He claimed that he didn't know that the car could be damaged by leaving it unplugged and I have to say that many people who buy a new car don't read the manual from end to end but this is something that involves charging, a section of the manual I would expect most people new to electric cars would read carefully.
A Tesla Owner posted one of the documents that a new owner signs at delivery on the Tesla Motors Club Forum. This document has the owner specifically acknowledge that they understand "the importance of keeping my Roadster on charge while at rest". This document also says, "your Roadster Warranty as it relates to the battery does not cover damage caused by…leaving your vehicle unplugged where it discharges the battery to at or near zero state of charge". Since Mr. Drucker's Roadster is one of the early cars I cannot say if he did or did not sign this document when he accepted delivery of his car.
To me, common sense says I should check if the car would be damaged if I leave it unplugged for an extended length of time, especially if I was parking the car partially discharged. Damage to batteries that have been left to sit for an extended length of time is nothing new. If I leave my Prius parked for a period of more than a week I know to turn off the Smart Entry and Smart Start system since this system creates a continuous current draw that will kill the auxiliary battery in a little over a week.
I've successfully stored my Prius for just over three weeks once while on a trip to the UK, but if you need to keep the Prius stored for a longer period of time putting the aux battery on a trickle charger is recommended. It should be noted that the Prius disconnects the traction pack when the car is shut down and all current draw comes from the aux battery protecting the NiMH battery although I am sure that prolonged storage will eventually kill the NiMH battery because of self discharge.
I also monitor the used EV market and I can't tell you how many times I read that an EV was running OK but was then stored for several months and now the batteries are dead. I will see one or two electric cars per week on eBay that are being sold with dead batteries because of improper vehicle storage.
My recommendation when storing an electric vehicle is to charge it about once per week during the period of non-use. This can be the same as having a friend or neighbor come in once a week and start up your ICE vehicle to keep the battery charged if you are away for a long period of time.
Most modern cars do not totally shut off when the car is parked. They have a constant drain on the batteries even if it's just to keep radio presets in place. Even a small constant drain of just a few milliamps can add up to a dead battery over months of storage. I have to admit that the Tesla Roadster does appear to have a higher drain rate than most vehicles.
Batteries can also self-discharge over time losing a small percentage of their charge each day due to the chemistry of the batteries. The lithium batteries in the Tesla do this but their rate of self-discharge is relatively low compared with most battery chemistries.
While Nissan officially says that you cannot "Brick" the battery pack on the Nissan Leaf, John Voelcker wrote in Green Car Reports that the Nissan Leaf warranty contains a clause which says "Leaving your vehicle for over 14 days where the Li-ion battery reaches a zero or near zero state of charge" will invalidate the warranty.
The big question now is how the negative publicity will affect Tesla and sales of the upcoming model S and Model X. I can see this situation leading to a lawsuit but it will be difficult to predict how this will pan out. I don't see the NHTSB getting involved and pushing a recall since this can hardly be considered a safety issue.
Tesla's current recommendation for storing their cars long term is to put the car on charge and then set the car into storage mode. They do have to realize that this may not always be possible. One case sited in Mr. Degusta's article was a person who shipped the car to Japan and found that the car battery was DOA. Having a switch to disconnect the batteries would solve many of the long term storage issues.
While I think that Tesla has a good case for denying Mr. Drucker's claim it does seem that they need to make sure that the Model S and Model X have a way to handle the long term storage issues such as when someone might be shipping their car abroad and have to drive the car to the dock to be loaded meaning the car will start the long sea voyage with a low level of charge putting the battery pack at risk.
All Battery electric vehicles suffer the same potential issue, discharging the battery pack too deeply can cause things like cell reversal and destroy the pack. People buying electric cars need to be aware of this. Everyone knows that you don't drive an ICE car without oil in the engine, and you would certainly invalidate the warranty if you did. For most people electric cars are new so understanding that you don't park an electric car for long periods without charging it is something that needs to be learned.
I don't think that Tesla has a fatal design flaw because the pack can be damaged by improper storage any more than I thing Ford has a fatal design flaw because the engine will be destroyed if you drive one of their Ford Explorers with the engine drained of oil – it's just the way the technology works and we need to adjust to its constraints.
---
Sunday February 19, 2012 – Taxing Electric Vehicles – This week Washington State's Senate passed bill 5251 which would impose a $100 per year tax on pure electric vehicles. It this passes the house and is signed into law by the governor it would be the first such bill to tax electric vehicles
The bill says, in part, "Before accepting an application for a vehicle registration for an electric vehicle that uses propulsion units powered solely by electricity, the department, county auditor or other agent, or subagent appointed by the director shall require the applicant to pay a one hundred dollar fee in addition to any other fees and taxes required by law. The one hundred dollar fee is due at the time of initial vehicle registration and annual registration renewal."
Seattle PI quoted the bill's sponsor Democrat Mary Margaret Haugen as saying "while electric cars are good for the environment, they put the same wear and tear on the state's roads that gas vehicles do."
Washington, like most states, uses a gas tax to help pay for the upkeep of the roads. In the case of Washington it imposes a 37.5 cent per gallon tax. Sometime this money is dedicated to road upkeep but often at least part of the tax goes into the general fund to help bolster the state budget. The idea behind this tax is to have electric cars pay their share of this amount. The $100 amount is equivalent to the tax on about 267 gallons of gas per year or about 8,000 miles for the typical 30mpg sedan.
The passage of this bill was widely reported and caused a flurry of comments most of which were opposed to the new tax. A good number of the comments came from those that are just solidly opposed to taxes full stop so any new tax, no matter how noble, meets with their ire. Of course republican supporters see this as just another tax money grab by the democrats but a good number of people posted logical reasons why this bill is bad.
One of the biggest reasons is that the bill only taxes pure electric vehicles, which leaves a big loophole for plug-in hybrids. Let's look at an example. Peter Treehugger drives a Nissan Leaf while Trevor Littlegas drives a Chevy Volt. Each of them use their cars to drive 13 miles to work and 13 miles home each day. Every night they charge up their car in their garage.
Both of these people drive the same number of miles in cars of similar size and weight but Peter will pay $100 per year in additional taxes while Trevor will only pay 37.5 cents on whatever small amount of gas he uses. Parity will only come if Trevor drives at least 9800 miles per year on gas based on the EPA estimate of 37mpg for the Volt once the batteries are depleted.
There are other issues as well. Heavier vehicles do more damage to the roads but they usually use more fuel so they consequently pay more in taxes to make up for the greater damage. With electric vehicles there is one flat rate irrespective of the size or weight of the vehicle. Seattle PI reported that the bill did not apply to neighborhood electric vehicles but when I read the bill, I don't see anything that would exclude these vehicles even though they are much lighter, and consequently do less road damage than a full sized EV like the Nissan Leaf.
I expect this bill will die in the house or on the Governor's desk since most people see a benefit in electric vehicles and recognize that the move to vehicle electrification still needs to be nurtured until volumes become large enough that the EV becomes competitive with the gasoline car. Still, State Governments have a quandary to deal with as cars become more fuel efficient and use less gas state budgets are going to be squeezed. At some point the taxation of electric cars is going to be inevitable.
The biggest problem is how to tax these cars. There are several proposals under consideration in states like Arizona, Kansas, and Oregon. One proposal in Arizona for example, HB 2257, would tax electric vehicle drivers 1 cent per mile. The problem is how to apply the tax.
As I said earlier the tax on gas is pretty much self-regulating. Heavier vehicles use more gas so the driver pays more tax. With electric vehicles the problem is different. You could try taxing the electric that is used by installing a dedicated meter but since people can pretty much plug in anywhere they want there is no guarantee that the driver will plug in the car at the designated (i.e. metered) receptacle since the car can be plugged in to almost any 110V outlet.
Another alternative, like the one being proposed in Arizona, would charge the car by miles driven. If you drive 2000 miles per year then send $20, if you drive 15,000 miles per year then send $150. This would seem to be the fairer way to do this since cars that drive further are likely to cause more wear and tear on the roads so these drivers should pay more. The flat fee being proposed in Washington State would have the driver pay the same fee irrespective of how far they drive so the guy driving the shorter distance pays more per mile than the guy driving the longer distance even though the longer distance driver causes more wear and tear.
The problem here is how to accurately measure mileage. They could have the driver submit mileage along with the renewal for the vehicles tags, or have an annual inspection prior to renewing the tags so the mileage can be noted and the tax included with the renewal. Another proposal is to have all cars monitored by GPS but do we really want our state government to be able to track the exact movement of our cars – talk about "Big Brother".
It seems to me inevitable that electric vehicles will be taxed at some point since the current gas tax is such a big part of state budgets. The question is how to do this without intruding too much on personal rights. It seems to me that a device in the car itself that measure the amount of electricity consumed and broadcasts the value periodically would allow a taxation system similar to the current gas tax based on electricity consumed not miles driven. The heavier the vehicle the more fuel it will consume and the more tax they will pay, the further people drive the more fuel they will consume and the more tax they will pay. This would also solve the problem with plug-in hybrids since both the electricity they use and the gas they consume would be taxed.
In the end electric vehicle drivers will have to pay to keep roads in good shape the same as any other driver. The trick is to get an equitable system that doesn't intrude on people's privacy. Introduction also needs to be timed so that it doesn't disrupt the large scale adoption of electric cars.
---
Gil Wrote
I think the answer is simple. We tax gasoline at the pump. Electricity could be taxed at the meter. Most ev drivers will at some point install a 240 volt charging unit. Many electric utilities will install a separate meter for ev charging to accomodate the special (reduced) rates. All the new "smart meters" should have the programming capability to differentiate ev charging vs other 220-240 volt uses. So, determine an equivalent surcharge on vehicle charging that would equate to gasoline tax. Ask your local electric company how amenable they would be to develop a monitoring system to accomplish the task.
---
Sunday February 12, 2012 – Tesla's Next Big Thing – This week Tesla were set to announce their latest design and I was invited to attend the unveiling via a live web cast – things did not go well.
I logged on to the web site a little before 8pm and got to a web page that had the teaser silhouette that Tesla had released the previous week. There appeared to be no sign of a web cast. 8pm arrived and went with no change on the web site. I went out and went back in again but still got the same image. I tried a different site that was also supposed to carry the web cast live but they didn't have anything either.
By this time Tesla would be well into the presentation so I gave up trying to get in. All in all a very frustrating experience.
The next day I got a tweet from Tesla saying that the response to the web cast has been so large it had crashed their server and they sent me a link to where I could watch a recording of the announcement. It would have been nice if they had sent an email to the account where they sent the invitation so that those not following them on Twitter would get to see the launch too.
I always seem to have problems with Tesla's publicity arm but not with the cars the car they launched last Wednesday is, I think, no exception
The model X can best be described as a crossover vehicle – a car that tries to blend the best features of a minivan and an SUV. Tesla appears to have done an outstanding job.
The Model X is a seven passenger vehicle that will actually seat seven adults in comfort. It also has room for an astonishing amount of luggage which is good since the car will not be able to take a roof rack.
The reason for no roof rack is the design of the rear doors which are gull wing doors, which Tesla have dubbed Falcon Wing doors because of their ability to hinge at the roof line allowing the doors to raise with much less clearance on either side than conventional gull wing doors.
Once the doors are up a person can actually stand up in the vehicle making it easier to get in and out of the third row seats or to place a child in a child seat in the second row seats.
Another thing that sets the Tesla apart is performance. The car can accelerate from 0-60 in 4.4 seconds, faster than a Porsche 911 Carrera. There was no discussion of top speed but I would expect it to be in the 110mph range
Speaking of range, no estimates have been given so far but Tesla is going to offer two battery pack options, a 60KWHr and an 85KWhr. These will be the same packs as in the Model S so since the Model X will be heavier I would expect range to be a little less with the 85KWhr pack giving a maximum range of around 255 miles.
While a rear wheel drive option will be offered the car will come with all-wheel drive standard. The benefit of all wheel drive is the ability of the software to instantly shift power to the wheels with the best traction. Combine this with the low center of gravity produced by the battery pack being mounted in the floor and the car should show exceptional handling. Elon Musk said they though the car would have a turning circle better than a Mini.
Price will not be released until close to the delivery date but the implication at the launch was that it would cost around the same as the model S. If they can really deliver the Model X at a cost of $60,000 they will be very competitive; Kelly Blue Book tells me that a compatibly equipped Audi Q7 will cost around $75,000
I think that Tesla has another winner here. The only dark spot is that this is clearly targeted at the luxury market competing with crossover vehicles like the Audi Q7, not the small EV platform most people were expecting. Personally I think that building this crossover off the S platform makes a lot of sense and will give the Tesla buyers more options.
Tesla now has a sedan coming out in July that is sold out until March of next year. The crossover coming out in 2013 will position the company well to build the distribution system they need to introduce their small car platform in 2015 followed by the return of the roadster in 2016.
---
Sunday February 5, 2012 – Revenge of the Electric Car – I am proud to say that when Chris Payne made who killed the Electric Car I was a part of it. That wasn't the case with his latest Movie, Revenge of the Electric car, but this week I finally got to see the movie and it is better than the first one.
The movie opens with Dan Neil driving on the freeway in LA and he says "I've come to the conclusion that I will never buy another gasoline car as long as I live. The way forward is electric cars"
There is a short recap Who Killed the Electric Car, including an interview with Danny Devito who tells us that the EV1 was "the coolest car I ever had"
While Who Killed the Electric car was the story about the crushing of the EV1, something that then GM Chairman Rick Wagoner called "the biggest mistake I ever made", Revenge of the Electric Car tells the story of the return of the electric car into dealer showrooms. It follows four people who are leaders in this change, Elon Musk from Tesla Motors, Bob Lutz from GM, Carlos Ghosn from Nissan and EV Converter Greg "Gadget" Abbot who represents the EV conversion industry.
Chris Payne was given unprecedented access to the inner workings of GM, Nissan and Tesla as they struggled through the development of their electric cars. Intercut into the film is commentary from several automotive journalists including Dan Neil who is an automotive columnist for the Wall Street Journal.
Early in the film Dan Neil tells us, "Here's where we are now, there is not only a business case for electric cars there is a compelling business case for electric cars".
We see a real change in attitude coming from the car companies. Bob Lutz, who was a global warming denier and thought that people who built electric cars were nuts comments, "I would say the electrification of the automobile is a forgone conclusion."
But things don't go smoothly for these companies. Things started going south in 2007 and by September 2008 Lehman Brothers failed due to issues with the subprime mortgage market and this pushed the world economy into recession. Money soon became scarce and the big three automakers all teetered on the brink. Revenge of the Electric Car follows GM as it tries to get the Volt into production while dealing with bankruptcy and restructuring.
One of the most poignant pieces of the film was seeing gadget and his wife trying to pick up the pieces after their home and adjoining workshop were destroyed in a fire. Having once interviewed Gadget at the workshop, and found him to be a really great guy, I really felt for him and his wife
Things were not all that rosy at Tesla either. Elon Musk had to use most of his personal fortune to keep the company afloat. One scene that got me was Elon going into their factory which was full of roadsters and being told that only four of them were ready to be delivered to customers. One is pointed out that has transmission problems and in the background we hear Chris Payne say "that's my car", it was order number 23 which was the one Chris had ordered. Elon's response was, "now you know the reason for the delay"
Only Nissan seems to have come through the crisis without too much struggle. Carlos Ghosn has been driving Nissan to develop an electric car and get it to market before the competition. "What is at stake is Huge" he tells us, "Every day we have an EV and the completion doesn't is a good day for us". Carlos Ghosn isn't your usual EV dreamer, Dan Neil tells us "Carlos Ghosn doesn't get up in the morning unless there is money in it"
In another interesting segment we see Bob Lutz talking about the possibility of letting GM fail. He says, "We've already lost way too much of our manufacturing capability, we've offshored everything. The last major manufacturing industry that's left in the US is the automobile industry and to let that go away would be catastrophic for the US economy".
As the film closes, we get a glimpse of the new breed of electric cars finally going to customers. Danny Devito takes a Chevy Volt for a spin and says, "who would have thunk I would be driving a Chevy". Then he asks the guy from GM, "you're not going to take it away from me again are you".
I will leave with a final quote from Dan Neil who says "What's needed for the Electric car – Time" which reminds us not to expect too much too soon from electric car sales.
Revenge of the electric car is now available on DVD from Plug-in America – it's well worth a look.
---
Sunday January 29, 2012 – ZEV Mandate Part 4 a New Beginning – This week the California Air Resources Board (CARB) met in Los Angeles to review staff proposals for the continuation of the ZEV mandate from 2018 until 2025. The new stronger measures were approved by a unanimous vote.
The ZEV mandate came into effect after GM not only introduced a prototype of a modern electric car but also announced that the planned to build it. The result was a mandate that 10% of all cars sold in California by 2005 would be zero emission.
Things changed, including new management at GM who sought to kill electric vehicle development, and the auto companies went on the offensive. The original ZEV mandate was replaced by a Memorandum of understanding that greatly reduced the number of electric cars that the auto makers needed to produce. Even that wasn't enough, and after a lawsuit by the Automobile Dealers Association that challenged what remained of the mandate in court CARB further backpedaled almost totally removing the need to produce zero emission vehicles but instead pushing the production of low polluting vehicles like hybrids.
Now CARB is back with an updated mandate that would require 15% of all new vehicle sales in the state be zero emission by 2025. This time it's different. While the Automobile Dealers Association is still opposed to the changes most of the large car makers offered testimony at the hearings supporting the new ZEV mandate. Opposition from the Automobile Dealers Association should come as no surprise as service required by ICE vehicles, a good part of the income of most new car dealerships, is almost totally eliminated in Battery Electric Vehicles
The new requirement is 15.4% of new vehicles sold in California, about 1 in 7, will be zero emission by 2025. It also adds a new category of vehicle. BEVx, which is a battery electric vehicle with a small range extender that is designed to get the car a short distance (limp home mode) rather than being able totally power the car after the battery is depleted like we see in the Chevy Volt.
Starting in 2018 medium sized vehicle manufacturers like BMW, Daimler, Hyundai, Kia, Mazda and BMW will also be required to produce zero emission vehicles. Most of these carmakers already have electric cars or plug-in hybrids under development.
Currently there are fourteen other states that follow the California Rules including New York, Oregon, and Florida so these will mean even more electric cars on the road beyond the 1.4 million expected in California.
Keeping with tradition CARB has introduced a variety of multipliers to the calculation of ZEV credits, this time based on the electric only range of the vehicle. A car with a 100 mile range will receive 1.5 credits while one with a 300 mile range will receive 3.5 credits. This calculation stacks the deck in favor of fuel cell vehicles which have a range advantage over most battery electric vehicles.
Also pandering to fuel cell vehicles is a requirement to build alternative fuel infrastructure for any vehicles that have 20,000 vehicles in the state or 10,000 vehicles in one of the air quality management district basins. This will make funds ready for rolling out hydrogen fueling stations if the automobile makers actually get them to market in more than just trial numbers.
Of course there is also a loophole in the new regulations. A manufacturer can meet part of their ZEV requirement, 50% in 2018 falling to 30% in 2021 by over complying with their fleet greenhouse gas emissions. The amount they need to exceed their standard is just 2 grams per mile. Fortunately, this provision goes away after the 2021 model year.
The new mandate will push many of the intermediate sized manufacturers into building zero emission vehicles and will mean more choices and lower costs to the public. CARB is still pushing fuel cell vehicles as the future but I think developments in battery electric technology will make hydrogen fuel cell vehicles unnecessary. We still need to support the fledgling electric vehicle business and so CARB needs to back up its ZEV requirements with incentives that will make the targets achievable.
---
Sunday January 22, 2012 - Prius Curse - It seems that I have my own personal curse that bites me when I try to move to the latest technology in personal transportation. I think of this as the Prius Curse but it's really a curse that affects me whenever I decide it's time to become an early adopter.
The curse first bit me when I decided that I want to drive an EV1. I had been interested in electric cars for a while and while attending one of GM's Auto Show in motion events I got my first drive in an electric car, the EV1. I only got to drive it for a couple of minutes around a test track but I did get to feel the incredible surge when I floored the accelerator - I was hooked.
I didn't do anything right away except to learn a lot more about electric cars. I was living in an apartment at the time so it wasn't possible to install a charger. Then my job moved down to Santa Monica where there were two Chargers less than five minutes from where I work. I began to track the EV1s that charged there for the EV1 Club. I got to know Tom Dowling who told me I should try for one of the EV1s that were being returned from lease early for a variety of reasons including the current driver moving out of state; you couldn't lease an EV1 unless you lived in California or Arizona.
I went to my local Saturn dealer and took a test drive then signed the lease papers. About a week after that I got a call from and EV1 specialist who told me that I couldn't have a car since I couldn't install a charger in my apartment building.
I looked around for Electric cars and found that it was very difficult to get information on where and how to buy or lease these vehicles. I founded EVFinder.com in an attempt to make EVs easier to find.
Then in 1999 there was another development. Toyota was going to launch a gas electric hybrid in the US in 2000 and this time it didn't need to be plugged in. I quickly signed up at the Toyota web site so that I could be one of the first to order this new technology. Then the curse hit again, a big meeting was called at work and I was told that my position would be eliminated. I wasn't going to spend a lot of money on a new car when I knew I was going to be out of a job so when the notice came from Toyota that I could order my Prius I had to pass.
When the Gen II Prius came out its the hybrid synergy drive system had a few modifications but the car was basically the same technology as the classic Prius so this wasn't new technology anymore. There was no special ordering system for the Gen II Prius, you could just go to the dealer and order the car. I hadn't been out of work for long after my layoff and was well established at my new company so I decided it was time to get a Prius. The car proved to be immensely popular and I refused to pay over sticker for the car so I ended up having to wait for a year until I was able to drive off the Carson Toyota lot with my 2005 Salsa Red Prius.
My Prius has just crossed 100,000 miles and a new technology was coming out, the plug-in Prius. The company where I worked had moved us into a new building and this one had EV parking spaces complete with a 110V plug for charging, I was ready to own a new Plug-in Prius. Once again Toyota opened up registration for people to be the first to place orders. I entered my name on the list. On November 17th I placed my order and waited. I got a notification that my car would be built sometime in February and March. Then the Curse struck again. Earlier this week I got laid off again. Obviously spending almost $40,000 for a car, including tax and license, wasn't something I wanted to do with no income so I went ahead and cancelled my order.
Hopefully I will be able to get a new job and then I can think about getting a plug-in hybrid, and the selection will be better by the time I am back in regular employment. When the Prius BEV comes out I will wait until the Gen II becomes available before I take the plunge.
On another note, I just learned from Toyota that they received just 2,100 pre orders for the Plug-in Prius. Not really bad for just one month but I was expecting the 5,000 available cars to be sold out so I am a little disappointed. Now there are only 2,099 pre-orders.
---
Sunday January 15, 2012 - 2012 Detroit Auto Show - If the Los Angeles Auto Show disappointed with a blast of bigger less fuel efficient cars, this year's Detroit Auto Show is where the manufacturers chose to show off their move to vehicle electrification.
Toyota was one of the manufacturers that had several announcements about green cars. They have the 2012 Plug-in Prius launching in March and announced that shortly after that they would begin selling the 2013 RAV4 EV in California. The Toyota RAV4 EV mates a standard RAV body to a powertrain designed and built by Tesla and is already in production at Toyota's plant in Ontario, Canada. It features a 150bhp electric motor that can rocket the SUV from 0-60 in under 9 seconds and provides a top speed of 100mph (electronically limited). The 50Kwh battery pack is expected to provide a range of around 150 miles.
Toyota also announced that it would begin selling an electric version of the Scion IQ in California starting this year. The tiny Scion IQ EV will come with a small battery pack giving it a range of only 50 miles. While Toyota has made no official announcement it appears that the car will not be sold directly to the public but will be placed into car-share and station car programs for evaluation of battery pack performance.
The prototype Toyota NS4 gives a glimpse into what the future may hold as a car based on this aerodynamic concept will likely make it into the company's line-up for 2015. They were not giving out much detail on the power train for the NS4 other than to say it was a plug-in hybrid based on the next generation Toyota hybrid synergy system. There were no details of the system given except to say that it would be smaller, lighter, and have fewer components than the current system.
Finally Toyota gave us a look at the Prius C (for City) which is scheduled to go on sale in the US later this year. The Prius C is smaller and lighter than the current Prius and will offer 53mpg city in a hybrid that starts at a base price less than $19,000.
Ford also had a lot to show this year. Their big announcement was the 2013 Fusion. The Fusion has been redesigned to look sleeker but the front grill also gives the car a very aggressive look. The Fusion comes in a whole slew of powertrain options including two using ecoBoost technology that Ford claim will offer fuel economy of 26mpg in the city and 37mpg on the highway.
The Fusion will also come with two hybrid drivetrain options, a conventional hybrid and the Fusion Energi plug-in hybrid. Ford have been tight lipped on the Energi drive train only saying that the Fusion Energi should get the equivalent of 100mpge, better than both the Chevy Volt and the Plug-in Prius. The Ford Fusion Energi will go on sale in the fall but pricing has not yet been set.
Also due in showrooms this fall is the C-Max Energi. This is really a Plug-in Hybrid compact Mini-Van although the optional third row of seats available in the European version of the C-Max will not be available in the US version. Ford claims the C-Max energy will offer 15 miles of electric only range and the car will be able to go 500 miles on a tank of gas. It is also targeted to get a higher mpge than the Chevy Volt. Pricing for the C-Max Energi has not yet been set.
Both the Fusion Energi and C-Max energy are based on Ford's conventional hybrid system so, like the Plug-in Prius, the ICE will run at speeds over 62mph. Both can be charged at both 110V and 220V and will come with a standard 110V charging cable with the faster 220V charging station being optional.
California based Coda also had an announcement that surprised many. They are going to offer a smaller 31Kwhr battery pack as an option on the coda sedan. The smaller battery pack will offer less range than the 150 miles that Coda claim for their 36Kwhr pack but will cut the base price down by $2640 while still offering close to 100 miles of range.
Not so good was the announcement that they have slipped delivery of the car back another month until February.
Nissan, who is currently the number one electric vehicle maker in the world, showed its eNV200 concept. This is an electric version of Nissans NV200 utility vehicle. With four seats and sliding doors in the back the eNV200 will work as a small mini-van similar to the C-MAX or, with plenty of cargo room in the back it can function as a van for fleets.
Under the covers the eNV200 uses the same drive train as the Nissan Leaf and even looks a little like the Leaf from the front where the charge port is mounted. There were no performance data for this vehicle but given that it uses the same Lithium battery pack as the Leaf but weights much more it's a pretty good bet that range will be significantly lower than the Leaf. Nissan is currently testing the eNV200 with the Japanese postal service so there is a good chance that this vehicle will make it into production.
Volkswagen also showed off yet another electric vehicle concept, this time the VW Beetle based e-Bugster. The eBugster looks like a new Beetle but has a chopped down top to make it look more aggressive. The look is supposed to make the car guy-friendly. This 2-seat coupe is powered by a 114hp electric motor and a lithium battery pack that VW claim will give the car more than 100 mile range. It seems unlikely that this car will ever go beyond the concept stage.
Honda has totally revamped its poplar Accord and will be offering a plug-in hybrid version for the 2013 model year. The cars hybrid system sounds very similar to the one on the Prius Plug-in and the Fusion Plug-in with 10-15 miles of all electric range. The car will be able to run using the electric motor only up to a top speed of 62mph after which the 2.0 liter i-VTEC Atkinson cycle engine will kick in. The 6Kwhr lithium battery pack can be recharged in about 4 hours from a standard 110V outlet. When cruising on the highway the Accord can also run in direct-drive mode where the gas engine will drive the front wheels directly without use of the electric motor which is said to maximize fuel economy.
Honda says that the plug-in Accord will be available as a 2013 model in the winter which probably means early next year.
Smart also had an electric concept on display, the Smart-for-Us. The Smart-for-Us is a tiny electric pickup that uses the same electric power train as the Smart ED but in about 3 feet longer, with just enough room in the pickup bed to throw in a couple of bikes.
The 55KW electric motor can drive the For-Us to a top speed of 80mph and the 17.6Kwhr battery pack should provide a range of about 60 miles. It is far from certain that the Smart-for-Us will be produced.
The Detroit Auto show could be regarded as the Plug-in hybrid show with several new models going on display, many of which will appear in showrooms over the next year or so. Most of these plug-in hybrids are based on current conventional hybrids and all of them can be driven without the need to recharge. Still, this is a positive step forward as I can see people buying one of these then wanting to move on to a fully electric or extended range electric car next time they hit the showrooms.
---
Sunday January 8, 2011 - 2011 EV Sales - Now that the year is over we are starting to get some real numbers for sales of electric cars and the numbers look OK to me although the two major sellers fell a little short of their sales targets. While this doesn't surprise me, I have been saying all along that sales would start slowly; some in the media are already starting to call electric cars a failure. I thought I would give my take on the sales numbers.
Let's start with the Volt. In December 2011 they racked up sales of 1529 cars, the most of any month since the cars went on sale at the end of 2010. For the year they sold a total of 7,671 cars which is only about 75% of their original target of 10,000 cars. Given all the negative publicity surrounding the Volt after the recent battery fire it seems to me that having a record month means that the fires haven't affected their sales to any great extent. I think that the sales are more a result of dealers selling the car below sticker, as they do with most cars, rather than trying to get huge premiums on the car.
Over the final quarter of 2011 sales of the volt were trending up. In September GM sold 1,108 vehicles and in October they sold 1,139 vehicles. While I expect sales to lag in January, the future of the Volt looks good given that the modifications needed to allow Volt drivers to drive alone in the carpool lane in California will start to show up on models hitting the showrooms in February and this should spur sales. In the past Prius that had the HOV stickers could often fetch a $5,000 premium over those that didn't and I think we will see a similar effect with the Volt. The one thing that could impact sales negatively is the arrival of the Plug-in Prius in March which will be the first real competition for the Volt in the plug-in hybrid category.
Sales of the Nissan Leaf were a little disappointing with sales of just 672 cars in December for total sales of 9,674 cars in 2011; just a little short of their 10,000 sales target. Given the loss in production after the Earthquake and Tsunami earlier in the year I think Nissan can be quite happy with this number. The most disturbing trend is that while sales of the Volt have been steadily increasing, Nissan has seen sales of the Leaf fall off over the last quarter. In September they delivered 1,031 cars to customers, while in October that number dropped to 849. Other companies are now starting to sell electric cars, which means that competition is heating up in 2012.
One of the key differences between Nissan and GM is that while the market for the Leaf has been expanded slightly the car is still sold in a very limited number of locations while the Volt is now being sold nationwide. It appears to me that Nissan needs to accelerate the rollout of the Leaf across the US and make it available in all markets by the middle of next year.
Now for a bit of historical perspective. The pundits in the Media are already begging to use words like "Failure" to describe electric vehicle sales even though over 18,000 vehicles were sold last year, more than the total number of electric vehicles sold in the whole of the CARB ZEV mandate period from 1997 when the first EV1 was delivered until 2003 when the last RAV4EV was sold to the public.
Some in the Media talk about how the cars are "too expensive" how companies are "losing money on every car they sell". Similar things were written about the Toyota Prius when it first came out. The first full year of deliveries for the Toyota Prius was 2000 and that year Toyota sold 5,562 cars in the US, that's less than the number of Leafs or Volts that were sold in 2011. In December there were approximately 21,000 Prius delivered for a total of 136,000 cars for the year. The Prius is now the best-selling car in Japan and ranks third in sales for Toyota in the US after the Camry and the Corolla. Nobody could call the Prius a failure and it is clear that Toyota is making a profit on these cars. It just takes time for something radically different to build up a customer base and become mainstream.
Another vehicle that has been on sale this year is the Ford Transit Connect van. While this was very expensive compared to the Leaf and the Volt it still managed to stack up sales of around 400 vehicles, about the same number as the second generation EV1. Ford also started deliveries of the Focus EV right at the end of December but only delivered 8 vehicles.
Mitsubishi, who have been selling the i-MiEV in Japan and Europe for several years now finally launched the US version, the I, in late November with the delivery of 4 vehicles. In December they delivered a further 76 cars for a total of 80 cars for the year. While 76 cars sold in December doesn't sound like much Autoblog Green is reporting that "the Japanese automaker looks to bump up the car's nationwide debut in response to better-than-expected consumer interest". This moves the availability up by 9 months from the original December, 2012 target date. Cars should be available for test drives nation-wide in March and customers will be able to order either online or through a dealership.
The other electric car makers haven't released figures of the number of cars on sale but we can make some educated guesses. Tesla, who wound down production of their iconic Roadster in December because they were no longer able to get gliders from Lotus, probably sold around 100 cars in the US.
Fisker went on sale at the end of last year and while they haven't released any sales numbers we do know that they recalled 239 cars due to an issue with the A123 battery pack. Information from Fisker given to EV World said that most of these cars were either still at the factory in Valmet, Finland or at dealer locations. 50 are in the hands of customers so we can determine from this that Fisker sold 50 Karma sedans in 2011.
I haven't been able to find any sales numbers for the Wheego LiFe but they have been on sale for almost a year so it is possible that they have managed to move a good number of cars. My guess is that they actually sold around 500 cars but that is a pure guess.
Th!nk also sold some cars this year in the US and although the parent company in Norway shut down production and declared bankruptcy the factory in Indiana kept going. I have no idea how many cars they built and sold this year although I suspect that the numbers were quite small.
Sales of electric cars have gone pretty much the way I expected this year as manufacturers slowly begin to set up infrastructure and educate dealers on how to sell and service these new cars. I expect to see an increase in sales next year with all the new electric cars now coming to market. I am a little disturbed by the steady drop in sales of the Nissan Leaf over the last quarter of 2011 but I suspect this has more to do with the drop in the price of gas than anything else.
I fully expect to see continued growth in the PHEV segment with robust sales of the Plug-in Prius and the Chevy Volt.
Sales of pure electric vehicles will grow slowly this year and will be tied more to gas prices than anything else. A big spike in gas prices will mean a big spike in sales of electric cars.
Comments
Jim Stack from Arizona wrote
Your summary for Jan 8 on EV Sales was very good. You might also note that hybrid sales would have been even higher if there was not a backlog of orders and Toyota couldn't keep up for a while. Also the false unintended acceleration claims caused some slow sales months.

With EV's it's been going better than expected even with the Global warming issues you mentioned of the tsunami and earthquake. GM has already moved up their target numbers and production since sales have been better than expected. Once the Nissan TENN. factory is up to speed the world will really change.

Another key point if the LEAF has not had any problems. Even the batteries with no cooling have done perfect here in Arizona where we had more 110F days that even before. The real range is 60-138 miles. On a 100% charge we easily go over 120 miles. Most nights we only charge to 80% and still can go 100 miles if needed but our daily commute is only about 30 miles.

The ACE that you also mentioned is the price of gas ! That seemes to be the only issue that people respond to. They talk about the environment and even mention the economy but don't want to see the imported OIl being burned each day. The new Federal mpg standards will make every vehicle a hybrid of some form. The gas prices have started up again and may beat everyone to the new mpg standards.
---
Sunday January 1, 2012 – 2011 A Retrospective – 2011 is behind us and what a banner year this has been for battery electric vehicles. When the year started Nissan and GM had just made their first few deliveries of the Leaf and Volt respectively and the march toward a change in our transportation paradigm had just begun.
The year started out with brisk sales of both the Nissan Leaf and the Chevy Volt even though they were both being sold in limited markets. Then on March 11, 2011 a massive 9.0 earthquake, now known as the Tōhoku earthquake, struck in the Ocean about 70 Kilometers east of the Oshika Peninsula of Tōhoku. The earthquake kicked off a massive Tsunami that caused widespread devastation including knocking out three nuclear power plants. The destruction caused major problems with production and supply chains for all the major Japanese car companies causing the shutdown of factories that impacted both the Nissan Leaf and Toyota Prius for a time, leaving major shortages.
On Earth Day NEV manufacturer Wheego started delivery of the freeway capable Wheego LiFe becoming the first electric car maker to offer nationwide sales of an all-electric freeway capable car in the current round of vehicle electrification. While Wheego don't have dealers in every state they do have the ability to deliver and support cars anywhere within the US, including Hawaii.
The news wasn't all good though. Both Fisker and Coda announced delays in shipping cars. At the same time Tesla motors said it would be ending the production of the Tesla Roadster in 2011 but would not have the Model S available until 2012. The reason for this change was that Lotus re-tooled for the production of the new model Elise and could no longer produce the Tesla Roadster which was derived from the Elise platform. In the end Tesla negotiated the building of some additional chassis before production was shut down and the last of the 2600 Tesla Roadsters rolled off the assembly line in December.
By mid-year Ford, with very little fanfare, began to offer the Ford Transit Connect to individuals as well as to fleets. The Transit Connect, which is built in Turkey then shipped to Azure Dynamics in the US for installation of the electric drive train, is very expensive but several states provide large incentives for fleets to buy them and this year they sold more than $29 Million dollars-worth of the electric vans.
Th!nk, which has been around for about 20 years, and has been selling the Th!nk City in Europe since 2008, began manufacturing in the US in November 2010 and began selling cars, first to Fleets and then to Individuals in early 2011. Sales have been concentrated mostly in fleets in Indian where their US factory is located. In March the company announced that it was shutting down European production and the company formally filed for bankruptcy for the fourth time in June. The company's assets were bought by Electric Mobility Solutions in July and they plan to start production again in early 2012. It should be noted that the US facility was never shut down and continues to produce a small number of cars.
Not so lucky was California start up Aptera. They produced a prototype three wheel vehicle that looked like nothing else on the road. The light highly aerodynamic car drew lots of interest and over 2,000 people had put down deposits on the car. The company had been plagued by delays and in July they stopped taking deposits on the car and in August they began to return deposits. On December 2, after being unable to obtain sufficient financing to continue development, they announced that they were shutting down.
In July Fisker finally delivered the first Karma Plug-in Hybrid to a customer. Only 6 cars, produced a the same Valmet plant in Finland that builds the Th!nk City, were brought here in the first batch and one of these was delivered to Leonardo DiCaprio, with a second going to Colin Powell. It came to light that Fisker hadn't yet received DOE certification for the car but once the certificate was obtained the cars began to roll into the country and out to dealerships. With some great product placement Ashton Kutcher's character Walden, who replace Charley (Charley Sheen) on Two and a Half Men, was seen driving a Karma in several episodes.
Toyota had been trialing a plug-in version of the Prius, and in July they opened up registration to be one of the first to order the Plug-in Prius. They had over 44,000 people register at the site. Starting in mid-November the people who had registered were invited to find a dealer, negotiate a price, and place an order for a plug-in Prius. By the time that the order system closed down in mid-December they had taken about 4,000 orders for this Plug-in hybrid.
Also in November Ford started production of the Focus EV while Coda began production of the Coda Sedan. While both these cars were expected to begin delivery in 2011 it appears that none were delivered in 2011.
The Chevy Volt was involved in an on-going controversy over a series of fires that destroyed three Volts, two in garage fires and a third that destroyed a car that had been used for an NHTSA crash test. Investigation showed that the Volt had been the victim not the cause of the fire in the first two cases and in the third the fire had occurred three weeks after the batteries and cooling system had been damaged in a crash test. The NTHSA were able to reproduce the issue with the third fire leading to a change in protocol for handling batteries that may have been damaged in an accident and also leading GM to review the design of the battery pack.
Sales of the Volt were also impacted as they shut down the plant for four weeks in mid-year to tool up for production of the 2012 model and the European version, the Ampera. The sales area of for the Volt was slowly increased until it is now available in all states. Sales have been adequate but it does look like GM will fall slightly behind its sales targets and with a 40 day inventory we are starting to see discounts and deals on the Volt in some areas. I'm not sure if the issues surrounding the Volt fires has impacted sales but I think that three things have had a big impact, the high cost of the Volt, the need for premium gas, and the lack of access to the California carpool lane stickers.
Looking back at 2011 sales of electric cars were pretty good but slower than I would have liked to see. Still, Nissan alone sold more electric cars than were sold by all the big car makers in the 1997-2003 period of the California ZEV mandate, and more people are beginning to take a closer look at EVs. Someone at plug-in America summed it up best when they said that once people got used to driving electric cars they will never want to go back to their gas guzzler. A lot of people got used to driving electric in 2011.
---