Gorilla Vehicles NEV Test Drive
EV Finder's Test Ride of the Gorilla Vehicles NEV
On Sunday May 4, 2003 I attended the Carlsbad Village Faire in Carlsbad, CA. Along with the many stalls selling arts and crafts was a display of electric vehicles. Gorilla Vehicles was there with one of their NEVs and I had the opportunity for a brief but fun test drive.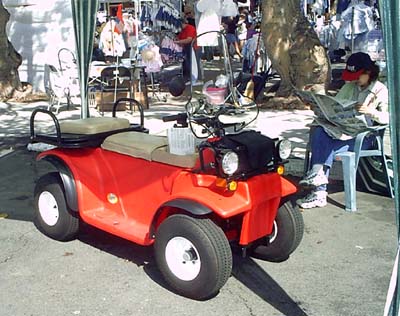 At the stand I met with Rick Doran who is the "Head Gorilla" at Gorilla Vehicles. He gave me a quick tour around the vehicle then allowed me to take it for a spin along the alleyway next to their display.
The Gorilla Vehicles NEV is a four wheel vehicle that is designed like an ATV. You sit astride the vehicle rather like you would sit on a motorbike and it is steered by handlebars. Its body is built from tough dent resistant plastic similar to that used on the Th!nk City.
The seat lifts up to reveal three Trojan SLA batteries, placed in a line along the axis of the vehicle, providing the 36 Volts needed to power it. They also make a 24 volt version that has three 8 volt flooded cell golf cart batteries. The 24 volt version does not reach 25mph and is not meant for street use.
On the rear of the NEV is a rack that can be folded out to provide a nice flat platform for carrying loads. The platform folds in half to provide a rear jump seat for carrying a passenger. There is also a trailer hitch that will allow the Gorilla to tow loads as large as four thousand pounds.
Braking is accomplished by hand controls similar to those you would find on a motorcycle. Speed is controlled by a thumb throttle. I asked Rick why he choose that design and he told me "In my opinion everyone can jump on and immediately drive a thumb throttle. Twist throttles take some learning. Freshman motorcyclists normally forget to un-twist in their first emergency situation. While in development; we noticed that all gasser ATVs have thumb throttles. We reckoned that this must be the reason."
I climbed on the Gorilla by stepping onto the running board with my right foot then swinging my left foot over the vehicle to sit astride it. Operation is easy; you turn the key to the start position, select forward or reverse using a switch on the dashboard, and gently squeeze the thumb throttle.
The thumb throttle was easy to operate with my right thumb, although being used to motor scooters I think I would have been more comfortable with the twist throttle. The vehicle accelerated up the alley at good rate. I would not have been afraid to pull out into traffic as its pickup was quite adequate for merging into lanes in city driving. The suspension felt a little bumpy but it was as good as or better than I have experienced with other vehicles in this class.
At the top of the alley I released the thumb throttle and applied both brakes. The hand brakes seemed to be a little stiff but were up to the challenge and the Gorilla was back to a crawl so I could complete the turn. The tight turning circle on the Gorilla meant that I could have turned around in the alley but I decided to do a three point turn to see what it was like in reverse.
Reversing the Gorilla was easy, just push the button to select reverse then back up carefully by squeezing the thumb throttle very gently. Sitting in the open there is no problem with rear visibility as there is nothing to block the view.
After completing the turn I rode back to the starting point quite slowly as some pedestrians had entered the alley and I didn't want to run anyone over. The Gorilla handled well at low speed and the ride felt much smoother.
Overall I was very impressed with the Gorilla. It is very well designed and a lot of fun to ride. Although it is designed for industrial use and is quite popular with farmers, it would be very good for running errands around town for those who prefer a NEV that doesn't look like a golf cart. It would also be an alternative to an electric moped as you can ride this with a standard car license in states where NEVs are legal on the roads. A crash helmet is also not required although it would probably be a good idea to ride with one. I could also see this in the NEV rental business, it would be great to rent at the beach.